An amazing experience on Mansuar Island at Sauwandarek Village
Just 45 minutes by modern speed boat from the Raja Ampat capital of Waisai, you find the incredible Sauwandarek Village. This unique village is home to less than two hundred villagers, all committed to the preservation and eco conscious tourism ideals that makes Raja Ampat the last paradise on earth.
After disembarking from the comfortable and fast boat ride with Meridian Adventure DIVE, and walking down the wooden jetty, you are immediately mesmerised by the crystal-clear water. Through it you can see the shallow reef, where hundreds of colourful fishes are swimming around, while snorkelers are leisurely following them. The white beach is crowded with local longboats, as their owners lovingly make repairs or improvements, all while the local children excitedly run down the jetty to meet you on your arrival.
This small village, on the island of Mansuar, is known for their traditional leaf roof homes, built in the shadows cast by the lush tropical forest that lies behind it. As you walk through the sandy paths of the village, you are greeted by the friendly faces of the local community, many of them busy making traditional hats and bags made from the Padan leaf. This community has made conserving their environment their main priority, while making use of their natural resources and eco-tourist attractions. With a setting like this you can only agree with their initiatives.
Behind this village you find Telaga Yenauwyau, a saltwater lake, the perfect place to sit down with a fresh coconut and just listen to the sounds of the surrounding jungle. Mansuar Island is also known as an area where one can occasionally spot the famous Coconut crab, so be sure to keep an eye out for these impressively large crabs in the coconut trees found all around this lake and Sauwandarek Village.
From the white beaches in front of the village you will notice the occasional dive boat coming into the protected bay. Despite the incredible location of this village, it is not a popular tourist or dive destination because of its distance from more popular areas. Fortunately, Meridian Adventure DIVE offers a comfortable and fast way to get to this pristine area, and with whom you can even go on one of the most unique dives Raja Ampat has to offer or spend the night in this village with one of their local homestay partners and truly experience all that this village have to offer.
One of the most remarkable things you notice, as you fall back into the water from your dive boat, is the mass of fish that are found around the jetty. Even before you start your dive, you know that this is going to be special.
As you make your way down the gentle slope leading from the jetty, you notice some interesting steel frames in the sandy patches that lie between the lush corals and that spread as far as the eye can see. On closer inspection, you notice that these frames are in the shape of an airplane and even letters spelling out Sauwandarek. The frames are part of a project to regrow coral reef in areas where they have been damaged.
This is a project that deeply involves the local community of the village as they help monitor the growth, and assist with the planting, of new coral clumps. This is both a great eco-conscious practice, as well as an educational platform, to show other communities in the area the importance of preservation of the natural resources, and attractions, that make Raja Ampat such a unique diving destination.
Sauwandarek jetty is an incredible dive site, that gives divers and snorkellers the opportunity to see masses of marine animals in a protected bay, with gentle currents, when dived on the correct tides. When dived in the correct tide you will soon be surrounded by schools of fusiliers, trevally, snapper, and even very curious bat fish. You do not need to go more than 10 metres from the surface to be left in awe by all of this going on around you.
Sauwandarek is also known as the Turtle City of Raja Ampat. The unique coral growth of this reef, along with the gentle current movements, make this the ideal place for turtles to come take a break and allowing divers to get up close and personal with these gentle creatures. Local dive guides are always on the lookout for the biggest turtle in Raja Ampat, who often is found taking a nap close to the jetty.
Another unique sighting that often leaves divers in awe, and then excited pointing, with endless retellings on the boat ride home, is the porcupine ray. This unique ray can grow up to 1.5 metres in width and will most often hide away in beds of seagrass or partially burry itself under sand. These rays do not have the venomous sting many other rays have, but rather have spiky sharp thorns on their tail and disk. These rays are an impressive sight as they elegantly rise from their hiding spot and glide into the distance as you are making you way to the surface after your dive.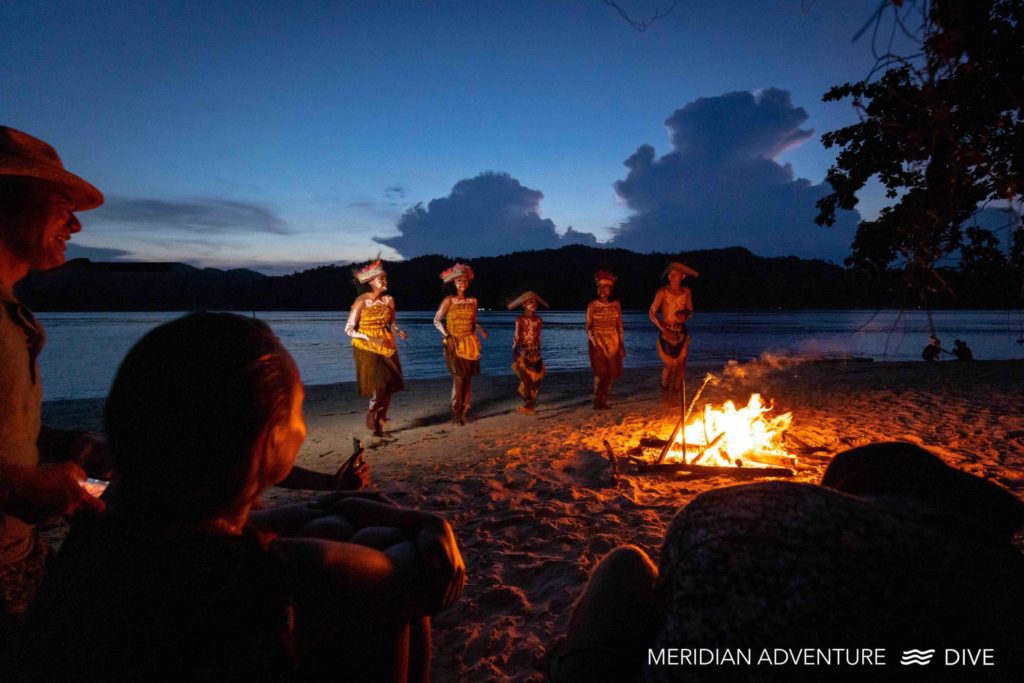 About Organisation:
Situated in Raja Ampat, Indonesia, Meridian Adventure Dive is a PADI 5 Star Resort and winner of the PADI Green Star award. Scuba divers enjoy our professional services that have become synonymous with both the PADI and Meridian Adventure names.