The annual DiveFest on Grenada and Carriacou is now in its third year, and Mark Evans made a return visit – but with his family in tow
There seems to be DiveFests popping up all over the place, but Grenada DiveFest is ahead of much of the pack and recently held its third annual celebration of all things diving. After a low-key start, last year turned things up a notch, and this third incarnation saw an even-more-jam-packed schedule, which again split the action across Grenada and sister island Carriacou, and featured reef and wreck diving days, lionfish hunting expeditions, beach clean-ups and Dives Against Debris, taster sessions for complete beginners, and lively opening and closing parties.
I attended the event for the first time last year, and being a devoted fan of Grenada anyway, was pleased to see a week dedicated to promoting the underwater delights of this lush, green Caribbean island. I was delighted to be invited back for round three, but in order to showcase a different side of the country – in this instance, how welcoming the people are and how family-friendly and safe the island is – I roped in Clan Evans (wife Penney and son Luke) to accompany me.
As with the previous year, the action started over on sleepy little Carriacou, a tiny island which really offers a laid-back slice of Caribbean heaven, on the Sunday. We flew into Grenada from London on the Saturday, and after an all-too-brief overnight stay in the Mount Cinnamon resort, we boarded the inter-island ferry to Carriacou on the Sunday morning.
After a relaxed afternoon which saw the assembled 'VIPs' – various media representatives from the UK and the USA, including ourselves, Greg Holt from Scuba Radio, Jerry Beaty from Dive Training, and 'Scuba Cowboy' Pup Morse, plus a bevy of 'mermaids' – enjoy some brief downtime, it was time for the opening party at Off the Hook beach bar.
As he did in 2018, Pup – an American singer-songwriter (and avid scuba nut) – performed an entertaining set of his light-hearted, easy-listening 'Trop-Rock' tunes. These made the perfect accompaniment to a few ice-cold Stag and Carib beers and a tasty chicken and fish barbecue, and the assembled throng, which included local dive centre owners and staff, celebrated the official start of the DiveFest.
Then-12-year-old Luke – he turned 13 a couple of weeks after our return to the UK – had a whale of a time exploring the beach in the dark, iPhone lighting the way, on the hunt for land crabs to 'rescue'.
The Monday morning saw our group of merry divers make the short walk from our hotel, Laurena's, to the HQ of British-owned Deefer Diving. Their boat was due back from a refit that morning, but while we awaited its arrival, instead of just lounging around the centre, we kitted up and went for a dive under the jetty a short distance down the beach.
As this was dive number one, it was the perfect opportunity to check weights, and get into 'dive mode'. We didn't get any deeper than 4m-5m, but the marine life under this man-made structure was unbelievable – every support was liberally smothered in coral and sponge growth, and huge schools of baitfish swarmed everywhere, enveloping the divers in a silvery cloud. Scorpionfish, cleaner shrimp, moray eels and lobster were in abundance, and it made the ideal introduction to Caribbean diving for Junior Advanced Open Water Diver Luke.
It was 'reef diving day', and so our planned boat dive was out at the acclaimed Sisters Rocks, but on arrival it was deemed the current was too strong. A quick discussion and we moved to Sharky's Reef Part One, where we saw nurse sharks, Spanish mackerel, cowfish, scorpionfish, arrow crabs, barracuda, plus all the usual Caribbean reef life, all swimming and crawling in and around some incredibly healthy corals and sponges.
Our second dive was called Whirlpool, and as well as exploring a small tug boat, complete with a true 'ship's wheel'-style helm, we encountered the biggest spiny lobster I have ever seen – much to the delight of Luke, who loves crustaceans. Again, as with the previous dive, the reef was very pristine, and some of the sponges were attaining huge size.
Tuesday morning we moved over to Lumbadive for the 'Dive Against Debris' day. The current had somewhat abated, so we were able to dive at the Sisters. It was certainly an exciting dive for Luke, and as we conducted a drift dive around the pinnacle we saw nurse sharks, huge lobster (though not quite as big as the previous day), grey angelfish, parrotfish, wrasse, lionfish, scorpionfish and moray eels, all backed by an incredible display of soft corals and sponges.
Luke was on a ten-litre tank today instead of his usual 12, and as he neared his reserve at 45 minutes, he headed up to the boat with the instructor and we stayed down a while longer. On surfacing, a smug-looking Luke asked if we'd seen a turtle, as he'd been buzzed by one as they did their safety stop!
Dive two was another drift, this time at Lime Kiln, and we floated past various coral bommies and reefs interspersed with sand channels, spotting sheltering nurse sharks, moray eels, angelfish, parrotfish, wrasse, and much more. We ended the dive near a wrecked fishing boat that protruded through to the surface, and soon filled a mesh bag with man-made litter and rubbish.
All too soon it was time to board the ferry and wave goodbye to Carriacou. We returned to Grenada and were transferred to our next accommodation, in our case the low-key but welcoming SeaBreeze Hotel.
Wednesday morning we were off to Aquanauts Grenada, and this was the only time during the week where we parted company from Luke. He went diving with a group of Open Water Divers on Whibble Reef, while Penney and I joined Aquanaut Grenada's Peter Seupel to explore the gigantic ocean liner Bianca C – the flagship of the island's sunken fleet, which went down way back in 1961, and now lies in a depth of over 50m.
I have dived this massive 180-metre-long vessel several times over the past 20 years, and while the time on the seabed has taken its toll – it is steadily collapsing, and the starboard side has crumbled down to the bottom – it is still a fascinating dive.
British divers used to looking at wrecks through a coating of silt will probably feel more at home on the Bianca C than those more-familiar with other Caribbean shipwrecks, as it is creating its own dust-cloud as it slowly falls apart, but a keen eye can see windlasts, bollards, lifeboat derricks, not to mention the swimming pool.
It was interesting for Penney to dive the Bianca C again, as the last time she'd dived it was back in 1999, when it was in a far-more ship-shape condition.
Dive two were all jumped in for a drift at Shark Reef, but it should have been renamed Lionfish Reef due to the amount we saw tucked in behind the barrel sponges littering the seabed. However, we'd get our revenge on these invasive invaders at this site on the Friday…
Wednesday afternoon we all headed out with Eco Dive for a visit to the Veronica L, and the nearby Boss Reef. This small freighter has been down for several years and is festooned with marine growth and fish life. Lying in just 15m, it is the perfect depth for all levels of diver, and has several interesting elements, including the remains of a small deck crane.
On the Thursday morning, we headed over to Dive Grenada. Phil Sayer took us out for a shore dive to explore his GARRP (Grand Anse Reef Regeneration) project, which is something extremely close to his heart. He wanted to leave a lasting legacy on Grenada, and came up with the idea of creating an array of artificial reefs in the shallows at the end of Grand Anse Beach.
He wanted something that could be made easily, and put into place with the minimum of fuss. The end result were 'pyramids' made from concrete breeze blocks. Despite being told by numerous marine biologists that no life would colonise them, he has proved them wrong, and now the structures are awash with encrusting corals and algae, sponges, soft corals and all manner of marine life, including scorpionfish, moray eels and snapper. He has a grand plan to make quite an expansive artificial reef once the project comes to an end, so watch this space.
In the afternoon, we moved dive centres to Native Spirit, and paid a visit to Molinere Reef. This is a topographically interesting reef, which is shaped by gullies, crevices and sand channels, and also a small wall, but the main attraction here is the Underwater Sculpture Park, the first of its kind on the planet, which sees several large-scale installations in just a few metres of water. Created by Jason deCaires Taylor, Troy Lewis, Rene Froehlich and Lene Kilde, the amazingly lifelike statues have started to assume bizarre alien-like appearances as encrusting corals and sponges have taken hold.
Then – and huge thanks to Christine at Eco Dive for coming to the rescue – we did a quick dive on the Tyrrel Bay. I wanted to dive this wreck, a former US Coastguard patrol boat, as I had dived it the year before when it had been down just a week, and so I was keen to see how the marine life had taken hold on it in just 12 months.
With the Friday being Lionfish Eradication Day – and our last diving day – I was a little worried we wouldn't get to dive it, so a quick call to Christine saw us dropped off from the Native Spirit dive boat straight on to Eco Dive's catamaran, and whipped out to the wreck site for a cheeky third dive. I have to say, the crew did look a little worried lobbing Luke, Penney and myself into the water on our own, but they dropped us with pinpoint accuracy right on top of the wreck.
I took an SMB to mark our position, and once we were on the Tyrrel Bay I tied it off on to the mast and we went off to explore.
The Tyrrel Bay sinking was the result of a two-year public/private sector project, and when it was cleaned and prepared, thankfully many interesting features were left in-situ, including a safe, telephone, compasses, control panels and levers, and even a few toilets. I am pleased to say that all of these are still in place, albeit now with a healthy coating of marine growth, and fish and crustacean life has moved in – there is a large shoal of glassy sweeper in the bridge and upper superstructure, and a horde of tiny shrimp in the galley. Luke had an absolute blast poking around in the engine room, crew's quarters, and bridge.
As mentioned before, Friday was the final day of diving, and the theme was one that many of our party had been looking forward to – 'Lionfish Eradication'. These invasive species are wreaking havoc across the Caribbean, but in Grenada and Carriacou there have been determined efforts by the dive shops to try and keep the reefs and wrecks as 'lionfish-free' as possible. Luke, Penney and I were diving with Eveline Verdier at ScubaTech and targeted the previously visited Shark Reef.
After a frustrating start – we drifted for a good 30 minutes before we spotted our first lionfish – we suddenly ended up in the midst of lionfish central, and successfully speared a decent haul. Luke was having his first-ever go with a spear, and for his initial attempt went for one of the largest lionfish I have ever seen! He did a great strike, but the fish started swimming off down the reef, dragging Luke behind it.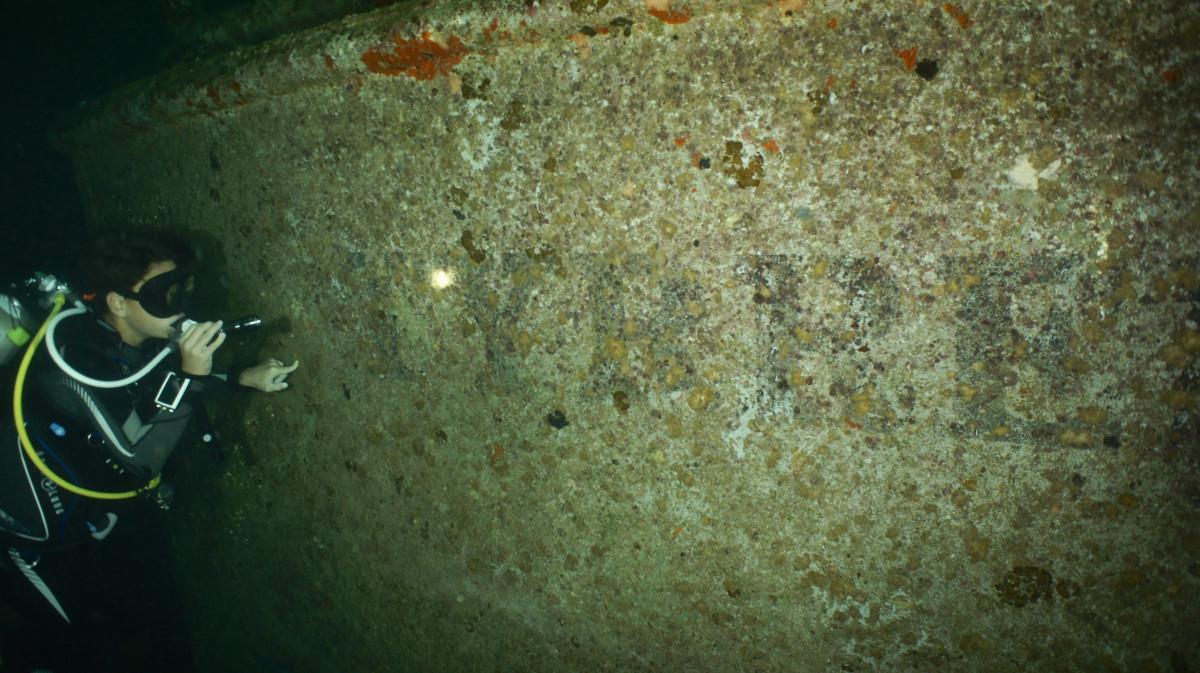 I assisted with a second spear to finish it off quickly, and then myself and Eveline had all on trying to jam it into our zookeeper (purpose-made containers for speared lionfish). All of our catch joined others harvested by the rest of the dive shops and were delivered to the staff at Coconuts Beach Bar and Restaurant on Grand Anse, ready to be eaten that night at the closing party.
That evening saw dive centre owners, staff, DiveFest divers, locals and members of the Grenada Scuba Diving Association and the Grenada Tourism Authority gather together at Coconuts to tuck into tasty lionfish fillets served with ginger or garlic, and then have a few drinks while listening to an entertaining two-hour set from the 'Scuba Cowboy' to celebrate the successful completion of the third annual DiveFest.
Prizes were handed out for the winners of the photography competition that was conducted during the week, and had been judged by myself, Ria Murray from the GTA, and Lexan Medford-Fletcher from Budget Marine on the Friday afternoon.
Congratulations to winners and runners-up Kelly Udelsman, Camille Kaufman, Dawn Seddon, Debbie Blake, Diane Martino, and Keone Drew – portfolios from the winners will be appearing over the next few months. We also found out who came tops in the highly competitive lionfish hunting stakes, with Eco Dive taking the glory for 'most fish caught', though Luke did a sterling job for ScubaTech, with his monster taking the title of 'biggest lionfish' of the competition at a whopping 36cm long.
Not bad for the smallest person there! Ironically, the tiniest lionfish of the competition – at just 6cm – was caught by the tallest person, towering dive instructor Hansel.
The third annual DiveFest successfully built on the foundation of the previous two events, and I am sure that the 2020 event will grow even more from this year's packed six days. The scheduled themed days – Reef Diving, Wreck Diving, Environmental and Lionfish Eradication – meant that those taking part experienced four very different aspects of diving on the islands. Pup Morse did an excellent job of opening and closing the event, and his catchy, scuba-related tunes and lyrics provided an extremely pleasant backdrop.
I am sure by the time October rolls around next year, there will be even more events/activities lined up. Put the date in your diary – ???? October 2020 – and get planning your trip to Grenada. The islands are a diving paradise anyway, with some of the healthiest and most-pristine coral reefs in the Caribbean (I first visited back in November 1999 and they look just the same now as they did then), not to mention a veritable fleet of sunken shipwrecks now numbering 15, and mixing this in with the fun of the DiveFest is the perfect concoction for a superb dive trip.
Photos taken By Mark Evans