Studies have found 4000 chemical compounds found in Great Barrier Reef turtles
Raises concerns about Reef chemical contamination hotspots, other wildlife, and human health
Toxic chemicals are accumulating in Great Barrier Reef marine life, including turtles and fish species popular with consumers, according to a new report by Griffith University and the World Wide Fund for Nature-Australia.
The report entitled Chemical pollution on the Great Barrier Reef: an invisible threat lurking beneath the surface was launched today (4 December 2020) at the Reef Live event in Cairns.
It reveals that the WWF-led Rivers to Reef to Turtles project detected about 4000 chemical compounds in coastal green turtles on the Great Barrier Reef.
The turtles showed signs of poor health associated with exposure to chemical pollution.
"Based on the science we now know that it is possible turtles are absorbing more than 4000 compounds, which is staggering," said Christine Madden Hof, WWF Marine Species Project Manager.
"We found heart medication, gout or kidney stone medication, industrial adhesive, sealant and lubricant, metals including cobalt, herbicides and pesticides in turtle blood.
"The fact that many of the compounds could not be identified means turtles are being exposed to new and emerging contaminants, making corrective action all the more urgent," she said.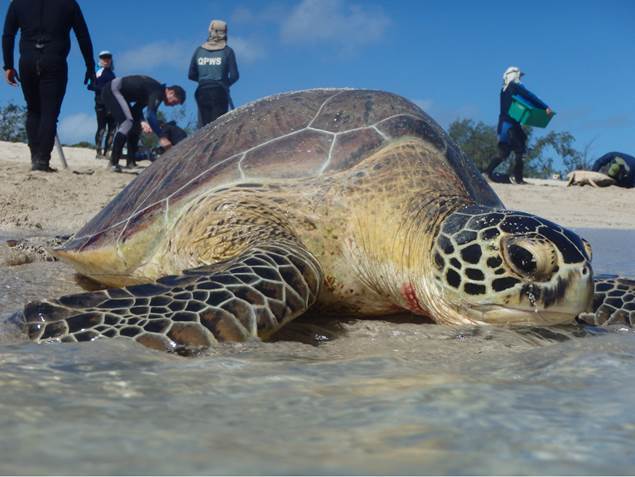 Ms Madden Hof described turtles as the canary in the coal mine and said: "We suspect contaminants are also impacting the health of other Reef species from whales, dolphins, dugongs and sharks through to the fish, prawns and mud crabs caught by commercial and recreational fishers".
The report cites previous studies which found chemical pollution in Queensland's two most high profile fish species — barramundi and coral trout.
Griffith University's Dr Jason van de Merwe, a marine ecologist and ecotoxicologist, said: "It is vital the public is made aware of the potential health risks associated with chemical contamination of marine habitats and seafood.
"More than 40,000 chemicals have been identified as contaminants of emerging concern. But Great Barrier Reef water quality programs only screen for sediment, nutrients, and pesticides. That's just the tip of the iceberg.
"They should be testing for commonly used chemicals – such as antifouling paint, plasticizers, flame retardants, hydrocarbons (from fuels), UV filters in sunscreens, pharmaceuticals and personal care products – and how they affect our Reef and the species that call it home," he said.
Dr van de Merwe said chemicals which wash into Reef waters can degrade to form new compounds more toxic than the original chemicals. Chemicals can also mix together and become dangerous new combinations.
"We know very little about the toxicity of these chemicals on their own and about how harmful they are when they mix together," he said.
The key recommendations in the report are to:
IDENTIFY toxic hotspots on the Great Barrier Reef through expanded chemical contamination monitoring
OVERHAUL catchment-wide chemical identification and regulation to eliminate unsafe use
DEPLOY improved and innovative monitoring techniques as early warning signals of harmful chemical change
REGULATE to ensure industry reef users deliver Reef Plan 2050 land and catchment management targets
ACT quickly to remediate toxic hotspots to help futureproof the Reef
The results of the Rivers to Reef to Turtles project have been peer reviewed and feature in a 'Special Issue' of the Science of the Total Environment scientific journal published today:
For more on Rivers to Reef to Turtles
Photo Credit: WWF
Want more conservation related articles?
500 Green Turtle Hatchlings Released