Seven Iconic reefs along the Florida keys have been earmarked for an ambitious reef restoration project. Over the past few years these reefs have suffered substantial damage from a number of stressors that include, coral bleaching, pollution , hurricanes, overfishing and anchor damage to name a few.
In December 2019 Pat Montanio, Director of NOAA Fisheries Office of Habitat Conservation, announced that:
"NOAA Fisheries, along with NOAA's Office of National Marine Sanctuaries and other partners, have launched a coral reef restoration effort titled Mission: Iconic Reefs. This effort plans to restore nearly three million square feet of the Florida Reef Tract at seven iconic sites in Florida Keys National Marine Sanctuary.
The groundbreaking approach aims to revitalize the Florida Keys' highly diverse and economically valuable marine ecosystem on an unprecedented scale. It represents one of the largest ever investments in coral restoration. Mission: Iconic Reefs is a decades-long effort that will rely on the work and support of numerous partners, investors, and interested stakeholders. Over the next year, NOAA will focus available funding to support this effort and work with outside partners to secure additional public and private funds.
Urgent action is required to change the downward trajectory of coral reef health in Florida, and protect the economy that depends on them.
To address these challenges, Mission: Iconic Reefs calls for the reintroduction of multiple foundational and disease-resistant stony coral species and grazing species to support coral health. It will support community engagement and continued monitoring and maintenance of seven sites within the Florida Keys National Marine Sanctuary. These sites represent a diversity of habitats, support a range of human uses, span the full geographic range of the Florida Keys, and offer a high probability of success."
Restoration is set to begin immediately, using a phased approach:
Site preparation: Remove nuisance and invasive species, like algae, that compete with corals for space and prevent coral larvae from settling and growing.
Phase 1: Use rapidly-growing coral species to restore the reefs to an average of 15 percent coral cover across the seven sites. Coral cover is a measure of how much of the reef surface is covered by live coral rather than sponges, algae, or other organisms. In general, 25 percent coral cover is considered necessary to support a healthy ecosystem and protect reef structure.
Phase 1A: Restore elkhorn coral, a fast-growing species that has not been susceptible to stony coral tissue loss disease. Creating this habitat will increase populations of other species living on the reef and support future phases of planting.
Phase 1B: Improve diversity of the reef by restoring star, brain, pillar, and staghorn corals. Reefs will also be supplemented with species that eat algae that can overgrow coral reefs, such as long-spined sea urchins and Caribbean king crab.
Phase 2: Continue planting elkhorn, star, brain, pillar, and staghorn corals, in addition to the other small, slower-growing stony corals such as finger and blade coral. This will add diversity to the reefs. By the end of this phase, coral cover will be restored to an average of 25 percent across the seven sites.
During all phases: We will conduct routine monitoring and nurturing of each site. This will include removing marine debris, coral predators, and species that might compete for space. We will also reattach any corals that may have been damaged or disconnected.
In February 2020 the project received a much welcomed boost when the United Arab Emirates donated $3.5 million in funds to help restore the seven iconic reefs in the Florida Keys.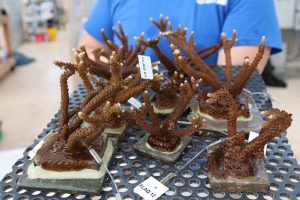 A statement from the UAE said:
"The donation will launch one of the largest investments in reef restoration in the world. When Hurricane Irma hit the Florida Keys in September 2017, it devastated the coral reef infrastructure which supports the diverse and economically-valuable marine ecosystem. The Florida Keys is home to the only barrier reef in North America, and approximately 60 percent of the Florida Keys' residents have an occupation that is dependent on the marine environment."
Nicole LeBoeuf, acting director of NOAA's National Ocean Service, stated:
"Investments in pioneering restoration efforts like "Mission: Iconic Reefs" can be beneficial not just in the Florida Keys but also in reefs around the world, where corals suffer stress from human use, climate change, and other factors,By working together, we can create a lasting legacy in the Florida Keys and help support coral restoration efforts worldwide, in turn, providing economic security for communities that depend on healthy marine environments."
Photo Credit: Coral Restoration Foundation
Photo Credit: Florida Aquarium