Experience the Southern Great Barrier Reef on the brand new Pontoon Lady Musgrave HQ
Just four hours' drive or a 45 minute flight north of Brisbane, the capital of Queensland, and you're on the Southern Great Barrier Reef.
Meet one of the first ladies of the reef, Lady Musgrave Island. Swim with the giant marine life and resident turtles that frequent these clear tropical waters.
Experience the jewel of the Southern Great Barrier Reef like never before with the launch of Lady Musgrave HQ, the bespoke-build pontoon at Lady Musgrave Island, departing from Bundaberg, Queensland.
From the moment you board the luxury 35m catamaran transfer aboard the Reef Empress, your day or overnight reef adventure begins.
Swim with giant marine life in the peaceful lagoon, explore pristine coral formations and the white sands of the coral cay, and dive the rarely-seen reefs of the Capricorn Bunker Group.
Sleep on the reef aboard the keenly awaited Lady Musgrave HQ pontoon and wake to unspoiled blue expanses as far as the eye can see.
Discover Lady Musgrave Experience as we bring the Southern Great Barrier Reef to life, creating unforgettable guest experiences and making Reef dreams become a reality.
Supported by the Queensland State Government's Growing Tourism Infrastructure Fund.

About Lady Musgrave Experience
Located 51 nautical miles from Bundaberg and the second island on the Southern Great Barrier Reef, Lady Musgrave Island and lagoon is a pristine coral cay with 1,192 hectares of spectacular fringing reef ready to be explored.
The lagoon is home to a myriad of tropical reef fish, turtles, dolphins and manta rays, amidst spectacular coral reef gardens. Guests can immerse themselves in this spectacular underwater world, snorkeling, diving and glass bottom boat coral viewing. The Reef Empress – a luxury highspeed catamaran has been designed for ultimate guest comfort to enjoy the Lady Musgrave day tour experience. Enjoy barista-made coffee and morning tea and a buffet of salads, seafood and cold meats for lunch.
About Lady Musgrave HQ
Lady Musgrave HQ, a new three-level pontoon in Lady Musgrave Lagoon, open for bookings from August 2021, will offer the first permanent underwater and sleep-on-the- reef accommodation on the Southern Great Barrier Reef.
Lady Musgrave HQ is a bespoke-build pontoon that is wind and solar powered with advanced ecotourism accreditation and positive reef impacts through its coral cultivation and citizen science programs.
Lady Musgrave HQ offers unrivalled access to rarely-seen reefs in Capricorn Bunker Group, with multiple dives per day offered on the high-speed dive boat Underworld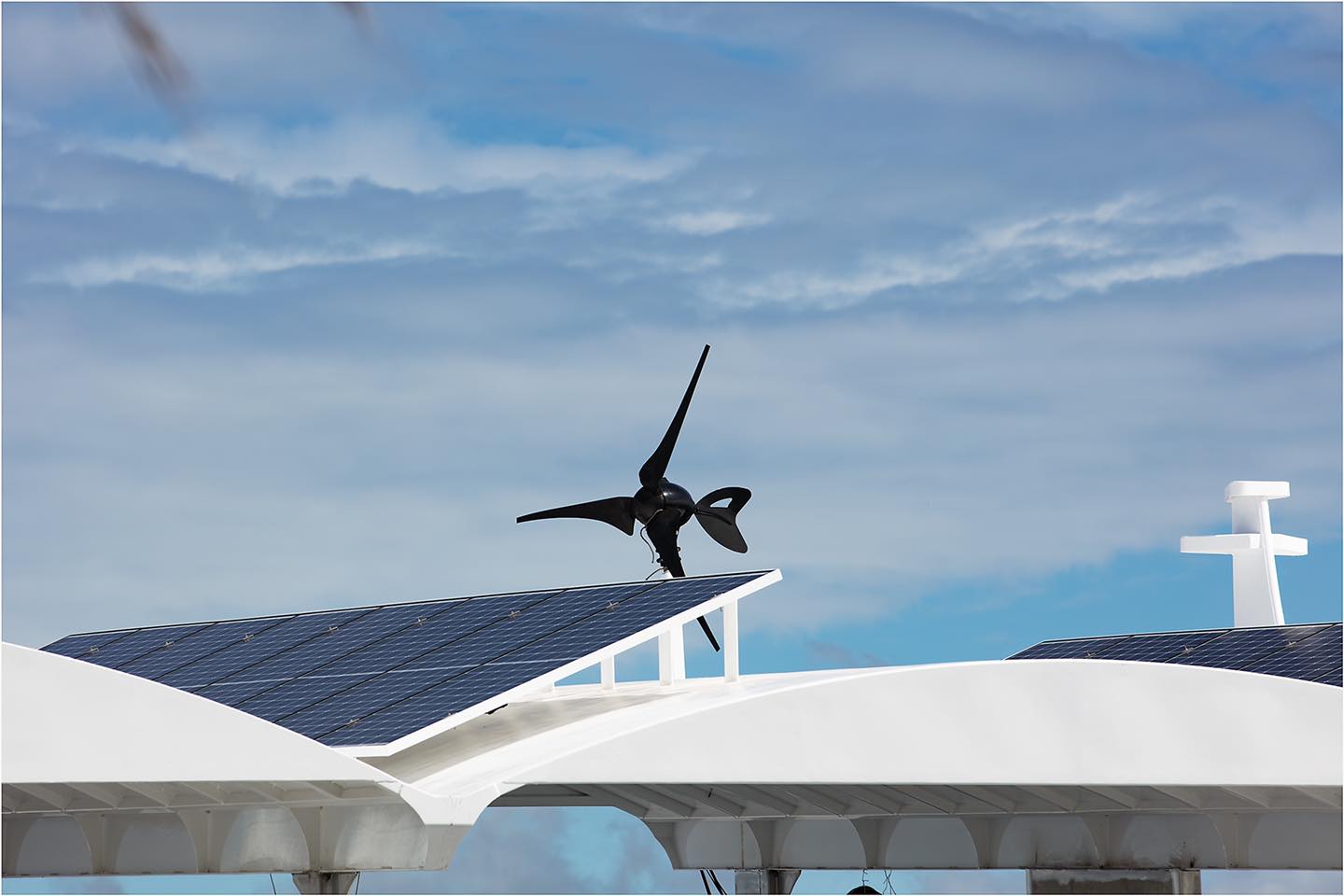 Eco & Sustainability
Advanced Ecotourism Accreditation
The highest level accreditation awarded by Ecotourism Australia.
Citizen Science
Through the citizen science programs, Lady Musgrave Experience's community have completed 280 surveys since October 2019, and collected 3311 data points.
Lady Musgrave Reef Keepers
Lady Musgrave Experience delivers the Reef Keepers Program, in which members of the local community are engaged as citizen scientists to monitor the local reefs, in particular Lady Musgrave Island Reef. The dedicated team of reef surveyors visiting on a regularly scheduled basis, observing any changes in reef health for documentation with management authorities in a timely manner, as well as share positive reef health messages with the community. Training involves a set of online modules and practical activities, as well as in-water training at the reef
Junior Reef Keepers
A modified Reef Keeper program for children aged 6 – 17
Marine Biologist For A Day
A day program for everyone from age 6+ focussed on increasing young reef visitors' knowledge about local reef sites and the threats they may face
Click here for more information about the Lady Musgrave Experience