MARK EVANS takes a closer look at a logbook that is claimed to be virtually indestructible – the Dive Proof logbook.
The Dive Proof team – headed up by a PADI Master Scuba Diver Trainer – are a bunch of like-minded individuals who got fed up of dealing with sopping wet logbooks or getting in a panic when an apres-dive coffee or beer spilled over their latest dive exploits. They set out to create a dive logbook that was virtually impervious to day-to-day hazards – and state that their logbooks are 100 percent waterproof, grease proof, tear proof, wipeable, and chemically and UV resistant, yet can be written on with normal ballpoint pens and good old pencils.
There are intro pages for your contact info, any medical conditions, a 'bucket list', an equipment checklist and clear plastic slots for your C-cards. The main log pages are extremely comprehensive, with dive number, date, location, dive site name, time in, time out, air in, air out, bottom time, visibility, max depth, average depth, shore/boat dive, day/night dive, current, waves, water temperature, exposure protection, fresh/salt, tank, weight, buddy/pro and a comments section – pretty much everything the keenest dive-logger could want.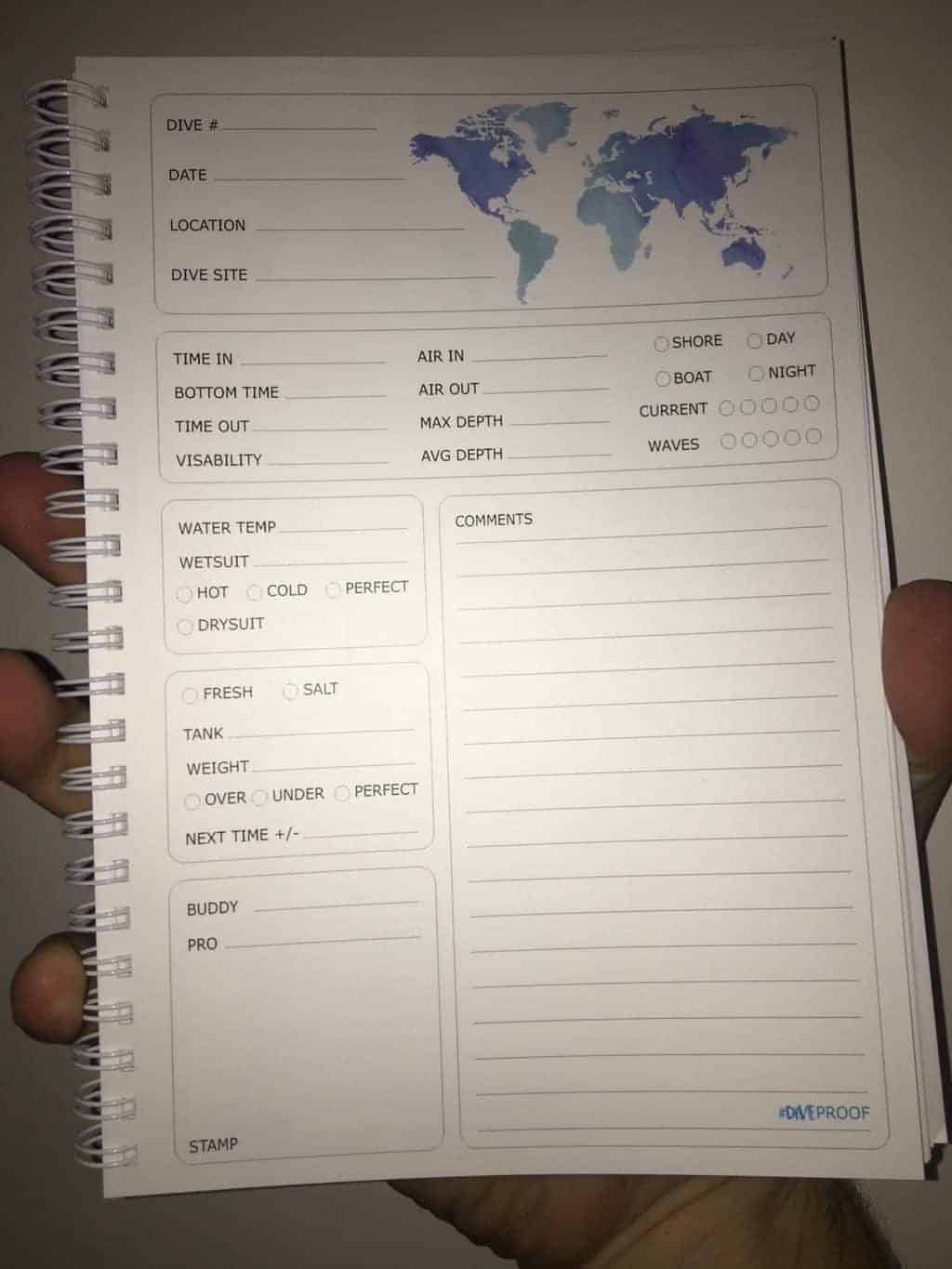 Whatever your diving agency or preference, Dive Proof has all your bases covered. As well as their own water-proof A5-size six-hole ring binder (£8) and associated binder page-packs (£10), they also do a PADI binder page-pack and a BSAC binder page-pack, both of which are designed to fit perfectly into the appropriate ring binder.
If you don't want to be hauling a bulky ring binder with you, you can go for an A5 spiral-bound water-proof logbook, or a more-compact version (£8) that has all the same info but is the same size as 'WetNotes' books. There is even an A6-size version for £8.
Dive Proof can even offer a nifty customisation option, where you can tweak and change the page contents to your exact specification, and you can get packs of loose blank pages either plain (£2 for ten) or lined (£4 for ten).
So, what is it like? Well, in the spirit of true testing, I put the Dive Proof logbook through its paces. Try as I might, I could not rip the synthetic pages, which will crease but will not tear. I poured a variety of liquids – including oils, greases, coffee, beer and wine, as well as water – on to the pages, and all wiped off leaving no trace behind. I left the entire logbook submerged in a bucket of water overnight – to simulate it languishing in the bottom of your dive bag in a puddle of dive water – and it emerged looking just the same as it did when I put it in.
The Dive Proof team does advise to rinse and dry any metal components, such as the clips in the ring binder and the metal spiral, but that is just common-sense. The main thing is that the pages themselves are seemingly indestructible, just the thing to keep the precious records of your dives safe and sound.
Website for Dive Proof Waterproof Log Book for Scuba Diving 
Our gear content is sponsored by Mike's Dive Store, the UK's premier dive retailer. For all your diving needs visit them in-store or online for your diving, freediving, snorkelling and servicing.