As a Scuba diving destination Taiwan is an undiscovered gem that has a huge amount to offer.
Above the water, Taiwan is rich in culture and history, Taipei the countries capital is a vibrant and modern city. There are numerous national parks, rugged coastlines, towering mountains and plenty of scenic islands to visit. Plus, exquisite cuisine, ornate temples, inspiring museums, colourful festivals all with a safe and friendly atmosphere.
Once inside the country, moving around is easy and convenient. Trains, high-speed rail, buses and ferries connect major cities as well as offshore islands. Scooter and car rental are also available. For longer distances, TransAsia Airways and Mandarin Airlines offer domestic flights.
Under the surface, this beautiful island boasts a wealth of fantastic dive sites and experiences, including stunning wrecks, interesting topography, healthy vibrant corals, schooling hammerheads, mantas and turtles galore. There are also numerous varieties of nudibranchs, pigmy seashores and a whole host of other exotic marine life. The waters that surround Taiwan are home to over 1100 fish species and due to its year-round warm water abundant coral growth.
Taiwan has five main dive regions scattered around its picturesque coastline, Green Island, Orchid Island, Kenting, Little Liuqiu and Penghu.
Green Island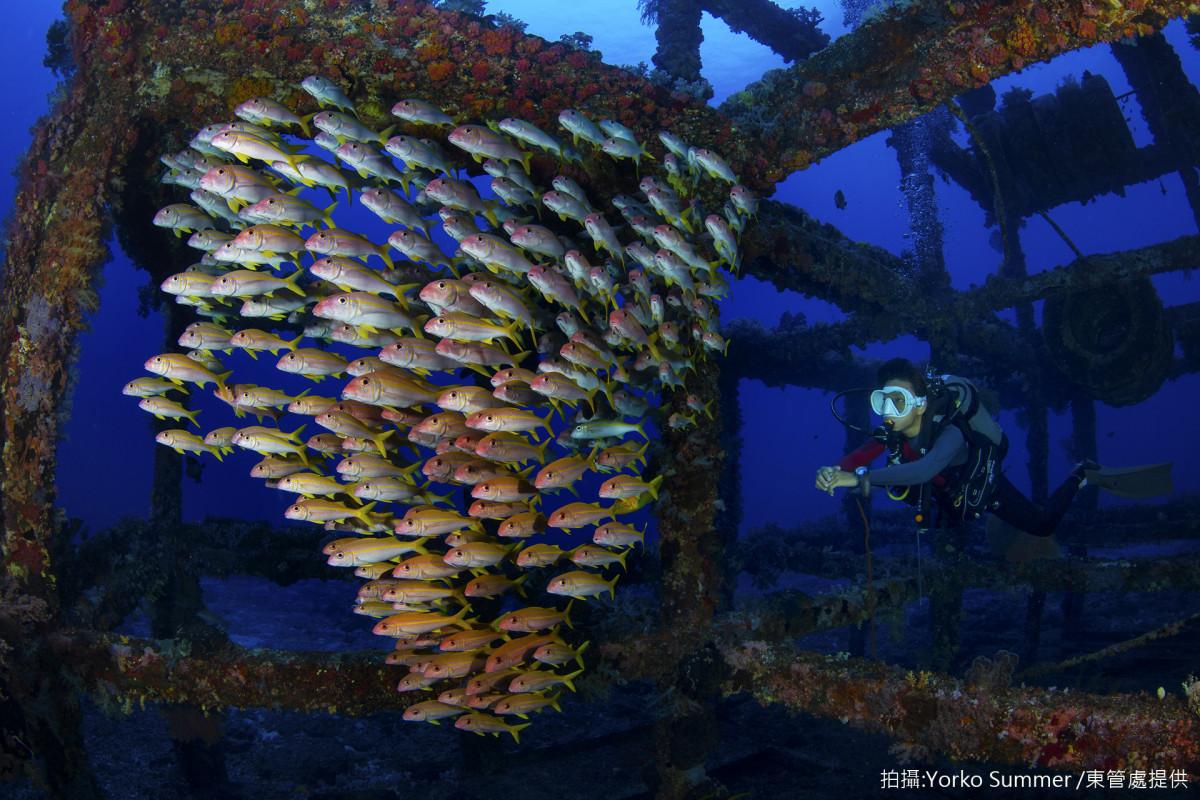 Green Island is 33km from Taitung. The island was formed by undersea volcanic activity. Rolling windswept hills cover the island, and coral reefs surround it. Strong winds and sea erosion have shaped this landscape, so the coast takes on a weather-beaten, rugged look. The sea has an abundance of different coral and tropical fish species, with arguably the best diving in Taiwan.
The Diving
The rich and diverse fringing reef is covered with vibrant soft and hard corals and has more than 200 species of coral and 300 species of fish including nudibranchs, pygmy seahorses, moray eels, tuna, mahi-mahi manta rays and the occasional Humpback and sperm whale. Off of the southeast corner of the island near the world-famous sulphur and saltwater hot springs is a site called Shark Point.
Here powerful currents hundreds of shoaling scalloped hammerhead sharks, between January and March. On the west-central coast in Nan Liao Bay is reputed to be the world's largest coral bommie, at a staggering 16 meters in height and 31 meters in diameter. Green islands also holds the record for the worlds deepest post box, 11 meters deep and shaped like a pygmy seahorse. The volcanic origins, strong currents, and occasional typhoon have helped sculpt a varied and dramatic topography. With visibility that usually exceeds 30 meters, it is easy to enjoy these spectacular vistas.
Other Attractions
Above the water attractions include the Green island Park, the lighthouse and Guanyin cave to name a few, but the island is perhaps best know for the rare Zhaori Saltwater hot spring. The springs are fed by seawater and underground water heated by the volcanic lava of Green Island. These are one of only three saltwater hot springs in the world. Zhaori has three open-air pools and a spa pool where visitors can listen to the sound of the surf, enjoy the sunrise, or watch the stars as they soak away the stress.
Getting there
Taitung is the gateway to Green Island, this pleasant city on the mainland has rail, road and air links to Taipei where most international flights arrive. Then from Taitung, you can either fly or take a ferry. There are regular flights from Taitung. Small, 19 seater planes, make the journey in around 15 minutes. By ferry, the crossing takes approximately 1 hour, and there are daily departures from the Fungang Fish Market
Best time to visit
High season on Green Island is summer which falls between June and October hot temperatures and tourists flock to the island. Seas are generally also calmer during these months. The best times to visit, however, are during spring and autumn during the week when you can enjoy the milder temperatures and fewer crowds. Diving is excellent at any time of year, but keep in mind that many shops drastically wind down their operations outside of high season.
Orchid Island
Like Green Island, Orchid Island (Lanyu) is a volcanic island that was formed of magma erupting from the ocean floor. The name refers to the wild orchids that once grew there in abundance. The humid, rainy climate has cloaked the mountainous interior of the island with a thick rain-forest cover. It has provided it with a countless variety of plant and animal life. Coral reefs are distributed around the island, and the warm Japan Current also flows by, attracting vast schools of fish.
The Diving
There are shallow fringing reefs with intricate rock formations, caverns, crevices, walls and swim-throughs, and an outstanding large Korean freighter shipwreck to explore. A typhoon capsized this impressive vessel in 1983, and it is now resting on the seafloor in 3 pieces between 40 -20 meters.
The wreck has numerous swim-throughs, hard and soft corals have colonised the rusting structure, crinoids, nudibranchs and various other critters inhabit the wreckage and, large schools of jacks and dogtooth tuna are regular visitors. Green turtles nest on the shores and the reef is home to 4 species of sea snake. The coral reef is pristine and vibrant with a lot of hard corals, sea whips and sea fans, to go along with sponges, soft corals, tunicates, crinoids, and other attached invertebrates.
Other Attractions
This is a volcanic island of breathtaking natural beauty and is home to the country's most isolated aboriginal tribe, the Tao, who are famous for their annual Flying Fish Festival. Other than scuba diving, driving around the island taking in the sites is the renowned tourist past time.
Getting there
Orchid Island is also accessed via Taitung There are regular flights from Taitung on small 19-seater planes that make the journey in around 25 minutes. Travelling by ferry takes approximately 2 hours, and there are daily departures from the Fungang Fish Market. It is also possible to catch a ferry from Green island.
Best time to visit
The climate and best time to visit are the same as Green Island.
Kenting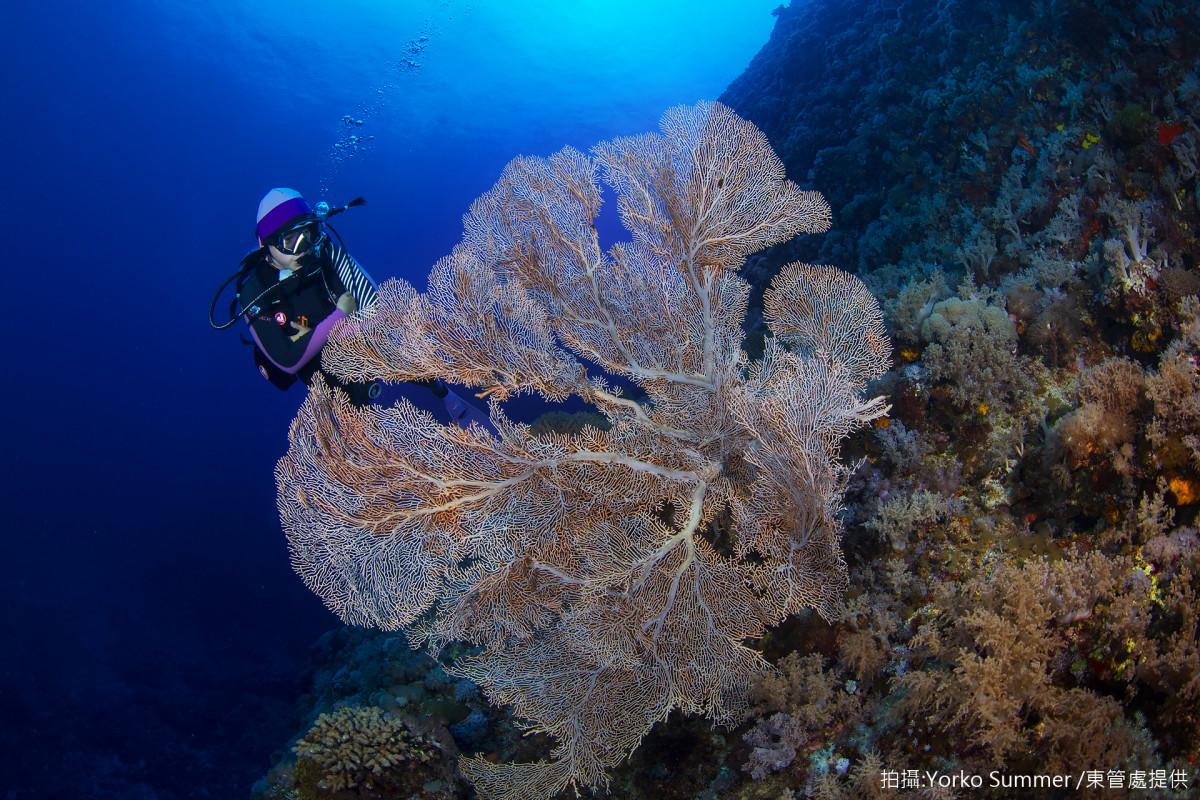 The centrepiece of the Hengchun Peninsula is Kenting National Park, Taiwan's only tropical national park. Established in 1982, Kenting National Park covers a total area of 33,268 hectares of terrestrial and maritime environments. This national park includes significant stretches of agricultural land, providing visitors with a view of typical Taiwanese rural life. The national park also includes mountains, forests, pasture, lakes, dunes, beaches, and coral reefs, everything you could desire when you want to get up close and personal with Mother Nature.
The Diving
With 1,100 species of reef fish, a number endemic, and 60% of the world's hard and soft corals represented on her reefs there is some pretty exciting diving to be had. The Kuroshio Current flows just offshore bringing warm nutrient-rich water. This has enticed and encouraged attractions like big schools of barracuda, hawksbill and green turtles, eagle and manta rays, sharks including bull and whale sharks, pelagics like swordfish, and the possibility of humpback whales.
On top of that, there are more than 20 dive sites with several wrecks and other as yet unmentioned marine life like 471 species of bivalves, schools of anthias, sergeant majors, blue-lined snappers and jacks
Other Attractions
This beautiful part of Taiwan has a national park, beautiful beaches, ecological protection areas, old villages, green hills, and fishing harbours. Surfing is another popular pursuit, and Spring Scream, one of Asia's biggest outdoor music festival is also held here.
Getting there
There is no direct train link from Taipei, first catch the train to Kaohsiung and then take a local bus to Kenting. Buses frequently leave from Kaohsiung train station. Another option is to take a long-distance bus from Taipei which takes around 6 hours, or it is possible to catch a ferry from Orchid island, which takes about 2 hours.
Best time to visit
Again, the climate and best time to visit are similar to green island with the summer months getting very hot and humid. Diving is year-round, but the winter can be frigid, and many of the dive centres close.
Little Liuqiu
Little Liuqiu Island is only 6.8 square kilometres, with a 12km coastline. This is the only offshore coral reef island of Taiwan, and it is blessed with a diverse natural ecology and plenty of beautiful coastal views. People are honest and straightforward here. Temples are everywhere, and graceful old houses abound. There are no traffic lights at all on this island, and the Pace of life is slow and easy.
The Diving
Little Liuqiu is one of the few coral reef islands that surround Taiwan, making it a great spot to go snorkelling and scuba diving. These lush coral habitats house hundreds of different fish and plants right off the beaches, a short boat journey away are several wrecks. Still, this tiny island is best known for its green turtle encounters. Thanks to the island's diverse and protected ecosystem, it's estimated that more than 100 of these gentle giants live in its waters, happily feeding on the plants and animals that inhabit the reefs. They also breed here, with adult females coming ashore to nest during summer months.
Other Attractions
Black Devil Cave is one of several sea caves on the island's west coast, reached by paths that wind around limestone out­croppings and through coral grottoes, some draped in the aerial roots of fantastical ban­yan trees. Wild bore ditch and vase rock are other natural highlights, and there are 38 temples to visit on this tiny island.
Getting there
Liuqiu is by far the easiest of Taiwan's outer islands to reach, requiring a scant 35-minute shuttle from Kaohsiung's HSR station to Donggang harbour followed by an even quicker ferry ride to the island.
Best time to visit
Little Liuqiu is a year-round destination as north-eastern monsoons do not influence it in winter. Temperatures vary little from season to season. Diving is also year-round with the turtles ever-present.
Penghu
The Penghu Islands are an archipelago off the coast of Taiwan consisting of 63 small islands. The main island itself is comprised of 4-5 islands linked by bridges, the longest and most famous one being the Great Penghu Ocean Bridge which connects XiYu and BaiSha island. The main draws to Penghu are its natural rock formations, snorkelling and scuba diving, sailing, beaches, rock climbing, biking, and the annual International Ocean Fireworks Festival. Crystal Clear water, pure beaches and beautiful skies make Penghu a favourite ocean resort destination.
The Diving
The area is famous for its drift diving because of the strong currents of the Taiwan Strait. Both Kuroshio tributary current (during summer) and Mainland China's coastal current (during winter) pass through the Penghu sea territory bringing with them nutrients which create a marine environment rich in life. Stunning purple Acropora corals blanket the reef like a field of lavender, and a myriad of tropical reef fish call this impressive reef home and Pelagic fish species are regular visitors to the area.
Other Attractions
Penghu's sites are mostly natural. There are many rock formations, a huge banyan tree, beautiful beaches, and pretty ocean views. In addition, there are some impressive temples to visit as well as a lighthouse, fort, and a very long bridge. But perhaps the main attraction is the magnificent basalt mesas that rise sharply from the sea in astonishing arrays of temple-like columns.
Getting there
Penghu is easily accessible by plane or ferry. Domestic flights leave from Taipei, Tainan, Taizhong, Jiayi, and Kaohsiung and take 35-50 minutes. Ferries leave from Jiayi's Budai Harbor (1.5 hours) and Kaohsiung Harbor (4 hours for day boat & 6 hours for overnight boat.)
Best time to visit
In general, April through September is the best time to visit Penghu as this is when the weather is mostly sunny. The annual International Fireworks Festival starts in mid-April and ends in June. However, be on the lookout for occasional typhoons around July through September.
In October, a strong wind from the ocean starts to hit Penghu through March. Winter is an extremely windy and a cold time to be on Penghu.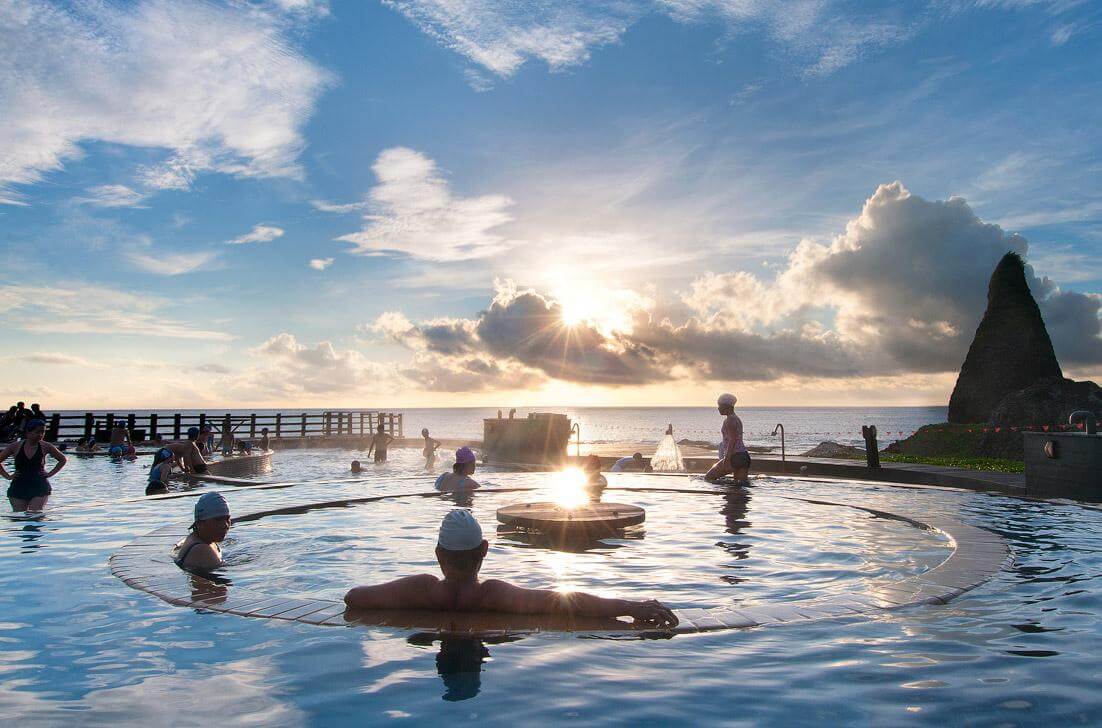 Conclusion
Perched just above the coral triangle Taiwan has been blessed with some magnificent dive sites, and has a growing reputation as a must-visit destination.
For more information about visiting Taiwan, The Heart of Asia
Photo Credit: Taiwan Tourism Board, Kyo Liu, Yorko Summer, Su Huai