We believe in diving to make a difference! That is why we go Raja Ampat diving differently…
Raja Ampat is the epicentre of marine biodiversity and attracts dive enthusiasts, snorkelers and adventurists all over the world. However, the island's location and currents make Raja Ampat a trap for man-made waste caused by increasing populations, as well as poor waste management/treatment practices.
In the spirit of doing things differently, we committed to submitting monthly data to Project Aware's campaign – Dive Against Debris. The data we collect when we go Raja Ampat diving provides insights into an underwater problem that remains out of sight for most people.
This diving data will help identify target areas where waste prevention efforts are needed most.
On our monthly Project Aware Dive Against Debris and Beach Clean-up excursion, we visited Saonek Island (an island nearby that sees a lot of debris washing onto its shores). Hopping onto the speedboats ensured we were there in no time and the teams got busy on the beach as well as in the surrounding waters.
Over 182 debris items were collected, including 135 plastic objects, 4 glass objects, 13 metal objects and other items. The biggest number of debris types were plastic water bottles, straws (the silent killer), broken pieces polystyrene, plastic bags, plastic lids, flip-flops, and broken shoes.
Protecting Raja Ampat Diving from plastic pollution
Plastic does not break down or degrade and doesn't become part of the natural system again. In fact, plastic breaks up. It breaks up into smaller and smaller pieces until it becomes small enough for small fish to mistake it for food. Research has found that even plankton is now mistaking this 'forever material' for food and consuming it, introducing it into the food chain at the lowest level.
Keep an eye out for upcoming conservation efforts on the Meridian Adventure Dive website and join if you go Raja Ampat diving.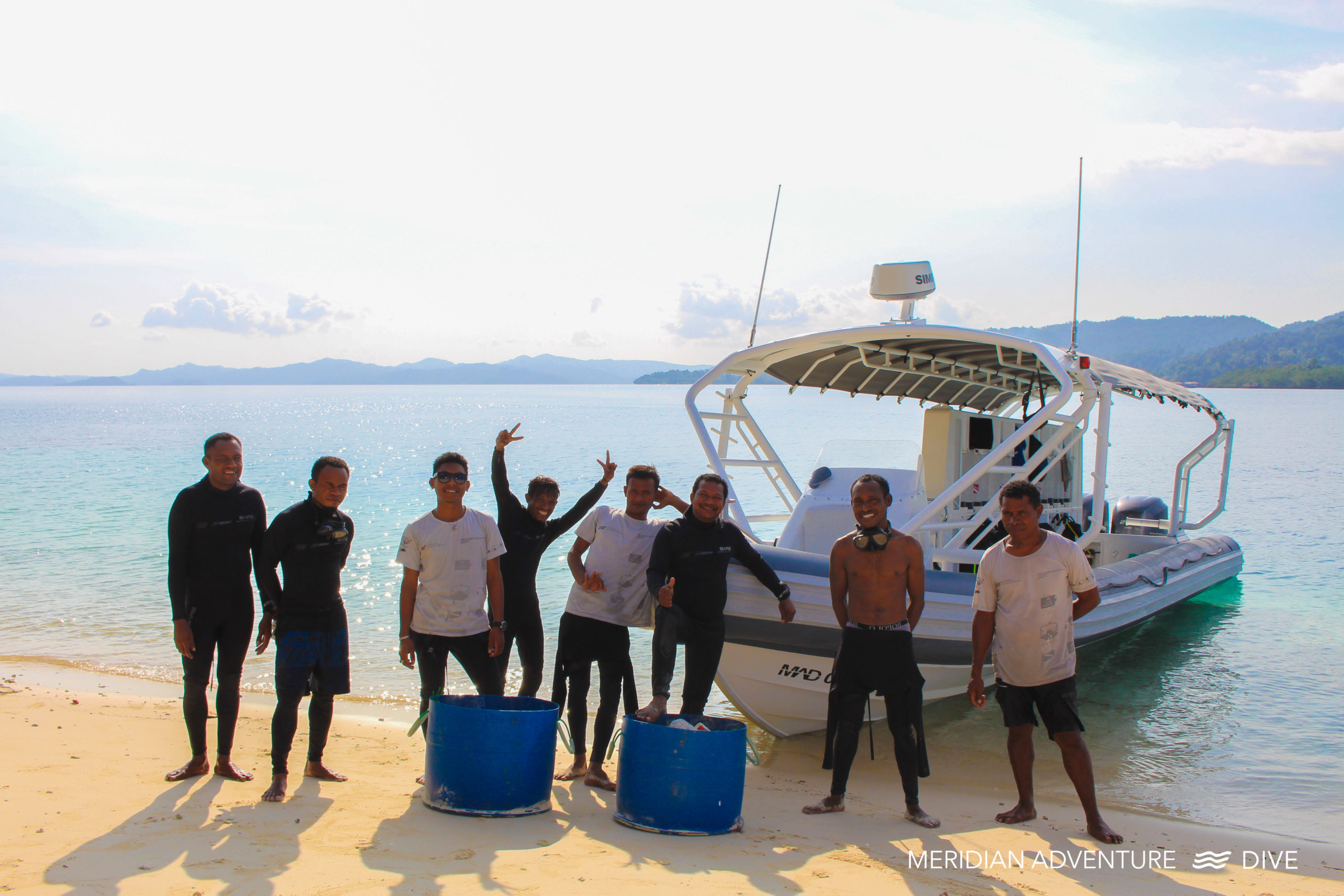 About Meridian Adventure Dive.
Situated in Raja Ampat, Indonesia, Meridian Adventure Dive is a PADI 5 Star Resort and winner of the PADI Green Star award. Scuba divers enjoy our professional services that have become synonymous with both the PADI and Meridian Adventure names.
The sweeping spine of Indonesia's archipelago is an underwater treasure trove, and the Raja Ampat Islands are often overlooked. Raja Ampat is one of Indonesia's most captivating diving grounds and is truly a paradise on earth.
Follow Meridian Adventure Dive on Facebook and on Instagram. Check out Meridian Adventure Dive on YouTube for more Raja Ampat diving highlights.
Read on for more Raja Ampat diving highlights.
Discover Epic Raja Ampat – The Bug Dreamer Collection