Discover Sarawak's fascinating underwater world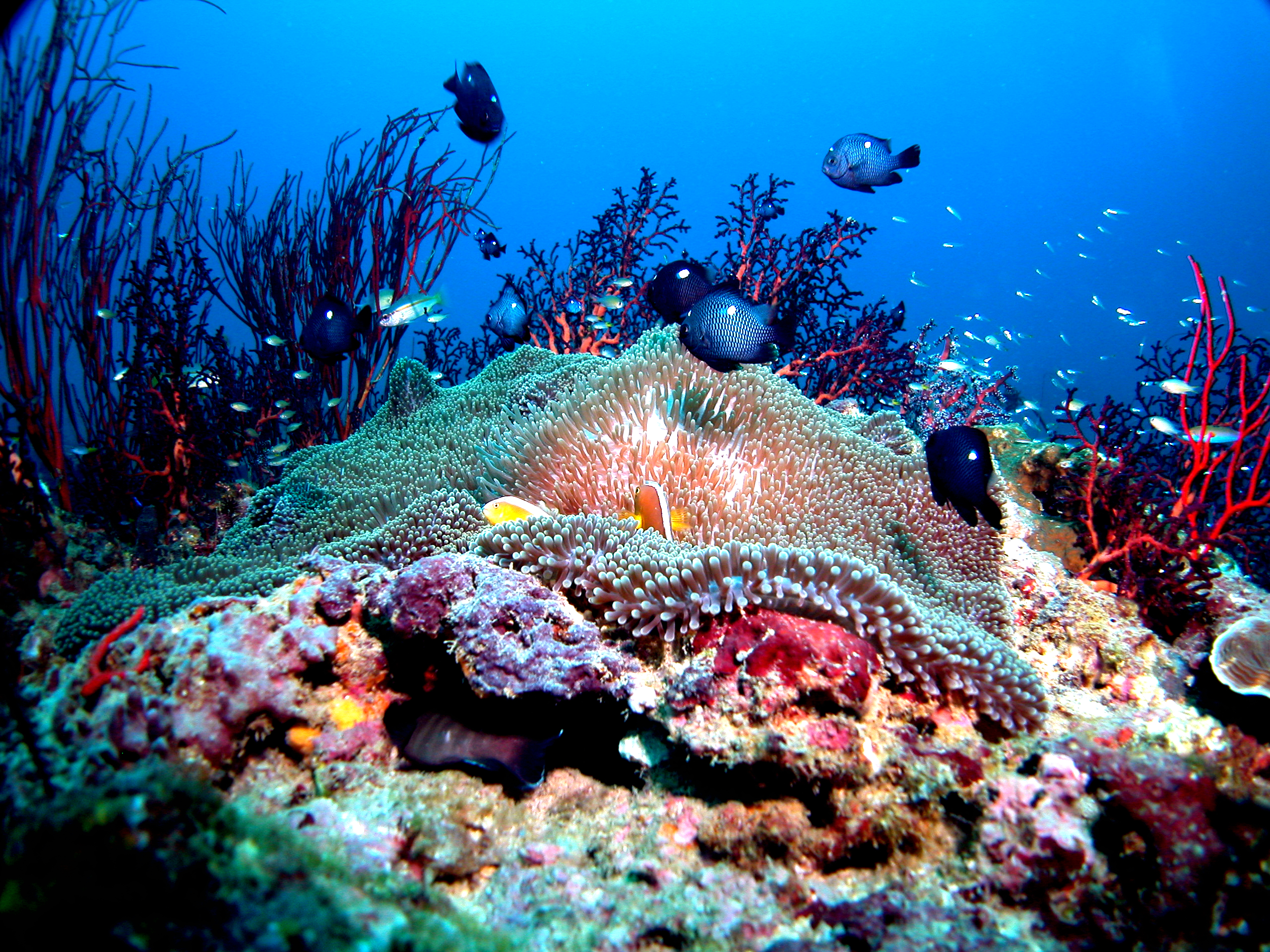 If exploring amazing coral reefs or shipwrecks from World War II are one of the things that float your boat, then you will be pleasantly surprised by Sarawak's fascinating underwater world.
Kuching and Miri offer remarkable diving locations suitable for divers of all levels. Whether you are new to diving, your diving skills need some refreshing, or you are an experienced diver looking for a safe and local dive destination, there are operators providing scuba courses or guide services as well as rental of diving equipment to ensure you have an unforgettable underwater experience.
The beautiful marine life of Sarawak's waters.
Photo credit: http://blog.malaysia-asia.my/2015/09/dive-sites-in-sarawak.html
Unlike Sabah and other islands off Peninsular Malaysia, diving is relatively new to Sarawak. However, the dive spots in Sarawak are becoming increasingly popular. And the good news is that unlike the islands off the peninsular, diving is possible all year-round in Sarawak. Anyhow, the best times to dive are between March to November, as the monsoon brings substantial rain from November through February, causing the water to be a bit more choppy than the rest of the year.
The average daily air temperature ranges from 30 – 33°C, whilst the water temperature from 28 – 31°C. Visibility ranges from 5 – 20 metres whichprovides plenty of opportunity to see a variety of colourful fishes; and if you are diving in March or April, you may also come face to face with the Whale Sharks. These majestic, intimidating yet gentle monsters of the deep are often spotted around the wrecks but do take extra caution as the currents can be strong.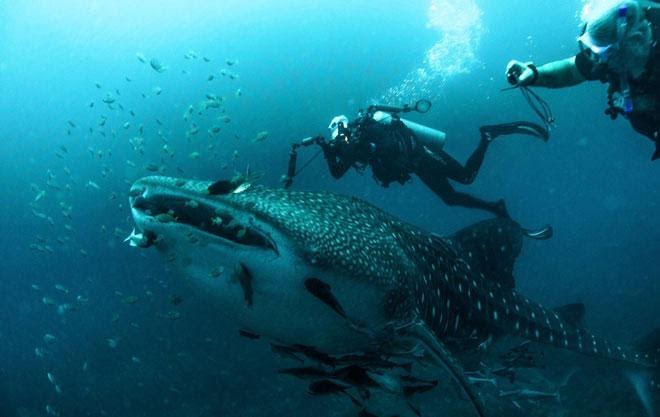 Encountering Whale Sharks off the coast of Miri, Sarawak.
Photo credit: https://www.theborneopost.com/2016/05/07/diving-seeing-whale-shark-in-miri-waters-great-joy-for-lee/ Photo credits to Clement Lee, Ross Kelly and Chris Hii
To help you plan your underwater trip, we've put together a list of some of the most recommended diving spots in Kuching and Miri: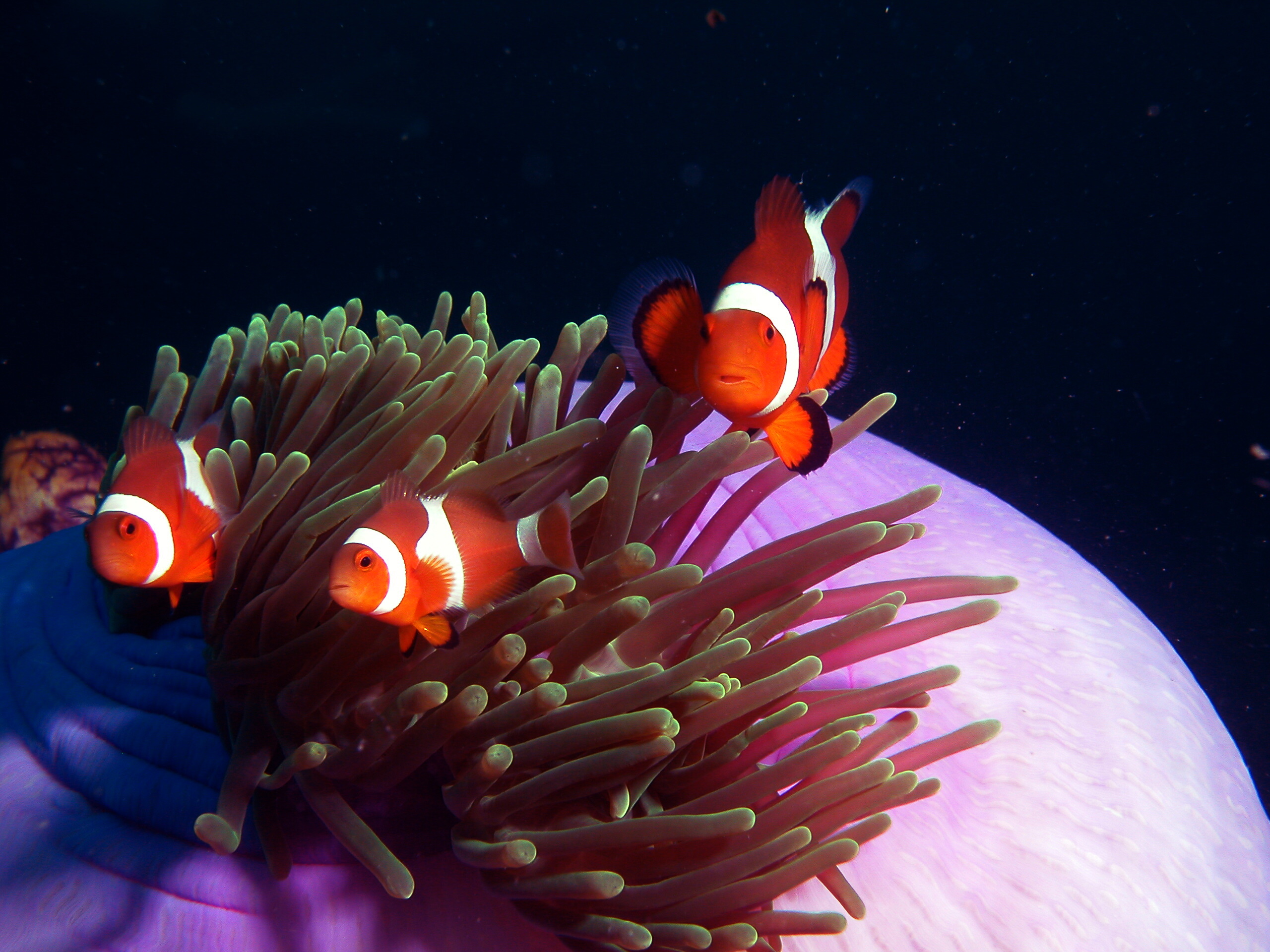 Miri
Miri-Sibuti Coral Reefs National Park
This dive spot is a popular destination due to its abundance of unspoiled patch reefs. There are about 30 coral reefs with over 40 dive sites, and the various spots can accommodate divers of all levels, from beginners to those who are looking for a more extreme underwater experience.It remains a protected area, lying at a depth of between 7 – 50 metres. Water visibility is about 30 metres and the average water temperature is 30ºC, however during the monsoon season, visibility can drop to maybe less than 10 metres, and the average water temperature can go as low as 23ºC.
Wrecks
Two of the more popular wreck sites in Miri are Sri Gadong and Atago Maru. The Sri Gadong wreck attracts a variety of tropical fish including yellow grunts, barracudas, batfish, jacks and giant groupers. The average depth is about 20 metres, and water temperature is between 27 – 30ºC. Water visibility is between 10 – 30 metres, depending on weather conditions. The Atago Maru Wreck, a World War II Japanese ship, lies in a depth of about 14 metres, covered with corals. Water visibility can be challenging at times but is normally around 20 – 40 metres.
Read more about Miri dive spots at Diving in Miri-Sibuti Coral Reefs National Park.
Kuching
World War II Wreck Diving
Cast your mind back to 1941. The US Navy pacific fleet was attacked by the Japanese navy at its base, Pearl Harbour. 10 days later, as the Japanese were en route to invade Sarawak, the Dutch submarine K-XIV torpedoes and sinks five ships, including the Katori Maru, Hiyoshi Maru and Sagiri. These wrecks have become popular with divers. Because it was broken into pieces, the Katori Maru was spread across a wide area, so only the bow is intact. The Hiyoshi Maru, however, is still intact. In amongst parts of the ship, ammunition and ceramic ware, divers have spotted spiny lobsters, nudibranchs, barracudas, rabbitfish, batfish and pufferfish. Nurse sharks have also been sheltering amongst the wreckage. The Sagiri wreck is slightly deeper at 26 metres, but it's worth a visit as it is still intact. The water depth at the wrecks is approximately 21 meters but be ready for strong currents. Visit https://sarawaktourism.com/attraction/wreck-diving-off-kuching/for more information on diving around at these wreck sites.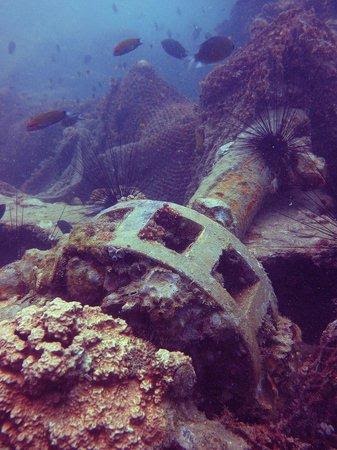 The Katori Maru Wreck Off Miri, Sarawak
Photo credit: https://myscubadivinggearguide.com/kuching-diving-sarawak-malaysia
Satang Besar
A popular diving spot off Kuching is around the four Satang Islands, located about a 45-minute boat ride from Santubong. The average depth and water temperatures are 10 metres and 30ºC respectively. Depending on the weather and also river sediment, water visibility can range from 5 – 10 metres, however, divers will still be able to spot sensational marine life such as groupers, starry puffers, snappers and batfish as well as beautiful corals. You should also look out for nudibranchs, eels and sea urchins. The currents around these areas are mild to non-existent, and therefore suitable for all levels of divers. Click https://sarawaktourism.com/attraction/satang-islands/to learn more about diving around the Satang islands.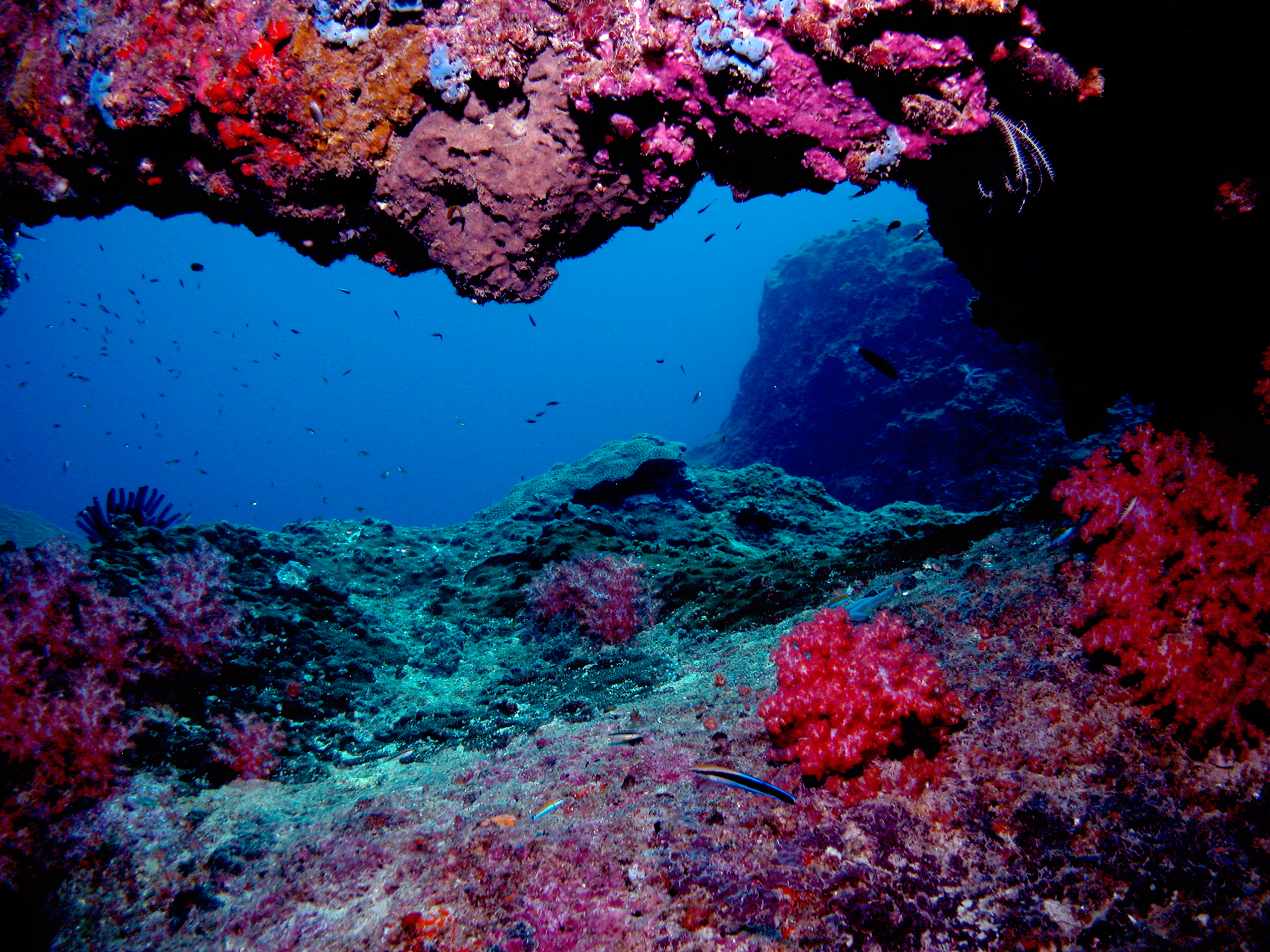 Other recommended diving spots near Kuching and suitable for beginners include:
Damai
Sematan
Sempadi Island
Talang-Talang Island
Now that you know the best dive locations in Sarawak, what's next? Do you need a diving license? Are you required to have a diving certificate? Do you even need to know how to swim?
Currently, you are not required to have a diving license or certification to dive, however you do need to undergo the necessary training. The training will be conducted by PADI professionals and includes a quick yet thorough introduction to diving, including basic diving safety and etiquette. You'll need to be in reasonable physical health, have adequate swimming skills, and be at least 10 years of age.
Some of the locations require you to be a certified PADI diver. Courses can be taken in Kuching and Miri and the operators or scuba schools offer a variety of courses from beginner right up to professional instructor levels.
Listed below are diving operators and scuba schools as well as available liveaboard packages:
Kuching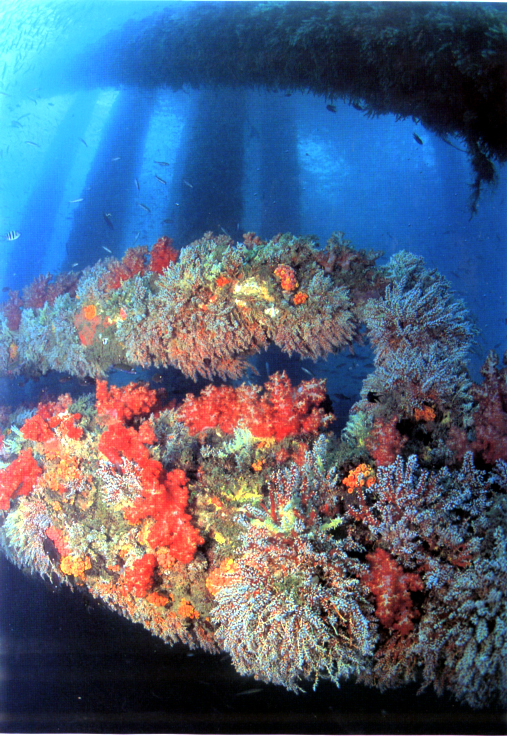 Miri
Co.Dive
Address: Lot 2117, Block 9, Jalan Miri-Pujut, MCLD, 98000 Miri, Sarawak
Phone: 085-417053
Email: info.cocodive@gmail.com
Borneo Travel Network
Address: Majestic Leisure & Tours Sdn Bhd,Lot 893, 1st Floor, Waterfront Commercial Centre, Jalan Permaisuri, 98000 Miri, Sarawak
Phone: 085-427751/085-417751
Email: goh2552@gmail.com
Miri Divers
Address: Gymkhana Club Miri, Lot 732, No. 10, Jalan Datuk Abang Indeh, 98000 Miri, Sarawak
Phone: 013-7060789
Email: miridivers@gmail.com
Red Monkey Divers
Address: Gymkhana Club Miri, Unit 1, Lot 732, Jalan Dato Abang Indeh, 98000, Miri, Sarawak
Phone: 085-416445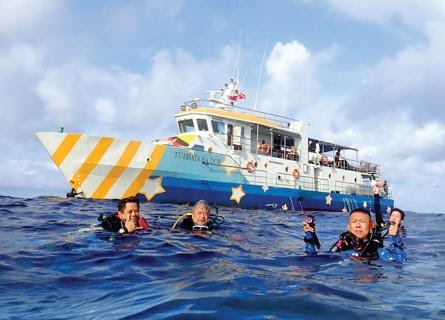 Liveaboard Packages
Dive at Borneo Sdn Bhd (Tubbataha Dos)
Vessel location: Lot 2075, Jalan Disa Krokop, 98000 Miri, Sarawak Phone: 012-8861875
Email: opn.diveatborneo@gmail.comTubbataha Dos, a 155-tonne dive boat, is equipped with 10 air-conditioned cabins and caters for up to 25 guests. Bathrooms with hot water are available 24 hours and there is also a sun deck and outdoor dining (local and western cuisines). The available diving packages are as follows:
– 4 days/4 nights Luconia Shoals Diving
– 3 days/3 nights Bintulu Reefs
– 2 days/1 night Miri Liveaboard
The Tubbataha Dos dive ship off the coast of Sarawak
Photo credit: https://www.diveatborneo.com/about-tubbataha-dos.php
In support of responsible tourism (read more about responsible tourism here, Diveheart, recently named as a 2020 Top-Rated Nonprofit, offers scuba diving, scuba therapy and related opportunities for children, adults and veterans with disabilities.
Contact them to get more details on a suitable diving package:
Diveheart Borneo, Premier Marine Scuba Center
Address: Lot 10, Milan Square, Jalan Wan Alwi, 93350, Kuching, Sarawak
Phone: 012-8892336
Email: Wetwold_dive@yahoo.com
Contact: Diveheart Borneo Coordinator, Ernest Teo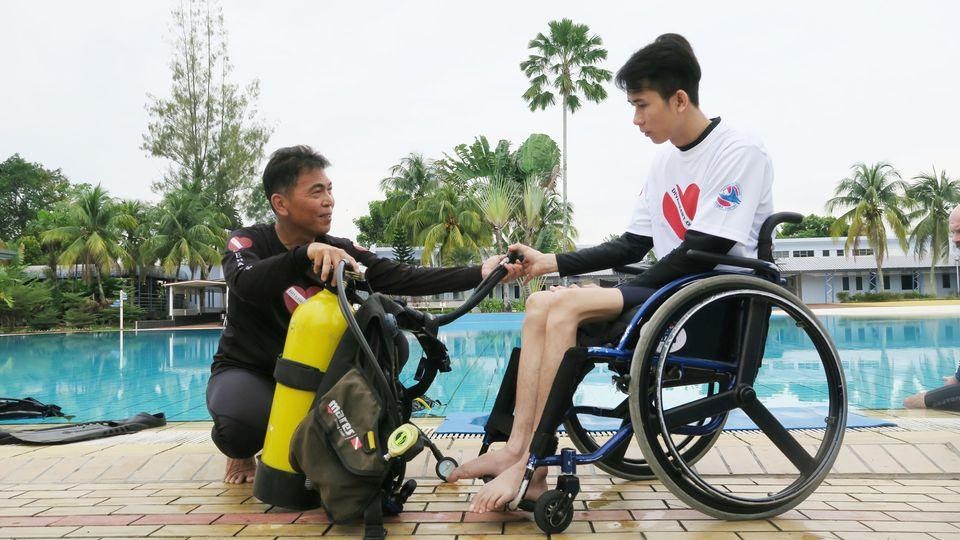 A Diveheart Borneo instructor goes through a scuba equipment safety briefing in Sarawak.
Photo credit: https://www.facebook.com/diveheartborneo/
Finally, don't forget it is always a good idea to get a scuba diving trip insurance to protect you in the case of any accidents or medical emergencies.
Diving in Sarawak provides unique opportunities to escape the crowded locations of West Malaysia, so if you haven't tried diving, book your first scuba diving lesson in Sarawak while exploring the outstanding locations here.
Meanwhile, if you've already experienced an unforgettable diving experience in Sarawak then tell us where you went and what was so good about it on STB's social media, and share some of your awesome photos too!
Effective 4 October 2020, Malaysians and foreign citizens need to apply for permission to enter Sarawak and submit an e-health declaration form at least 12 hours before entry (https://sarawakdisastermc.com/). The14-days at a quarantine centre is mandatory and Covid-19 tests will be done on the 2nd and 10th day (all costs are self-borne). Different rules apply for Sarawakians returning home.
Click here for Scuba Diver Magazines