In less than two weeks, the Main Stage at the GO Diving Show at the Ricoh Arena in Coventry (Saturday 22 February and Sunday 23 February) will be hosting TV stars, authors and adventurers Steve Backshall, Andy Torbet, Miranda Krestovnikoff and Monty Halls.
Steve Backshall
Adventurer Steve Backshall has travelled extensively across the globe. During his adventures he has scaled some of the world's most-challenging mountains and terrains, experienced tribal rituals in Indonesia, faced riots in East Timor, got a black belt in martial arts and come face to face with the most-deadly creatures on earth.
He is one of the busiest presenters on television, presenting award winning shows across the BBC, ITV, Discovery and National Geographic channels. His most recent ten-part series Expedition saw him travel to some of the most-remote areas of our planet, including one episode in which we see Steve cave diving in Mexico's cenotes.
Steve is particularly well known to younger audiences for his incredibly popular Deadly 60 series on CBBC.
Miranda Krestovnikoff
Born in land-locked Buckinghamshire, Miranda never thought she'd end up as a water baby, but an attractive vet in the queue for the scuba diving club at University persuaded her to sign up and she was lured into the underwater world, never to look back.
Little did she realise that diving would shape her career. Her very first job as a TV presenter involved diving with reef sharks and her first shark bite! Presenting two series of Wreck Detectives for Channel 4, she went on to explore underwater wonders around the UK for BBC2's BAFTA-award-winning series Coast. She now dives and presents wildlife stories on BBC1's The One Show and has even presented radio programmes underwater for BBC Radio.
Her husband and two children have no option but to follow suit and they are all divers, too. She writes regularly about her diving adventures in the UK and abroad and the challenges of taking family to far flung places to pursue her hobby.
Andy Torbet
Andy Torbet is a professional underwater explorer, cave and technical diver, Fellow of the Royal Geographical Society and Member of The Explorers' Club. At last count he's written over 200 articles and presented on 21 TV series, including programmes which saw him dive HMHS Britannic, under iceberg in the Arctic, inside glaciers in Greenland, freedive under Alaskan ice, with giant spider crabs in Japan, pilot the Oceanworks 1ATM Hardsuit and dive shipwrecks and caves all around the world. He's been lead diver and supervisor on a number of archaeological and scientific expeditions, and spent ten years in the British Forces where one of his roles was commander of the Army's Underwater Bomb Disposal Unit.
He's also a professional skydiver and climber, amateur father and seems to spend half his life living out of his campervan, though his last gig – as a stuntman for the new Bond movie – saw him moving in completely different circles.
Monty Halls
A former Royal Marines Officer who worked for Nelson Mandela during the peace process in the early 1990s, Monty left the forces to pursue a career in expeditions, travel journalism, and marine biology. Monty has since led teams in some of the most-challenging environments on Earth, presented numerous multi-award-winning documentaries, launched his own production company, and become a renowned inspirational speaker and writer.
Monty is a Land Rover global ambassador, president of the Galapagos Conservation Trust, a Help for Heroes patron and numerous conservation organisations. He is best known for his three BBC2 series Great Escapes, where he lived on the west coasts of Scotland and Ireland with his dog Reuben. He also presented the multi-award-winning series Great Barrier Reef.
His Channel Four series, My Family and the Galapagos, aired to great acclaim and featured the whole Halls family in a poignant conservation mission to the Galapagos. The second series is currently on Sunday evenings. He has written several books, and is a regular contributor to magazines and newspapers.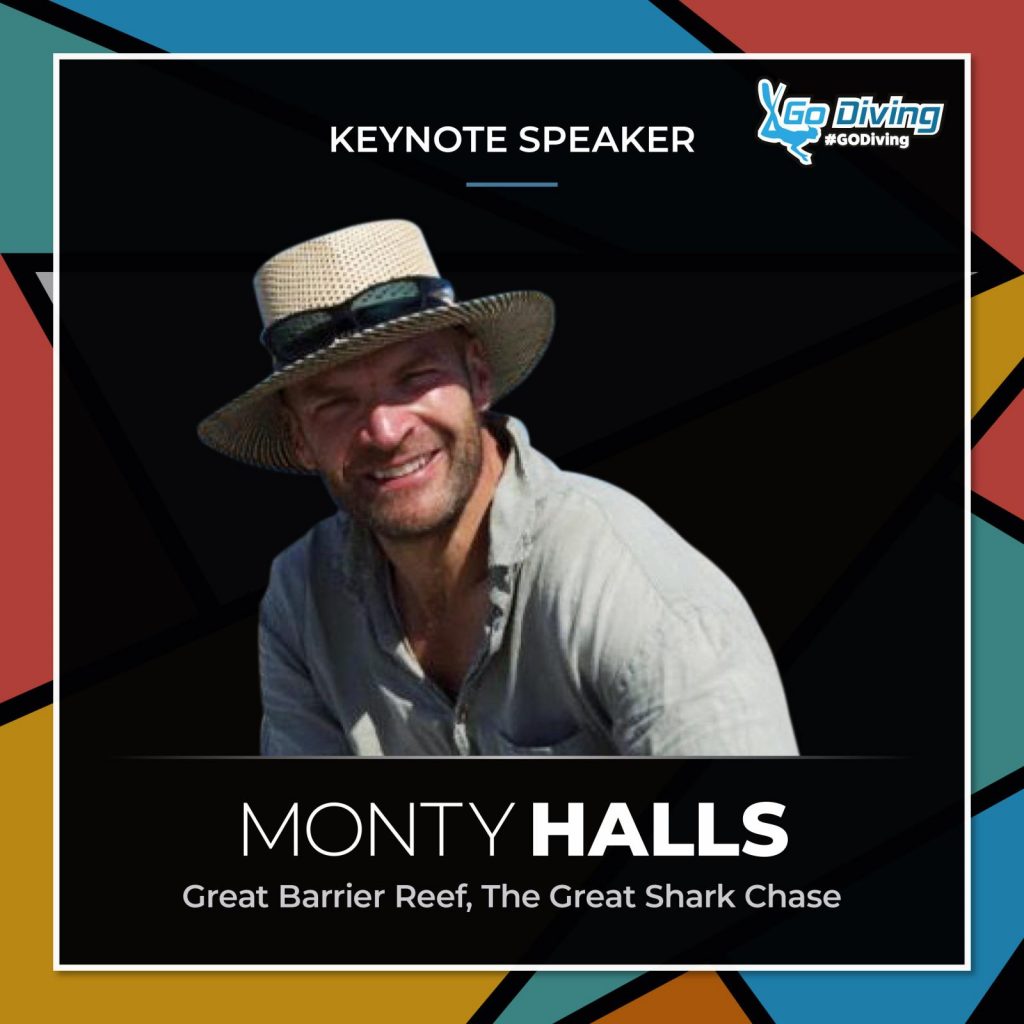 Have you booked your tickets for the GO Diving Show yet? It is the perfect way to kick off the 2020 diving season! www.godivingshow.com/dive-show-tickets/