Introducing the Apeks Exotec Back-inflate BCD
Mark Evans: Backplate-and-wings are all en vogue right now, but many people do not want to go down that route and still like the feel and familiarity of more-traditional BCDs. Back-inflate BCDs provide a combination of the better aspects of both jacket-style BCDs and backplate-andwing set-ups – if you aren't planning on heading down the technical route in the future (obviously BPW are modular and can be adapted for doubles, etc), and want all the comfort and features of a jacket without the bulk, they are well worth considering.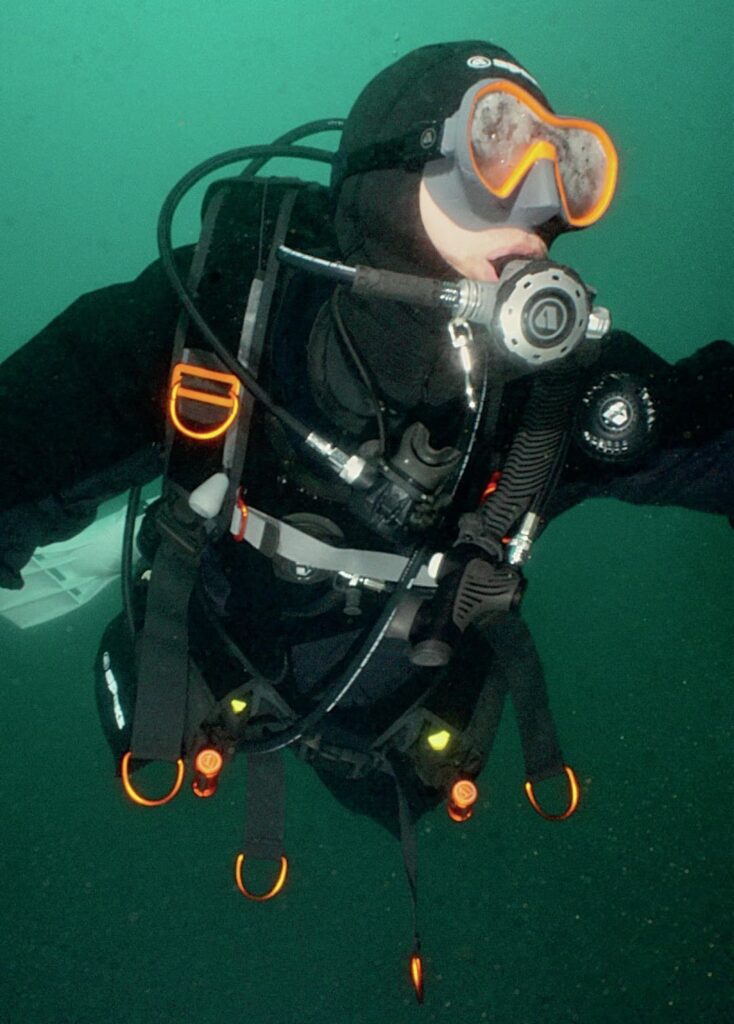 Apeks Exotec: A Stylish and Versatile Evolution
Enter the Apeks Exotec. The Exotec represents an evolution from the long-standing Apeks Black Ice backinflate BCD, but thanks to its eye-catching orange anodised aluminum finishings and features – which seamlessly match with other Apeks products, such as the torches, spools, reels, etc – combined with slick, hard-wearing Armoguard bladder, it certainly looks ready for the modern era. You can get it with more-subtle grey anodised aluminum fittings if you are a bit of a shrinking violet.
BioReact Articulation Point for Comfort and Flexibility
While it has evolved from the venerable Black Ice, there is much that is brand new on the Exotec, chiefly the BioReact articulation point behind the lumbar support. We are all used to BCDs having rigid backplates, but with the Exotec, the upper part of the backplate can move independently to the lower part, pivoting on the BioReact joint. What this means is an unparalleled ability to bend and twist into all sorts of positions you would not normally contemplate while wearing dive kit.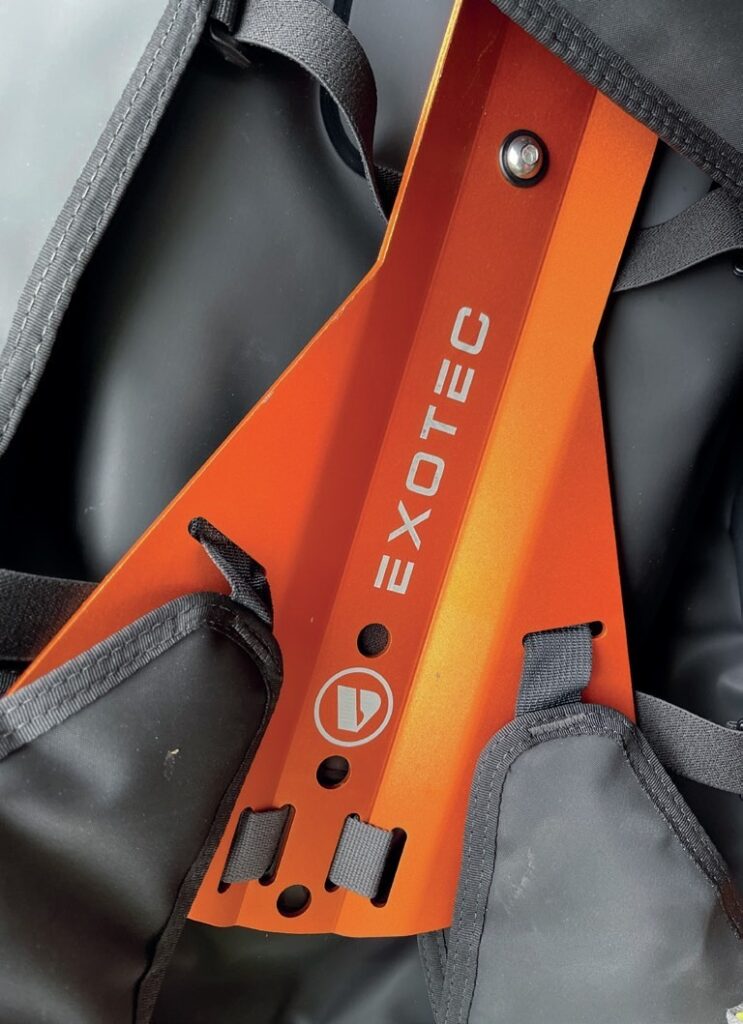 Now we aren't all going to be playing Twister when going diving, but in reality, what this innovation offers is a high degree of comfort both topside and in the water. For example, I could bend sideways to pick up my camera and the upper part of the Exotec went with me, while the lumbar support stayed solidly in place. Underwater, I was also able to bend and flex with no hinderance.
Surface Comfort and Underwater Efficiency
The comfort and performance of the Exotec on the surface was showcased as we walked through the car park to the water's edge at Capernwray inland dive site. My buddy in his BPW was bent slightly forwards as he walked, whereas I was upright, the weight of the cylinder comfortably sitting on the lumbar support. So-called GripTek fabric helps keep the BCD in place as well.
Underwater, the Exotec is also extremely efficient, holding you in a nice flat trim position, but equally allowing you to turn on your side and hold that position without it overly trying to force you back into trim. Useful if you are swimming alongside someone or something and trying to photograph or video them. The bungee system on the bladder keeps it tucked in nice and snug to reduce drag, and the chance of snagging on hazards if you are ferreting around in a shipwreck.
Customizable Fit and Quick-Drying Armoguard
Like the Black Ice, there is the ability to personalise the fit of the BCD – undo four nuts and you can adjust between medium and large around the waist, which is handy if you need to swap from bulky drysuit to rashguard and board shorts. The backplate also has three different height positions to allow for optimum fit.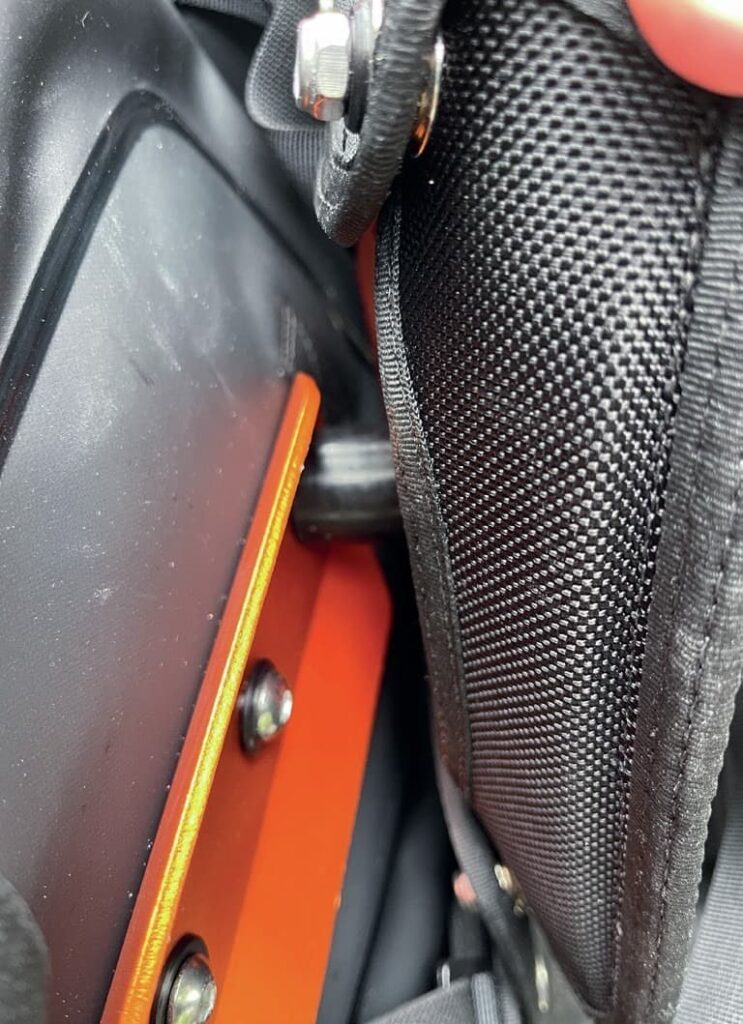 The aforementioned Armoguard is not only hard-wearing and looks cool with its slick finish, as I found out it also dries extremely quickly – very handy when you are abroad and want your kit bone dry before flying home. I have often had to balance the padded backpad of my Transpac II on top of a door in front of the air-con unit to try and eke the last bits of moisture out of it.
Anodised Aluminum Fittings and Convenient G-hooks
I also mentioned the nifty anodised aluminum fittings before too. There is a proliferation of D-rings as per the norm, but on the chest strap, there is a neat G-hook, which allows for simple one-handed operation. There is another of these hooks on the upper tank retainer strap. They are simple to hook into place, but once there is a bit of tension on them, they will not undo unless you want them to.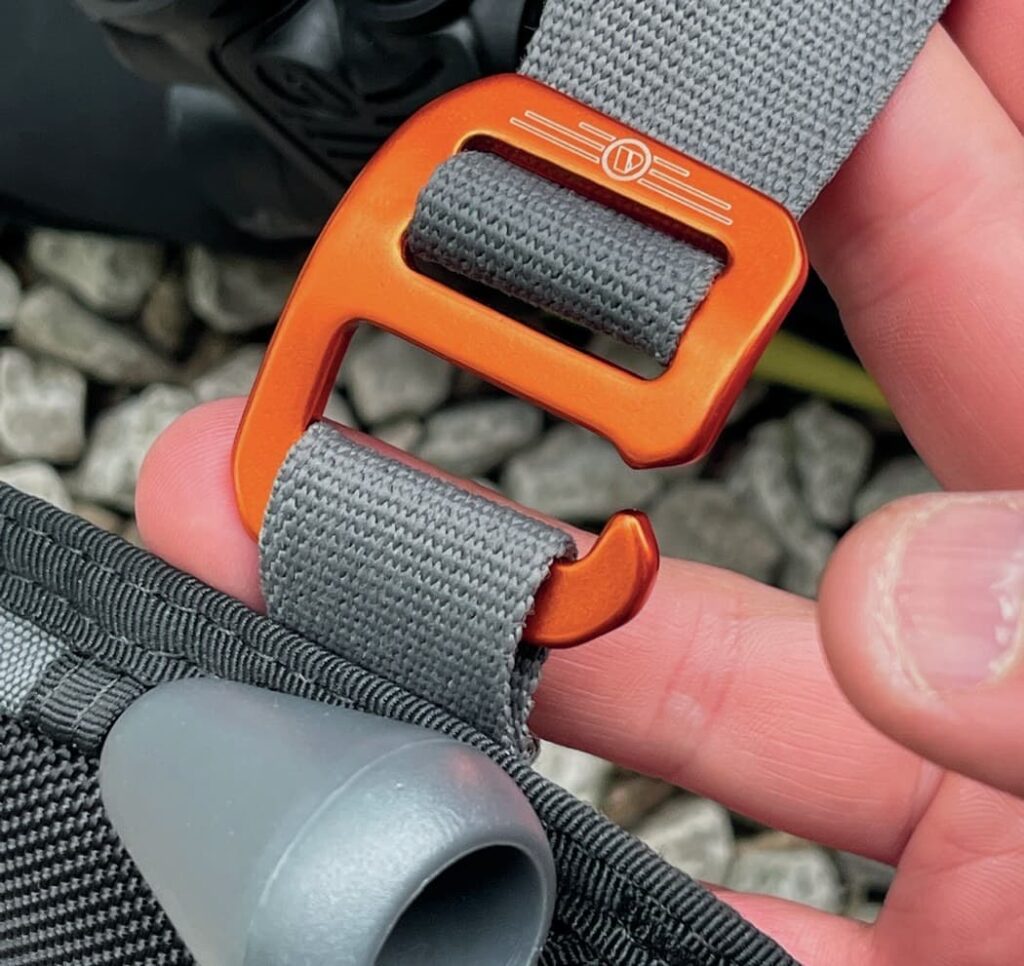 Ample Storage and Drop-Down Pockets
While there are more than enough D-rings to attach all manner of accessories, you probably don't want to look like a Christmas tree, so the Exotec also features two relatively large drop-down pockets on either side of the waist strap. When not in use, these fold up and Velcro closed out of the way, but opened up, they are big enough for a spool and small DSMB, or a back-up torch.
Surelock Integrated Weight System
The Exotec is fitted with Aqualung's tried-and-tested Surelock integrated weight system, but even here, they have upped the ante. The Surelock pockets have anodised aluminum handles rather than the usual plastic ones which match with the rest of the fittings. The Surelock system is one of the most-secure on the market – a definite 'click' tells you the pocket is solidly in place, and then it will only release when you grab the handle and give it a good tug. There are also two non-dumpable trim weight pockets tucked neatly behind the Surelock holders.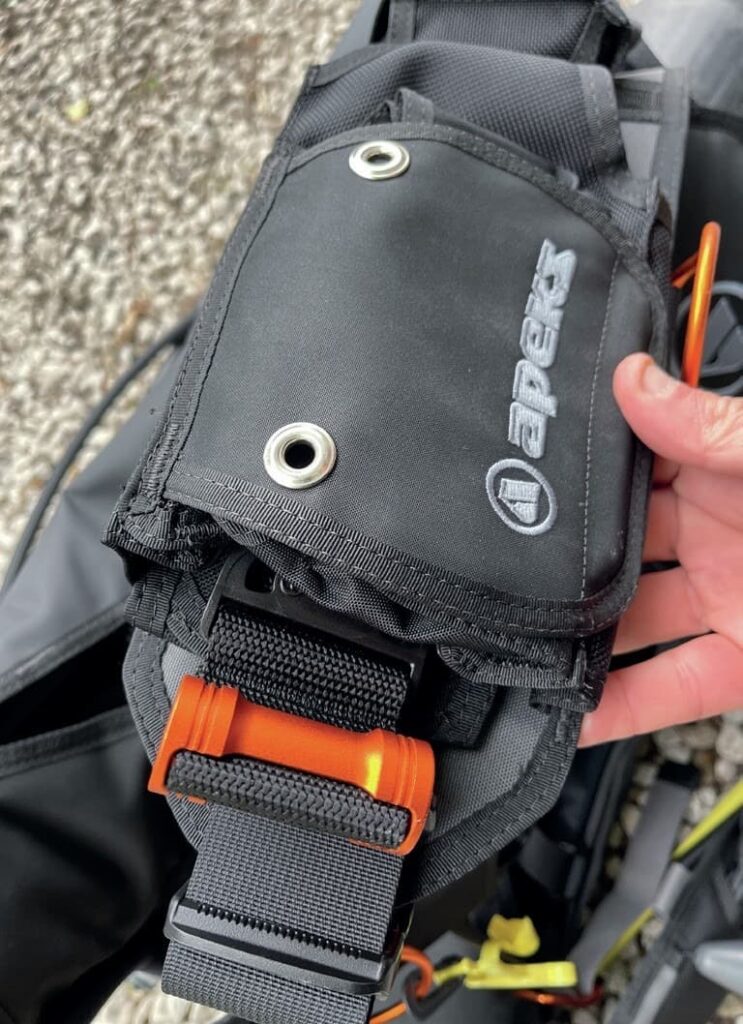 Effortless Buoyancy Control
Controlling your buoyancy in the Exotec is simple, as there is a pull dump on the right-hand shoulder, and two on the bottom of the wing on either side. At first glance this might appear overkill, but I like to have the two dumps on the bottom of the wing as it means you can reach back and tweak your buoyancy with either hand if the other one happens to be occupied. These flat valves are very streamlined compared with normal dump valves, but they vent rapidly when needed. The Powerline inflator sits comfortably in your hand and can fill the Exotec swiftly.
Final Thoughts
The Exotec is well-made, looks great and performs exceptionally well. It isn't too heavy, so would suit the traveling diver as well as those heading off to local waters.
This is a fully featured, high-spec back-inflate BCD, akin to the Scubapro Hydros Pro, and the price point reflects this, however, you do get a serious bit of kit for your money, so if you are hankering for something different to your jacket-style BCD, but don't want to venture into the realm of backplate-and-wing, this is well worth some consideration. You have all of the familiar jacket features – pull dumps, adjustable shoulder and chest straps, pockets, integrated weights – but with the benefit of less clutter up front and all your buoyancy around the cylinder.
APEKS EXOTEC | SRP: $999.95
---
This article was originally published in Scuba Diver North America #13
Subscribe digitally and read more great stories like this from anywhere in the world in a mobile-friendly format. Link to the article