APEKS DSX | SRP: £1,125
Mark Evans: Apeks have dabbled in the computer market in the past, but the units were simply rebranded products from other manufacturers. The DSX represents the first dive computer developed specifically for Apeks, though anyone who has dived an Aqualung i770R will notice immediate similarities with the screen and display, which is no surprise as both were developed by the company's Pelagic arm, specialists in dive computers and software.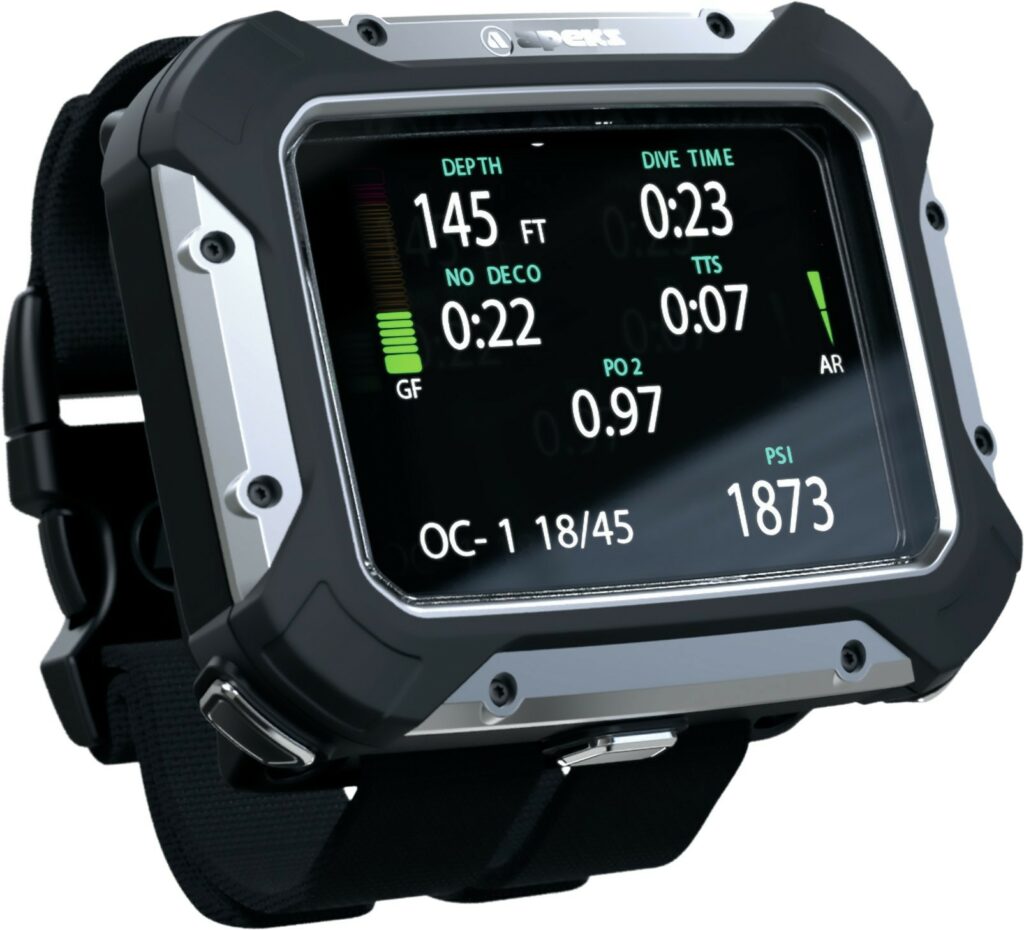 Wrist-Mounted Dive Computer
The DSX is quite a compact wrist-mounted dive computer, which has a titanium outer bezel – this not only saves weight and is very durable, but it looks pleasing to the eye too. It has a 2.4-inch TFT colour LCD display, and you can customise and personalise the display in terms of colours and what is shown on screen when and where. On full brightness this is very visible underwater, especially when conditions deteriorate and the vis drops. However, in bright sunlight on the surface, it is not as easy to read.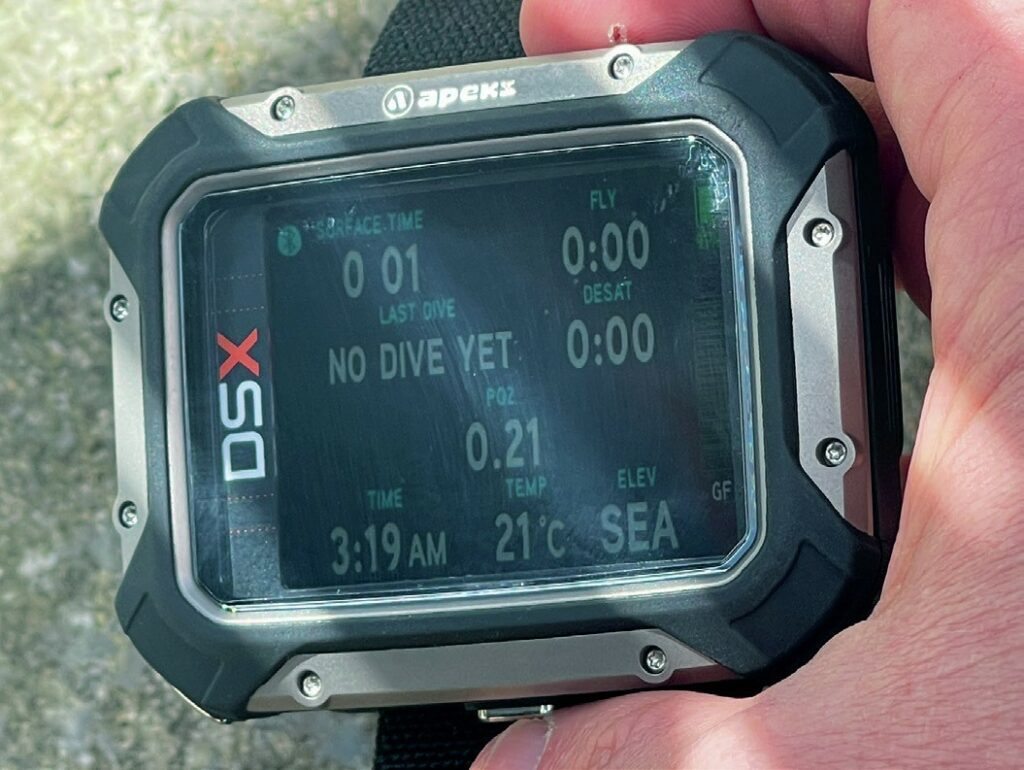 Navigation is via three push buttons – bottom left, bottom right and right in the middle on the bottom of the computer, though you can 'flip' the display if you'd prefer the buttons along the top. Whenever I get a new dive computer in for review, the first thing I do is have a play about with it to see how intuitive the menu system is. If I have to refer the manual, then that is a mark against the unit, but with the DSX, within a few minutes I was confidentially bouncing around through the different settings.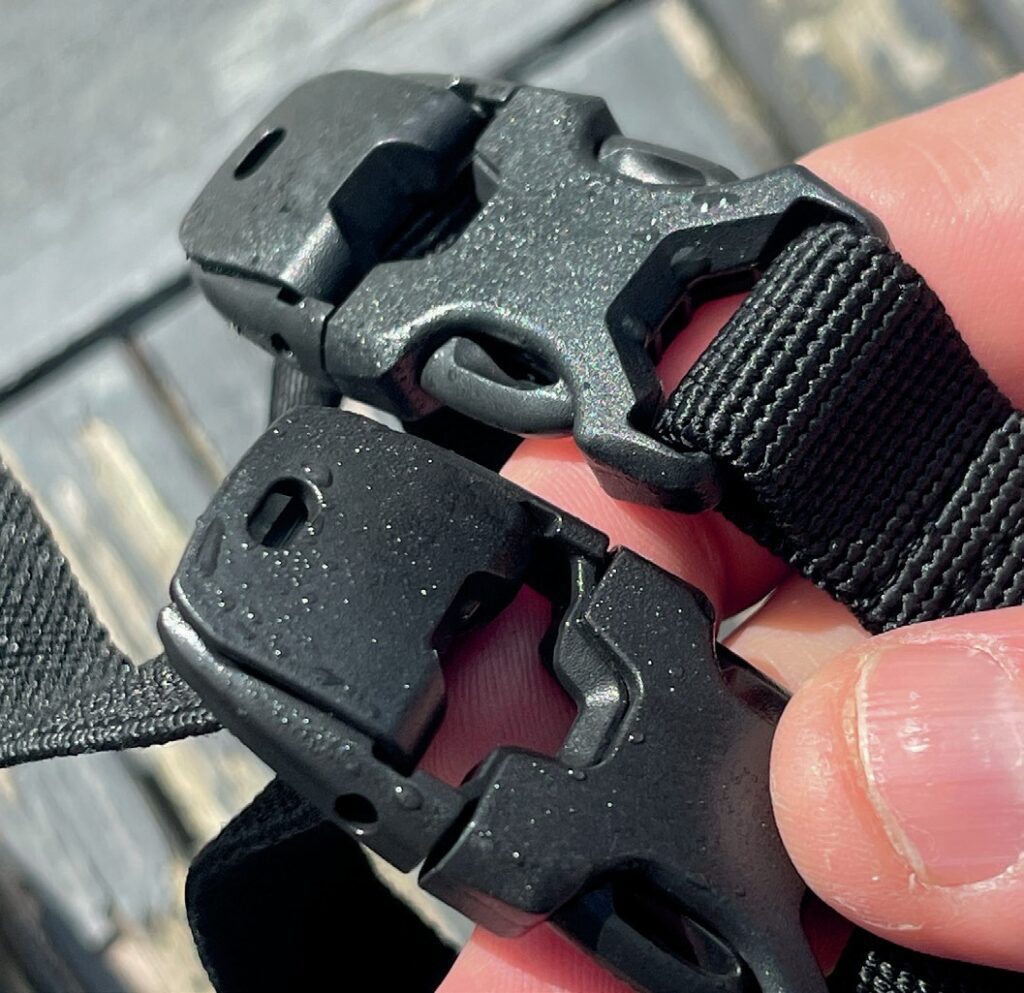 Straps and Buckle Releases
You get two options for attaching it to your wrist – dual elasticated straps with pinch-clip buckle releases, and a bungee cord. Personally, I prefer the former, as it is very easy to clip and unclip the buckles together, even wearing gloves, and I like the click-lock system, whereby you can pull the strap tight and then lock it off. However, if you are one of those people who tries to cut down on 'failure points' wherever possible, they've got you sorted with the bungee.
Features and Functions
The computer boasts a veritable smorgasbord of features, meaning whatever level of diver you are, it has got you covered. It runs the tried-and-tested ZHL-16C algorithm, with gradient factors and sport settings, and has several modes – open circuit (with sport mode setting), sidemount, gauge sidemount, closed circuit, and gauge.
This means the DSX will do air, nitrox, trimix and CCR. It can deal with up to six gas mixes, and is capable of wirelessly linking with up to six transmitters for gas integration, so is ideal for sidemount or other multi-cylinder diving.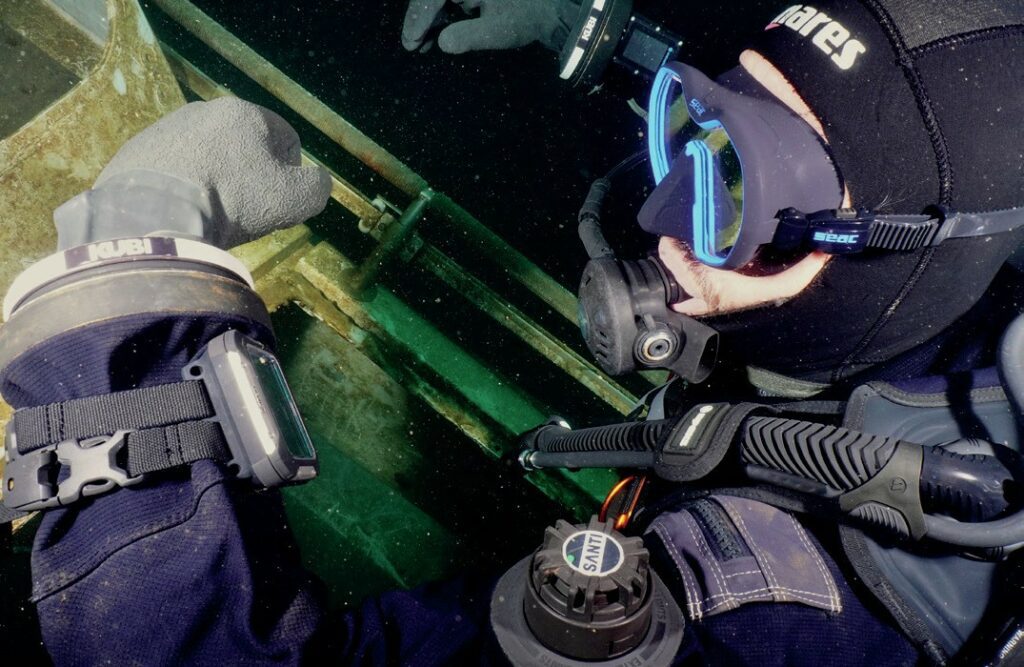 Sidemount divers will especially like the specific sidemount mode, which features gas switch notification.
The DSX has audible, visual and vibration alarms, which I really like. I have never been a fan of 'beeping' computers, so it is nice to turn off the audible alarms but still have the visual, and especially the vibration, means of getting your attention. You can feel the vibration through a drysuited forearm with no issues.
GPS and 3D Digital Compass Function
Apeks has added a GPS function to the DSX, which allows you to mark waypoints on the surface and thus navigate back to your entry point. It also has a 3D digital compass for navigation, and this works exceptionally well, being nice and clear and easy to read.
GAS Analyser
The DSX even comes with a gas analyser (no oxygen cell is provided, but it is a commonly available R22 type). This is very handy when you are on a liveaboard, for instance, and there is only one 'boat' analyser to go round when you are getting ready to dive. Having your own analyser allows you to be more self-sufficient – essential for expedition divers.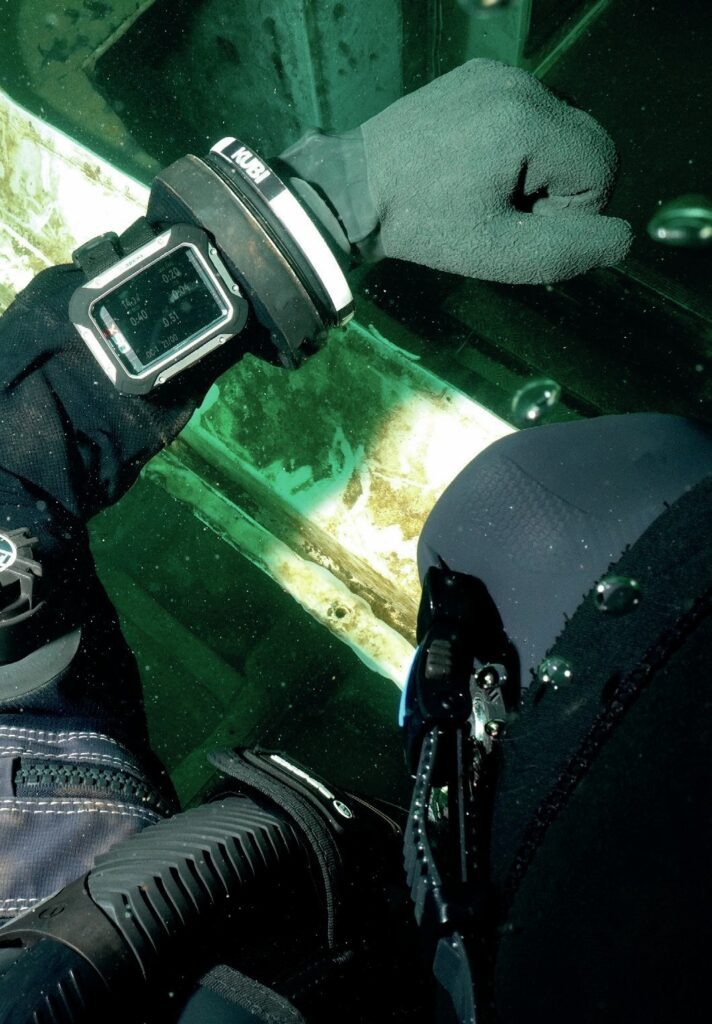 Battery Life and Charging
The computer has a lithium rechargeable battery, which can be recharged two ways. You can either plonk it down on the supplied induction charging mat, or you can plug in a more-traditional USB cable for faster charging from the mains, or a portable power source if you were out on expedition in some remote location.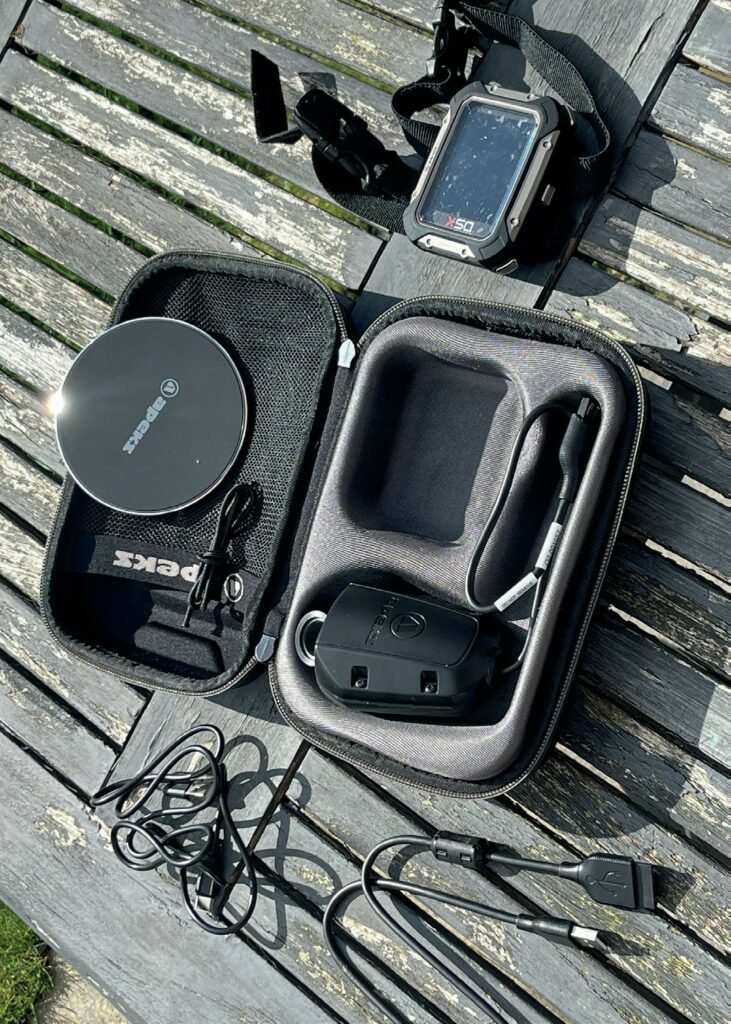 Bluetooth Connectivity
As with the range of Aqualung computers, the DSX has Bluetooth connectivity, and can wirelessly sync your dive data with the DiverLog+ app on your mobile device, be that Android or iOS. You can view your dive log and profile data, add notes and photographs, even change your dive computer settings, all from the app.
Apeks DSX vs. Shearwater Perdix 2.0
The DSX is going head-to-head with several existing computers, but the one it is most-likely to be compared with is the Shearwater Perdix 2.0. This seems to be well on its way to becoming omnipresent at dive sites around the UK, with many divers sporting one on their wrists. So will the DSX steal some of their thunder? Well, it definitely has some functionality and extras, such as the gas analyser, that the Perdix does not.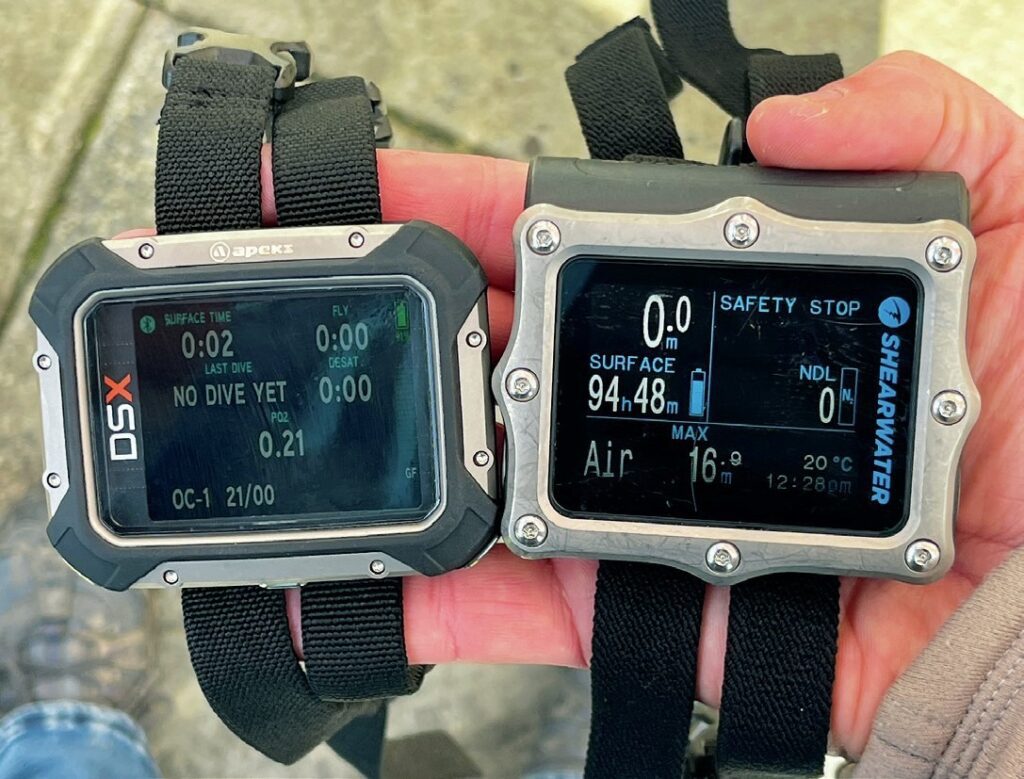 The DSX can link to six transmitters, the Perdix can link to four. It has a rechargeable battery whereas the Perdix does not, but this is not such a deal-breaker as the Shearwater only needs a single AA-cell battery, which is readily available and can be swopped out in a matter of seconds. The screen on the DSX is slightly larger than on the Perdix, but even at full brightness, it cannot compete with the Shearwater, especially on land in bright sun. The digits on the Perdix are also larger than on the DSX. So, swings and roundabouts in terms of use – both are supremely capable computers, and both are aimed at the experienced technical diver, be that open circuit or CCR.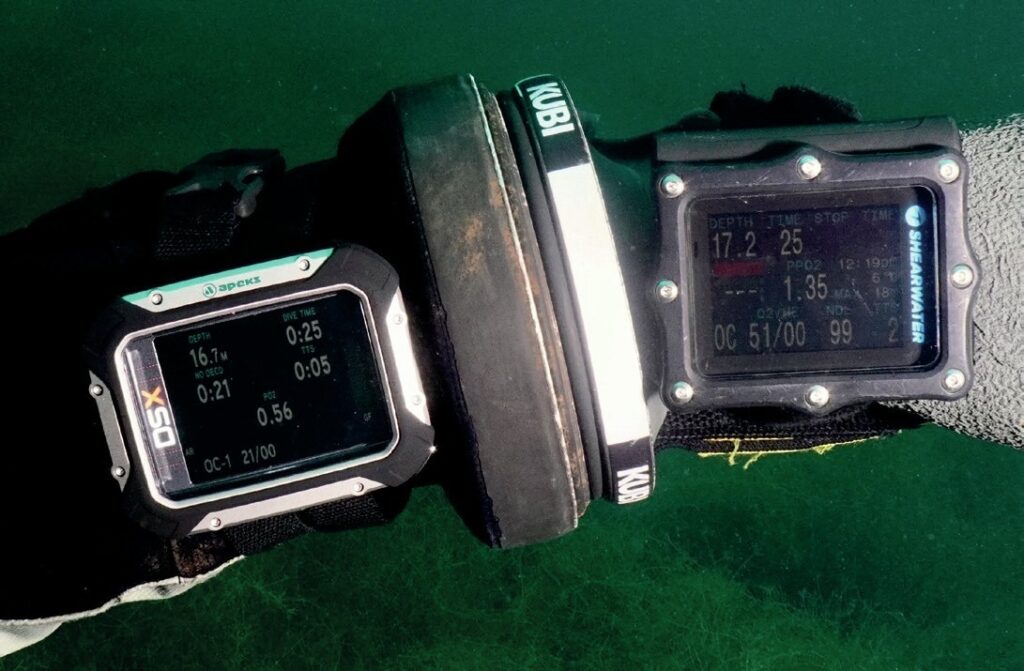 Of course, you can buy either as an entry-level diver or advanced recreational diver, and while that might be overkill if you are only intending to remain a recreational diver, wherever your diving journey takes you, you'll never outgrow either unit, so if technical diving is on your to-do list, then it is worth considering getting a computer that will be able to handle any future upgrades to your skill set.
Apex DSX Box
Supplied with the DSX is a robust padded, zippered box, which contains the computer itself, bungee strap, charging cable, induction charging mat, and gas analysing module. Visit APEX Website to buy the Dive Computer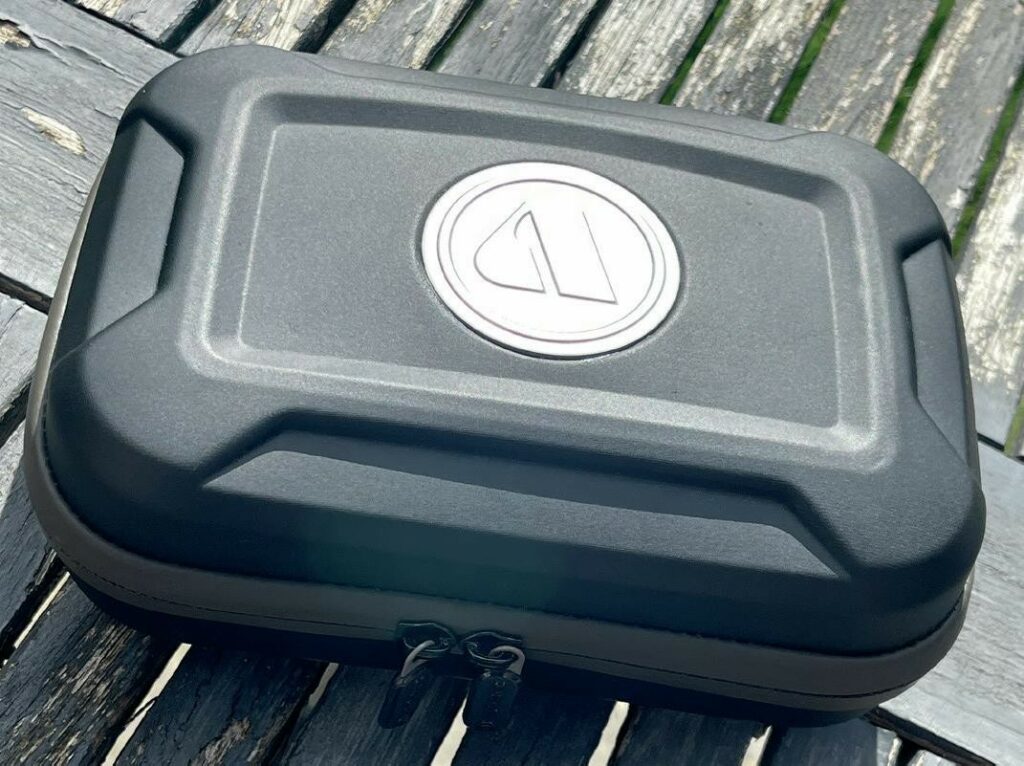 This article was originally published in Scuba Diver UK #72 out on April 10th 2023. Subscribe digitally and read more great stories like this from anywhere in the world in a mobile-friendly format. Link to the article
Video Review
Still not sure, then check out what Mark Newman has to say about the new Apeks DSX Dive Computer.