Photographs by Stuart Philpott
Anna Sofie Wreck
The lure of a 100-year-old mystery was just too much to ignore. Steve Hutchinson – aka 'Hutch' – the owner of Harlyn Dive School, had invited me along for a day's diving on the Anna Sofie wreck, lying off Padstow in Cornwall. The World War One wreck recently hit local news headlines due to an unmarked gravestone at the local cemetery, so this is where my story begins…
Obscured by the more-ornate head piece of Private William Moore's grave was another smaller, insignificant grave of an 'unknown' soldier. For nearly a century, the headstone inscribed with 'a Royal Marine of the Great War' has been a complete mystery. But after some nifty detective work, Padstow Museum Chairman John Buckingham and Sussex-based historian Peter Smith have unravelled the true identity of the dead man.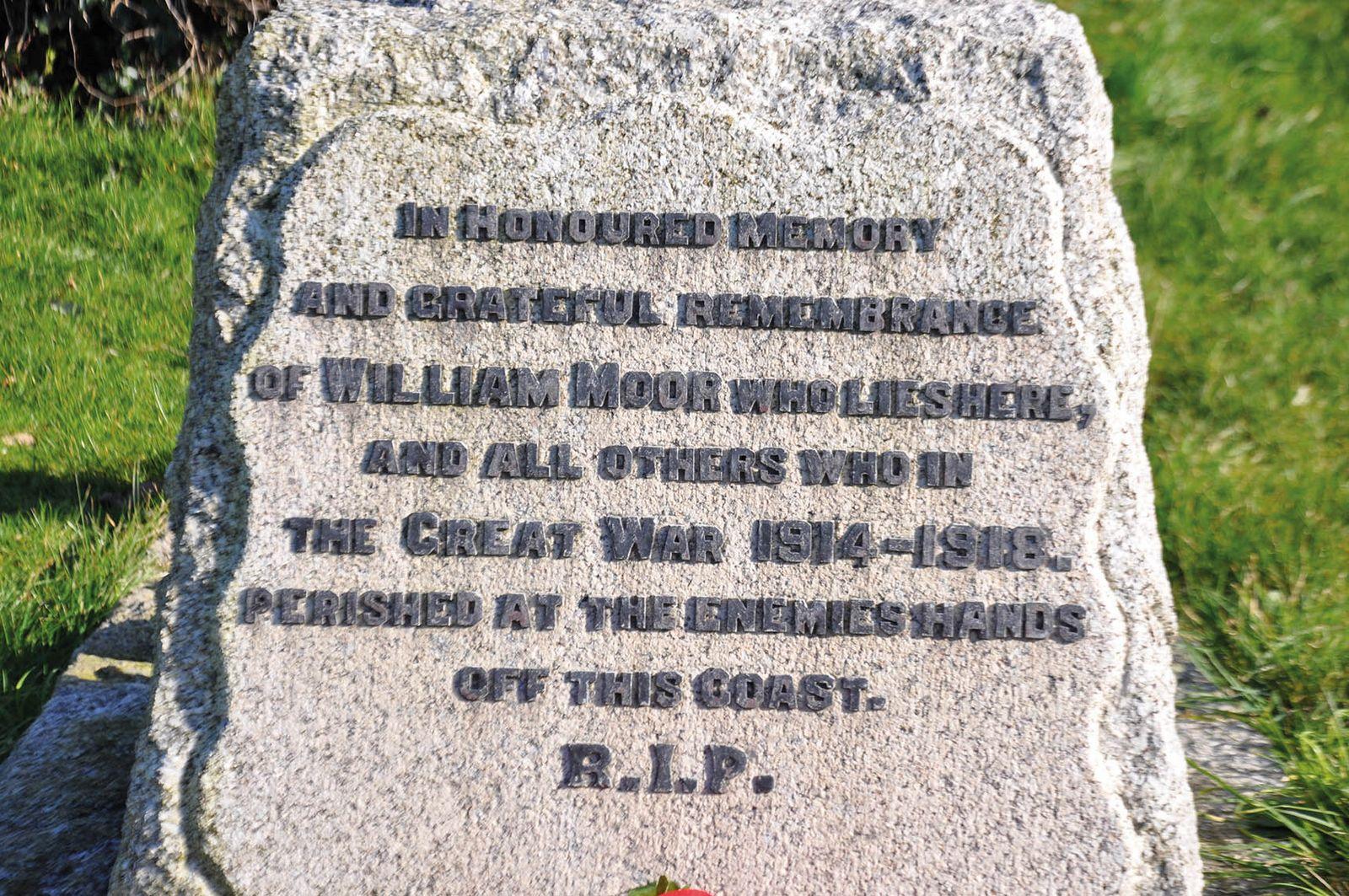 On 23 July 1918, the 97.5-metre-long, 2,577-ton armed merchantman Anna Sofie wreck was returning to Wales 'in ballast' (not carrying any cargo) when, without warning, she was torpedoed by U-boat U55, commanded by the infamous Kapitan Leutnant Wilhelm Werner. The crew of around 70, including critically wounded marine gunner Private William Moore, managed to escape in the lifeboats and were picked up at sea. Some 19 days later, an 'unknown' soldier washed up on the beach at Padstow, but the badly decomposed body could not be formally identified and was buried next to Private Moore without a name on the gravestone.
John and Peter waded through historical archives, military records and local reports compiling enough evidence to prove that the 'unknown' soldier was 42-year-old Lance Corporal William Whitmore, who was also on board the Anna Sofie wreck when she sank. After 100 years of speculation, the descendants of his family finally knew the full story. Since this discovery, a new gravestone has been placed in the cemetery engraved with his actual name.
As for the fate of Wilhelm Werner, from July 1916 to November 1918, his U-boat U-55 completed 14 successful patrols, sinking a total of 64 mostly unarmed vessels, including hospital ships (133,742 tons). During the Leipzig war crimes trials at the end of World War One,Werner was accused of many atrocities, including murdering the entire crew of SS Torrington, except for the Captain, who was taken hostage. It was alleged that the captured crew of 32 were lined up on the U-boat's foredeck before he gave the order to submerge, undoubtedly drowning them all. But before the trial concluded, the unscrupulous Nazi fled to a coffee plantation in Brazil. Years later he returned to Germany and died in May 1945, aged 57.
It seems that the wreck itself was also causing a stir. Hutch said there were conflicting reports regarding her true identity. Many divers thought the Anna Sofie wreck was cargo steamer SS Poldown. Hutch carried on searching for evidence and in April 2011, he found the serial number 1275MC stamped on a steam valve, confirming that she was indeed the Anna Sofie wreck. Hutch reported his findings to the hydrographic office (UKHO) and the records have now been updated.
Even though the Anna Sofie wreck is steeped in history, she was not a popular choice with local divers, Hutch said: "The wreck is seen as an 'in-between' wreck, it's a bit deep for most divers. Scooby Doo'ers prefer 30m or less, and it's too shallow for most techies". Hutch has clocked up more than 100 dives on the wreck since the early 1990s. Finds have included a substantial number of brass shell cases, port holes and engine components. But the prized four-inch deck gun manned by marine gunner Corporal William Whitmore has yet to be found.
The wreck is located in the middle of Padstow marine conservation zone. Hutch said: "It sits right next to a reef wall, so it's difficult for boats to find and then if they do find it a lot of divers don't go to the end of the shotline and drop down onto the reef, missing the wreck". We made plans to do two dives at the site on the same day, which meant catching both slack tides. This gave me about six hours to off-gas between dives. Harlyn Dive School's eight-metre RIB fitted with a single 250hp outboard covered the eight-and-a-half mile journey from Rock Beach to the wreck in about 20 minutes flat. I was kitted up and rolling back into the sea by 10.45am.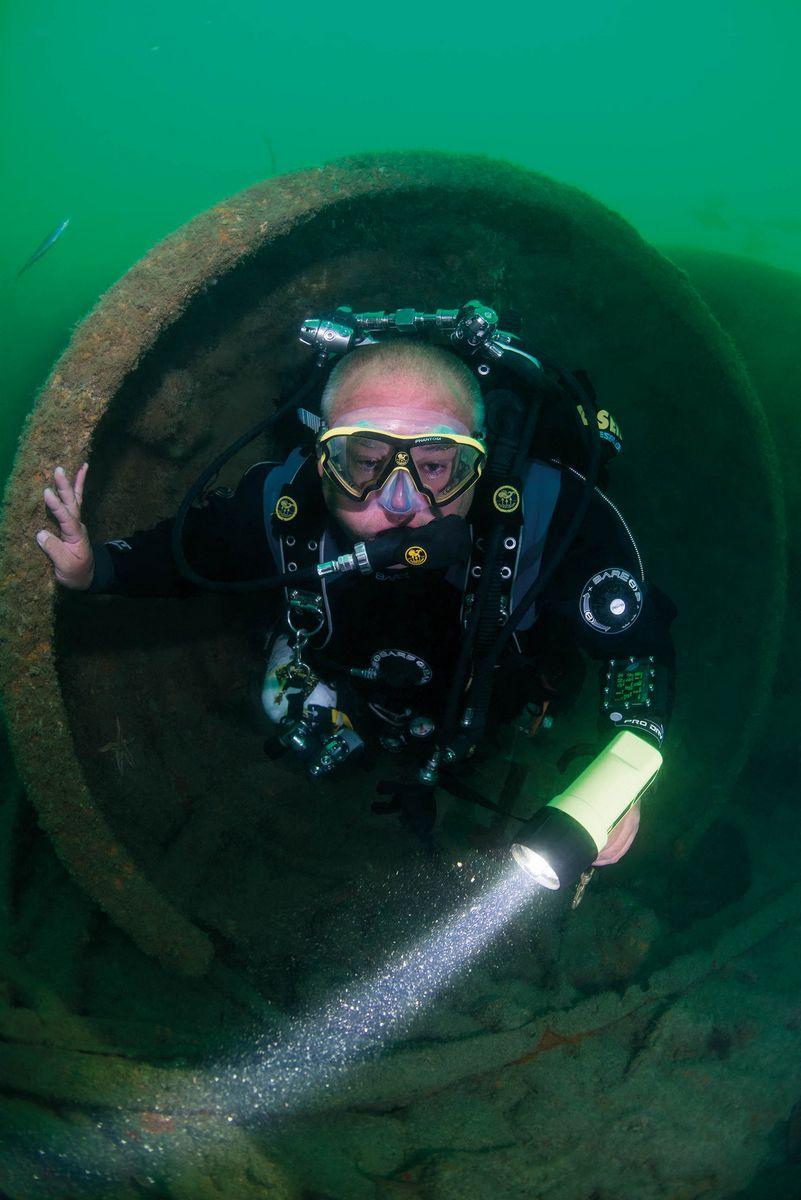 My first dive with Andrew St John Ricks was at high water, maximum depth 43m. We had agreed to start amidships and then move forward towards the bow. I was disappointed with the visibility which topped out at around four to five metres. High tide is usually better than low water so this didn't bode well for my second dive in the late afternoon (Last time I visited Rock and dived on SS Sphene, we had ten metres plus).
Hutch had dropped the shotline roughly amidships on the port side. I followed Andrew down to the reef wall and caught sight of a long, elongated, bomb-shaped object that turned out to be a heating element of some kind. The outer casing had rotted away, and I could clearly see a helical shape inside. We passed by two large boilers, paused at a four-bladed prop for a picture or two (this must have been a spare prop stored in the cargo hold), and then headed for the bow. My camera lights illuminated a huge rusty red metal plate loaded with colourful starfish.
Lobster and conger eels were peering from the darker recesses. There definitely wasn't any shortage of marine life. We investigated some winches, a bollard with a spider crab lurking on top and a length of anchor chain. The pointy bow shape had totally collapsed, as had much of the surrounding superstructure. We ended up back at the boilers, which was the highest point of the wreck standing five metres proud of the seabed. The dive lasted 38 minutes. There had been plenty of interesting bits and pieces to keep my camera occupied. The only downsides were the time restraints and the low-ish visibility.
The pace ramped up considerably on my second dive at low water, maximum depth 38m, this time with Hutch as guide. On the plus side, underwater visibility was much better than expected but at 5pm in the afternoon, there was less ambient light to play with. I wanted to re-trace the areas already visited with Andrew before heading off to the stern, rudder and the propeller. But trying to do the whole length of the wreck and compose pictures in 20 minutes was being slightly too enthusiastic.
Hutch said: "I like the impressive engine". The massive triple-expansion engine manufactured by Blair and Co towered above us. I managed to compose a nice atmospheric silhouette of the block and pistons with Hutch in the foreground. After making a quick detour to the donkey boiler, we crossed over the prop shaft and headed for the stern. I was hoping that the giant prop would make a nice wide-angle shot, but as prop shots go this wasn't going to be easy. There was no room for me to wedge behind the prop and shoot out towards the light, so I had to make do with a dark background shot which just lit up all the silt particles like a snowstorm. Hutch had been shifting along at a lightning pace and I was starting to feel slightly nauseous with the over-exertion.
We passed close to the reef wall on our journey back to the shotline. Hutch pointed to a row of protruding antennae which turned out to be crawfish and they all looked to be a good 'edible' size. This was the first time I had seen this species in UK waters. Unfortunately, there was no spare time for pictures as my deco was already starting to mount up. Some 44 minutes later we broke the surface.
On both Anna Sofie wreck dives, I used a nitrox 28 mix. In hindsight, a weak trimix fill would have probably been a better option for a clearer head. I really enjoyed spending the day with Harlyn Dive School, based at Rock in Cornwall. Hutch and Andrew proved to be the perfect guiding and modelling combination. So, no complaints from me, although I think my pictures could have been better, but what's new! From a historical background perspective, the 'unknown soldier' angle had made the dives far more interesting, although I was slightly disappointed we didn't find the deck gun. At least the 100-year-old mystery had finally been solved and Corporal Whitmore's family got some closure. In passing, Hutch mentioned there were a number of German U-boat wrecks lying off Padstow, one with a very photogenic deck gun still intact. Temptation can be a terrible virtue!
Continue Reading… THE TRAGIC HISTORY OF THE M2 SUBMARINE
List of 20th century shipwrecks in Cornwall