Meridian Adventure Dive Resort – Adopted a Dive Site
In 2016 PADI launched a ground-breaking initiative as part of their marine conservation efforts, Adopt a Dive Site, as part of their AWARE initiatives.
This project is currently represented in 88 countries with 448 adopted dive sites. The program's goal is to have participants monitor and take part in clean-up dives of a local dive site that they have adopted as their own through the Dive Against Debris campaign. This program allows for research on pollution patterns as well as aiding in the efforts to promote community involvement in keeping the environment clean and raising awareness on environmental issues and conservation.
Participants are provided with a Dive Against Debris toolkit that includes collection bags, data collection slates, and an in-depth safety and information briefing for all participants.
Once completed, all the collected debris is weighed, documented, and uploaded on the Dive Against Debris website.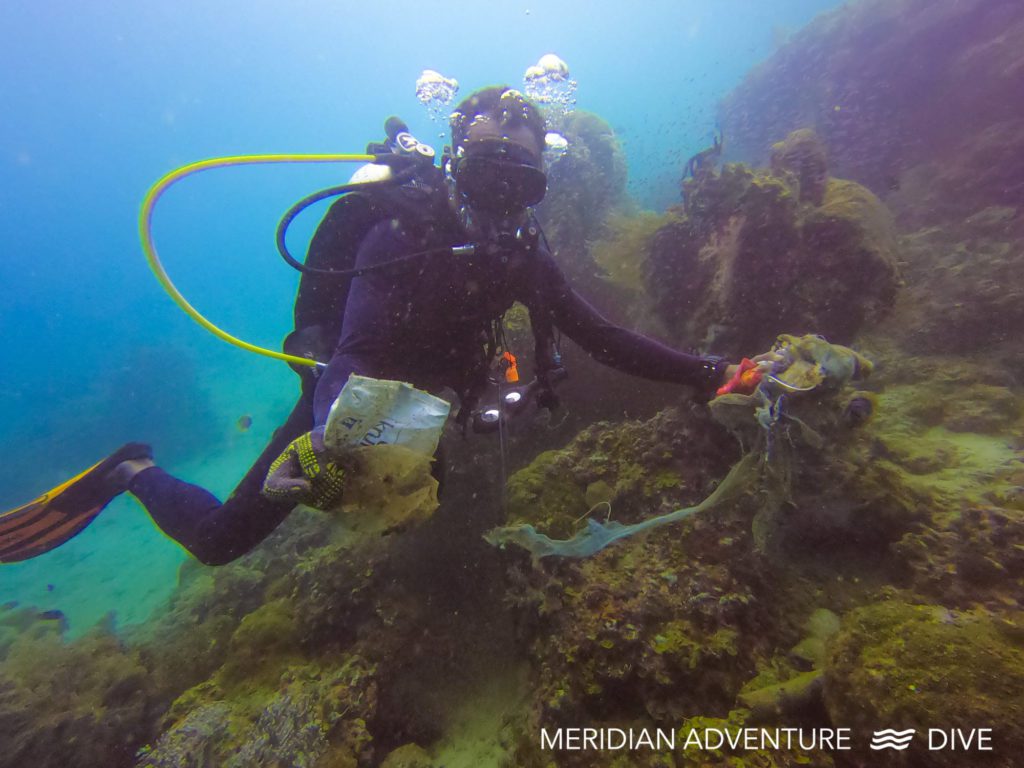 Meridian Adventure Dive has always made conservation and eco-friendly practices a top priority, so in June 2019, they took steps to adopt a local dive site as their own.
Saonek Monde is a local dive site in the Waisai region of Raja Ampat. It is located around a small island, a short 5-minute boat ride from the resort and local jetties, and a trendy destination for locals and visitors to spend the day on the beach and snorkel over the shallow sloping reefs.
The reef is also an excellent dive site for divers of all levels and is one of the best night dive locations in the region. But unfortunately, as with many other areas in the world, the proximity to human settlements and activity brings the threat of pollution and other environmental impacts.
The team at Meridian Adventure Dive decided to do their best to conserve this dive site they have come to see as their house reef of sorts. Since 2019 the team has participated in numerous clean-up dives and surveys. They are collecting hundreds of kilograms of marine debris in the process.
In contrast, this might seem like an alarming amount of debris collected from the same area. However, it is essential to remember that marine debris can be swept for hundreds or thousands of kilometers along with ocean currents. Therefore, it will always be a continuing battle to keep our oceans clean, where community education and participation become important.
The Meridian team has organised many events, including the local community and staff members, to participate in beach clean-ups, Dive Against Debris, and educational seminars. As with all other PADI conservation efforts, everyone can get involved, even if not a diver.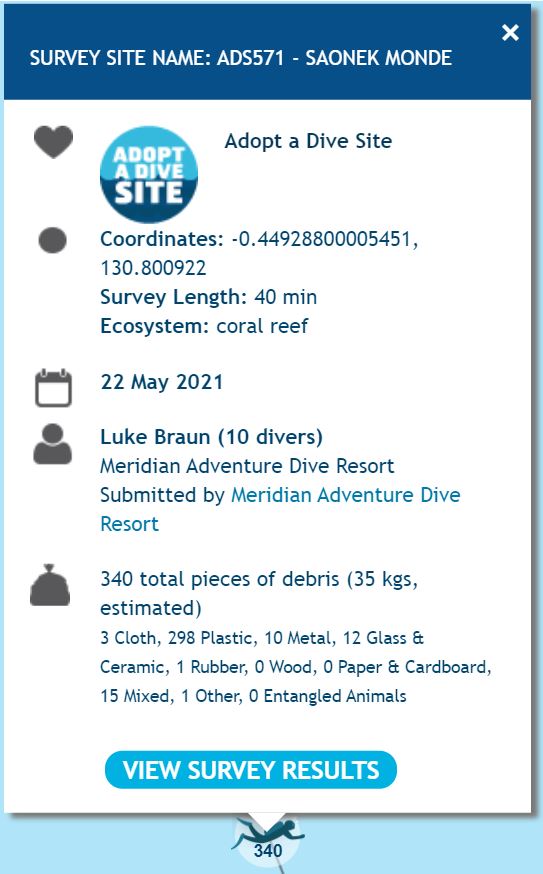 Meridian Adventure Dive has gone the extra mile to include the community to educate and promote environmentally friendly practices to preserve the last true paradise on earth and allow these communities to continue growing tourism to the area for many years to come.
About Meridian Adventure Dive
Situated in Raja Ampat, Indonesia, Meridian Adventure Dive is a PADI 5 Star Resort and winner of the PADI Green Star award. Scuba divers enjoy our professional services that have become synonymous with both the PADI and Meridian Adventure names.