Stuart Philpott has dived around many Caribbean islands, and he has trawled through his archives to bring this round-up of some of the best shipwrecks in the region.
The Caribbean Sea has claimed many ships over the years, some purposely sunk as artificial reef projects, while others have faced a more-tragic demise, victims of harsh weather, war, illicit activities or plain and simple human error.
The Best Wrecks Dives on 8 different Caribbean islands
With a few pictures thrown in for good measure. Bear in mind that some of these pictures were taken several years ago, so due to the corrosive nature of the sea, there may be a few changes in appearance.
Bonaire Wreck Diving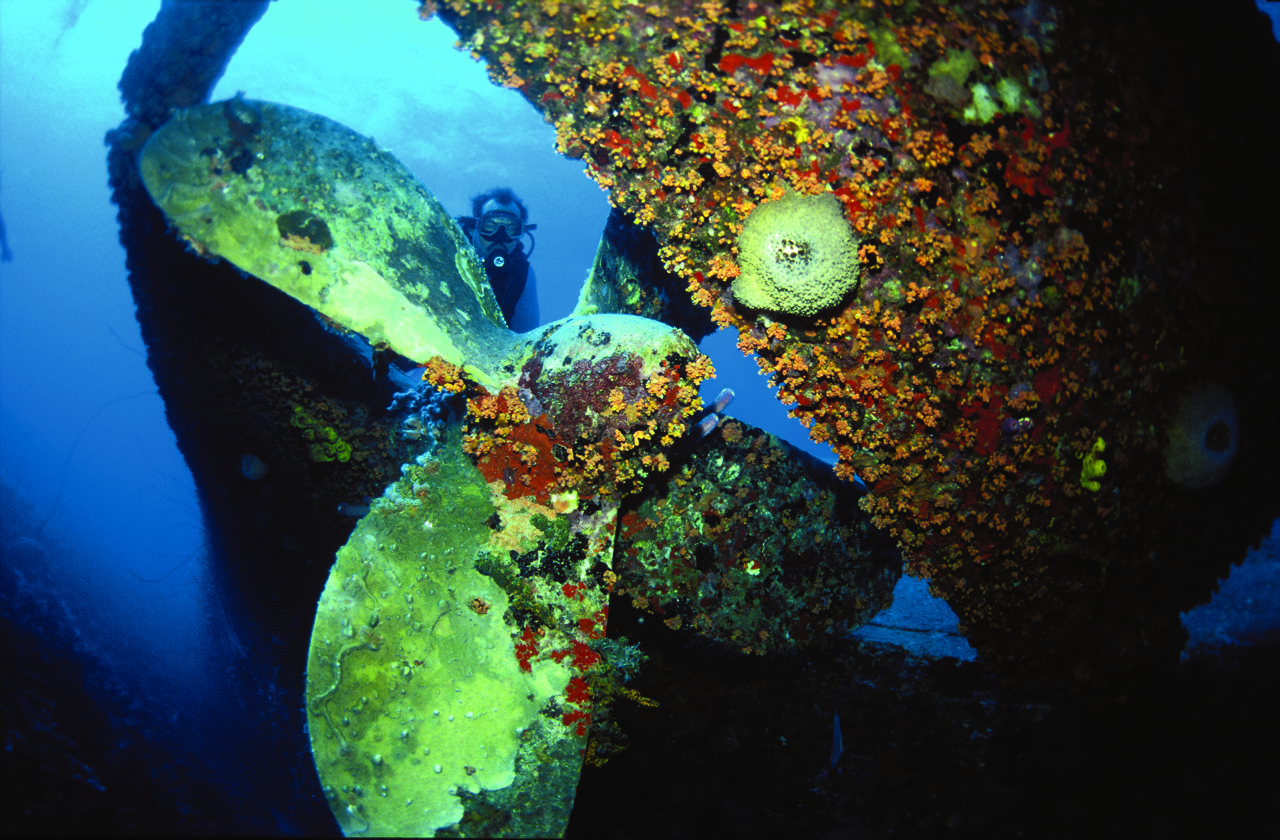 My journey begins in the Dutch Caribbean, and in particular the island of Bonaire, which is probably the most-popular diving island in the ABCs. Completely geared up for shore diving, there are 63 sites located all around the island (mostly southwest coast), all clearly marked with yellow stones. Steps, railings and concrete platforms make entries and exits hassle free. Divers usually rent a truck and just park up and dive. Local guides are not necessary. Dive boats are also available for offshore sites such as Klein Bonaire, where seahorses reside.
Bonaire has two main wrecks on offer, one for recreational divers and another lesser-known site for techies. The 236-feet-long Hilma Hooker lies at a max depth of 95ft. Her intriguing story made international headlines. She lost all engine power and was towed to the main town pier. During a routine search 25,000lb of marijuana was found hidden behind a false bulkhead.
Legal proceedings took months to organise. For some strange reason, the ship's owner didn't come forward to answer questions! Whether it was due to damage caused by the search, or just poor maintenance, she was far from seaworthy. Pumps were working at full capacity just to keep her afloat. Port authorities consulted with local dive operators and towed her out to a suitable anchorage point. On 12 September 1984, the Hilma Hooker disappeared beneath the waves forever.
She now lies on her starboard side, with the cargo holds and bridge area easily accessible. Winches and masts are adorned with huge purple, white and red tube sponges. Although penetration is possible, it is not recommended. The freighter wasn't sunk as an artificial reef project, so doors, pipe work and other obstructions can easily snag divers. Best photo opportunities are around by the huge propeller, which is swathed in orange cup corals.
The Windjammer, aka Marie Bahn (1,315 tons) lies at a max depth of around 196ft. Divers usually wade into the shallows, clip on their stages and drop down the wall.
The wreck lies parallel to the reef on its starboard side. While en-route to Marseille, she was caught in a raging storm. Huge, unforgiving seas drove her up against the reef.
During the commotion her cargo of asphalt shifted in the hold. Some of the barrels broke open and escaping fumes ignited by a kerosene lamp caused a massive explosion. Although four men perished, Captain Luigi Rezeto and the remaining crew of 28 swam safely ashore, where they watched the burning ship list to port and finally disappear beneath the waves.
Both forward and aft cargo holds are easily accessible. Most of the wooden decking was destroyed in the fire. A slender iron framework is all that remains. Molten asphalt has created an unusual lava flow pattern on the surrounding seabed. Eerie wire corals coat most of the outer hull. The crow's nest on one of the remaining masts is a nice feature to explore, and it's also worth venturing out to the bowsprit. Marine life encounters include a shoal of jacks and moray eels.
Curacao Wreck Diving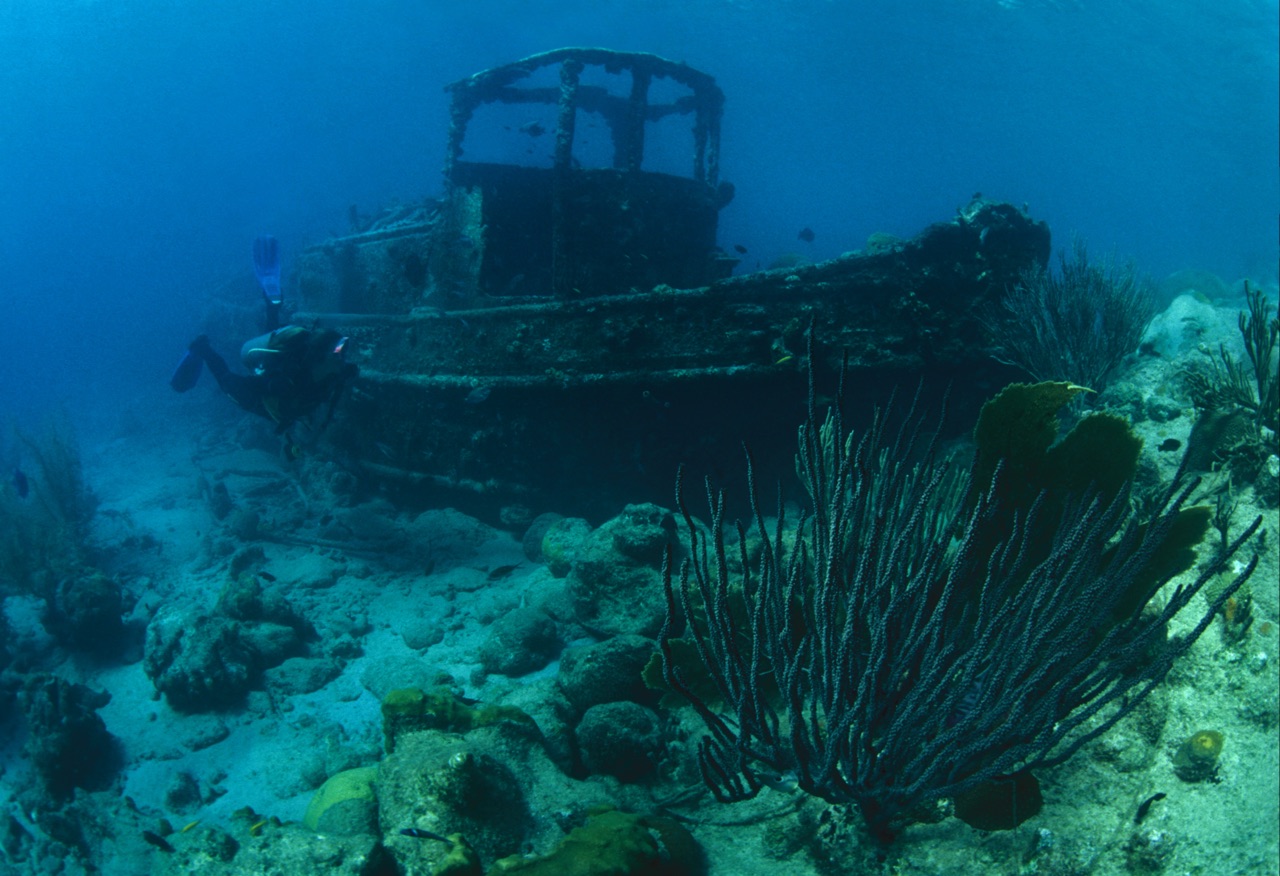 Curacao is the largest of the ABC islands and has the biggest population. It's approximately a 20-minute flight from Bonaire. There are 35 sandy beaches to choose from and most of the 70 dive sites are shore dives.
The Superior Producer is Curacao's best wreck dive. The only slight negative is the fact that she lies close to the busy harbor entrance, and is therefore subject to passing boat traffic. The cargo ship sits upright and reasonably intact at a maximum depth of 114ft.
Wheelhouse and foredeck are at 78ft. A single mooring buoy is attached to the remains of her coral-encrusted foremast. It's better to dive the wreck in the mornings, as by mid-afternoon there is a strong current. Divers swept of the wreck will quickly drift into the harbor entrance, which is not a good idea. Silt flushed out from the harbour can affect visibility.
Water colour and turbidity can change from hues of blue at 100ft to a green tinge at 32ft. Most of the wreck is easily penetrable. Barracuda patrol the two cargo holds. Sergeant majors, snapper and soldierfish congregate around the stairwells and doorways. Vibrant orange cup corals literally coat the whole wheelhouse. The accompanying reef wall is perfect for safety stops, teeming with colorful marine life, including seahorses.
Tugboat is located on the southeast side of Caracas Bay near the Aquarium. This shore dive is an absolute must for snorkellers and divers. Sunk in 1976, the 39-foot-long vessel lies upright at a max depth of 16ft. Shards of sunlight filter down from the surface, making the site perfect for photography. Big round brain corals sporadically grow over the decking. Parrotfish, angelfish and damsels are prolific. A steep wall, three minutes fin to the southeast, compliments the wreck site perfectly. This drops to around 100ft and is full of hard and soft corals. Most divers start their dive on the wall and then off-gas at the scenic wreck.
Next to Ocean Encounters dive centre is the entry point for another tech site called Two Tugs, which as the title suggests, is two small tugs lying side by side. From the shore entry point, divers descend down a sandy gully to the drop-off where the wrecks lie below. The first tug was sunk as a diver attraction, but instead of settling at the planned depth of 32ft, it slid down the reef wall. Commercial divers followed the tug's trail down to a narrow plateau at 180ft.
They were surprised to find a second, unknown tug sitting right next to it. Both tugs are around 65 feet long, sitting upright on the sandy bottom. Only a small gap of six to eight feet separates the wrecks. At a depth of 32ft, there is a huge propeller lying flat on the reef floor. From this point it's a vertical drop down to the wreck site. Underwater visibility is usually around 100 feet. Gray angels are frequently sighted, as well as moray eels.
Aruba Wreck Diving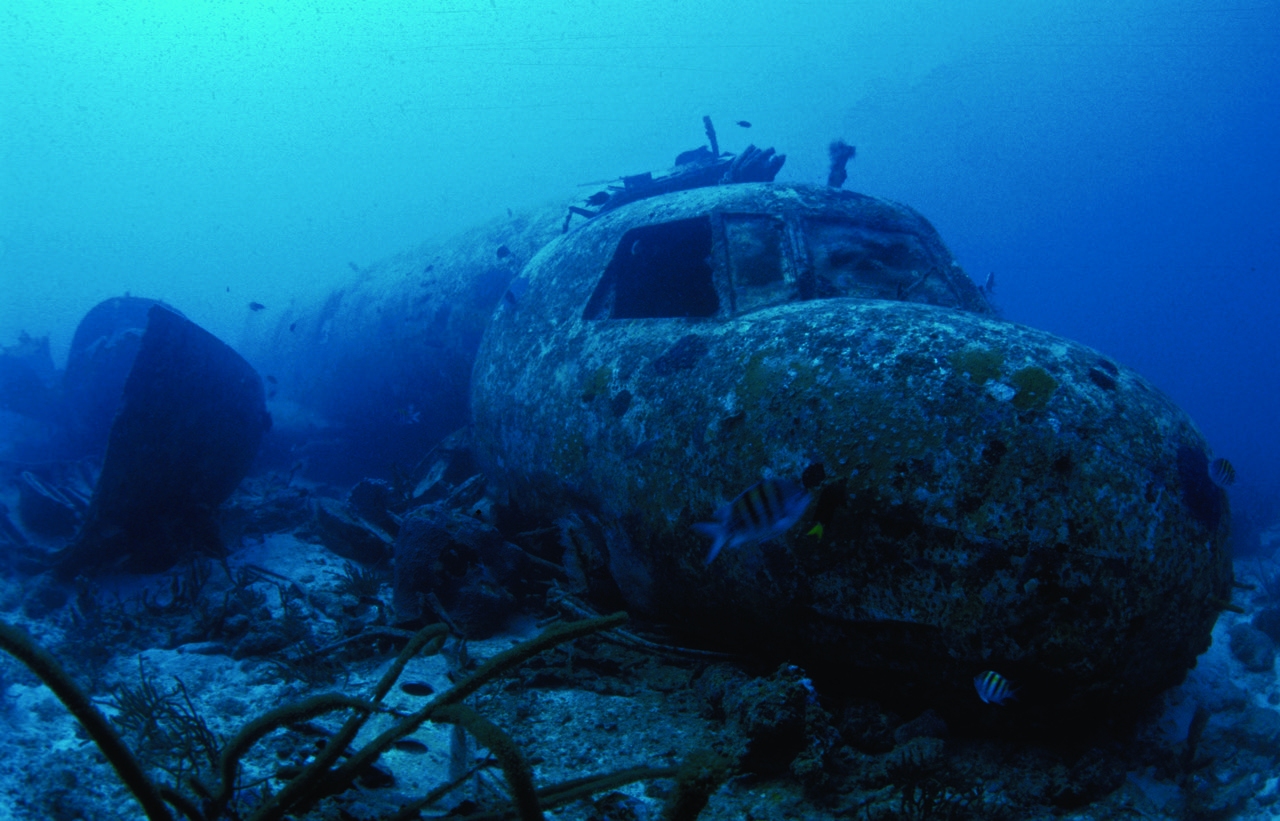 Aruba is a lively island offering a huge selection of bars, restaurants and casinos. It's also a regular stop over for cruise ships. Most of the 30 or so dive sites are boat dives. There are around 12 wrecks scattered along the west side of the island, with some in the north while others are further south.
The most-popular wreck is the 393-foot-long, 4,400-ton Antilla, a World War Two U-boat tender built by Finkenwarder, at the Hamburg shipyards, in 1939. Her massive cargo holds were stacked full of torpedoes, mines, mechanical spares and other vital munitions. Aruba was deemed 'neutral' territory, so the Antilla was safely at anchor, but circumstances quickly changed and when Holland entered the war, military forces stormed the ship.
Captain Schmidt was given just 24 hours to surrender. There was no way of avoiding capture as Allied warships were waiting offshore. On 10 May 1940, he gave orders to scuttle the freighter. Antilla's steam turbines were flooded with water, causing a massive explosion that ripped the ship apart. Captain Schmidt and 46 crew members escaped in lifeboats, only to be detained as POWs at Flamingo Divi on neighbouring Bonaire for the remainder of the war.
She now lies on her port side at a max depth of 59ft. Part of her bridge still breaks the surface. Pelicans are often seen sunbathing on the salt-encrusted ironwork. Some 60 years of marine colonization has created an amazing artificial reef system. Orange tube sponges, tunicates and soft corals adorn the hull. Thousands of silversides take refuge inside the wreckage. This, in turn, attracts the predators. Jacks and barracuda are often seen sweeping among the shoals. Angelfish, trumpetfish, grunts, parrotfish and coral grouper are just a few of the many species encountered. Her cathedral-size cargo holds are well worth exploring.
There are also some good areas for deep penetration, including the rudder room. A predominantly sandy seabed means visibility can reduce to around 30 feet (visibility is far better inside the wreck). The Antilla is also a popular site for snorkelers.
The 354-feet-long SS Pedernales (3,945 tons) was the victim of a U-boat attack. A well-aimed torpedo struck her amidships. Although her back was broken by the explosion she miraculously remained afloat. Captain Herbert McCall and 18 of his crew managed to escape in the only remaining lifeboat. Tragically, eight men lost their lives. By morning the raging fire had burnt itself out. Two tugs managed to ground the drifting ship near Oranjestad. Engineers assessed the damage and deemed she was still salvageable. It took two solid weeks to cut out the mangled 124-foot section. A new compact version of the Pedernales was eventually put back into service.
Later, she was used in the Normandy landings. The discarded mid-section was towed over two miles out to sea and sunk. Quite fittingly, it lies close to the Antilla, a supply ship used by marauding U-boats. There are three main areas of wreckage to investigate. Although most is low lying, one section still breaks the surface. This is usually frequented by large shoals of French grunts. Macro photographers will have a field day as the whole site is teeming with marine life and lying at a maximum depth of 22ft-25ft, there is plenty of time for exploration. Frogfish are the main celebrities.
The 121-foot-long fuel barge Debbie II was sunk as a diver attraction on 19 March 1991. She is sits upright at 65ft close to another popular dive site named Blue Reef. Dive operators made the wreck 'diver friendly' prior to her sinking. Most of the cabin floor has been removed, allowing easy access to the engine room. There's not much coral growth but plenty of marine life. Sergeant majors, grunts and angelfish cover the deck area. The forward hold is perfect for penetration, although the hatchway itself can be a tight squeeze. There are also a number of plane wrecks, including a drug-smuggling Convair 400 sitting at 65ft and the remains of a Lockheed Lodestar and a twin-engine Beechcraft at 40ft.
The 249-foot-long cement freighter, Jane Sea, is probably the best of the southern wrecks. She lies at a max depth of 100ft with the bow around 49ft. A routine customs inspection uncovered a huge quantity of cocaine stashed in her cargo holds. She was impounded and then handed over to dive operators in 1988. There is plenty of wreckage and marine life to keep divers occupied. The seven-foot propeller is covered in orange cup corals. The stern quarters and galley are ideal for penetration. It's well worth bringing along a torch to light up the darker confines (night dives on the wrecks, especially the Antilla, are a must). The massive crane, used to lift cargo in and out of her vast holds, still sits on the foredeck and is covered in soft corals.
Unfortunately, most of Aruba's divers are relatively inexperienced, which dictates the dive sites visited. Rarely explored wrecks include the SS California, situated on the northern tip, classed as an advanced dive due to the fact that the site is exposed to big wave action and strong currents. Max depth is 45ft. There is also a tug boat down south at a depth of 100ft which is supposed to be an excellent dive, and for techies the SS Oranjestad lies at 183ft by the oil refinery.
Barbados Wreck Diving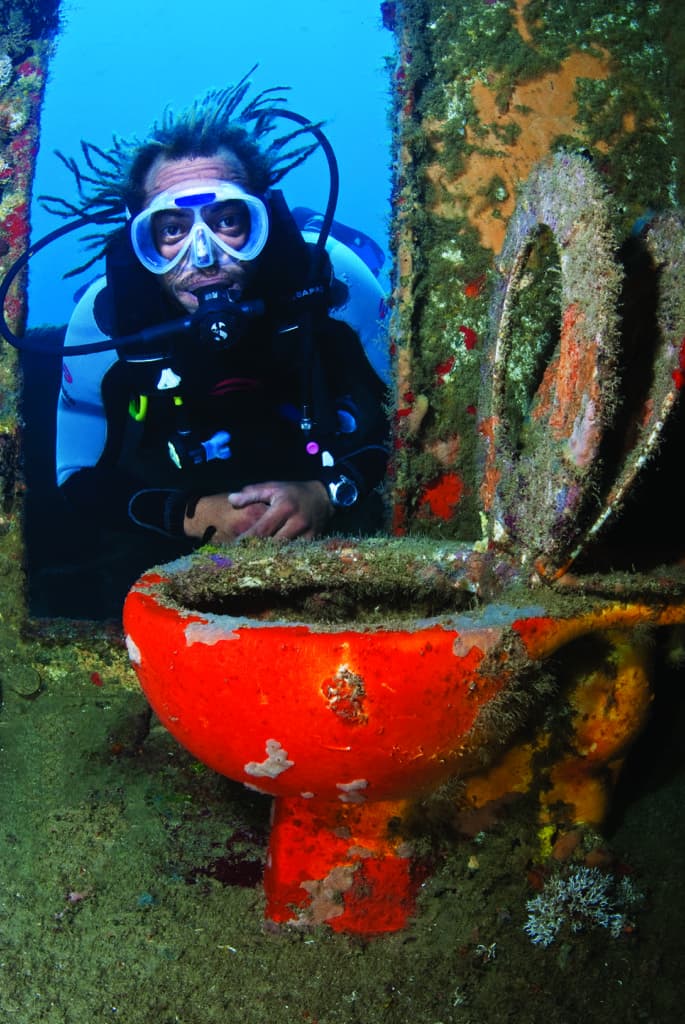 Barbados, located in the eastern Caribbean, has a laid-back tropical atmosphere, every night is party night. Laced with a rum punch or two, it can be extremely infectious! The St Lawrence Gap has so many bars and restaurants packed along a one mile stretch of road. Oistins fish fry is a 'must do' on either Friday or Saturday night. The local fishermen bring ashore their catch of the day and this goes from the weighing scales straight to the restaurants next door for grilling, frying or sushi.
All 25 dive sites are boat dives; this includes ten wrecks mostly located on the protected west side of the island.
The 360-foot-long SS Stavronikita is probably the best wreck dive. Russian named and Greek owned, the ship's demise began way before her sinking as an artificial reef project in 1978. A fire started in the engine room, killing at least six of the crew. This was followed by a huge explosion that destroyed all means of communication. The ship drifted for two weeks, eventually ending up in Barbadian waters. She was towed into harbor and left there for more than a year due to wrangles over insurance before being sunk as a diver attraction. The wreck now sits upright on the seabed just a few hundred metres from shore. The ship should have sunk in shallower water, but the anchors dragged just before the charges went off.
The bow looms up as divers make their way down the mooring line. The entire foredeck (depth 75ft) is a forest of giant purple gorgonian sea fans. There are two prominent masts, cargo holds, bridge and accommodation block to explore. The huge prop is still attached at a depth of 130ft. Marine life encounters include turtles and moray eels to horse-eye jacks.
Carlisle Bay has to be the 'Disneyland' of wreck sites. It really is a playground for divers. There are six wrecks in all, varying from 9ft to 49ft in depth.
The names of the wrecks are Barge, Cornwallis, Berwyn, Bajan Queen, C-Trek and Eilon. They are all sitting close together, so it's possible to swim from one to the other. The sandy bottom can sometimes get stirred up, but at the shallow depth, there is loads of ambient light and plenty of time for exploration on a single ali-80 cylinder. There can't be many places in the world where you can explore six wrecks in one dive! Each wreck has its fair share of marine, life including French grunts, trumpetfish, blackbar soldierfish, blue-striped grunts, spotted morays, turtles and even eagle rays.
There is another wreck located in the north. The Pamir is a 164-foot-long freighter sitting upright at a max depth of 65ft. Her V-shaped bow silhouetted against the anchor makes a really nice composition. There is also a yellow mini-submarine lying about 100 feet from the portside bow just to add some extra interest.
The US Virgin Islands Wreck Diving
The US Virgin Islands are made up of four main islands – St Thomas, St John, St Croix and Small Water Island. Choices are limited to a handful of dive centres, including JJ Divers and Coki Dive Centre. Blue Island Divers has just closed down.
In all there are 40 sandy beaches. Accommodation varies from self-catering apartments to resort hotels. Dive centres usually offer pick up from hotels with water frontage, otherwise for all other accommodation it's best to hire a car. There are more than 20 wrecks scattered along the south coast. Most are at a depth of around 100ft and no more than three-and-a-half miles offshore (35-minute boat ride). Some even have portholes and brass fittings still attached.
The WIT Shoal II is probably the best wreck dive on St Thomas. The 324-foot-long LST (Landing Ship Tank) was built in 1943 by Kaiser Co Inc. She saw intense action in the Pacific during World War Two and was involved in a number of the infamous beach landings. By the early 1980s she had become a non-functioning derelict and was sunk during Hurricane Klaus on 6 November 1984. She was re-floated in order to be scrapped but sank while being towed to her final destination.
She now lies at a max depth of 90ft, just over two miles outside of St Thomas harbour. There are five deck levels to explore. The engine room is well worth a visit, although finding a way in can be quite tricky. The stern, wheelhouse and crane are the best areas. Two knot currents are quite common, but diving with some water movement does have its advantages. Monotone bulkheads transform into a blaze of color when thousands upon thousands of tiny orange cup corals open up to feed. This wreck is perfect for night dives.
The Kennedy is a 147-foot-long landing craft barge fitted with a concrete platform. It was used to ferry personnel to and from the aircraft carrier USS John F Kennedy. In 1986, it sank just off the coast, max depth 65ft. The weighty platform detached from the hull and plummeted to the seabed. It now lies in front of the barge. Most of the upturned hull is camouflaged by dense flora. Southern stingray sightings are almost guaranteed. Giant sea anemones adorn the cargo hold.
The Navy Barges make a nice sedate dive. Five barges were used as accommodation during World War Two. After the war they were utilised as a Navy training area until they were finally sunk in 1961. Four of the five barges lie close together at a maximum depth of 40ft. Shoals of snapper and grunts congregate around the distinctive criss-cross stanchions. This is a great macro dive, with a good variety of marine life flying about.
Miss Opportunity is tucked close inshore by the airport runway. When sea conditions deteriorate, this protected site is the perfect choice. The 295-foot-long former hospital ship was intentionally sunk in 1985. She now lies on her starboard side at a max depth of 88ft. Most of the wreck is easily penetrable. Access doors lead to huge wide-open rooms. Yellow barrel sponges have colonised ceiling lamps, which are confusingly pointing upwards due to the lie of the wreck.
The 410-foot-long SS Grainton (6,042 tons) was built at Stockton on Tees in 1911. She was used as a Royal Naval Collier and then as a cargo vessel hauling wheat from the USA, Canada and Australia. On 31 May 1928, the SS Grainton hit rocks off Saba Island. Although attempts to re-float her were successful, she began to take on water and eventually sank while being towed back to St Thomas. She now lies at a max depth of 110ft. Her boilers and huge three-cylinder steam engine stand proud. Big fish sightings are quite common including nurse sharks, barracuda and eagle rays.
St Lucia Wreck Diving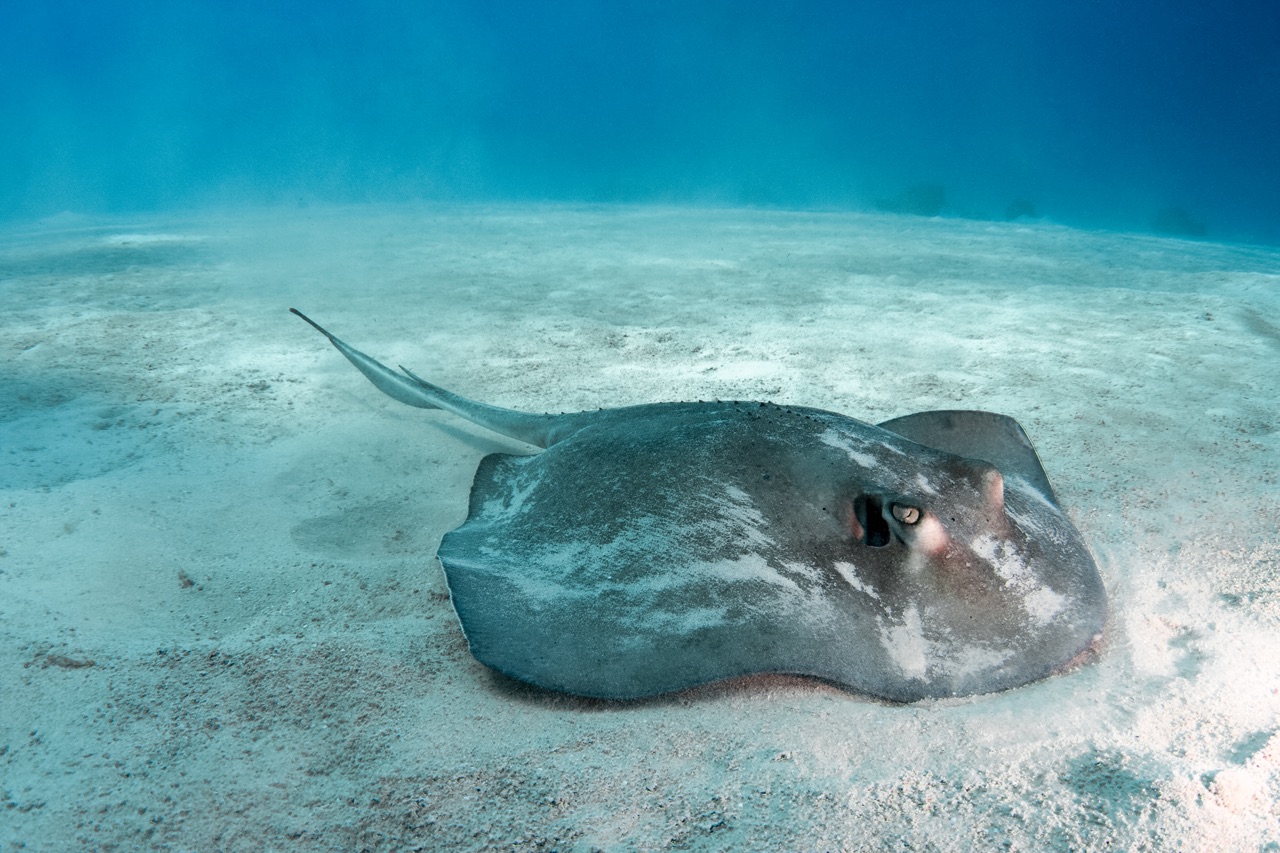 St Lucia is also located in the eastern Caribbean. Barbados and Grenada are neighbors. The lush tropical island is well known for weddings and honeymoons. There is a good range of resort hotels and luxury spas on offer, including Airbnbs. Public beaches are just as plentiful, including Anse de Sables, Pigeon Island and Reduit. Visiting divers can choose from approximately ten resident dive centres, Scuba St Lucia, Eco Dive, Scuba Steve's and Dive Fair Helen to name but a few. The west coast has about 22 named dive sites, mainly boat dives.
There are quite a few reef dives especially in the Soufriere marine park area, including Superman's Flight, Anse Chastenet Reef and the Pinnacles. This is complimented by two wrecks. The 164-foot-long cargo ship Lesleen M, lying in Anse Cochon Bay, is by far the most popular. Sunk by the Department of Fisheries in 1986 as an artificial reef project, she now lies upright surrounded by sand and eelgrass at a comfortable depth of 20m. This is without doubt one of the most-colorful wrecks in the Caribbean. Over 34 years, the smooth white painted hull has been transformed into a thriving mass of tube sponges, gorgonians and alcyonarians.
Her two gaping cargo holds are easily accessible. But watch out for the large spotted moray that lives by the toppled mast! Divers can go inside the engine room via the second hold. The engine itself and any snagging wires and pipework have been removed. Only the prop shaft remains. From the engine room it is possible to fin up the stairwell into the cabin area. Shoals of blackbar soldierfish congregate in the open doorways. Macro life includes frogfish, seahorses and octopus camouflaged on the coral-encrusted decks. Hawksbill turtles have taken up residency just off the bow. Although normally offered as a boat dive, it is possible to explore the wreck as a shore dive or a kayak dive.
The 242-foot-long Japanese dredger Daini Koyomaru was sunk in September 1996, by the department of fisheries, as yet another artificial reef project. She originally stood upright, on the seabed, at a maximum depth of 106ft. But when Hurricane Lenny struck in 1999 the wreck keeled over onto its starboard side. Soft corals already adorn the railings and steelwork. French angelfish, morays and barracuda are frequently encountered. Not as pretty as the Lesleen M and far less coral growth. Being a dredger, it doesn't have a conventional V-shape hull. Penetration is possible, but not recommended.
Cuba Wreck Diving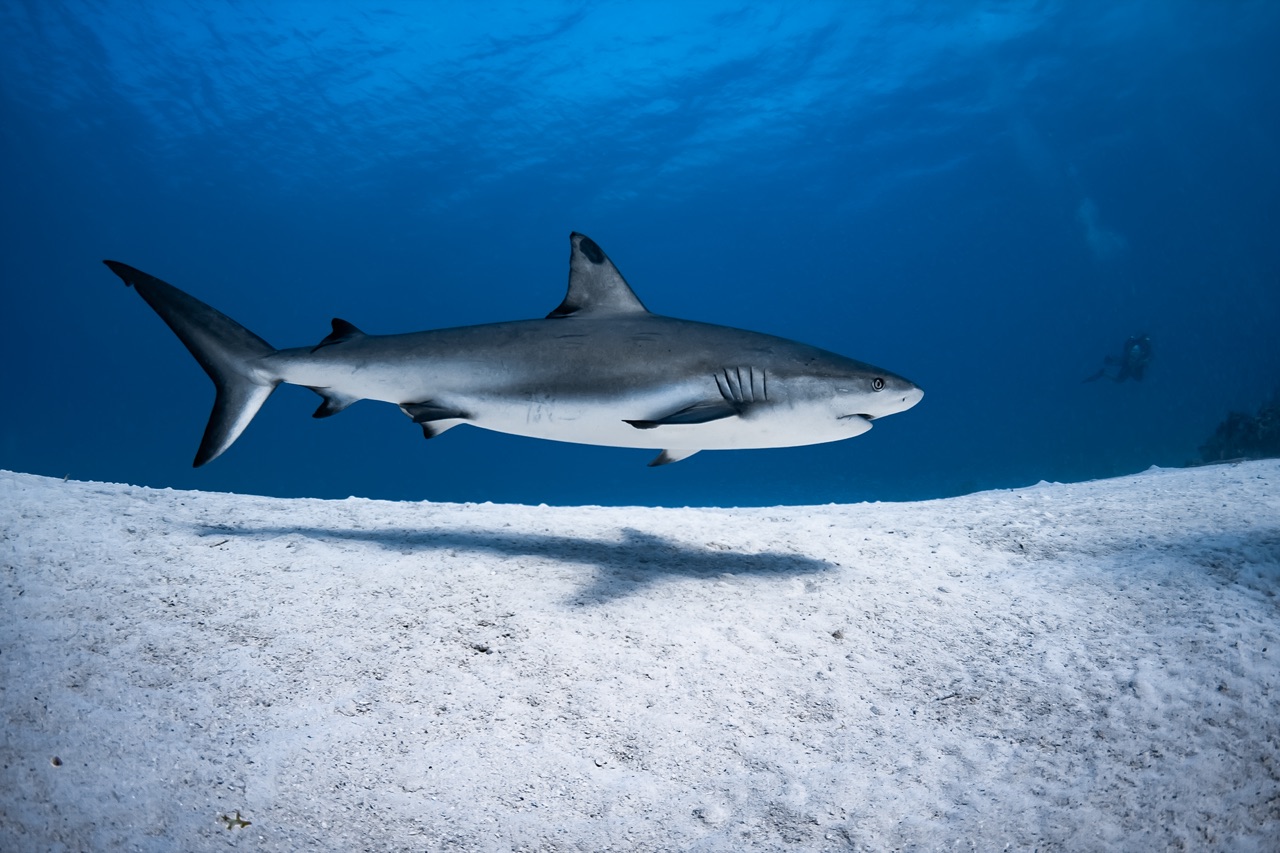 Surprisingly Cuba has quite a few interesting wrecks scattered around the coastline. Even the capital Havana has its own wreck site. The battle of Santiago is Cuba's equivalent to Scapa Flow, although the wrecks bar one don't come up to the same standard. During the American-Spanish Civil War in 1890, Admiral Pascual Cervera Y Topete set sail for the Caribbean with six Spanish warships. Upon hearing this grave news America mobilised their entire fleet with orders to hunt down and destroy the enemy.
After searching for several weeks, the warships were discovered at anchor in Santiago Bay. The Americans tried to blockade the harbour entrance with a coalier called the Merrimac, but her steering mechanism was damaged by gunfire and she drifted out of position, allowing the Spanish to escape up the coast in a westerly direction. The Americans gave chase, picking off the warships one by one.
The 364-foot-long (7,000 ton) flagship Infanta Maria Teresa was the first casualty – bombarded by shells, she eventually caught fire and ran aground. Armed cruiser Almirante Oquendo got slightly further along the coast before receiving a barrage of direct hits and was scuttled in the shallows. Destroyer Furor was sunk and Pluton ran aground and blew up. Vizcaya had an hour-long battle with the US ships and was reported to have been hit around 200 times. A huge explosion forced the ship inshore, where she eventually ran aground.
The Cristobal Colon managed to break away from the pursuing American warships. The 367-foot-long (8,000 ton) Italian-built ship was a new, second generation cruiser. With a top speed of 20 knots, she was easily the fastest ship in the Spanish squadron. But Captain Emilio Diaz Moreu had a number of concerns. Firstly, the ship had been dispatched to Cuba without her full armament.
The main 10-inch gun was missing. For show, a dummy wooden gun had been fitted to the mounting. Secondly, the supply of high-grade British coal, fuelling the furnaces, was about to run out. The low-quality coal remaining would not allow them to maintain their current speed. This meant that the US ships would eventually catch them up, so he gave the order to open the stop cocks and scuttle the ship.
In a matter of hours, the Battle of Santiago was over. The Spanish Caribbean Squadron had been completely destroyed. All six ships had either been sunk or scuttled, 474 men were dead or injured, and 1,800 men had been captured. A number of American ships had been damaged, but none were actually sunk, and only one US seaman was reported dead.
Most of the wrecks are well broken up and lying in the shallows at a max depth of 32ft. Cristobal Colon is the only exception. The wreck is still relatively intact lying at a depth of between 20ft-100ft. There are literally 1,000s of brass ammunition cases lying in the hold. Passing the funnel heading downwards to the bow divers can explore a number of six-inch side-mounted deck guns. A brass lantern and many other artefacts still lie inside the wreckage.
The Merrimac lies in the middle of the busy harbor entrance at a max depth of 65ft. It's only possible to dive the wreck on an incoming tide due to the amount of sediment that flushes out of the harbour. Visibility is around 30-45 feet with a strange fluorescent green tinge. A torch is essential and some careful finning required owing to the fact that the bottom composition is made up of fine sediment. Most of the topside structure has collapsed. The stern area seems to be more intact, with the massive propeller being the main feature. The cargo holds are still full of coal and there are portholes, anchor chains, bollards and winches scattered on the sea floor. Marine life includes small shoals of fish, jellyfish and lionfish.
Varadero is probably the most-popular tourist destination in Cuba. There are more than 50 hotels fronted by white sandy beach and a central 'town' area with plenty of shops and restaurants.
The P383 Destroyer is located inside the Cayo Piedra Underwater Park about 15 minutes boat ride from the dive centre. The Russian warship, a remnant of the Cold War, was sunk as an artificial reef project in 1998. The 318-foot-long wreck sits upright at a max depth of 98ft, which allows plenty of no-deco time for exploration. The ship was sunk with a full load of armaments including a number of gun turrets and rocket launchers. The radar tower is also still intact complete with satellite dishes.
The small gun turrets located amidships port and starboard are perfect for photographs and their rounded shape looks very similar to the Daleks in Doctor Who! There is not much coral growth but plenty of fish activity, including jacks, damsels, barracuda and lionfish. Dive guides don't usually allow divers inside the wreck. There is a mooring line attached for safe ascents and descents.
The Sletrea was also sunk as an artificial reef project. The wreck lies about 20 minutes boat ride from the dive centre. The remains of the oil tanker are split into two parts. The stern is the 'shallower' section at a maximum depth of 114ft. The dive centre promotes the stern as the more-interesting part to explore. This basically comprises of the bridge, cabin area and part of the hold. Marine life includes big barracuda, morays, lionfish and spadefish.
Grenada Wreck Diving
Grenada is known as the 'wreck diving capital of the Caribbean' with more than 40 different sites on offer, 14 of which are good-quality wrecks. It's recommended to visit during the summer months when there are far less tourists about. The only slight negative is the sea can turn green and this can happen any time, there is no particular season. There are around seven dive operations on Grenada and two on neighbouring Carriacou, including Aquanauts Grenada, Dive Grenada, Eco Dive and Deefer Divers.
The Bianca C, known as the 'Titanic of the Caribbean', was built in France during World War Two and originally named the Marechal Petain. The hull was being towed to Port de Bouc when she was torpedoed and sunk by a German U-boat. The ship was raised and renamed the La Marseillaise. She was refitted as a luxury cruise liner and eventually sold to the Italian Costa steamship line, where she was given yet another refit and named the Bianca C.
From 1959, the 590-foot-long ship sailed between Naples, Italy and Guaira, Venezuela, making regular stops in the Caribbean. On Sunday 22 October 1961, she lay at anchor just off the coast of Grenada, when a huge explosion tore apart her engine room. More than 700 passengers and crew scrambled for the lifeboats. Three crewmen died and six others were badly burnt. The ship's Captain Francisco Crevaco escaped unharmed. Local firefighting services couldn't cope with the raging inferno, so a distress call was put out to British frigate HMS Londonderry.
The Bianca C lit up the sky for two days solid before the warship arrived on the scene. There were concerns that the Bianca C would sink in the entrance to St Georges Harbour, so the Londonderry towed her out to sea. But the stricken vessel was already sinking. Bad weather hindered progress and six hours later the towline snapped. Soon afterwards the massive cruise liner disappeared beneath the waves. Her final resting place lies approximately three-and-a-half miles from the harbor entrance, close to popular tourist spot Grand Anse Beach.
Strangely enough, this was supposed to be the ship's final voyage. Sabotage was never suspected, but there were rumors that explosives had been smuggled aboard and may have ignited. At least she survived the scrap yard and is now admired by divers from all over the world. The wreck, known as one of the top dives in the Caribbean, has been designated as a marine park. It's in a good strategic position where the Atlantic and Caribbean currents meet, so there is a good chance of seeing bigger marine life, including eagle rays, barracuda, turtles and reef sharks.
This is a huge wreck although much has now collapsed or is unstable due to being weakened by the fire. The prop shafts are at a depth of around 130ft. Both propellers were salvaged in the 1970s and sold for scrap, leaving great big empty holes. The portside rudder is stuck at an unusual angle confirming that they had indeed jammed during the blaze. The hull has multiple entry points amidships with rows of portholes.
The base of the foremast is a garden of beautiful purple and yellow gorgonian sea fans and the access ladder leading upwards was just a mass of soft corals in hues of orange, pink and white. Great barracuda often patrolled the mast top, sometimes venturing unnervingly close. The huge dramatic-looking bow stands 65 feet proud of the seabed. The anchor lies at 164ft, which is the deepest point. Try and plan at least three or four dives to fully appreciate this wreck.
The 196-foot-long freighter Shakem sank in 2001 fully laden with a cargo of cement bags. The stern and prop is a lush forest of colorful pink and white soft corals. Max depth is 100ft. Penetration is possible with doorways leading inside the bridge and cabin areas. Just to add some variety, there is also a 'wreck' site called Car Pile. This had obviously been a dumping ground for old cars over the years. The pile begins at 80ft and goes down to a depth of 130ft.
The two VW Camper vans are the most memorable. It's even possible to wriggle inside. There is also an underwater sculpture site created by Brit Jason DeCaires Taylor located at Molinere Bay. The series of sculptures have been on the seabed in 2006. The most prominent is known as the Circle of Children.
The Atlantic wrecks can be more challenging with strong currents and choppier conditions. The ex-navy minesweeper turned cargo ship King Mitch sits proud of the seabed at a max depth of 118ft. Nurse sharks are often sighted under the hull and in the bridge area. Part of the upturned hull is covered in beautiful orange anemones. The cargo holds are easily accessible. Turtles can be found sleeping inside.
Conclusion
Hopefully, I have managed to whet everyone's wreck-diving appetite. The Caribbean really does have some exciting wrecks to explore, from entry-level right through to trimix rebreather. There are plenty more exciting wreck dives on the Caribbean islands I haven't mentioned, but I will save these for another time.
Wreck Diving Gallery
Text by Stuart Philpott, Photographs by Stuart Phillpott & Shutterstock