There has never been a better time to let your mind run wild and dream about your next diving adventure – and this is what dreams are made of.
Here's ZuBlu's handpicked reverie of diving in Asia. Get ready to pinch yourself – they're all real!
1. Fly with manta rays in Hanifaru Bay, Maldives
Imagine being centre-stage to an underwater ballet. When tide and time align, manta rays amass at Baa Atoll's Hanifaru Bay, creating a natural phenomenon, a 'feeding frenzy' with a lot more class – cyclone feeding. Squadrons of 50 or more graceful manta rays line up, one behind the other, until the head of the chain almost reaches the tail. Then as the chain spins in a manta vortex, they feast on the vast amount of plankton that is concentrated in the bay during the wet season.
The unique key-hole semblance of Hanifaru Bay provides the perfect conditions for the rays' cyclone feeding. When the lunar tide pushes against the ocean's monsoon current, deepwater plankton are whisked up to the surface, creating this vital feeding ground for both manta rays and whale sharks alike. By far one of the Maldives' most exciting underwater wonders, this is an experience of a lifetime that should be on every manta lover's list.
Destination Hanifaru Bay
Hanifaru Bay is close to the southeastern edge of Baa Atoll, just a short flight away from Malé. Whilst scuba diving is prohibited, you can still witness these giant filter-feeders while simply snorkelling on the surface. Access to the Bay is tightly controlled, and your time in the water is limited to 45 minutes. This seemingly strict regime and the protected nature of Hanifaru Bay and Baa Atoll, is what makes this incredible encounter with the natural world possible.
When to go: To experience manta ray cyclone feeding, we recommend visiting between late July and early October, particular around the full or new moon. However, the phenomenon has been known to occur from as early as March and to as late as December.
Where to stay: You're spoilt for choice in Baa Atoll. You can check out our incredible selection of sustainable resorts and liveaboards by Exploring Baa Atoll
2. History and hammerheads in the Banda Sea, Indonesia
Exploring the Banda Sea will send you travelling back in time, along a path less trodden. Rich in culture and with a fascinating history, much of the Banda Sea, known as the original 'Spice Islands', was historically controlled by the Dutch – representing some of Europe's earliest inroads to Asia. The smallest island, Run, was eventually traded for what is now known as Manhattan, the famous borough of New York.
Almost untouched to this day, the Banda Sea remains largely unexplored and as such, has become a heavenly sanctuary for wondrous marine life, and a prime destination for those seeking a true pelagic wonder – schooling hammerhead sharks. Divers will marvel at groups of these distinctive ocean wanderers, as they drift along current-swept pinnacles and across pristine reefs. The Banda Sea is also infamous for sea snakes, which gather in large numbers at Manuk Island – along with the resident hammerheads and beautiful devil rays of course.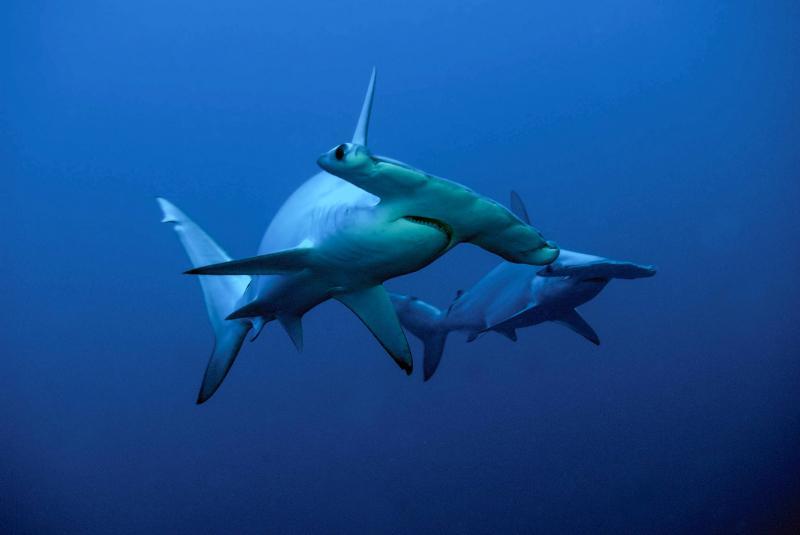 Destination Banda Sea
The Banda Sea's groups of small islands offer spectacular reefs and an unimaginable wealth of marine life. Due to its isolated nature, the best way to explore the Banda Sea is by liveaboard, and many vessels visit the area while travelling between Komodo and Raja Ampat as the seasons change. These 'crossings' offer some of the most exciting diving in Indonesia, definitely diving to dream about.
When to go at Banda Sea: The Banda Sea's marine life remains abundant throughout the year, however, diving seasons are restricted to spring and autumn – with most boats only visiting during the autumn months of September and October. Hammerhead shark sightings seem to be more frequent during this period, too.
Where to stay at Banda Sea: The Banda Sea is not short of fantastic liveaboards, with something suited to every diver. ZuBlu partners with a wealth of vessels offering the trip of a lifetime – Explore Banda Sea
3. Barefoot shark diving in Yasawa Islands, Fiji
Barefoot Kuata is an eco-warrior's paradise at the gateway to Fiji's Yasawa Islands. This incredible resort pairs leading sustainability efforts with world-famous, yet highly intimate, shark encounters, in particular a safe and sustainably-managed bull shark dive – one of the resort's most sought after dive experiences.
Exploring the fascinating underwater sanctuary of Kuata, you'll also be spoilt with sightings of reef sharks and tawny nurse sharks and, on occasion, tiger and silvertip sharks. The ultimate escape for shark-seeking divers preferring a more authentic experience, guests can feel the sand beneath their feet and truly reconnect with nature at this eco-conscious island nirvana.
Destination Barefoot Kuata island
Home to some of the world's most exhilarating shark dives, Fiji's Yasawa Islands offer a slice of remote island life that most will only ever see on a postcard. And on an unspoiled stretch of white sand beach on Kuata Island at the southern end of the Yasawa Islands, you'll find the mesmerising Barefoot Kuata.
When to go to Kauta Island: ZuBlu recommends the best time to visit are during the transitions between the two main seasons – November and April to May – when conditions can be fantastic and the islands are a little less busy.
Where to stay: Barefoot Kuata, of course! – Explore Barefoot Kuata
4. Bask in sustainable luxury in Raja Ampat, Indonesia
Staggering biodiversity awaits at Raja Ampat's Misool Eco Resort, home to some of the richest reefs in the world. Located at the heart of its self-created Misool Marine Reserve, this resort flies the flag for sustainable diving across the globe. A spectacular private island escape, the resort is hidden within an archipelago of uninhabited islands and offers the incredible variety and quality of diving expected of a liveaboard, combined with the ultimate luxury of a private island resort.
As well as a spectacular house reef, the resort is just a 15-minute boat ride from 25 world-class dive sites, from electric coral walls and stunning reef flats, to inspiring swim-throughs and a bustling manta cleaning station.
Destination Raja Ampat
Situated in remote southern Raja Ampat, some 165km from the nearest port and around a 20km boat ride from the nearest village, the resort offers a genuine sense of escape from the hustle and bustle of modern life. Guests are transported to the island by custom-built speed-boat, which takes around four hours from Sorong – accessible via an internal flight from Jakarta.
When to go to Raja Ampat: The resort closes its doors during the windy summer months of July to September, reopening again as the dry northwest monsoon starts. Our favourite time of year to visit is early in the season, from October to January – although the diving at Misool is incredible whenever you visit.
Where to stay: None other than the unique and charming Misool Eco Resort. Explore Misool Eco Resort
5. Dance with wild dolphins at Sataya Reef, Red Sea
Picture a turquoise sea, a half-moon shaped reef and a sheltered lagoon – welcome to Sataya. Aptly named Dolphin House, large pods of spinner dolphins take refuge within these shallow waters, the perfect safe haven to rest and feed their calves. Undoubtedly one of the best spots in the world to swim alongside and experience these wild and inquisitive creatures, this is aquatic acrobatics at it's finest – a show like nowhere else on earth. Above the corals, you'll meet cute clownfish, triggerfish, butterflyfish, bannerfish, and even some green turtles, also enjoying the shelter of the tranquil lagoon.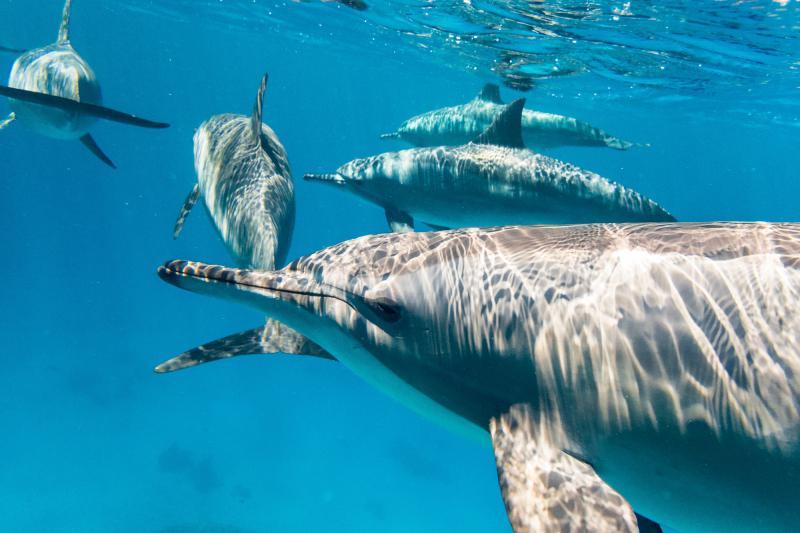 Destination Sataya reef, Red Sea
Sataya reef is located at the southeastern tip of Fury Shoal, a collection of reefs that lie off the coast of Marsa Alam in the Central Red Sea. The reefs can be reached by both day boats or liveaboards. The area is best reached by flying into Hurghada International Airport and from there, it is less than an hour's drive south to Safaga and beyond to Marsa Alam.
When to go: March to May offers a good balance of weather and conditions, but is also high season, meaning some sites may get crowded and prices can rise. The months of September to November also provide comfortably warm temperatures and generally fewer crowds.
Where to stay: If you want to dive some of the other dive sites in the area, a liveaboard is the best option for exploring Egypt's central Red Sea. Explore Marsa Alam
6. The remote reefs of Tubbataha, Philippines
Arguably one of the best dive destinations the world has to offer, the isolated Tubbataha National Park in the Philippines is home to over 100,000 hectares of protected coral reefs, creating an awe-inspiring haven of marine life just waiting to be discovered. Over 360 species of vibrant corals span Tubbataha's plunging drop-offs, dramatic vertical walls, deep slopes, enchanting wrecks and shallow flats. It is no surprise that marine life flourishes here – from reef sharks, turtles and stingrays, to hammerhead sharks, whale sharks and manta rays – divers visiting this breathtaking atoll are guaranteed nothing but magical underwater moments.
Destination remote reefs of Tubbataha, Philippines
Situated at the very centre of the coral triangle, the remote location and protected status of Tubbataha has allowed its marine life to thrive. The park can only be reached by liveaboard, that sail from Palawan's Puerto Princesa – a one-hour flight away from Manila. The exposed location of the park means that Tubbataha is only accessible for a few months of the year, and demand is always high. As such, liveaboards to Tubbataha are usually booked months, even years, in advance.
When to go: The short dive season of just three months runs from mid-March to mid-June each year.
Where to stay: Some of our favourite liveaboards in Tubbataha include the Discovery Fleet and Infiniti. Explore Tubbataha
7. Surround yourself with turtles in Sipadan, Malaysia
An explosion of underwater life awaits at the world-famous island of Sipadan. The combination of deep waters, strong currents and a shallow, sunlit pinnacle have resulted in flourishing corals and with them, lots of turtles! Green and hawksbill turtles can be spotted in abundance at Sipadan, where they gather in huge numbers to mate and nest – or simply rest on the reef. During low tide, visitors are often fortunate enough to experience up to 30 green turtles at once, as the majestic creatures explore the sea bed or visit a cleaning station.
For adventure-seeking divers, an eerie encounter awaits. Sipadan is home to the legendary 'turtle tomb' – an underwater cave system where turtles that became disoriented and trapped, now lay to rest. This sunken turtle graveyard offers a ghostly, yet unforgettable, turtle diving experience.
Destination at Sipadan Island
Often described as Malaysia's only oceanic island, Sipadan lays at the epicentre of what is possibly the richest marine habitat in the world. To help protect its incredible marine environment, permits to dive the island are limited each day and there is no accommodation on the island – Sipadan can only be dived from nearby islands, such as Mabul and Kapalai. International visitors flying into Sabah normally arrive at Kota Kinabalu, the state's main international airport, before transferring to Tawau on the east coast.
When to go: Sipadan is an amazing dive destination year-round, but turtle mating season takes place in July and August. Sipadan Island will be closed from 1st – 30th November 2020 for marine life recuperation. It will open again to tourism operations from 1st December 2020.
Where to stay: One of ZuBlu's most popular dive resorts – Scuba Junkie Sipadan. Explore Sipadan
8. The weird and wonderful in Lembeh, Indonesia
The unique ecosystem of Lembeh Strait has been named the mecca of macro photography – a muck diver's dream and home to a whole host of outlandish marine life. It's volcanic black sand setting, an impressive collection of wrecks, and small artificial reefs – mostly man-made debris that is swept into the strait – have resulted in a rich and plentiful macro life.
With an abundance of microhabitats to shelter the weird and wonderful, muck divers will find it easy to tick off new sightings from their bucket list in this diverse location. From nudibranchs and flamboyant cuttlefish, to mimic octopus, hairy frogfish and pygmy seahorses – Lembeh Strait is a worthy pilgrimage for inquisitive divers from across the globe.
Destination Lembeh Strait Island
Lembeh Strait Island is located on the northeast coast of Sulawesi, just off the port of Bitung and an hour or so drive from the international airport at Manado. The Strait lies between the mainland and the island of Lembeh itself. Guests can access Lembeh via Manado, which has frequent direct flights from Singapore or the rest of Indonesia via Makassar.
When to go: Lembeh strait sits in a sheltered location between the mainland and island, meaning diving is accessible and pleasant year-round. Although conditions will vary, the seas are generally calm and dive sites can always be found with little or no current.
Where to stay: Lembeh Strait is a popular dive destination with lots of fantastic operators to choose from. Explore Lembeh Strait
Article supplied by: ZuBlu
Photo Credit: ZuBlu