Part one – the journey to Master SEAL
Anyone with children will know, maintaining interests such as diving is not easy. You've got to want to do it, and find time for it in an already busy life. Jeremy and Amanda Cuff sought to involve their son Zac Cuff in their watery adventures from an early age.
Since Zac was a baby, aged around three months, we began taking him to the swimming pool. Becoming comfortable and confident in the water was an important life skill, and besides, we might tempt him to dive with us later on!
In 2003, we visited Corsica for a week. It was here that Zac had his first experience of the sea, in the flat, calm water under blue skies. As I shot images, it was amusing to see his chubby little 'drumsticks' kicking away while Amanda held him. This was the true beginning of his diving journey.
Swimming pools, sea and snorkeling
We ensured that Zac came with us on our dive travels when possible, that he got experience in swimming pools, and have opportunities to get into the sea, armed with a mask and snorkel. Zac's first-ever snorkel was at the excellent Lady Elliot Island in Australia at age four, where he was able to see coral reefs and schools of fish.
The Cayman Aggressor Family Week
Things stepped up a gear when we discovered the 'Family Week' liveaboards, run by the Aggressor Fleet in the Caribbean. The 'Family Week' itinerary was based on the normal 'grown-ups' trip, but with a few tweaks to make it more child-friendly. At the time of the trip, Zac was six years old.
On the trip, Captain Henri became Zac's new hero. He would sometimes say 'the best captain in the world' and 'the best boat in the world'. The crew were friendly, encouraging and patient with Zac, and as parents we felt completely relaxed about him being onboard.
Zac would emulate a 'real' diver for the first time, attending the dive briefing and shown how to kit up, check air and so on. He would enter the water with a crew member using a SASY (Supplied Air Snorkelling for Youth) set-up, which is a self-contained regulator and tank, but for surface swimming only. With this equipment, a child can thus breathe through a regulator like a diver, check the air contents, and view the reefs from above, but without risk of a snorkel filling with water.
It was a great step towards becoming a diver. We watched Zac perfect his giant stride entry and laughed as he begged Captain Henri to 'give me some weights'.
Great Barrier Reef 'Reef Teach'
After the Cayman Aggressor, more things became possible. For our 2010 Australia trip, we established that the Cairns-based Prodive Great Barrier Reef liveaboards would accept children, so we decided to take Zac (then seven years old).
In Cairns, we attended one of the Reef Teach seminars the evening before departure. Its aim is to teach visitors more about the Great Barrier Reef. It's presented by marine biologists, and gives insights into life beyond the esplanade. Zac was especially intrigued by the specimen jars and enjoyed the coral and fish identification aspects.
On the liveaboard, I sat out a couple of dives so that I could take Zac snorkelling, ensuring that he didn't miss out. When we were diving, he would snorkel with a couple from Singapore, who were happy to go with him.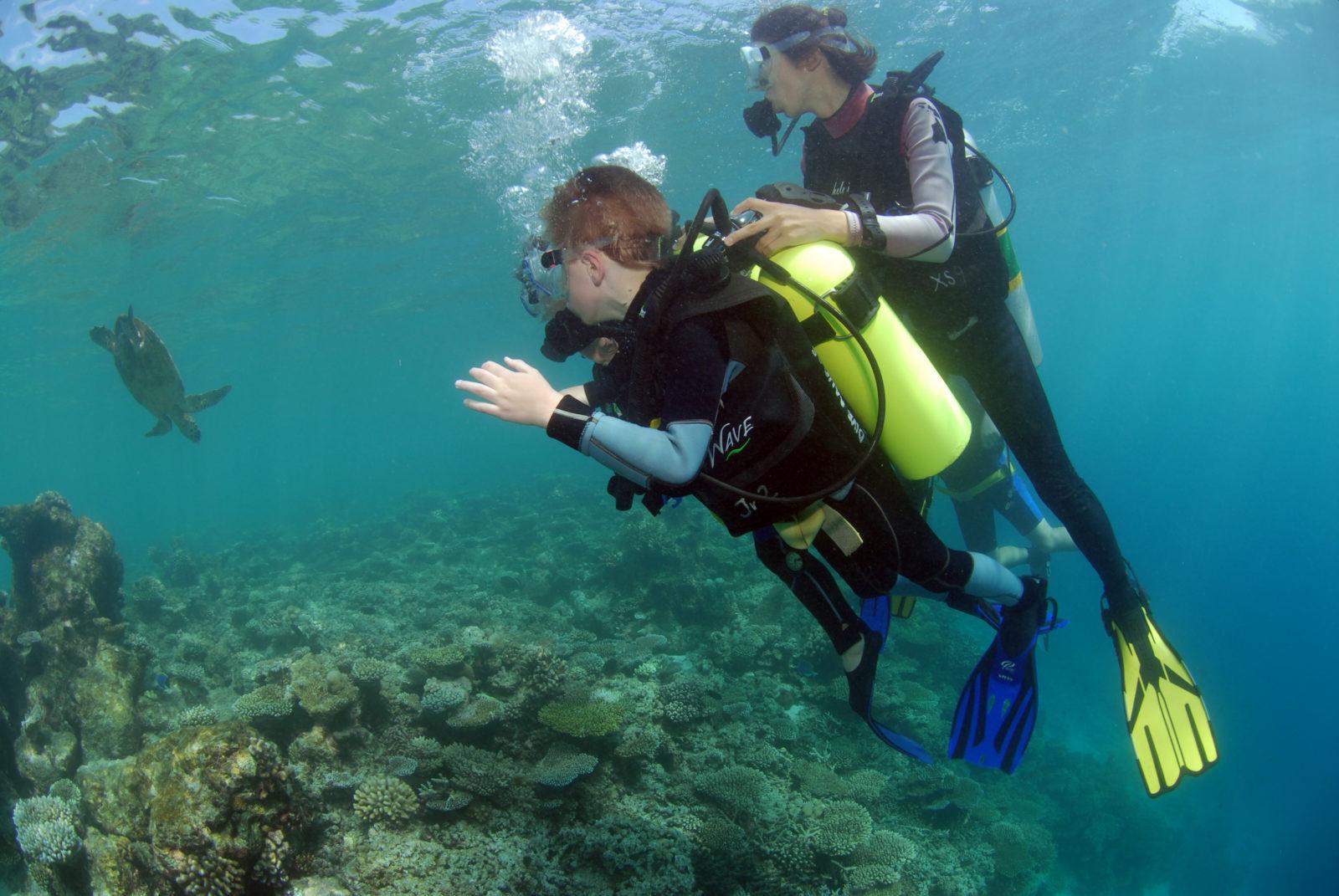 Bubble-making in Bandos, Maldives
The Maldivian Island of Bandos would become a special place for Zac. Here, the dive centre offers the PADI Bubblemaker course for eight- and nine-year-olds, so we booked him a place.
Zac enjoyed a superb, and somewhat overwhelming, experience on his Bubblemaker course, seeing a myriad of colourful fish, and even a couple of adult blacktip reef sharks cruising the reef.
The island was so enjoyable that we visited again the following year, in 2012, with friends. On their Bubblemaker dive, they had a great encounter with a sea turtle.
The PADI Master SEAL course
Through our local dive centre, Zac attended the PADI SEAL course at local swimming pools. This course is designed specifically for eight- and nine-year-olds, and is the first step on the PADI ladder of diving qualifications.
Unlike the PADI Bubblemaker, which is more of an experience, the PADI SEAL course mixes the fun and experience side of diving with the first steps of learning essential skills. Each week, Zac would set up kit, learn buoyancy control and regulator removal in the safety of the shallow pools.
In the end, he would go for the Master SEAL version of the course, which involved demonstrating extra skills, such as underwater photography. Zac was delighted with his achievement. He had completed his journey to Master SEAL.
During this period, the dive club would also run an excellent 'Bubblemaker Party' for Zac's ninth birthday, with ten boys all diving together for the first time.
Photography by Jeremy & Amanda Cuff / www.ja-universe.com