Andy Torbet will be talking to a Youth Panel of teenage divers, who will be seeking to inspire The Next Generation of divers and explain why youngsters and teenagers should get into scuba diving.
Holly Wakely
Holly is a PADI Staff Instructor who specializes in teaching children to dive. Coming from Bermuda, Holly grew up surrounded by water and was raised by two diving parents. Travelling all over the world has opened her eyes to the opportunities diving allows for, and ignited a passion in her at a young age. Holly was the PADI pilot diver for the Junior Divemaster course and is now an instructor for this course.
Her dreams always circled around diving and a huge dream was fulfilled when she taught her first class with children at age 18. Since then she has not slowed down and has travelled around the world with Kids Sea Camp, hosting weeks and teaching all levels of divers in different locations across the world. She loves to learn in each location and meet many different families who all dive together.
Holly co-hosts the Blue Horizon Diving YouTube Channel, aiming to highlight diving all over the world and reach an audience of both divers, and non-divers who are looking to get certified.
She is happy to dive in all conditions and loves to see others' excitement when faced with a new challenge, while being able to navigate them through.
Holly will go on to study Outdoor Recreation and Marine Biology in Australia and work as a dive instructor for her university.
Grace Westgarth
Grace started diving in Egypt at the age of ten while on a family holiday. However, it didn't stop there! When back in England, her and her dad found a local club and they continued training.
By the time she was 13, she was NASE Worldwide's first-ever Junior Master Diver. She took the decision to train with US-based agency NASE as she preferred that they taught all skills neutrally buoyant and wanted a challenge.
This led her to try cavern and wreck diving in Florida in 2016, and sparked her interest into technical diving. Balancing education and diving has proven difficult at times, but Grace finally got to do her sidemount diver course in 2019 and now this is her preferred way to dive!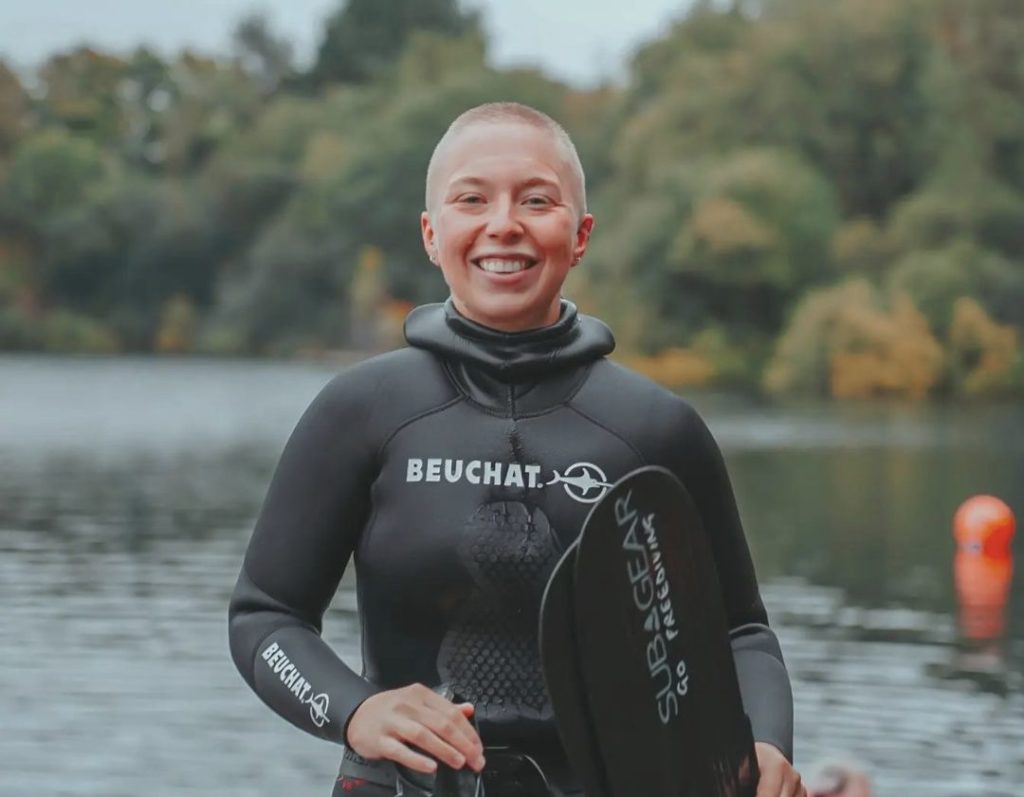 Out of the water, Grace has been at dive shows, interviewing some inspirational people in the industry such as Jill Heinerth and speaking on stage with Girls That Scuba on their panel. One of her proudest achievements was being selected as one of the initial ten international GTS ambassadors in 2020, representing the community on Social Media and in person around the UK's dive sites.
More recently, Grace has been studying for her Divemaster, which got put on hold due to COVID-19 in 2021. As well as this, she discovered a love for breath-hold diving last October and has dedicated her gap year to becoming a freediving instructor.
In the near future, Grace is looking forward to moving to Falmouth to study Marine and Natural History Photography at university and being closer to the sea… hopefully meaning more diving adventures!
Dylan Croft
Dylan Croft is 15 and from St Helens, Merseyside. His first-ever experience of diving was in the trydive pool at The Dive Show back in 2014 when he was seven years old and had been taken by his grandparents. He adored the mesmerising idea of being under the water for so long and had been inspired multiple times by the constant tales and majestic photographs of sealife he was surrounded by when he was with his diver grandad in particular.
His first open water trydive followed on the next year, as a present for his ninth birthday, in Gozo, Malta. He loved the ability to swim with the amazing aquatic life. He was hooked! After several more trydives in The Dive Show pool and across Gozo in 2017, he had passed his PADI Bubblemaker qualification. Then by 2018, he had passed his PADI Junior Open Water Diver qualification while over in Madeira. These had been the best dives of his life.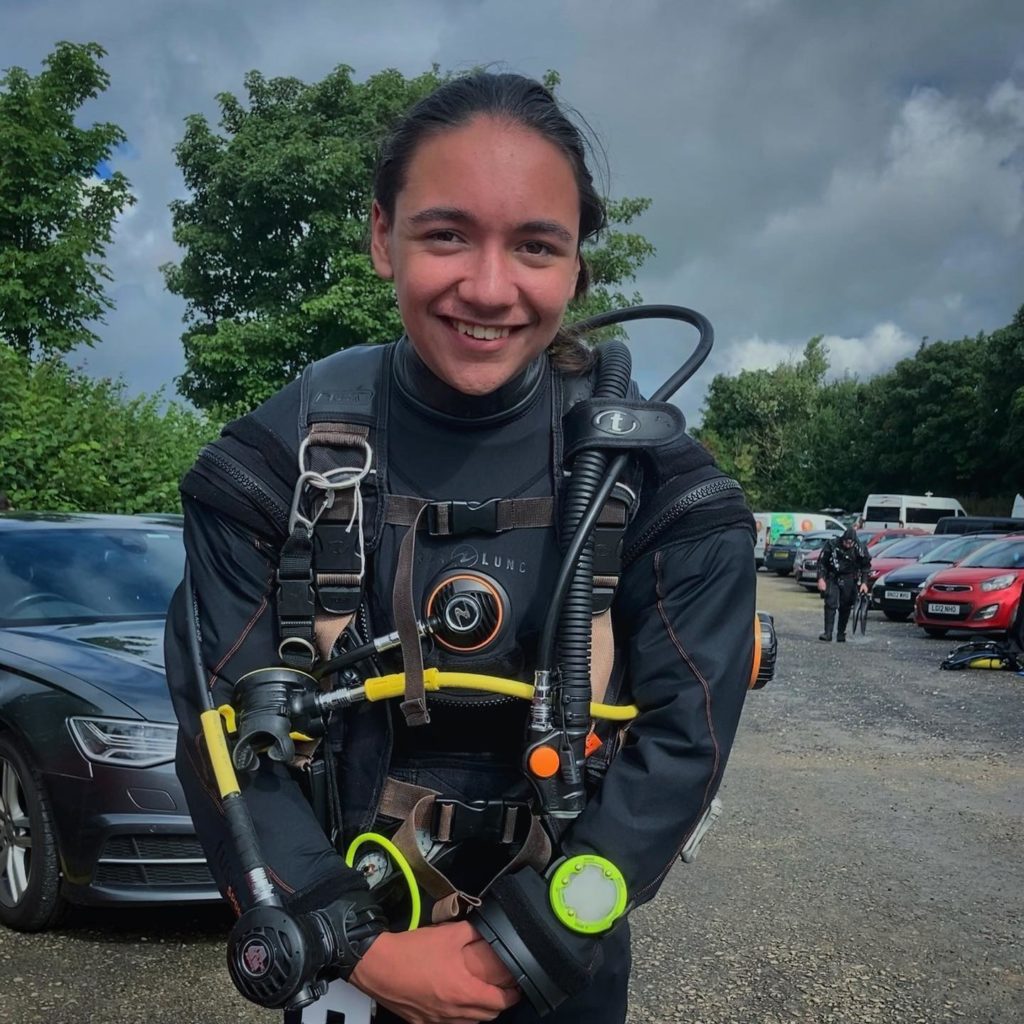 Since that first sense of triumph in Madeira, he gained a bunch of confidence and passed his Junior Drysuit speciality and Junior Advanced Open Water qualification in Capernwray with Liverpool City Divers; Junior Full-Face Mask speciality and Junior DPV speciality in Vivian Quarry with Dutton Divers; Junior Enriched Air speciality and Junior Rescue Diver qualification in Gozo with Dive Smart Gozo; Deep speciality in Oban, Scotland, Navigation specialty in Capernwray and his Master Scuba Diver qualification (which had been a childhood dream since his first trydive) with Canary Divers, who are an incredible group to dive with, showing off the true dive community with constant and often non-stop laughs and a really supportive and strong circle pushing the agenda of getting new divers – and youth diving specifically.
Beth Sadler
Diving became an obvious part of Beth's life for the first time on Fourth Element's PADI Womans Dive Day. She had had an awful day at school and wanted to go straight to sleep, but then made the best decision she'd ever made – she went with her mum to her first try dive.
Moments after her head submerged and her nine-year-old self's dream of becoming a mermaid was fulfilled, Beth became completely fascinated and obsessed with this whole new world. Every thought dissipated into the waves as she trailed slowly behind crabs and cuttlefish, and she Immediately felt at ease – and her new passion arose.
Beth is extremely lucky to have a mum who works within Fourth Element. This allowed her to 'dive straight in', no pun intended! She borrowed kit left, right and centre, and mum Helen's colleague and friend Rannva kindly instructed them both through their first PADI Open Water course in the cold Cornish waters! Beth said she remembers clearly having to swim 200 metres in her bikini in the cold windy waves, dodging jellyfish.
Beth's first open water dive was off Silver Steps in Falmouth. After stalking sea bass through the kelp and foraging for eels within the rocks, she felt her mum pulling on her fin. Her fin appeared to have fallen off, so Beth rolled her eyes and continued to explore beneath the sea. She tugged again. Beth turned and laid eyes on the most-beautiful little seal pup which had been playing with her mum's fins. Beth said she and her mum never stopped smiling.
Beth said 'nothing beats the extraordinary connection made between human and animals under the sea. We are guests in their home and there's an abundance of trust present in the water. Ever since my first encounter, this is all I crave. When i'm older I dream of diving with as many different creatures as I can. As soon as I'm old enough I'll be off in foreign waters, making new relationships with new animals. I can't wait!'
Luke Evans
Luke has always had a natural affinity to water, but growing up with dad Scuba Diver Editor-in-Chief Mark and his equally dive-obsessed mum Penney, there was never a doubt he was going to end up being a diver.
He first started exploring the watery depths off North Wales while snorkelling at the age of three, and by five-and-a-half, he was on a SASY unit in the Cayman Islands.
This was followed by his PADI Bubblemaker in the shark tank at Blue Planet Aquarium just days after he turned eight, and a year later at nine he was ploughing through the PADI SEAL Team programme in Bonaire.
He finally got certified as a PADI Junior Open Water Diver as he turned 11, in the sunny Florida Keys, and then did his PADI Junior Advanced Open Water course in Egypt in 2019 before he turned 13. He followed this up with wreck and reef diving in Malta and Grenada later that year.
COVID-19 put a bit of a kybosh on diving activities through 2020 and 2021, but he still managed to log some dives off the North Wales coast and at inland sites such as Capernwray.
Now with a full adult-spec Advanced Open Water cert card in hand, he is looking forward to diving with the seals off Lundy Island in June, and completing his work experience week in Egypt at Red Sea Diving College in July – when he plans to finally fulfil his long-held ambition to dive the Thistlegorm.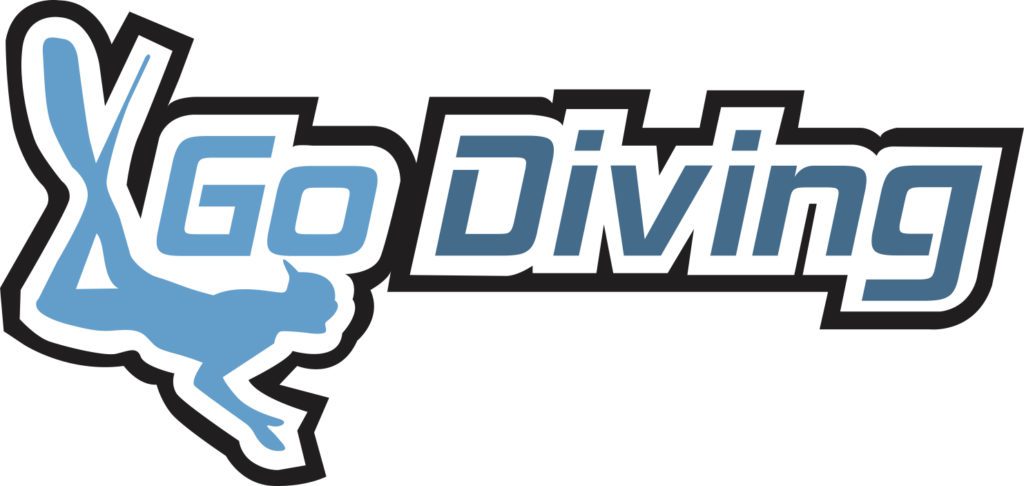 You will be able to catch the Youth Panel on the Main Stage at the GO Diving Show on Sunday at 1.45pm-2.30pm. Book your tickets for the ultimate UK diving event – sponsored by Tobago Beyond – right now!