Being a commercial diver can be a rewarding and lucrative career choice, but not all the jobs go down in the logbook as one to be repeated…
Commercial diver Kris Fearnley, who is also the founder of Blackburn-based recreational dive centre Canary Divers, has just finished up a job that certainly required a lot of blood and guts – and involved that and more too!
Apologies if you are just sitting down to eat as you read this… In Kris' own words…
"I started working for Northern Divers Engineering when I was 18 years old – they are a fantastic company to work for, with a great team of very experienced divers. I feel very fortunate to have been able to work for them, and gain experience from the vast knowledge and variety of jobs they undertake.
"Over the past eight years, I've had many interesting experiences, from jetting mud from the inside of a lock gate to concreting holes in dock walls below the surface, and even diving in mouldy yoghurt!
"However, after being away on a pipeline job due to finish on the Friday, I received the offer of an additional job on Saturday. The good news – it was another pay day. The bad news – I would have the 'pleasure' of diving in abattoir waste, a mix of animal body parts, guts and blood…
"The site we were working on operates as a Category 3, rendering raw animal by-products from abattoirs, meat processing plants and butchers, which is essentially recycled into various other products, such as pet food and even fertiliser.
"The cover of part of the machinery that grinds up the larger various 'chunks' had fallen off and needed to be located and removed to prevent any damage. The first job was to locate the cover, which involved a zero-visibility search through the gross mixture, and then once we'd found this, it had to be safely rigged up for the crane to lift out.
"In this case it was quite nice to have zero visibility, however, upon surfacing to find a thick creamy red substance with chunky bits smeared across the faceplate wasn't the nicest of views – and I will let you imagine the smell.
"I'm pleased to say my Mares XR3 drysuit kept me dry and the Poseidon Amara gloves provided good protection and flexibility to rig up the cover.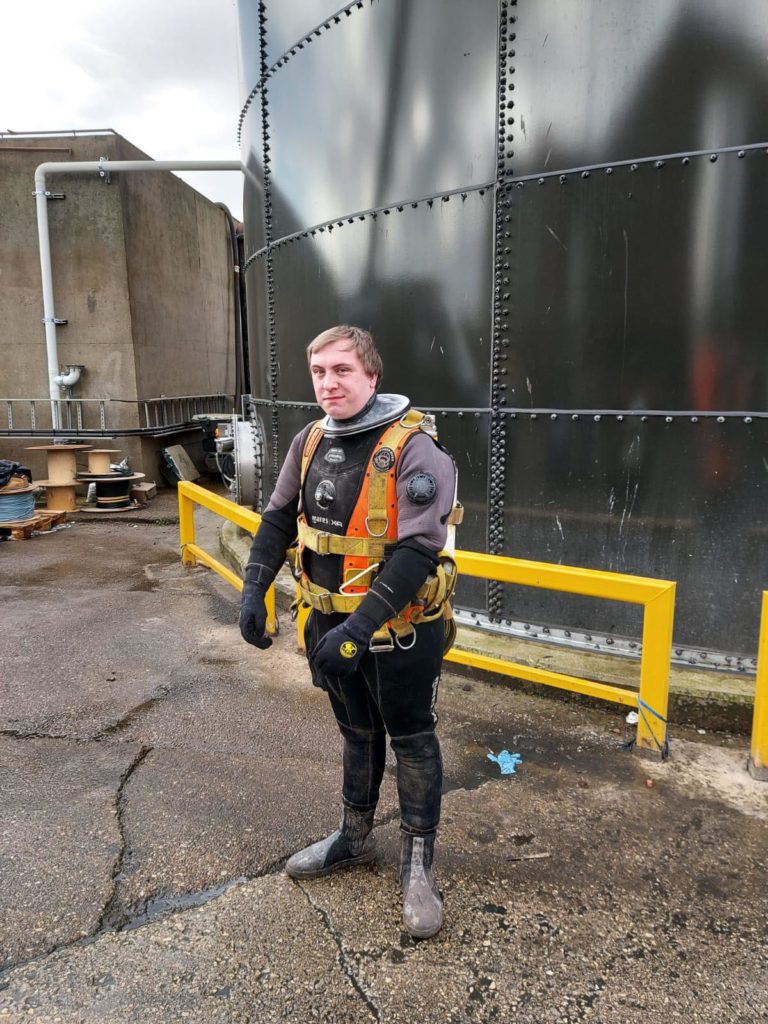 "With running Canary Divers and how busy we have been both with students learning to dive and growing the shop, with additions such as the Canary Cafe and tech/rebreather room being built, I haven't been able to get away on as many commercial diving jobs as I would have liked, however with the fantastic experienced team we now have – and an exciting new project with another dive centre coming up – will not only add to the growth Canary has had over the past few years, but also allow myself to take on more commercial diving projects."