Where Rainforest Meets Reef – Tunku Abdul Rahman Park, Sabah Borneo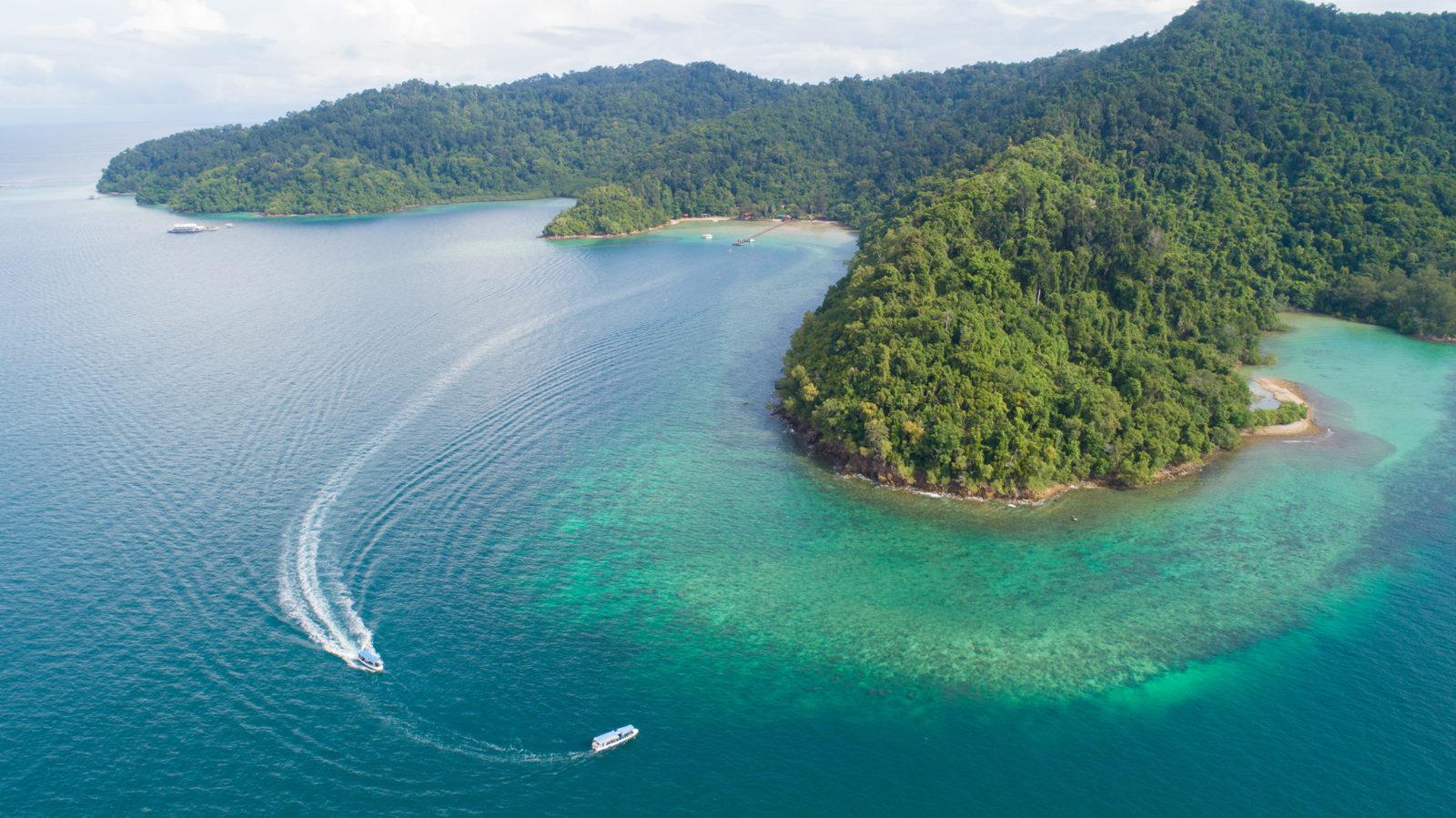 Less than two minutes after take off from Kota Kinabalu International Airport in Sabah, the plane makes a sharp left hand turn and the wing dips to reveal a birds eye view of Gaya Island and the surrounding sloping coral reefs of Tunku Abdul Rahman Park. The occasional small speedboat can be seen transferring island day trippers and scuba divers between the five tropical islands. Vibrant green jungle rainforest meets brilliant turquoise water, it's quite a sight and I can't wait to return.
There are not many places in the world that offer a bustling city full of modern facilities and then right on the doorstep, just ten minutes by speedboat from the central entertainment district, a stunning tropical marine paradise with 50 dive sites to choose from. Sabah's capital, Kota Kinabalu, is such a place and the Tunku Abdul Rahman Park, locally known as the TARP offers some excellent scuba diving year round.
Named after Malaysia's first prime minister, covering an area of 50km², the Tunku Abdul Rahman Park was gazetted as a national park in 1974. Consequently the area's fauna, flora and marine eco-systems enjoy the protection of the government appointed body, Sabah Parks.
Five islands make up the landmass with Gaya Island the largest and arguably the most interesting. Site of the British North Borneo company harbour and razed by the rebel Mat Salleh in 1881. Nowadays the 15 square kilometre island is mainly uninhabited other than the eastern shore which is home to a community of stilt villagers. For the past 12 years our PADI 5 Star IDC Career Development Centre 'Downbelow Marine & Wildlife Adventures" has been based here as the only operator. Abundant wildlife thrives on the island including the endemic proboscis monkey, macaques, hornbills, wild boars, snakes, lizards and many other tropical birds & insects.
About the Dive Sites
The remarkable biodiversity of Borneos flora & fauna is visible above and below water. Dive sites within the park offer some great scuba diving for beginners and experienced divers alike. Inner & outer coral reefs slope to 30m depths, mangrove areas and sand flats provide lots of opportunity for macro enthusiasts and underwater photographers. The park is also ideal for conducting PADI dive courses of all levels from beginner to professional qualifications. With a good amount of local divers there is a great vibe around diving but it's not too busy. We're often the only dive boat on a dive site and our guide to diver ratios are 4 divers per group.
The Inner Reefs
Sheltered from the prevailing northeast or southwest winds, the inner reefs offer year-round diving and are a haven for macro critters. Nudibranchs are very common with many rare and varied species regularly encountered. Seahorses, ghost pipefish, frogfish, flounders, stargazers, mandarin fish, moray eels, lionfish, and many crustacean species are among the usual suspects and divers can frequently interact with cephalopods as they slowly pulse along the reef. Although referred to as 'muck diving' many of these sites are in fact very pretty, with visibility ranging from eight to 20 metres.
Mid Reef is a great example. Situated in the centre of all the islands, this independent reef was probably once an island of its own. The shallow top reef, only four metres at low tide, is relatively barren with a handful of artificial coral blocks. On the eastern side the slope descends to 20 metres and meets the remains of a small fishing wreck. Fish schools gather around the debris which attracts a variety of critters such as stonefish, scorpionfish and lionfish. Shrimps and crustaceans are plentiful. Moving away from the wreck and following the reef slope divers can find stick pipefish, spotted stingrays and an array of creatures confident in their cryptic ability.
A few minutes swim away and a wonderful section of shallow reef begins; layers of acropora coral bathed in filtered sunshine form a beautiful reef area at 12 metres. Here seahorses, cockatoo waspfish, razor fishes, moray eels, yellow-lipped banded sea krait and swaying anemones with their clownfish are often found. Surrounded by this beauty it's a challenge to end the safety stop and return to topside reality.
The Outer Reefs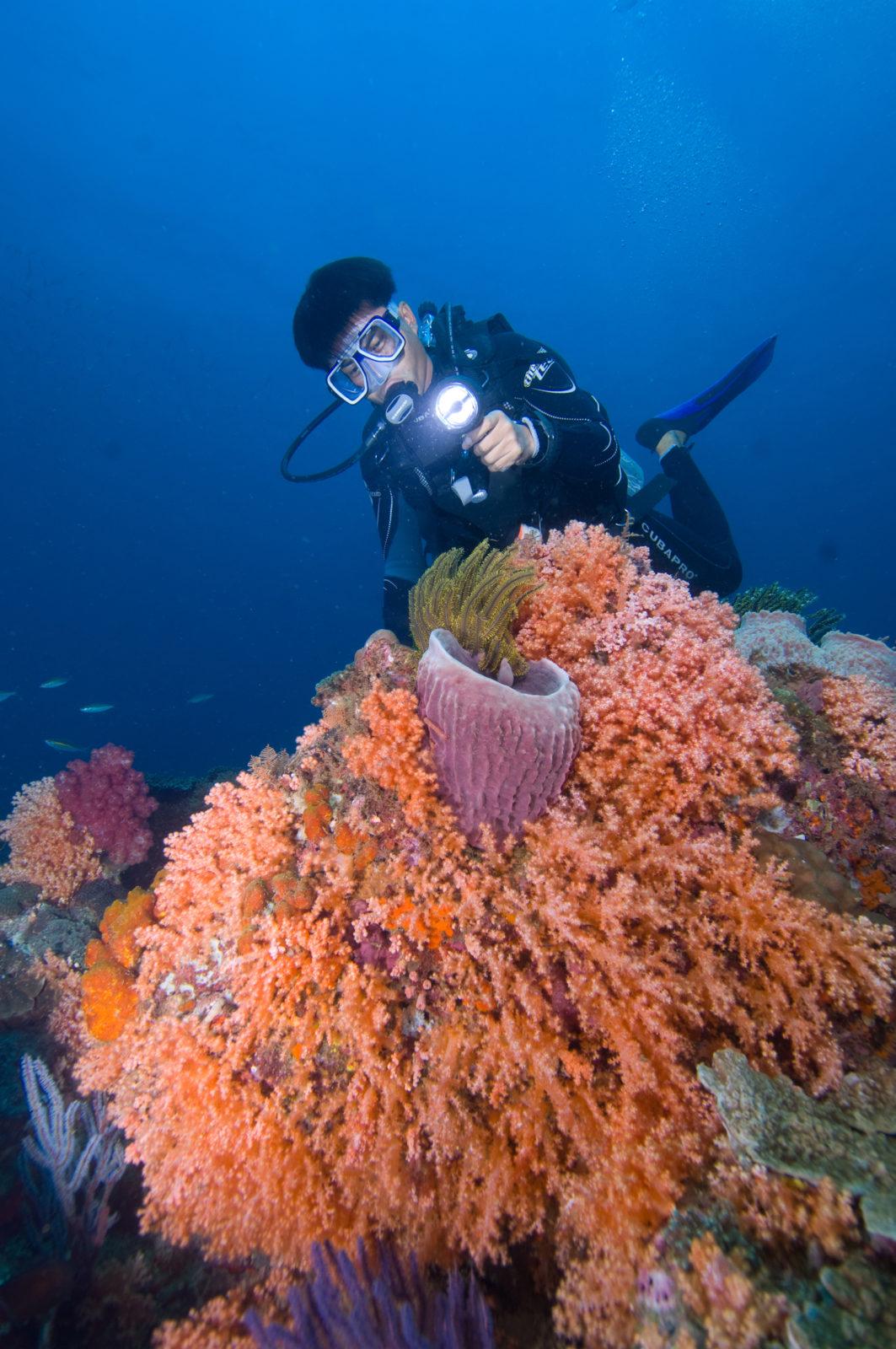 The outer reefs are a kaleidoscope of colour and texture – large gorgonian fans, table corals, barrel sponges and staghorn corals are abundant. With slightly better visibility due to their location, these outer sites tend to attract pelagic species such as giant trevally, large schools of batfish, eagle rays and blacktip reef sharks. All still only about eight minutes from the dive centre!
One of our favourite outer sites is Edgell Patches. The reef top starts at 10 to12 metres. Large coral blocks and barrel sponges litter the shallow reef crest that slopes to 30 metres and the sandy seabed. Schools of yellowtail barracuda, yellow-striped snapper and fusiliers are among the reef's residents. During the day, bamboo and spotted cat sharks can occasionally be found sheltering under the small coral overhangs.
Turtles are fairly commonly encountered on inner and outer reefs year round and when schooling krill mass through March and April, whalesharks can sometimes be seen feeding around the islands.
The Wreck Of KM Kuraman
The "new kid on the block" in terms of dive sites is the wreck of KM Kuraman. A British built 103ft long patrol ship that served for almost 50 years with the Malaysian Navy under the name of KD Renchong. She was then transferred to Maritim Malaysia where she was re-named KM Kuraman (after an island near Labuan) and continued to serve for another five years and eventually de-commissioned in 2015.
In 2017 my husband and co-founder of our dive centre, Platinum PADI Course Director Richard Swann was charged with the role of sinking the ship and she now lies in 23m of water just offshore Manukan Island. With divers in mind, Richard wanted to sink the ship in an upright position and clear her internally so she was suitable for the marine environment. He also wanted to open up compartments to create penetration dive opportunities for suitably qualified divers to enjoy. She now lies peacefully and already hosts beautiful soft coral. Schools of barracuda, juvenile black tip reef sharks, ghost pipefish, frogfish and a variety of reef fish have become permanent and seasonal residents.
When To Visit, Where To Stay, How To Get There ?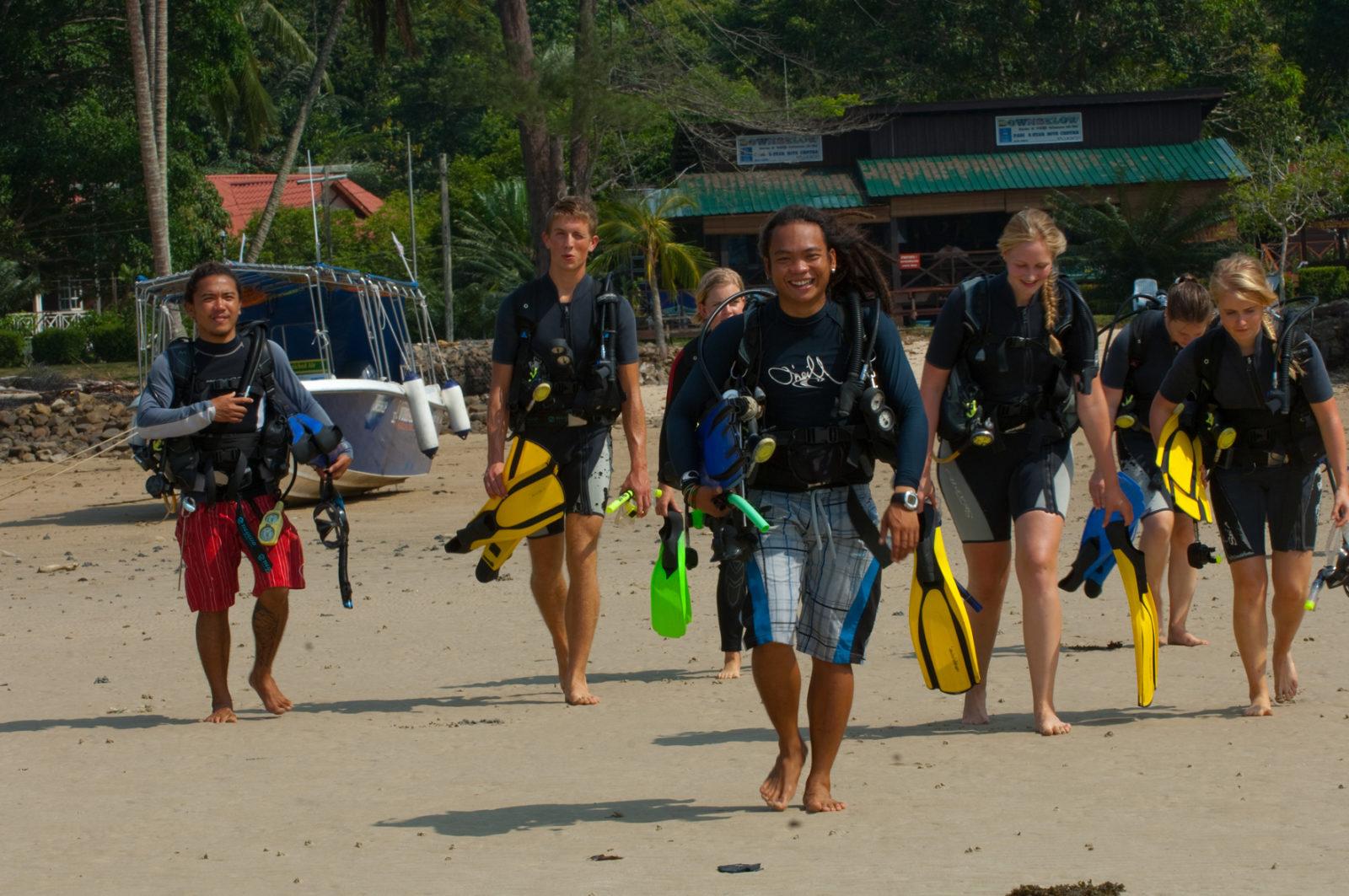 We dive all year round and the best time to visit is October all the way through to June. The months of July to September is typhoon season for the Philippines so we often get the tailwinds of these storms which reduce visibility. It's very rare for us to cancel a day of diving due to the weather. Water temperatures are usually around 29 degrees, during the whale shark season of February to April deep ocean currents reduce the temperature to around 24 degrees.
One of the beauties of visiting TARP is the flexibility to fit any traveler's budget – just minutes from the park are backpacker lodges including our very own Downbelow Eco Lodge on the mainland, there are city hotels, 5-star resorts and island retreats. This isn't only a diver's paradise; there's great snorkeling, sea kayaking, trekking, plus lovely beaches.
Visitors can fly into Kota Kinabalu International Airport and in-fact a recently documented challenge got divers into the water 60 minutes after landing. TARP is a 15 minute drive plus 10 minute speedboat journey from the airport.
Other Places to Visit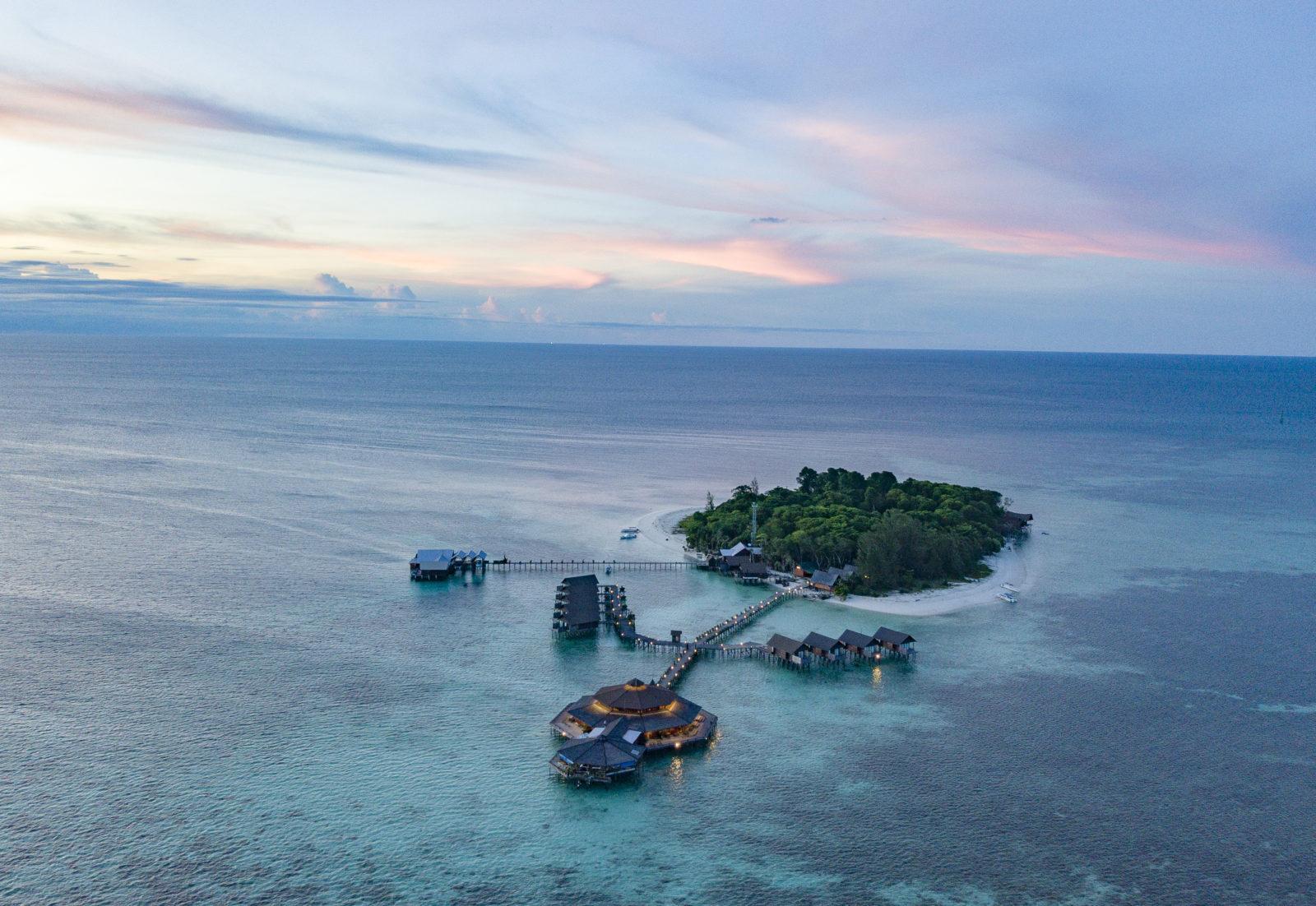 Drawn to the state not only for its fabulous diving, we also fell in love with the mountains, jungles and rivers. Sabah boasts the Kinabatangan River – a region with such wildlife bio- diversity it's acknowledged by experts to be the most varied and easily accessible in all Southeast Asia. Deramakot Forest Reserve is the best place in Asia to see all 5 of Borneo's big cats along with around 200 different species of birds.
The majestic Mount Kinabalu at 4095m a.s.l in the Crocker Range overlooks TARP. This great mountain has become an icon of natural history and successful conservation, whilst being the most accessible of high mountains to climb. With so many superlatives it's hard to believe all these wonders are within one small state – and we haven't even mentioned the endemic Borneon pygmy elephants and orangutans!
If a trip to Sabah is now on your bucket list contact Joanne who specialises in crafting tailor-made itineraries that save you money and maximise your time in Borneo.
Written By Joanne Swann. Co-Founder & Director of Downbelow Marine & Wildlife Adventures S/B a.k.a Adventures In Borneo.
About the Author. Joanne has worked in the travel & corporate world since 1992. A passionate conservation minded marine & wildlife enthusiast who has been crafting specialists trips to Sabah Borneo for 15 years. Together with her husband Richard Swann they founded Downbelow Marine & Wildlife Adventures based upon their own travel & dive experiences.
Photography By Richard Swann Managing Director and resident PADI Platinum Course Director of Downbelow Marine & Wildlife Adventures
For more about diving in Sabah try
Getting Wrecked in the Stunning Tunku Abdul Rahman Park