Dive Planit gives you the low down on Where and When to scuba dive in 2021
With domestic and international borders closed for months, many divers have been booking dive trips in their home state, and as domestic borders finally start to open, now is definitely the time to start thinking about where you'd like to go in 2021.
But as has been said so often that we're tedious with the phrase: "welcome to the new normal". With Covid-19 social distancing rules, many dive resorts and liveaboards have reduced capacity, some are still closed, most liveaboards have changed their schedules and itineraries, and some are already fully booked until after the Easter holidays.
Read our guide on where to go, and when. With most operators offering flexible booking terms, we highly recommend booking now for a mid-year holiday – with reduced capacity, places will fill fast. Start thinking now for trips from April onwards.
April – Ningaloo and Christmas Island
If you're in WA, whale shark season continues until late-April on Christmas Island, and it's the start of whale shark season on the Ningaloo Reef.
May – Lord Howe Island, Southern Great Barrier Reef, Neptune Islands
Lord Howe Island has limited availability in May, as do Lady Elliot and Heron Islands, so worth booking soon as they will disappear fast. May is the start of manta season on Lady Elliot, another good reason to lock something in. It is also peak season for great white sharks at world-famous shark café: the Neptune Islands, and there are a few spaces left on the MV Rodney Fox. It's also the start of the giant cuttlefish aggregation in Whyalla.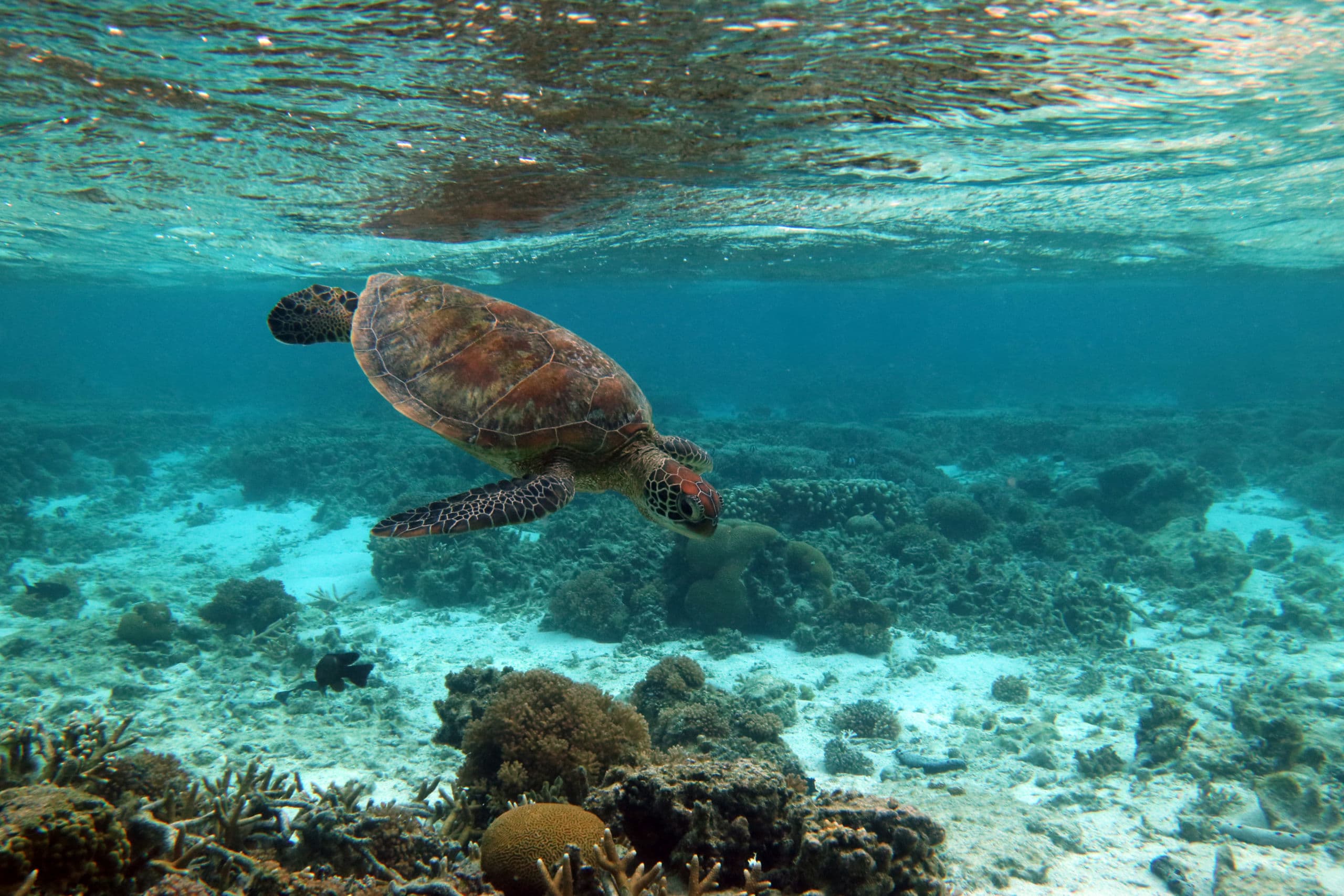 June/July – Dwarf Minke Whales on the Ribbon Reefs
During June and July is Minke Whales visit the Ribbon Reefs in the far north Great Barrier Reef. Snorkelling with these intelligent, inquisitive creatures is described by all who experience an encounter as life changing. 7-day Minke whale tours are available with Mike Ball Dive Expeditions and Divers Den – 2021 tours are almost fully-booked already.
July/August – Humpback Whale swims in Ningaloo, Mantas at Lady Elliot Island
July and August are the best two months to see manta rays on Lady Elliot and Lady Musgrave Island. While it's possible to see mantas in the Southern Great Barrier Reef year-round, they are usually present in greater numbers in the winter months. Mid-July is also the start of humpback whale season on the Ningaloo Reef, with day trips available with Exmouth Dive & Whale Sharks. If you time your trip well, you could even swim with both humpbacks and whale sharks.
Sep/Oct – book now for Rowley Shoals in 2022
WA's remote Rowley Shoals can only be dived for a short window between late-September and November – and these tours book out years in advance. Be prepared for pristine coral, beautiful swim-throughs and exciting drift dives!
Nov/Dec – Indian Ocean Islands and Far North QLD – Turtle Nesting Season
This is a great time to dive Cocos Keeling Islands – and November sometimes sees the start of the famous red crab migration on Christmas Island, as well as the start of whale shark season, which continues until April.
November is also the start of turtle nesting season in Far North Queensland, with special expeditions to the reefs surrounding Raine Island (book now for 2022), where you'll likely dive with hundreds of turtles, available with Mike Ball Dive Expeditions. Turtles can also be seen in great numbers on Heron and Lady Elliot Islands between November and April.
Photo Credits: Tourism Australia, Dive Ningaloo, Scott Porttelli, Tracy Olive, Deborah Dickinson-Smith
Click here for Scuba Diver ANZ issue 30