Words by Elzette Dekker. Images by Joane Esterhuizen.
You may have been diving in Raja Ampat but have you done The Worm? Join Meridian Adventure Dive as they share their latest Raja Ampat diving highlight.
"Whilst exploring the underwater sites of Raja Ampat, we came across one of the best sightings of it all – The Worm!"
One of our dive guides started showcasing strange underwater behaviour which did not fit any of the underwater hand signals that divers are accustomed to. This is when The Worm was born!
We have been doing it at every dive site we have visited since then. It has become our signature move, expressing the boundless energy we experience being able to explore the hidden pockets of Raja Ampat, Indonesia.
When to do The Worm
It is custom to do The Worm at the end of each dive, on the 3 min safety stop at 5 meters. It's almost like a little war cry from Meridian Adventure – getting excited to dive all the hidden treasures this location has to offer. Since every dive guide is equipped with GoPros ready to snap all the amazing underwater finds, your Worm is also vital at any characteristic landmark – collecting over 100 of them if you dive with Meridian Adventure and get to experience the various dive sites we have discovered. From sunken planes to underwater forests – you would want to do The Worm and collect them all!
How to do The Worm
Get excited!
Stretch out like an underwater Superman!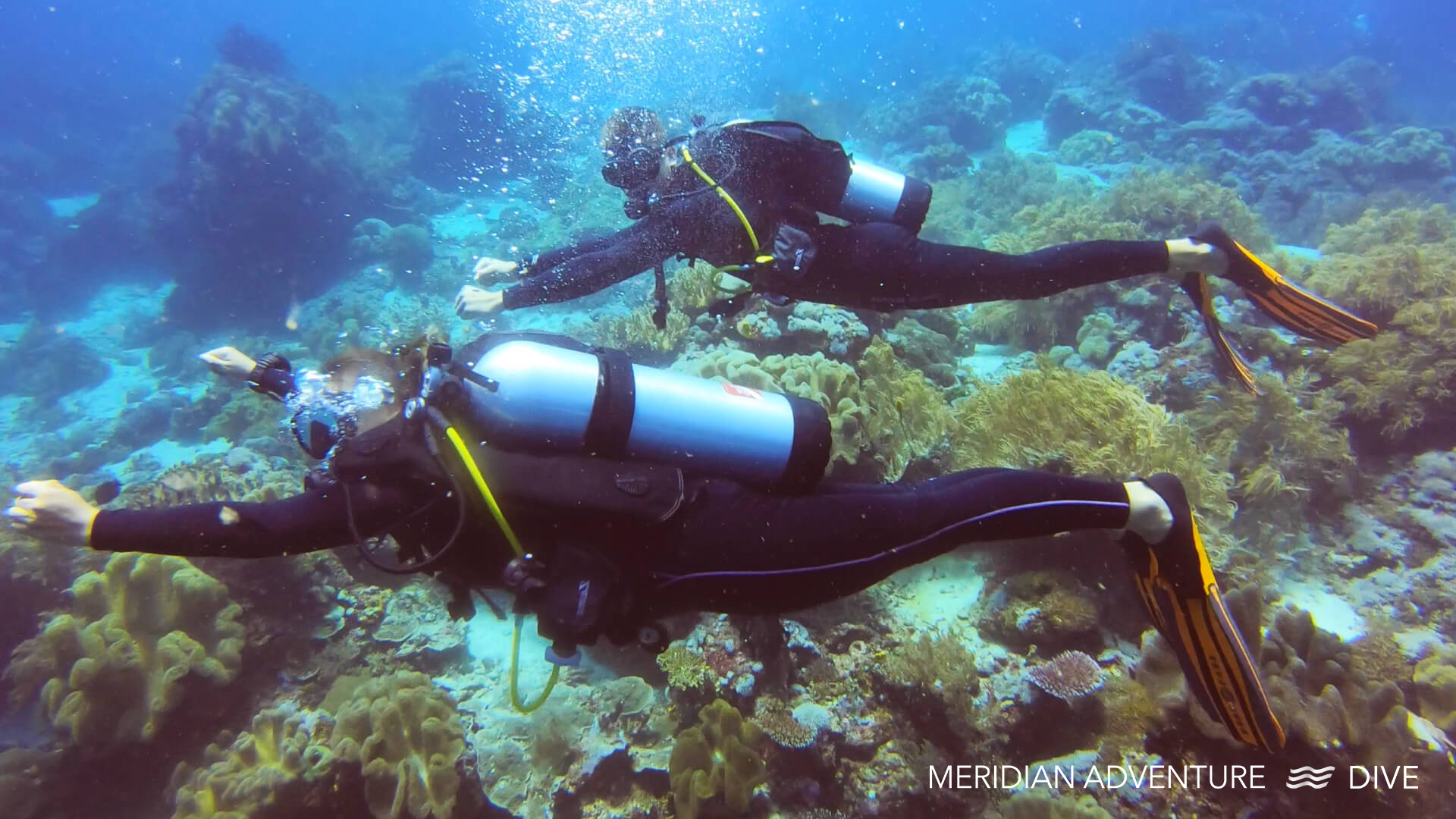 Bring your arms and knees together beneath your tummy.
Do the Shimmy!
Repeat
Go Raja Ampat diving in 2021 to experience over 100 dive sites and collect your Worm! Visit Meridian Adventure Dive to find out more.
Welcome to Meridian Adventure Dive.
Situated in Raja Ampat, Indonesia, Meridian Adventure Dive is a PADI 5 Star Resort and winner of the PADI Green Star award. Scuba divers enjoy our professional services that have become synonymous with both the PADI and Meridian Adventure names.
The sweeping spine of Indonesia's archipelago is an underwater treasure trove, and the Raja Ampat Islands are often overlooked.
Join us to discover Raja Ampat; one of Indonesia's most impressive dive destinations and truly a paradise on earth.
Check out Meridian Adventure Dive on Facebook and on Instagram. Follow Meridian Adventure Dive on YouTube for more of their Raja Ampat diving highlights.