The original Nautilus Lifeline was a nifty piece of kit, which acted as an emergency GPS device and a VHF radio, so heaven forbid you ended up separated from your dive boat, you could quickly raise the alarm using a variety of methods.
The new Nautilus Lifeline Marine Rescue GPS is a dinky little unit, a fair bit smaller than the original version, which makes it even easier to pop into your BCD pocket or secure on your equipment.
The GPS position is accurate to one-and-a-half metres, and a man overboard distress message will be broadcast to all AIS-equipped ships up to 34 miles away as well as a special DSC message to the marine radio on your own vessel. All modern commercial shops and most yachts are fitted with AIS and DSC, allowing universal worldwide use of the Marine Rescue GPS. Each GPS is programme at the factory with an MID number, allowing automatic AIS functionality as soon as your unit is powered up, however your ship's MMSI must be loaded to activate DSC functionality, but this is easily done using the built-in optical sensor.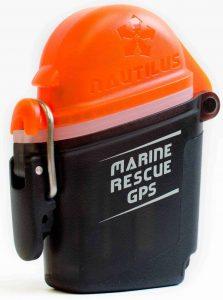 It is positively buoyant and splashproof in all sea conditions, and with the cap closed is depth-rated to 130m. You get a five-year lifecycle out of the batteries (not included), and best of all, there is no MMSI or registration, subscriptions or service fees required.
To accompany your Lifeline and keep it in a secure yet highly functional position on your gear, you can get an accessory orange-and-black neoprene pouch (£39), or a tough silicone pouch (£25), available in orange or black.
Our gear content is sponsored by Mike's Dive Store, the UK's premier dive retailer. For all your diving needs visit them in-store or online for your diving, freediving, snorkelling and servicing.