The rotting Carcass of whale has attracted Numerous large sharks at Illawarra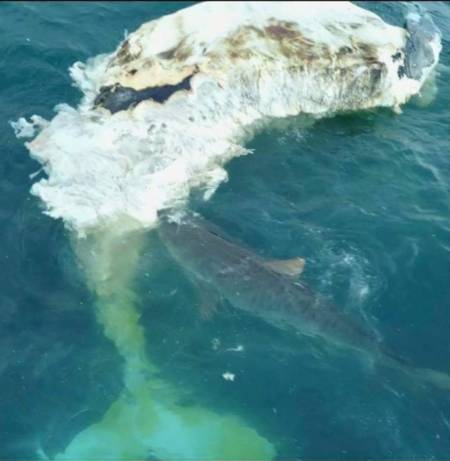 A dead whale has been attracting the attention of several large sharks at Bulli Beach, Illawarra. The Whale believed to be a juvenile humpback had been floating in the ocean about 150 m off shore when it was noticed and mistaken for a capsized boat.  The spectacle attracted many onlookers and photographers, eager to witness the sharks feeding.
One particularly large shark, estimated to around 4-5 meter and believed to be a great white even had a nibble on the outboard motor of a small fishing boat,
Surfers, swimmers and divers have been warned to stay out of the ocean.
Anthony Turner from Surf Lifesaving Illawarra said although the beaches are technically closed, they have advised nearby surf clubs not to allow people to train or go in the ocean.
"We have contacted Thirroul, Sandon Point, Bulli and Woonona just to tell their members not to train or do any paddling or swimming over the next few days and don't enter the water, multiple sharks are milling around the carcass -one of which is four metres long. There are definitely some large sharks circling around and munching on the bits and pieces that are falling off the whale,"
Mr Turner continued:
"Surf life savers will be monitoring the beach from the land, water and even the air via drones to ensure that no-one is in the water near the carcass. Even after the carcass has been removed the beach will remain closed for some time. With the remnants of the whale and the oil and bits and pieces in the water, we're highlighting the fact the beach will remain closed for an extended period of time because the sharks will linger around due to the scent still in the water, Sharks are scavengers, so they're still going to be looking for something to eat."
"It was actually quite spectacular to watch, Nature at its best. But people need to exercise caution and stay out of the water while they're feeding. Even after the whale is gone, there will still be remnants in the water. It's likely it will wash up sometime tomorrow morning, just depending on the tide and winds,"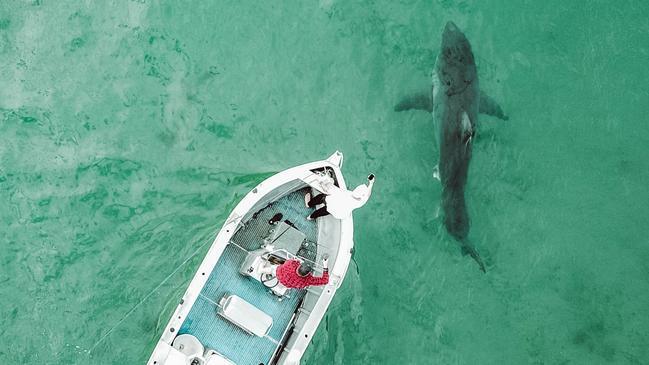 Wollongong's Lord Mayor, Gordon Bradbery, said council lifeguards are also working with the National Parks and Wildlife Service to remove the whale.
"The plan is now to tow the carcass to the Bellambi boat ramp, where it can be removed from the water, then it will be transported to a Wollongong waste facility. The council has placed temporary "shark danger" warning signs in the area and people are advised to stay out of the water between Sandon Point and Bellambi Point."
Photo Credit: Ryan Simpson, Georgia Matts, Justin Huntsdale, Surf Life Saving Illawarra