Mountains of plastic waste dumped in Malaysian jungle
A new BBC documentary, War on Plastics, investigating where our waste products go – and if it is being correctly recycled – has allegedly uncovered vast mountains of plastic sitting in the Malaysian jungle.
In a trailer for the upcoming three-part series War on Plastic, celebrity chef Hugh Fearnley-Whittingstall is seen picking through recycling which has been shipped more than 6,500 miles from the UK to Southeast Asia to be processed, but instead has just been dumped in jungle near Ipoh.
How do we know the waste-mountain originated in the UK? Well, within minutes Hugh had located items from supermarkets such as Waitrose, Tesco, Sainsbury's and Asda, and there were plenty of familiar UK brands. There were even torn and split open local council recycling bags, from as far afield as Braintree in Essex, Milton Keynes, and Rhondda Cyn on Taf in South Wales, which would have been filled by well-meaning British citizens.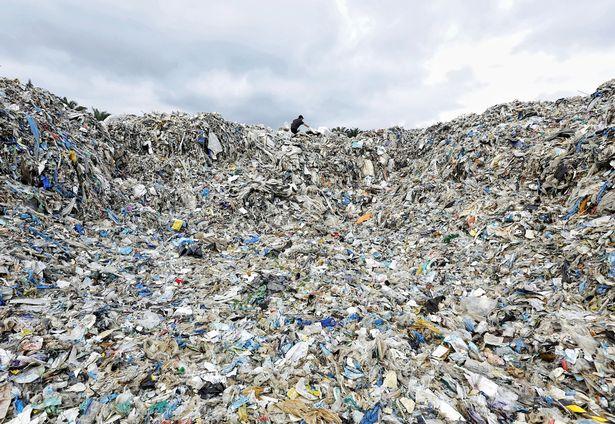 Looking visibility shocked, the TV favourite comments 'It's like someone's dystopian nightmare – a plastic planet'.
He explains: "When we put this in our recycling back in the UK, we think we're doing the right thing. I do my recycling and I feel good about it. At least I used to – I don't feel so good now. I feel embarrassed, I feel ashamed, I feel angry, I feel I've been lied to."
Hugh's co-host on War on Plastics, Countryfile's Anita Rani, was similarly infuriated, and said: "It's horrendous to discover this rubbish dumped abroad. We're doing our bit putting it in the recycling bin – and then it's being left to simply become someone else's responsibility."
Greenpeace's Unearthed unit shared research with the BBC War on Plastics production team, and Greenpeace UK's senior oceans campaigner Louise Edge said: "These shocking pictures expose just how serious our plastic waste crisis is. Britain can't carry on dumping its plastic garbage in someone else's backyard. 'Out of sight, out of mind' is not the solution to the problem."
Last year, hundreds of thousands of tons of plastic waste was exported by the UK. Up until 2018, China was the biggest recipient, then their government placed a ban on the trade, and now Malaysia holds the unenviable place at the top of the 'garbage charts', taking in 130,000 tons of British plastic waste in the last year. However, it is already planning a ban of its own, and just yesterday – in extraordinary timing – announced it was shipping back 3,000 tons of non-recyclable plastic waste to the UK, USA, Australia and Canada.
Why would a country import waste? Money – lots of it. The lucrative export industry for plastics was worth more than £50 million last year – and this can lead unscrupulous operators to try and cash in by cutting corners.
However, Malaysia has been swift to deny Ipoh is being used as a 'dumping ground', with the director of the Perak Department of Environment (DOE) stating there are no unmanaged plastic dumps in the area, and that the reports are 'inaccurate'.
Photo credit: BBC/Keo Films/Tom Beard and A Nandakumar S. Haridas/Green