A gigantic fin whale which beached itself on the Cornish coastline on Friday sadly died after valiant attempts to rescue it.
The 20-metre-long mammal had been seen swimming around near Nare Point in the morning, but at around midday, it was found beached on rocks at Parbean Cove on the Lizard Peninsula.
British Divers Marine Life Rescue (BDMLR) despatched Marine Mammal Medics and Welfare Development and Field Support Officer Dan Jarvis to the scene, where people were doing their best to dowse it in water and keep it alive until the next high tide.
Dan Jarvis said: "The fin whale was stranded high up the rocky beach, which had caused numerous superficial injuries all over its body and there was evidence that it must have rolled over at some point after it had become stuck.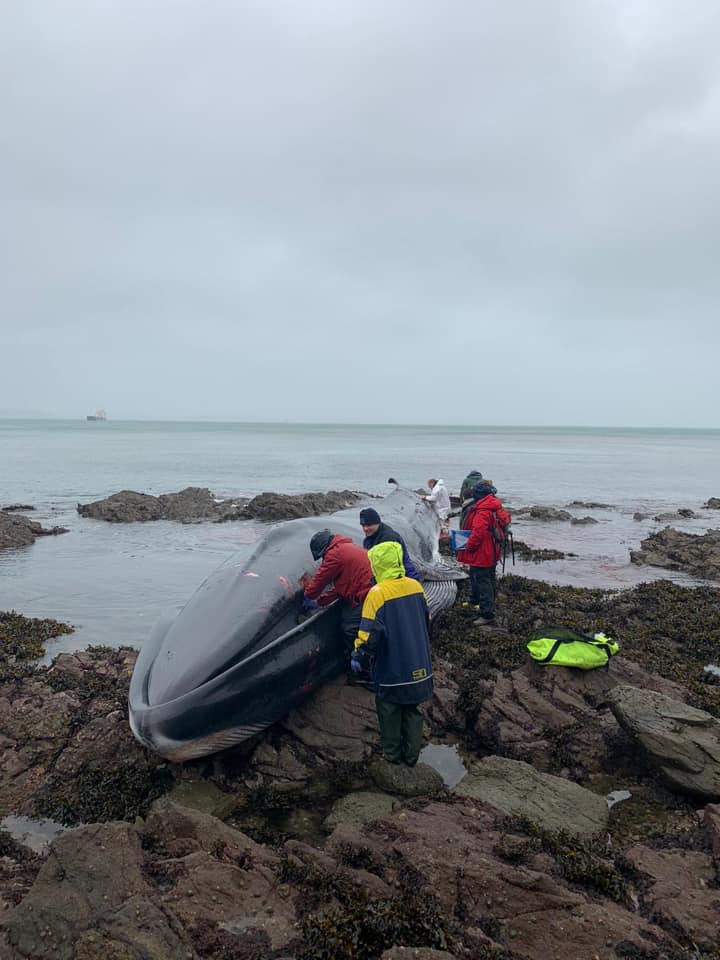 "There were also a number of more-concerning injuries where the weight and movement of the animal had caused deeper wounds, especially around the tail where it had been thrashing and beating its flukes on the rocks, creating a horrific noise like thunder.
"It was also in very poor nutritional condition, which means that it had not been feeding for quite some time."
The medics quickly noticed just after they arrived that the animal appeared to be in its death throes, opening the mouth wide and holding the tail up at the same time, and had stopped breathing. Eye reflexes were tested, and no longer responded after about half an hour, by which time BDMLR's Veterinary Support Co-ordinator Natalie Waddington arrived and confirmed that it had passed away.
Photo credit: Dan Jarvis and Helen Chadwick
British Divers Marine Life Rescue will be at the GO Diving Show at the Ricoh Arena this weekend – come and find out more about their worthy cause, and how you can get involved as a Marine Mammal Medic. Book your tickets now! www.godivingshow.com/dive-show-tickets/