Hidden beneath Poole Bay are the remains of some very unusual World War Two wrecks. Divers expect to find a sunken ship or the scatterings of a ditched aeroplane, but a squadron of armoured tanks? So, the obvious question is how did they get there in the first place? Were they just dumped as an artificial reef project, or was there a more-intriguing story?
I have spent many years researching the history of the top-secret amphibious DD (duplex drive) Valentines tanks. My last outing with Bournemouth University's Maritime Archaeology Dept took me on a completely different tack. The group of students, led by senior lecturer Dave Parham, spent two weeks searching for all seven Valentines tanks, and after finding them, carried out some extensive research on the rate of decay. If their results are accurate, the last remaining Valentines tank with turret and gun barrel still attached is making a last defiant stand against the elements. Sooner or later the distinctive shape will collapse into an unrecognisable pile of rusting metal plates. This will indeed be a sad day for the diving community.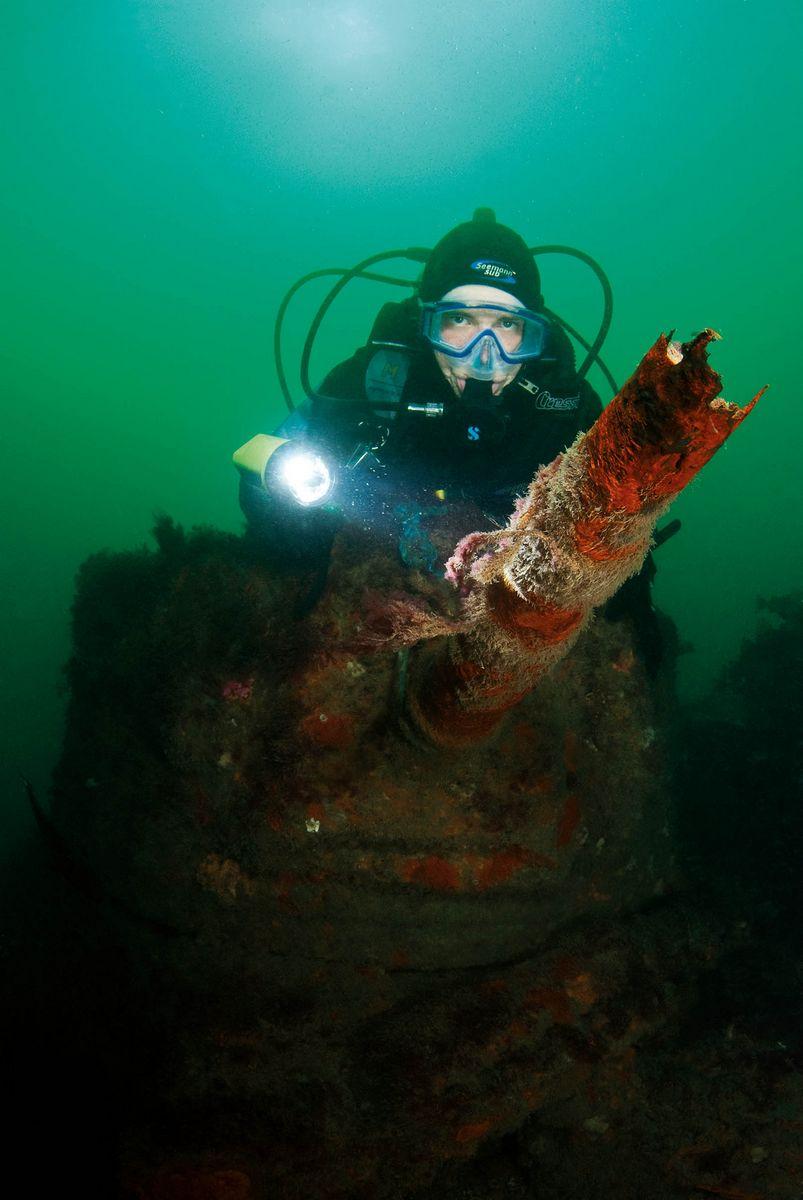 For close to 25 years I have been a regular visitor to all seven known sites, especially the popular permanently buoyed No.1 and No.2 tanks. No.3 – No.7 tanks are rarely visited mainly because there are no permanent marker buoys and they are difficult to find with a sounder. The actual size of a Valentines tank is six metres long and nearly three metres wide, which is not much bigger than a Transit van, making it an extremely small target to find, even with known GPS co-ordinates! No.3, 4, 5 and 6 tanks are dotted around the Hook Sands area and are quite far apart. They are also 'turret-less' so don't look as interesting. The elusive No.7 tank lies off Boscombe Pier, with the turret and barrel sitting on the seabed close by.
The main dive site is located approximately 3.5 miles from Swanage Pier, so there are no long arduous boat rides to worry about. Journey times vary from 15-30 minutes each way depending on how fast the boat is travelling. Charter boats operating from Swanage and Poole offer regular runs out to the Valentines tanks throughout the year. At a maximum depth of 15-16m, depending on tides, they are not a difficult dive. Tidal flows can be quite strong, especially during springs, so dives are usually made at slack water, although a trickle of tide does help take away any kicked-up silt which is very useful if there is a large group of divers descending all at once.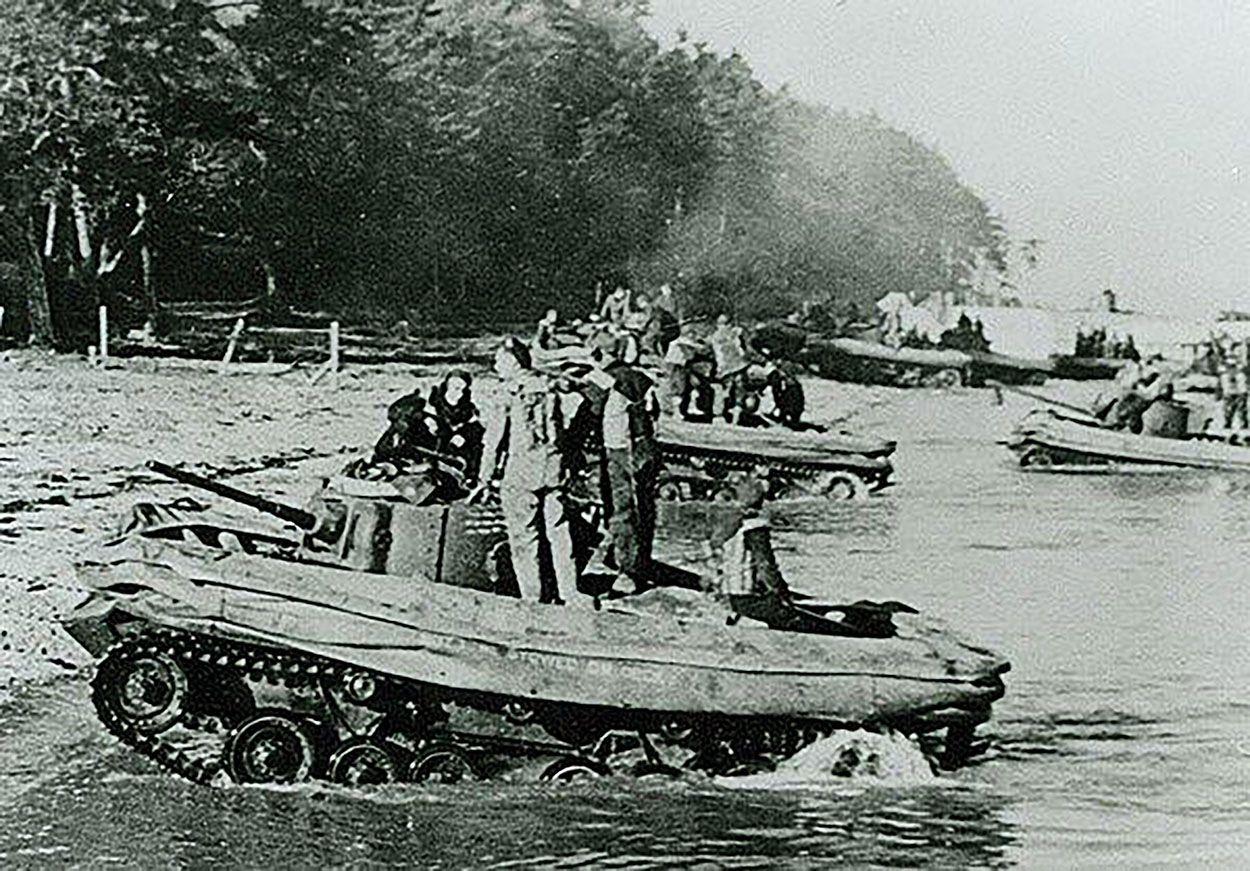 The story begins in World War Two when Nicholas Straussler, a Hungarian-born engineer from London, came up with a hair -brained scheme to float a 17.5-ton Valentines tank. Using Archimedes principle as a basis, he designed and built a rubberised canvas screen that sealed tightly around the main body. When fully raised to a height of two-and-a-half metres, this displaced enough water to float the armoured fighting vehicle. The addition of a three-bladed propeller transformed the Valentines tank into a cunningly disguised boat with a top speed of four-and-a-half knots in calm conditions (this is why the tanks were called 'duplex drive').
The intention was to use Straussler's wacky invention during the D-Day beach landings, whereby an unassuming boat would suddenly transform into an 'all guns blazing' tank, giving Allied troops the element of surprise against entrenched German forces.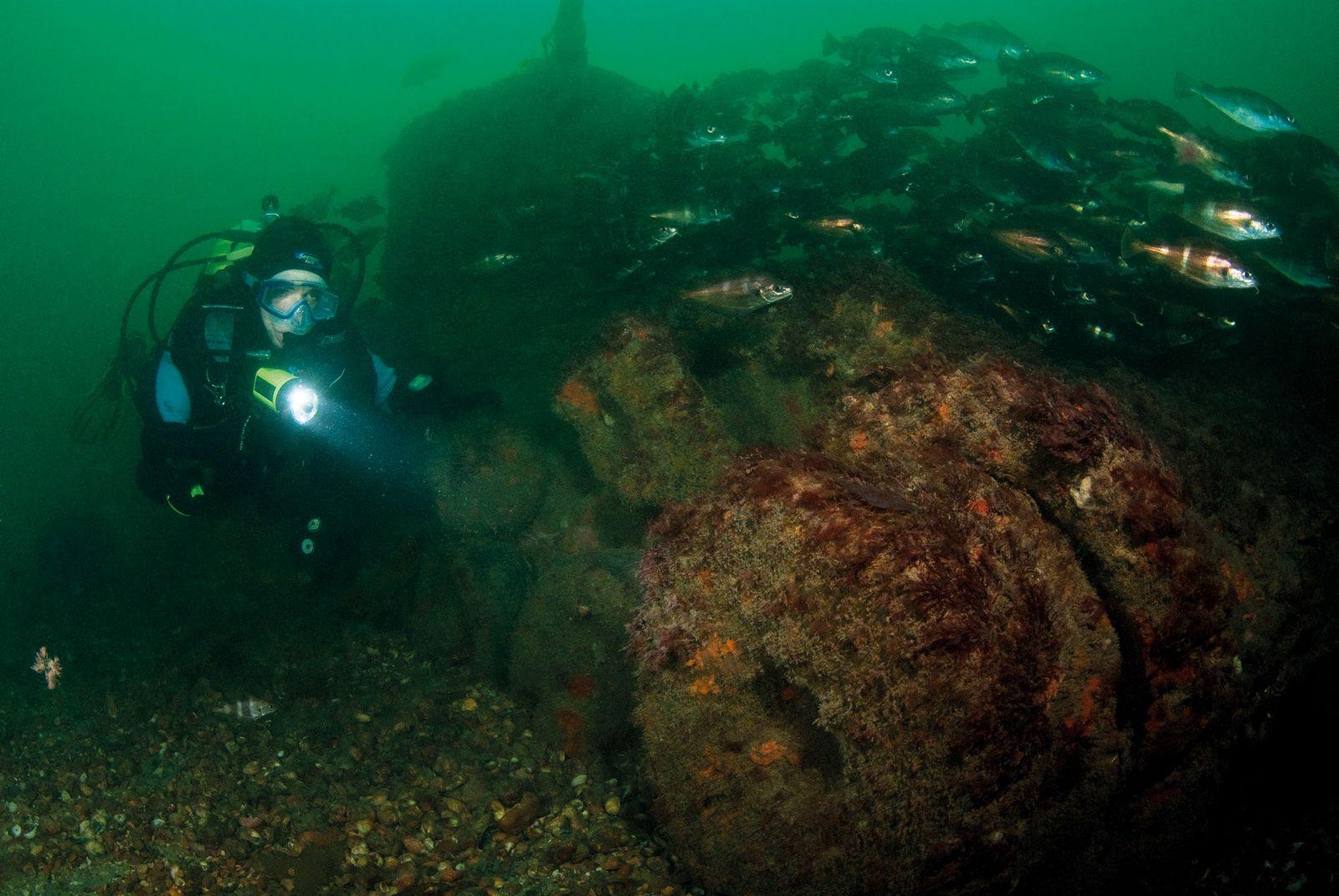 The war office rubber-stamped Straussler's project 'top secret', keeping all tests and training behind heavily guarded barbed wire fences. But tragedy struck during a simulated assault on Studland Beach, codenamed Operation Smash 1. At dawn on 4 April 1944, two amphibious tank squadrons from the 4th/7th Royal Dragoon Guards were launched from landing crafts several hundred metres offshore. Sea conditions rapidly deteriorated and waves began to crash over the top of the canvas screens. Bilge pumps couldn't cope with the steady deluge and the tanks began to sink lower in the water.
For safety, all crew members including the drivers were ordered up on decks. They stayed on course using auxiliary steering controls but eventually the screens collapsed, sending the tanks plummeting to the seabed. Some of the crew got trapped underneath the screens. In all, six men drowned and six tanks were lost (records show that a seven tank went down later).
During the early 1990s, Royal Navy clearance divers blew the turrets off five of the Valentines tanks. I can only guess that the tanks were identified as shipping hazards, or the live 75mm shells stored inside were considered a danger for recreational divers. The sixth tank got decapitated by a fishing trawler's boom, so moving forward to present day there is only one Valentines tank left with a turret and gun barrel still attached (although the gun barrel was damaged several years ago and is now much shorter).
No.7 Boscombe tank was abandoned by its crew and left to drift away on the tide. Warships were ordered to destroy the tank before it ventured too close to the public beaches. Straussler's D-Day design had to remain a secret at all costs.
On descent a huge dark cloud materialises. This is a huge shoal of around 1,000 stripy pouting. Normally the shoal moves off the wreck when divers are around and then come back after they have departed.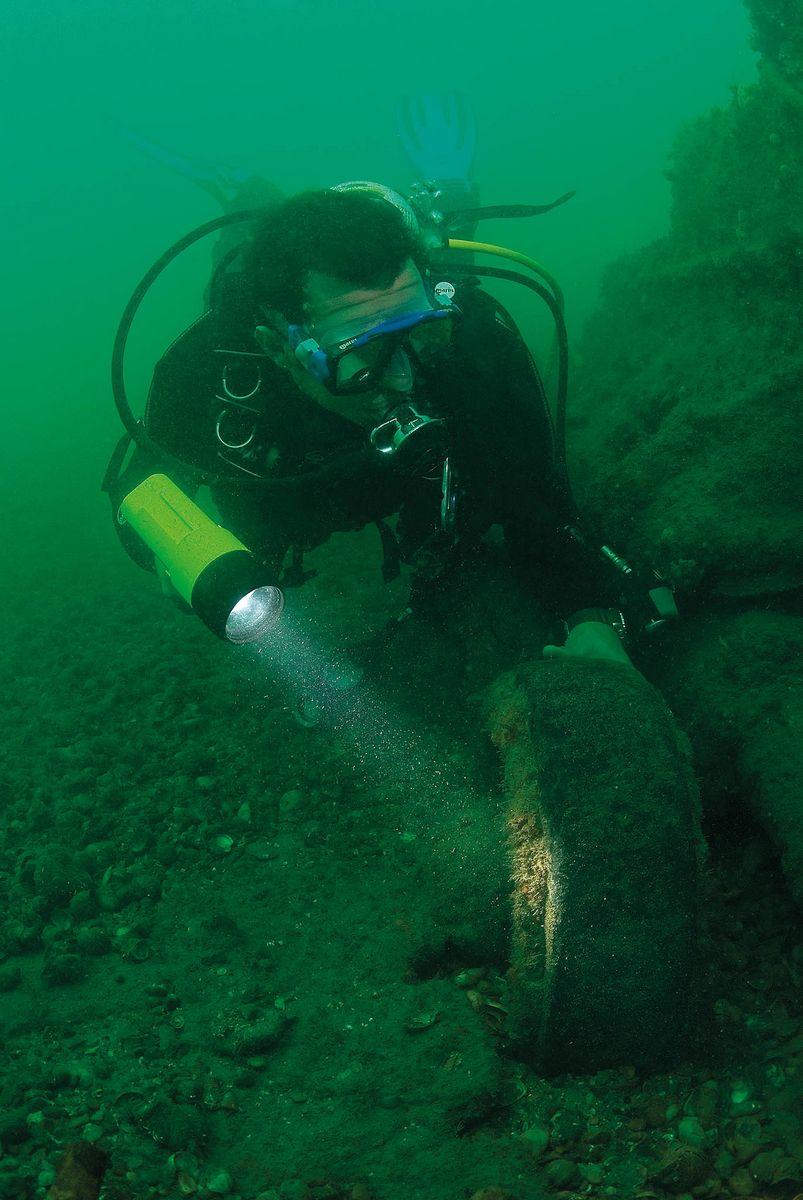 No.1 tank has the turret and gun barrel still attached. The propeller, BESA 7.92mm machine gun and brass fittings were plundered years ago, but the tank sits upright and is still pretty much in one piece. The turret hatches have been jemmied off, so it's possible to peer inside and check out how small and cramped the conditions must have been, especially for a crew of four, which included a driver, gunner, wireless operator and commander. I have considered taking off my BCD and wriggling through the hatchway, but there is always a huge conger eel staring back at me!
At the front on the starboard side (note the barrel always pointed towards the rear while the tanks were at sea) is an underwater guide rope that connects to No.2 tank. This is a good three- to four-minute fin along the shingle seabed. I find it easier to pull myself along the rope rather than finning. No.2 tank also sits upright with the upturned turret and barrel lying half-buried in the silt a few metres away. The body is mainly in one piece and looks very similar to a rubbish skip. The wheels and tracks are easily distinguishable. On good days, visibility can reach five to ten metres, but it only takes a few wayward fin kicks to create a silt cloud.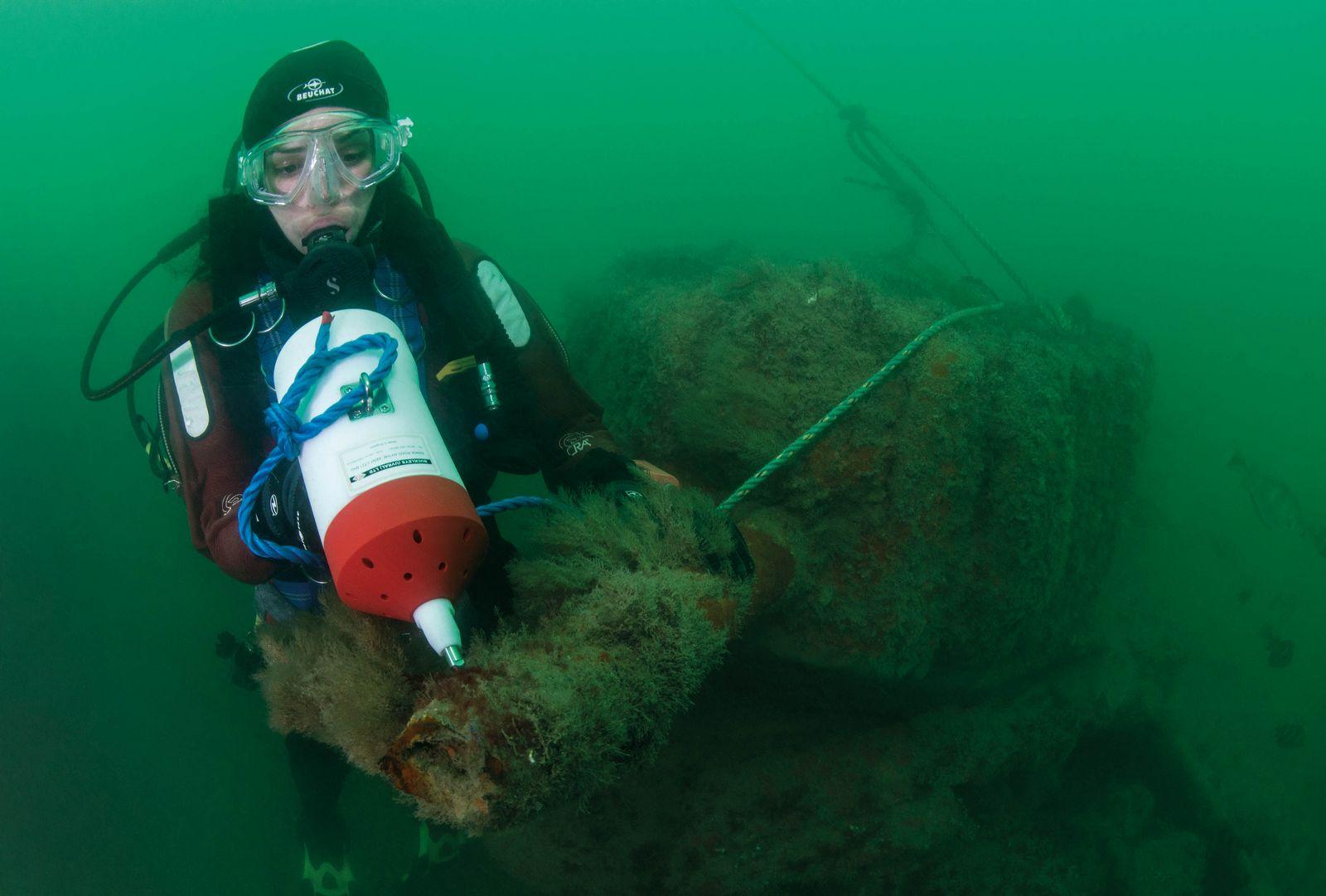 The nutrient-rich tidal flow attracts a huge variety of marine life, including sightings of cuttlefish, john dory and thornback rays. Lobster, edible crabs and conger eels are always peering out from the caterpillar tracks, with armies of prawns scampering close by picking up any discarded scraps of food. Tompot blennies are often seen darting about the 60mm armoured plating and occasionally a shoal of seabass will fly past.
I never get bored at this site. Having two tanks roped together makes the dive far more interesting and there's plenty to keep me occupied for a whole hour. If the current picks up during the dive I often send up my delayed SMB and drift off the wreck, exploring the surrounding seabed. Plaice and sole are commonly sighted and a few hundred metres away there is the remains of a World War Two Spitfire, but the crash site is very small and easily missed.
The top-secret Valentines tanks are one of the most-popular dives in Poole Bay. At a shallow depth of between 15-16m, the site is suitable for all levels of diver from Open Water upwards. It's an uncomplicated historical wreck with an exceptional amount of marine life species. Most divers are taken to No.1 and No.2 tanks as they are already buoyed and easy to find. The site is usually classed as a warm-up dive at the beginning of the season, as a wreck intro or a shallower second dive. But some divers go back time and time again just to see the diversity of marine life. Please remember the tanks are, in effect, war graves and should be treated with respect.
Love tanks, check out the new museum Aqaba have just sunk.