The Battle of the Coral Sea, which ran from 4-8 May 1942, is considered a key moment in halting the Japanese advance into the Pacific. The USS Lexington – which managed to cripple Japanese aircraft carriers Shokaku and Zuikaku, to the extent that they were unable to take part in the subsequent Battle of Midway – was actually scuttled by US forces after being hit by several enemy torpedoes and bombs. Some 216 crew members were killed during the attacks on the ship, and more than 2,000 were rescued.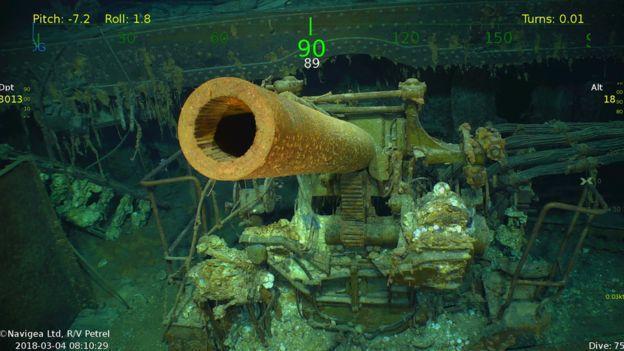 Now, after some six months of planning, the famous capital ship has been discovered in an amazingly well-preserved condition at a depth of 3km by Microsoft co-founder Paul Allen's company Vulcan, during an expedition on the RV Petrel. Images taken on Sunday 4 March show the ship's nameplate and guns, as well as some of the aircraft it carried, and the state of decay belies how long it has been lying on the seabed. It will be left undisturbed in its final resting place as a war grave.
Paul Allen and his Vulcan team are notching up an impressive tally of World War Two discoveries. Last year they found the USS Indianapolis, which went down in July 1945, and they have also located Japanese warship Musashi and Italian navy ship Artigliere.
Photo credit: Paul Allen/Vulcan