Two American amphibian landing ships that were involved in the ill-fated Exercise Tiger rehearsals off Slapton Sands in Devon, just weeks before D-Day on 6 June 1944, have been protected by the Department for Digital, Culture, Media and Sport on the advice of Historic England.
Exercise Tiger, in late-April 1944, was a series of ill-fated large-scale D-Day rehearsals aimed at preparing American and British troops for the Allied invasion of Normandy. Commanders realised that a combined arms operation on such a scale had never been attempted and most of the Allied sailors, soldiers and airmen had not been involved in an amphibious landing before.
The American landing ships (LSTs) were developed in response to a need for amphibious armoured infantry assaults and they had a large door in the bow that opened to allow trucks and tanks to disembark. LST-507 was launched at Jeffersonville, Indiana in September 1943 and LST-531 was launched at Evansville, Indiana in November 1943.
During Exercise Tiger, in the early hours of 28 April 1944, co-ordination and communication problems resulted in Landing Ship Tanks LST-507 and LST- 531 being sunk.The LSTs were carrying hundreds of American servicemen as well as tanks, vehicles and trucks when they were torpedoed because nearby German E-boats were intercepting their communications. The ships rapidly sank and at least 749 American service personnel lost their lives.
LST-507 was carrying nearly 500 US army personnel, trucks and 22 amphibious vehicles as well as live ammunition when it was struck in the engine room by a torpedo fired by a German E boat. This knocked out the ship's electricity, preventing the lowering of lifeboats and started several fires in the tank deck, with petrol tanks and ammunition exploding. More than 200 army and navy servicemen were lost.
LST-531 was struck by two torpedoes and burst into a fireball following two explosions. Ammunition started firing from the bow armament and surviving personnel immediately jumped into the freezing sea, amid burning fuel oil. Many personnel were also trapped below decks as the ship rolled over and sank within six minutes. Some 424 army and navy servicemen were lost. Two other LSTs were severely damaged in the attack and further lives lost.
D-Day on 6 June 1944, codenamed Operation Overlord, was the greatest combined land, air and naval operation in history. It was a massive assault by the Allies to invade Nazi-occupied Western Europe during World War Two. More than 156,000 soldiers from Britain, America, Canada and France landed on the beaches of Normandy, together with thousands of vehicles and supplies.
Heritage Minister Nigel Huddleston said:"I am pleased that as we prepare to commemorate the 75th anniversary of the end of the war in Europe, these important relics will be protected. D-Day is one of the defining moments of World War Two and preserving these wreck sites is a fitting tribute to all those who lost their lives in Exercise Tiger."
Duncan Wilson, Chief Executive of Historic England said: "The underwater remains of ships involved in the D-Day rehearsals are a tangible reminder of the sacrifices made in planning and delivering this huge military operation on a scale never previously attempted, 76 years ago. By protecting the wrecks of two United States landing ahips we are remembering all of those who lost their lives in the struggle for liberty during World War Two."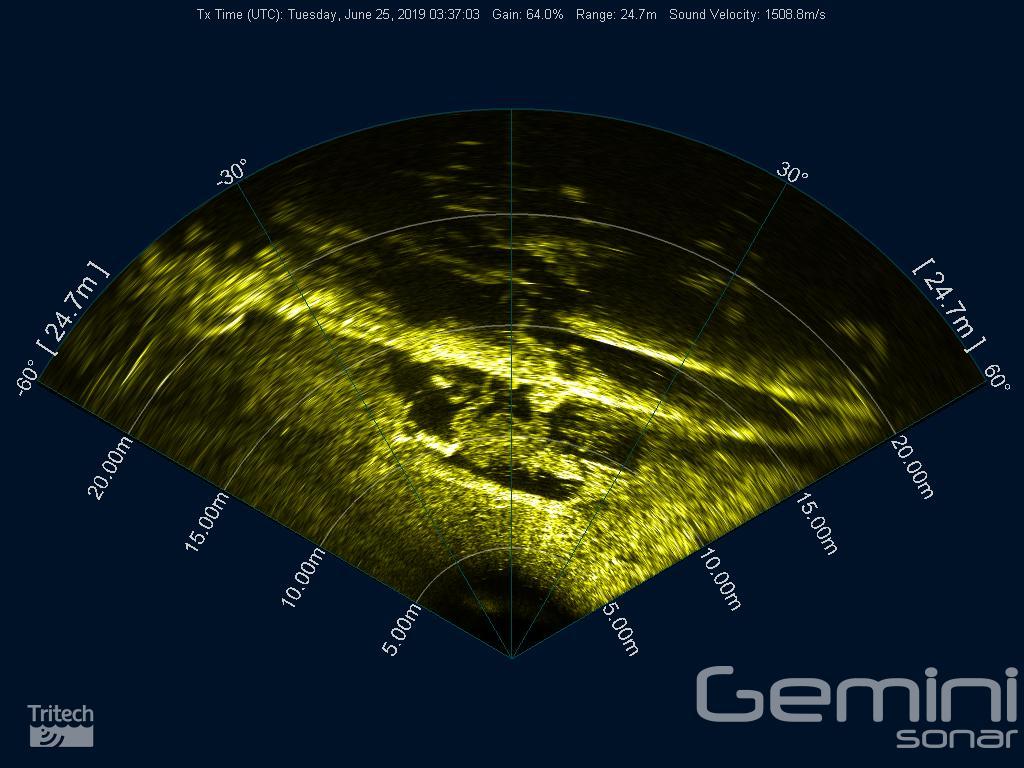 Dan Atkinson, Director Coastal & Marine at Wessex Archaeology, said: "We're delighted at the scheduling of these two LSTs, which we investigated during the 75thanniversary of D-Day last year. The work we have done has not only helped to ensure that their importance to the story of D-Day is recognised, but it also complements the work to record them by volunteer divers."
Total casualties during Exercise Tiger, including those from LST-507 and 531, were 551 army and 198 naval personnel.
Photo credit: Tritech / Gemini Sonar and Global Underwater Explorers