How did you get started in underwater photography?
It all started back when I got my first Minolta 35mm camera back in 1981 which was handed down from my Dad when I was 11 years old. When I turned 13, he gave me his Yashica camera. I loved this one and bought lenses and filters for it, and even developed my own film. After leaving home in 1987 and losing it back to him in the attic, I never bought another camera until 2017 other than a GoPro. Deciding I'd be using it for underwater and surface shooting, I got my first DSLR, a Nikon D7000, with a Hugyfot housing curtesy of Brett Thorpe at the NEC Dive Show in 2017.

Six months later after the loan of a D800 in a Nauticam housing from Ellen Cuylaerts, I eventually took the plunge and stayed with this. Ergonomically it felt better for me.
What came first – diving or photography?
Technically speaking photography, but with a 30 year timeline gap! Of course, diving came into it 20 years ago and I have been very active with this since then.
What's in your underwater photography kitbag?
Padding! A 230mm Zen dome, 15mm Sigma fisheye lens, macro port, 105mm Tokina, various arms, two 9,000 lumen video lights, two strobes and the Nauticam housing.
Favourite location for diving and underwater photography?
That's looking like a huge list! But so far, for wrecks, it has to be Newfoundland. For caves, it's Mexico. For stingrays, it's the Cayman Islands.
Most challenging dive?
In all honesty, I can't say I've had or can remember a challenging dive. I take it so easy and make my life easy wherever I can to minimise any stress on a dive. The most challenging part of diving is getting through airport security with all my gear!
Who are your diving inspirations?
I've got quite a few people who I hold in very high regard. Paul Toomer – he's just a machine. Jill Heinerth has every quality in diving that a diver should have. She's awesome. Sylvia Earle is a passionate, wonderful, strong and charismatic lady who has devoted her life to protecting our oceans. Then last but not least, Ellen Cuylaerts a younger version of Sylvia and an absolutely stunning photographer.
Which underwater locations or species are still on your photography wish list and why?
I want to go back 20 years and dive everywhere again with my camera! But I would also love to be looking through my lens at a humpback whale, when time just stops still for us and lets us connect for a while.
What advice do you wish you'd had as a novice underwater photographer?
I can't even say that I've not had enough good advice! My friends have been very helpful from the start in their advice over the past 12 months. In photography, it's very important to learn from the not so good images, as well as the great ones.
Hairiest moment when shooting underwater?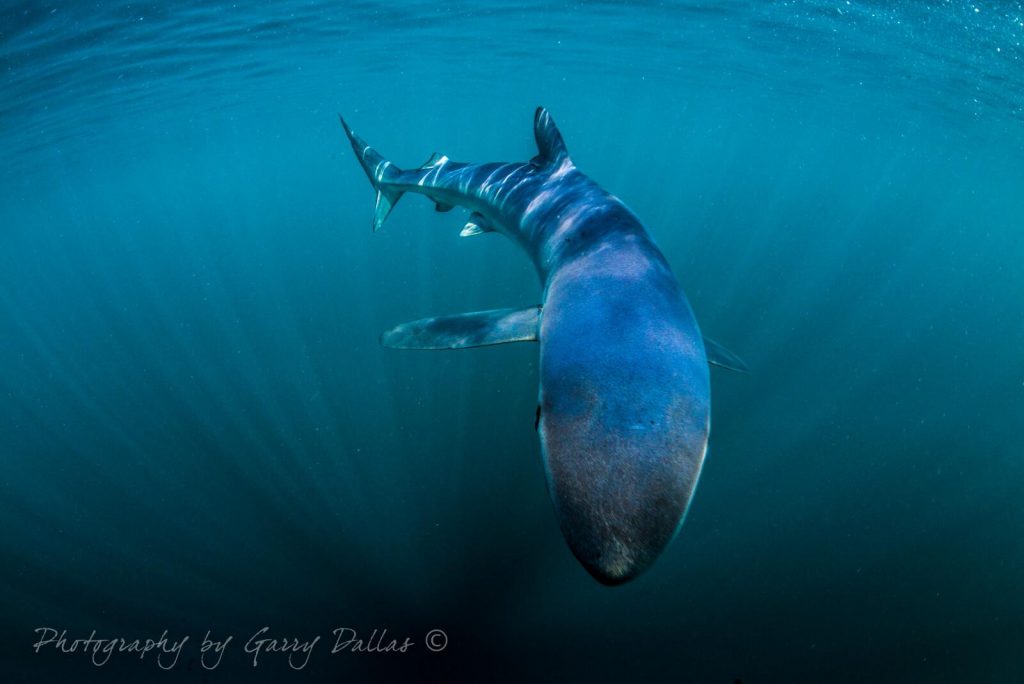 Probably taking photos of blue sharks off the south coast of Plymouth with RAID In Deep Dive Centre. At first, I was pretty scared having never dived with sharks (with teeth) before – especially as I made myself the first person to get in the water off the back of the boat. Then after 30 minutes or so, I calmed down completely, keeping myself aware of the shark position at all times and taking notice of the crew spotters. Then it became a flowing engagement with them and I started to take good images.
What is your most memorable dive and why?
That is such a hard question to answer! I have way too many memorable dives! Sometimes it's the people I'm diving with, sometimes it's the dive sites, sometimes it's the interaction with the animals that make it so memorable. I could write a book on these experiences, hmmm there's a thought…
Garry Dallas
Garry Dallas is director of training for RAID in the UK and Malta, and the director of Simply Sidemount and Tec. Check out more of Garry's work on Instagram. Garry will be on the Technical Stage at the GO Diving show at Ricoh Arena in Coventry, which runs from 22 to 24 February, 2019. Find out more here.