How did you get started in underwater photography?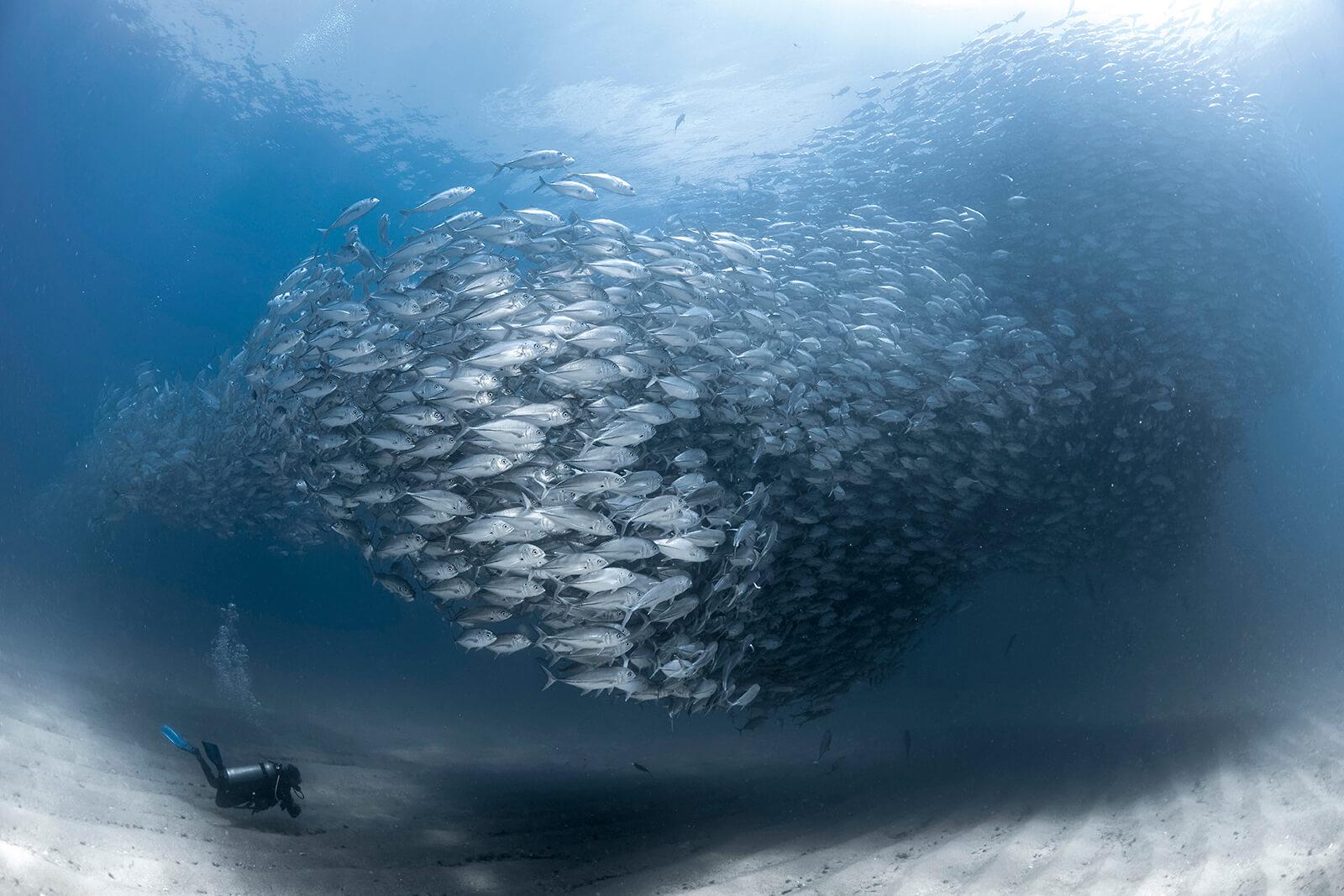 From a young age, I've been passionate about wildlife documentaries. That world is fascinating because nature is prioritised over all. An animal doesn't lie, it's authentic. That is what I like. I began photography in the forest near my home in France, and when I had the opportunity to scuba dive, I discovered an amazing world. A few years later, I tried underwater photography where there are more constraints than on the surface. I began with a Nikonos V (a traditional camera film). A few years later, digital cameras appeared and a new age was born.
What came first – diving or photography?
Diving came first. I was passionate about wildlife photography. It seemed obvious to me to link photography to diving.
What's in your underwater photography kitbag?
I use a Canon 5D Mk IV with a Canon 35mm, 15mm and 100mm macro, Aquatica underwater housing and two Inon Z-330 strobes.
Favourite location for diving and underwater photography?
Mexico. The waters that surround this country of a thousand colours are a place of migration and a refuge for many species.
Most challenging dive?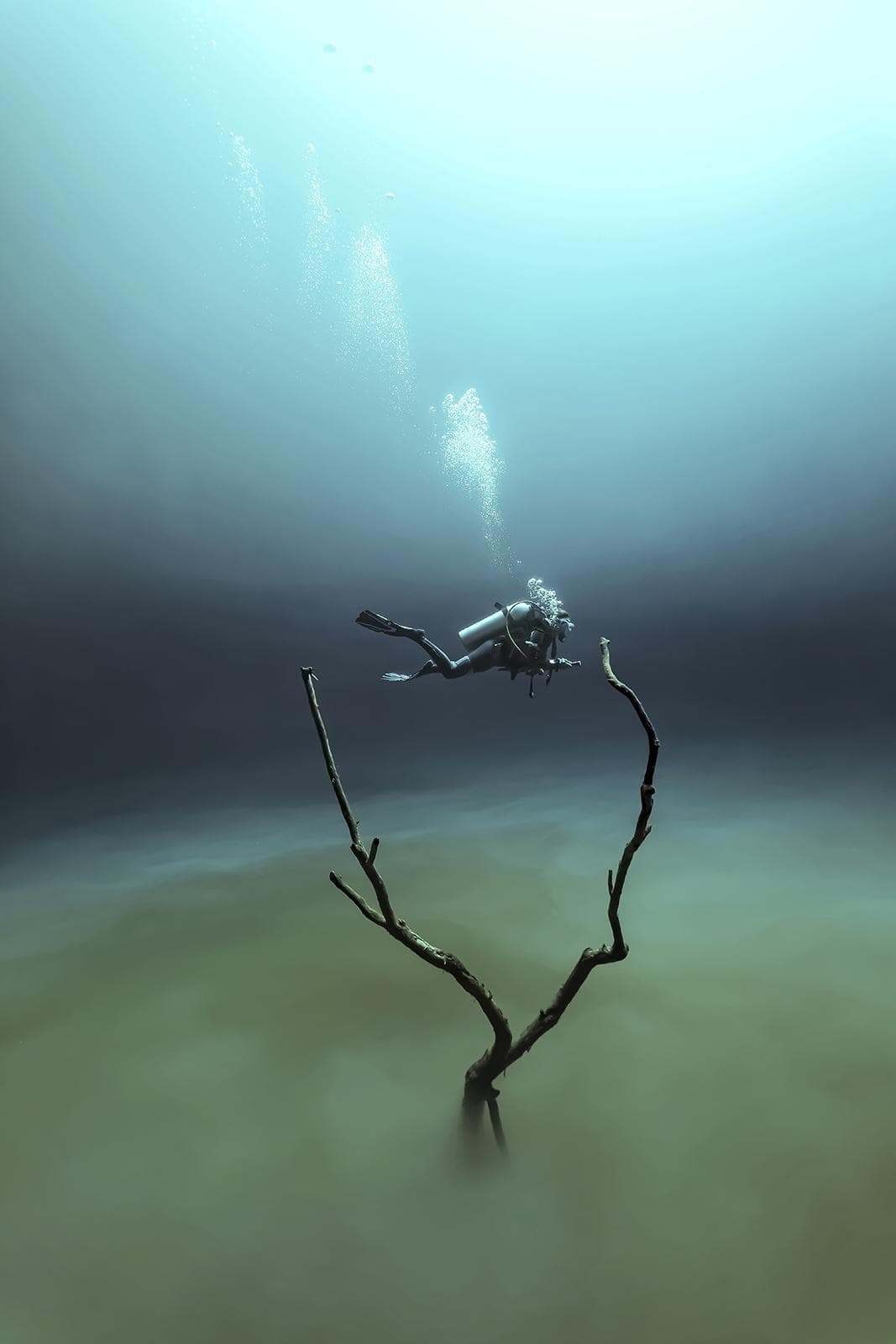 It was in the heart of The Maya Forest in this cenote named Angelita, which is a natural pit. The challenge was to show this particular atmosphere where the light goes from green to blue, creating a beautifully surreal scene. At about 30m deep, there is a layer of hydrogen sulphide which separates the fresh water from deeper salt water. This atmosphere is similar to a lunar landscape. It's an amazing and unique experience in the life of an underwater photographer. The mysticism and beauty of this underwater landscape makes me feel like I discovered another world.
Who are your diving inspirations?
All underwater photographers inspire me. I'm glad there are so many talents out there. They're the best ambassadors of the oceans.
Which underwater locations or species are still on your photography wish list and why?
The Narwhal is a rare and little known animal. This unicorn of the sea has given rise to many legends.
What advice do you wish you'd had as a novice underwater photographer?
Two words: Respect and patience. You should never forget that you are not on your territory. You are the guests and you have to stay as discreet and quiet as possible. Let the animal approach you, because it decides not you. Don't provoke it or disturb it. Once you're accepted, nature will offer you unforgettable moments.
Hairiest moment when shooting underwater?
The day I met for the American crocodile the first time. One wrong movement, one moment of carelessness and the crocodile found itself at my feet. Fortunately, the guide put his stick in front of his mouth.
What is your most memorable dive and why?
This image was taken in the Norwegian sea. On this day the weather was cloudy and it was raining. Orcas push fish towards the coast as this makes them easier to catch. Our boat captain stopped near a school of herring. When I was in the water, I saw that it wasn't deep, so it presented an opportunity to photograph with the light being reflected off the sand. I waited for 20 minutes in front of a shoal of herring hoping to see an orca. Suddenly a humpback whale appeared. I was very surprised! It was an amazing cold encounter, and the first time I have photographed a whale under the cold freezing water.
Fabrice Guerin
Fabrice Guerin is a wildlife photographer with a decade of experience in the field from the most remote corners of the world. Several of his images have won categories in outstanding international awards such as the Underwater Photographer of the Year (twice) and Nature's Best Photography Smithsonian (twice). In addition, he has collaborated with National Geographic on two books and National Geographic fine Art Galleries.
Click here to see more of Fabrice's work