How did you get started in underwater photography?
I learned to dive when I was 13-years-old in the days when underwater photography was still a niche and expensive past-time. A few years later some cheaper (film) camera models were becoming available, and to be honest it was the gadgetry of it all that first attracted me. But I quickly became hooked on the ability to capture the stunning marine life that I was seeing, and this still drives me today.
What came first – diving or photography?
Actually, snorkelling came first! We had a beach hut when I was growing up and my summer holidays were spent rock-pooling and snorkelling in the sheltered waters of Torbay. When I was old enough to learn to dive that was all I wanted to do, and I've not stopped since.
What's in your underwater photography kitbag?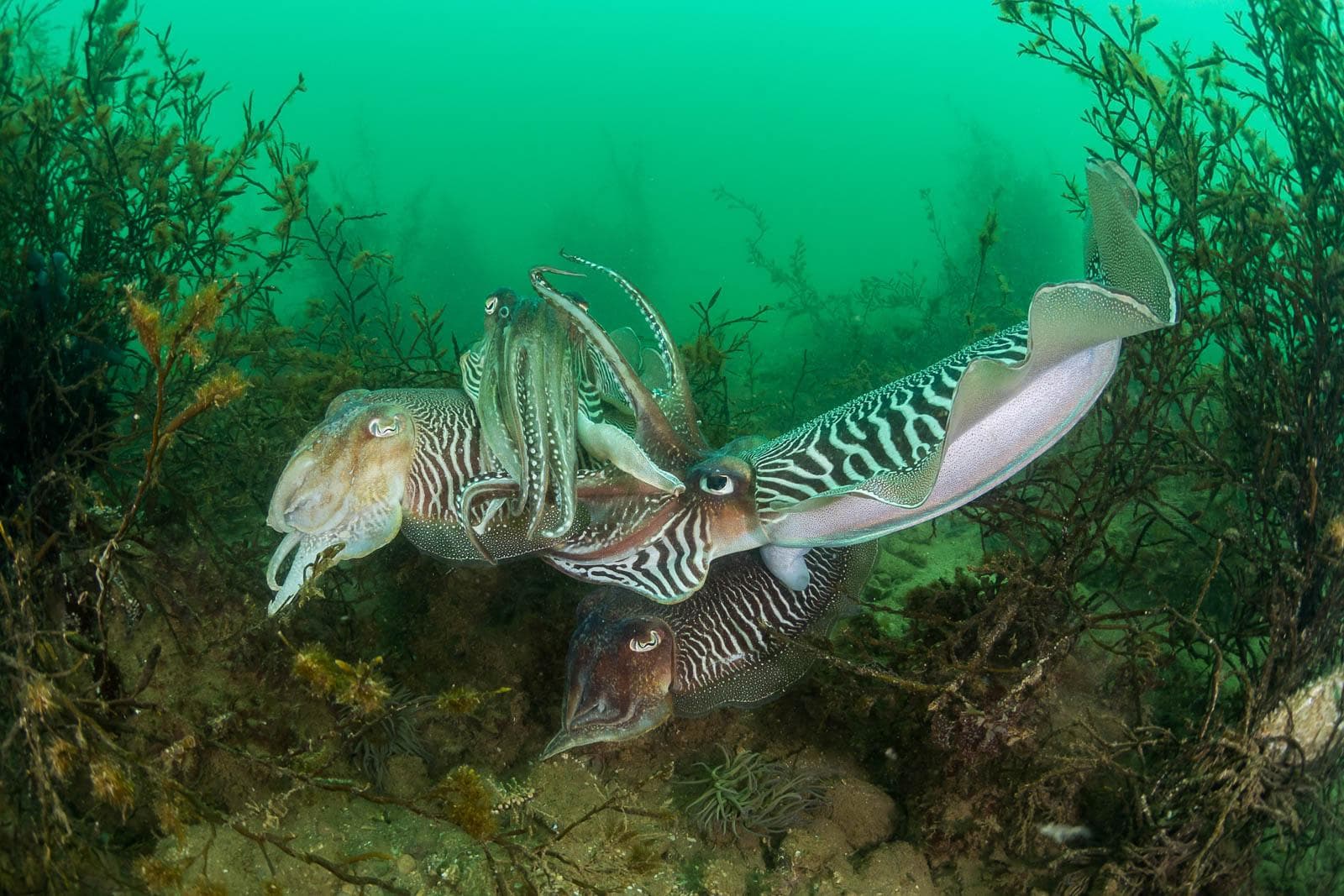 Olympus OM-D EM-1 in my trusty Aquatica housing. The small size of this setup suits my snorkelling and kayaking adventures while still giving me the ability to capture professional-grade shots.
Favourite location for diving and underwater photography?
If I had to choose just one spot, it would be Babbacombe in south Devon. I've been diving and snorkelling there for more than 30 years and it never ceases to amaze me with the variety and abundance of marine life that can be found here throughout the year. Getting to know its character as the season changes is a real privilege too. But, if I were allowed to widen the area, it would be the sea lochs of western Scotland for the sheer majesty of the scenery both above and below the water.
Most challenging dive?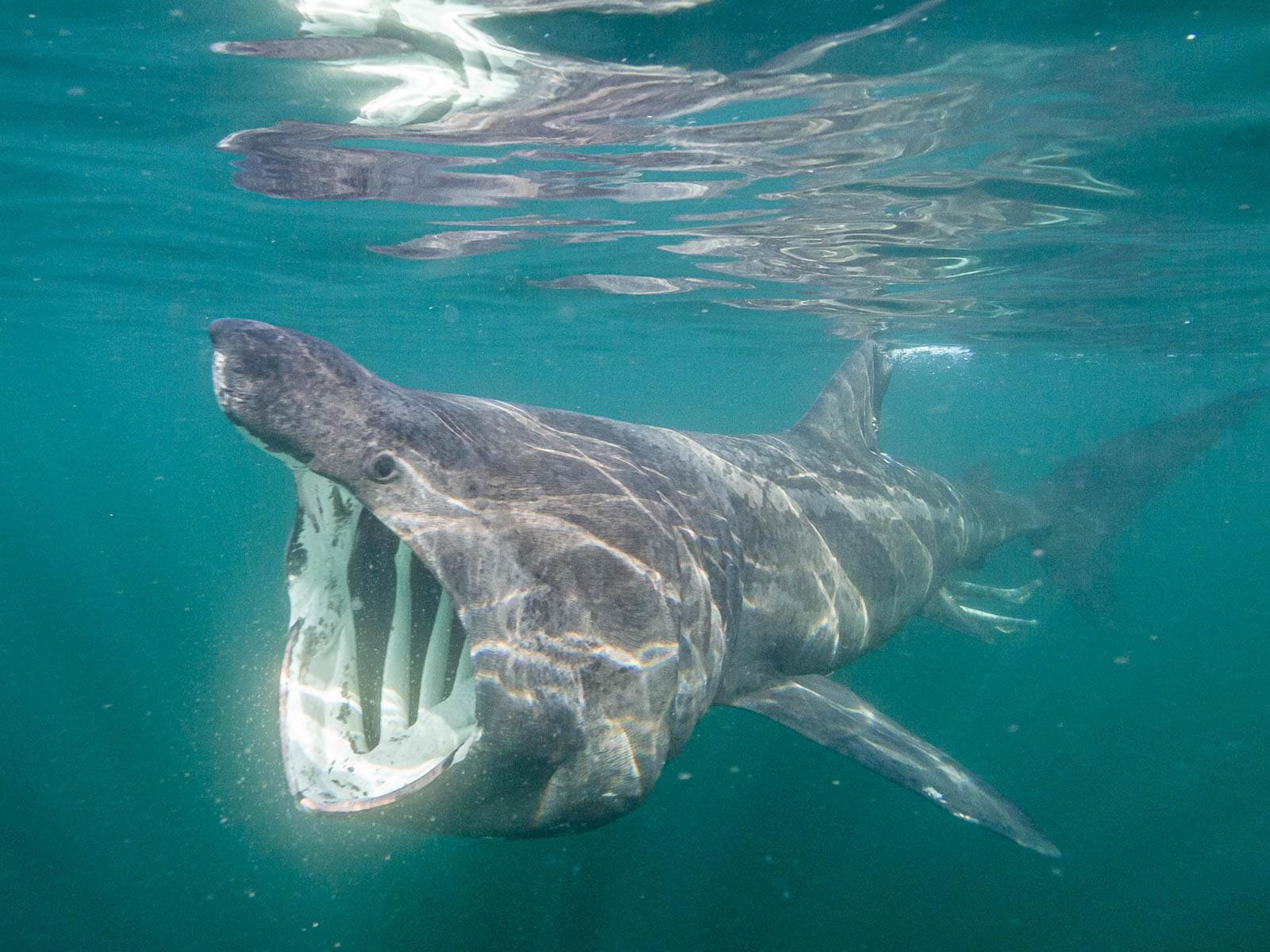 One of the most iconic marine species we have in the UK are basking sharks, and I've had a couple of trips to the island of Coll in Scotland to try to nail a decent shot of one – failing both times. The challenge is manifold: firstly the weather in a Scottish summer can be less than perfect (to say the least). Secondly, baskers don't like to be disturbed; a competent skipper will put you in a good position but it's up to you to read the situation and swim into the ideal spot for a close pass. The final challenge is resisting the urge to swim towards, or with the shark – if you do this it will close it's mouth and turn away from you, ruining any potential photographic opportunities.
I have another trip booked for this summer. I'm hoping it'll be third time lucky for me!
Who are your diving inspirations?
In the 1990s, I trained as a freediver and got involved in running a few international freediving competitions in the UK and Cyprus. This period was when I first started to try and take properly thought through photos, rather then just snapping away at anything that moved. So my early influences were taken from Zena Holloway, Fred Buyle and Dan Burton. Latterly when I became aware of the talented British underwater photography scene, Alex Mustard and Peter Rowlands became (and still are) huge influences and mentors for me.
Which underwater locations or species are still on your photography wish list and why?
In the UK I'd love to see a wolf fish. They are a cool water species so we don't have them in Devon, but they are known from a few locations in Scotland.
Internationally I'd love to dive around Vancouver Island in Canada. This is cold-water diving at its best and the marine life looks like it's on steroids. Plus, there's whale-watching and the giant Pacific octopus to see too.
What advice do you wish you'd had as a novice underwater photographer?
Underwater photography is a journey, not a destination. And the more time you take to learn not only the craft but also time to observe the marine ecosystem, the more accomplished your imagery will be. Don't rush. To this day, I still see images taken by my peers and think to myself, 'Damn, I wish I would take shots like that!'
Hairiest moment when shooting underwater?
Some years ago I visited Three Sisters Springs in Florida to photograph the manatees that congregate in the warm springs over the winter. Some of these gentle giants actively seek out human contact for a good scratch of their algae-encrusted skin. While I was at the bottom of the spring (it's a snorkel-only site so I was breath-holding) taking shots of one individual who was having a snooze, a large female swam over and sat on top of me to get my attention!
Having a tonne of blubber on top of you while holding your breath is not a good situation to be in. But some gentle scratching made her shift her weight and we both floated to the surface so that I could breath and she could get some well needed scratching from me. (Please note: the rules around manatee interaction have now changed, my actions were permissible at the time).
What is your most memorable dive and why?
Earlier this year, I had the immense privilege of travelling to Sri Lanka to photograph whales. This was a snorkel/freediving photography trip which was carefully conducted under license from the Sri Lankan government. Nothing can prepare you for that first moment when you come face to face with a whale; the speed, majesty and sheer scale is hard to comprehend – it certainly makes you feel like a small insignificant speck in a large ocean! We were so lucky during the week to photograph seven species of whales and dolphins, making it a trip I'll never forget.
Dan Bolt 
Award-winning photographer Dan Bolt first learned to dive with Torbay branch of the British Sub-Aqua Club (BSAC) back in 1987 when he was 13-years-old. Some years were spent with Brixham SAA/BSAC as well as the branch at his university in Cheltenham, and he is now a member of Totnes BSAC.
Much of Dan's spare time is spent exploring new diving and snorkelling sights, from the shore and from his kayak. These methods have given him a new perspective on the UK coastline and in-land sites.
Over the past few years, Dan has written a number of articles on diving, snorkelling and marine life in the UK. He also contributes images to The Wildlife Trusts and Seasearch freely for use in their campaigning for protection for the UK's coastal waters.
See more of Dan's work on his website over at UNDER WATER PICS or on Instagram