How did you get started in underwater photography?
I learned to dive when I was 12, but no one else in my family was a diver so I picked up a camera to be able to show everyone what I was seeing underwater. I wanted others to be able to understand why I was so attracted to diving and share the beauty I was seeing.
What came first – diving or photography?
For me, diving came before photography. After a few years of shooting inexpensive point and shoot film cameras underwater, I wanted to learn more about photography so I took a class in high school. From there I started focusing more on photography and really using a cameras functions to its full ability. Then I applied those skills to my shots underwater. Shooting underwater wasn't easy with film. I only had so many shots so I learned to make each one count.
What's in your underwater photography kitbag?
Bag as in one bag? I am a complete nerd when it comes to photography and video, and have a lot of gear. I have two DSLR camera bodies, several lenses depending on what I'm shooting, cleaning supplies, tripods, different length arms, strobes, lights, buffing materials for acrylic ports, port extenders, and lots of hard drives.   
Favourite location for diving and underwater photography?
This is a tough question to answer but I'm personally drawn to shipwrecks, so my favourite locations are Chuuk Lagoon and North America's Great Lakes. I love the history, the stories, visual aspects and the challenges of shooting and telling a compelling story at the same time.
Most challenging dive?
I think the most challenging dives are in environments you're not familiar with. My most challenging dives have been in cold, deep water with no ambient light and very limited bottom time to capture the shot. I spend a lot of time doing work up dives and making sure I'm ready for challenging places, but recently I dived a wreck called the Kamloops in Isle Royale National Park in Lake Superior. It is not to be taken lightly due to the 82 metre depth, 3°C water temp and it sits on its side at an odd angle which is disorienting.
I used a closed circuit rebreather and trimix, drysuit, dry gloves, heated vest, wore several tanks for bailout, and had several lights clipped off to me. It's in a remote area and there is little to no light and the ship is kind of haunted with a body still inside. It's a lot of gear, redundant gear and training that had to come together to safely do that dive and get quality images of it. We did several dives on the wreck because we could only spend 20 minutes at that depth. It was nothing short of incredible. It's preserved in the icy cold water and looks like it sank yesterday.
Who are your diving inspirations?
I'm inspired by the pioneers that came before me in technical diving and being able to dive with them today. People that are good ambassadors for our sport and who are beyond passionate, such as Faith Ortins, Jill Heinerth, and Pete Mesley.
Which underwater locations or species are still on your photography wish list and why?
The list never ends and I have so many locations and animals that I still want to capture the perfect image of. I'd love to have the opportunity to document the HMS Terror and HMS Erebus from the Franklin expedition in the Arctic. I'd also love to come face to face with Beluga Whales, dive mines in Finland, wrecks in Malta, and go back to Antarctica again someday. 
What advice do you wish you'd had as a novice underwater photographer?
Do it because you love it! Photography is an art and everyone has a different style so I encourage you to find your own style and be original. You will make mistakes but learn from them and continue to learn. I encourage you to use your camera on land and learn how to use it on land before using it underwater. Start applying photography concepts to any camera you own and work on composition, framing, lighting, working with a model and manual controls if you have them. Also, become a solid diver with a good foundation of skills before taking a camera with you. They can be distracting so the better your skills are the more you can safely focus on taking a great image.
Hairiest moment when shooting underwater?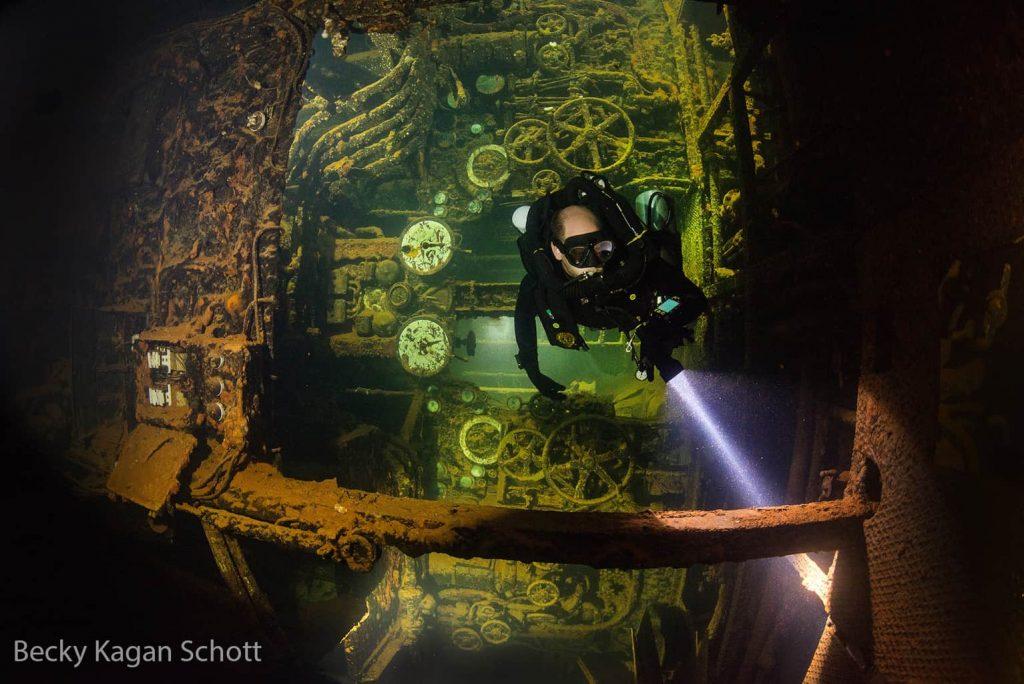 Years ago I did a "trust me" dive while shooting a documentary in a cave I wasn't familiar with. I didn't pay attention to the line in the cave as much as I should have because I was focused on filming. Heading out we got separated and I was uncertain where I was. Everything turned out fine because my buddy knew the way but I was upset at myself. I knew better and sometimes working on productions they push you and I will never let that happen again. No shot is worth your life so make sure you focus on life support and the environment before any shot. 
What is your most memorable dive and why?
I have been fortunate to have some amazing moments during my 24 years of diving. One of my favourite dives was with my friends Trisha Stovel, Russ Clark, and Bill Coltart in British Columbia. We were diving with Stellar sea lions and they were so curious, playful, mischievous, and completely silly that half the time I couldn't concentrate on shooting because I was getting pulled and nibbled on. I don't think I've ever laughed so much underwater and my heart was just full of joy. I consider myself somewhat serious when I shoot but on that trip I just had to put the camera down because those big sea puppies captured my heart and even tried to steal my camera! That was one of the best dives of my life.
Becky is a five time Emmy-Award winning underwater cameraman, photographer and technical Diving Instructor whose work can be seen on major networks including National Geographic, Discovery Channel, and The Travel Channel. She specialises in bringing back video from challenging aquatic environments from filming in caves, under ice, shipwrecks to sharks. Becky has over 23 years of diving experience logging thousands of hours underwater allowing her to be comfortable in a variety of environments.
Follow Becky and her work on Facebook and on Instagram.