Michele Westmorland was captivated by the underwater delights around Roatan, in the Bay Islands of Honduras.
Flying into Roatan off the coast of Honduras, the reasoning behind the name of the country becomes clear. Honduras means 'the depths' in Spanish, and there is deep blue water everywhere you look. Roatan and the other Bay Islands of Guanaja and Utila are part of Honduras and less than an hour from the mainland. Roatan, once the territory of Spanish conquistadors and pirates, sits on the southernmost point of the second largest barrier reef in the world. These extensive reef systems draw in divers from all across the globe, and the islands are bustling with dive activity.
After organizing gear and getting a good night's sleep on board the Roatan Aggressor, we made our first dive off Roatan's far western point at a location called Eel Reef. Upon arrival at the site, I was surprised to observe a platform surrounded by several small boats. The Honduran flag was flying above the few people who were clearly preparing for an event.
When I asked about what was taking place, I learned it was the Freediving World Championship. Teams and individuals from five continents were on this small island to participate in a sport that pushes the limits of the human body. I cannot imagine what it would be like to freedive to depths over 90m without fins and hold my breath for over four minutes.
There is nothing like the thought of that to make me feel grateful to have a tank of air on my back and scuba gear at the ready. It made me smile to know that I would be able to take my time to truly soak in the reef scenes and marine life below.
Walls, Wrecks And Reefs
Depending on the weather conditions, the Roatan Aggressor's itinerary includes well-known sites around the island of Roatan, and then crosses to Utila, Cayos Cochinos and an extraordinary seamount just off this small island. Over the two weeks I was aboard the boat, we dodged two big bullets – Hurricanes Harvey and Irma. The weather was still respectable for us and although we could not cross to Utila, we still had plenty to explore.
Tavianna's Wall, our first stop, is a place to look at small subjects as well as the bigger reef system and fish life. This variety makes it difficult to choose which lens to put on the camera, but I was lucky – I had more than just the one dive at the wall. I planned to shoot macro on my first experience here because I heard there were some tiny creatures that snaked in and out of the reef structure.
It took patience to find them and rest near a tiny little hole in a rock to watch for the male sailfin blenny to appear. It took even more patience to wait for him to come entirely out of his protected space to flare his pectoral fin in a territorial display.
The next dive on Tavianna's, we left the little creatures and headed for the larger corals, sea fans and marine life that form a winding pattern of structure and colors throughout them. What is actually a school of fish was, in my opinion, a 'herd' of blue tang.
They moved over the reef, quickly stopping to munch on algae on the coral, then tromping on to the next mound providing the food source for a hungry mass of blue. It is a beautiful scene to watch but must be done hastily as it is challenging to keep up with these reef cleaners.
The signature location in Roatan is Mary's Place. Divers can remain shallow or explore the cracks that formed when a peninsula broke apart in a powerful earthquake. The cracks are anywhere from three to ten feet in width and are full of coral. With good timing, divers can not only enter and exit the swim-through, but they might find it filled with thousands of silversides. If that doesn't pan out, maybe a free-swimming moray eel out for a day of hunting will surprise you.
We had more than one dive to look for creatures and the highlight for me was the discovery of a small frogfish who chose a picturesque location to settle in – a purple vase sponge. There he was, perfectly perched with antennae out to lure in a nice dinner morsel.
Half Moon Bay, located on the north side of the island, displayed a variety of interesting fish life – and behavior. Angels and eels were present in large numbers but what I wasn't expecting was to come across a red-lipped batfish. This is a species I have only seen once in the deep waters of Cocos Island off Costa Rica. I had no idea they could be found here in Roatan and in only 65ft of water no less.
What was even more humorous than the fish with lipstick was a Nassau grouper, which appeared to like the attention of divers. He nudged, prodded and came right up to our dive masks as everyone admired the frogfish seemingly trying to tell us 'Hey! Pay attention to me!'
In another fascinating encounter, I notice a pair of indigo hamlets. Normally, I only see one at a location but these two had more amorous plans in mind. It was remarkable to watch them dance around each other then rise in the water column to continue their courtship ritual.
Interestingly, they are somewhat unique in that they possess both male and female reproductive organs but do not practice self-fertilization. When they do find a mate, they take turns between which one will act as the male and which is the female. These colorful beauties are not at all interrupted by the voyeurism of divers. In 30 years of diving, this definitely was a first.
Since the weather was not co-operating for traveling to Utila, heading south from Roatan to the small island grouping called Cayos Cochinos was a welcomed diversion from Roatan. It is a peaceful location made up of two tiny islands away from the hubbub of Roatan.
The surrounding reefs are in a Marine Protected Area managed by the Honduran Coral Reef Foundation and part of the well-known Meso-American Barrier Reef. No wonder we had the opportunity to experience the reef shark population! Cara A Cara, which is Spanish for 'face-to-face', is just that. Divers are face-to-face with many predators coming in close including sharks and grouper.
My personal favorite was a dive site named Toon Town. Want to guess where the name was derived from? Certainly not from any cartoon characters, but instead from the enormous numbers of tunicate colonies. At first, I did not see much in the way of these purple colonies until I rounded a corner on the reef. The little bunches of them looked like patches of flowers blooming across the reef.
Honduras and the Meso-American Reef is also known for many pirate stories and sunken ships.
Divers do not have much chance of seeing remnants of the wooden ships of the past, but there is certainly a fabulous selection of vessels, large and small, that are used today as artificial reefs. I found diving three of the most-known sites on my list of favorite diving experiences on this trip.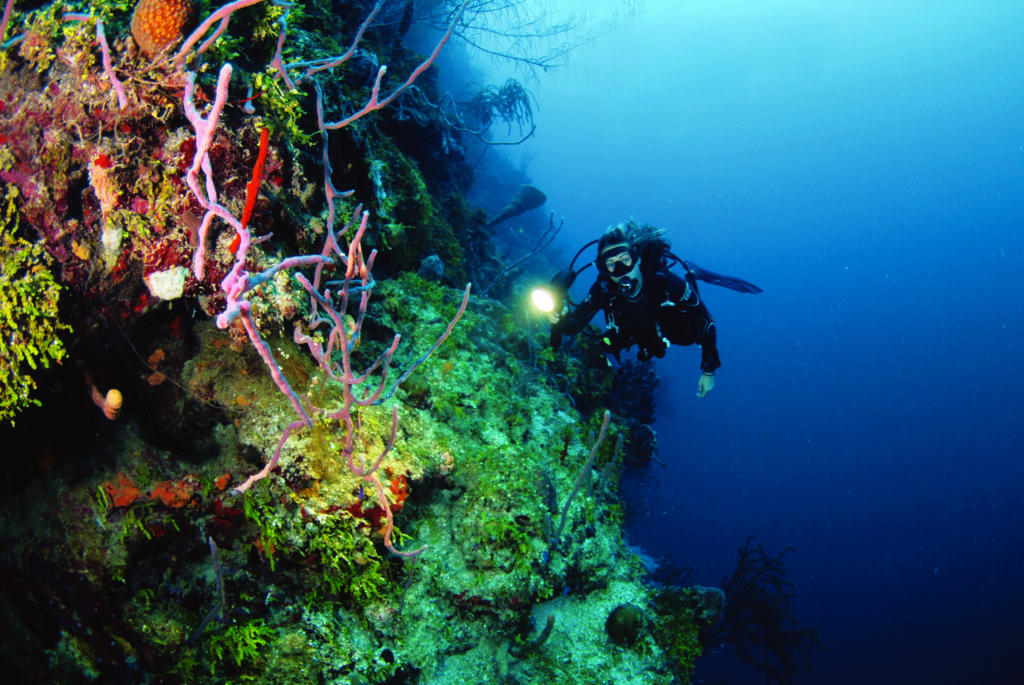 El Aguila is the remains of a 230-feet-long ship that was originally used as a concrete carrier. In 1997 she was sunk as an artificial reef and although now broken up a bit from a hurricane in 1998, she is still a dynamic home to many species from morays and grouper to the smallest of critters. Since we had the chance to make multiple dives, all the divers on our boat came to the surface completely satisfied with the experience. This was especially true for Chris and Patricia.
There was no one, with the exception of the two Mikes conducting the Jim Church School of Underwater Photography courses, who knew what was to happen. I had a confused look behind my mask when I saw a little sign brought out that said 'Will You Marry Me?'. Even better was the confused look on the bride-to-be's face when she saw the sign from Chris and a ring in his hand. We shared moments of celebration both underwater and later on board the Roatan Aggressor congratulating them with a glass of champagne.
While the other wrecks were dived on several occasions, The Odyssey only gave us one chance. Sitting in 31m, she is a large 100-metre-long freighter and Roatan's largest wreck dive. The ship was sunk as an artificial reef in 2002, but already hosts plenty of large predator fish and has good sponge coverage. It is a multi-level ship with lots of ladders, a large bridge area and plenty of holds to explore. Because of the depth, it does require a more-experienced diver to investigate the massive wreck. The one dive I made was exciting and had me wishing I could get back to it again. It will just have to wait until another trip to Roatan.
Bud. It is sometimes listed as an old shrimp boat, but many say it was a small cargo vessel at a mere 24 metres in length. It sits in 20m of water while the bridge is only at 15m. It sounded rather boring at the initial dive briefing, but I can tell you that I was never bored the multiple times I explored its small spaces. I discovered anemones on the hull hosting a species of shrimp I had not seen before, then turned to watch sergeant majors make circular patterned egg nests. Toward the end I had a great time in the wheelhouse with thousands upon thousands of silversides inhabiting the interior. What a great time trying to photograph my dive buddy swimming through and being encircled with the massive school of tiny fish.
When we passed the location of the freediving competition on our way back to port, I wondered 'Who won? What depth? From what country?' Those thoughts quickly faded as I looked back on the magical creatures and underwater habitats my air supply had allowed me to see in the water around Roatan. Sometimes being slow and steady really does feel like winning.
Roatan Aggressor Yacht Specs:
Length: 39 metres
Beam: 7 metres
Passengers: 18
Staff: 6
1 Master Stateroom with queen-sized bed
8 Deluxe Staterooms
All guest rooms come with private heads and showers, individually controlled air conditioning, monitor with media player USB/110 v outlet and hair dryer.
There is a generous salon area, an upper sun and bar deck that is well laid out and also is complimented with a hot tub.
The dive deck has ample space for dive equipment, including bench storage, camera table and plenty of dive suit hanging areas conveniently placed. Fill stations, which includes nitrox, are delivered to individual diver stations.
It is a multi-level ship with lots of ladders, a large bridge area and plenty of holds to explore
With good timing, divers can not only enter and exit the swim-through, but they might find it filled with thousands of silversides
What's in a reef? - Roatan is home to the second largest coral reef in the world, the Mesoamerican Reef, which stretches 700 miles all the way from the Yucatan Peninsula to the Bay Islands.
Did you know? - By the 17th century, more than 5,000 pirates lived on the island of Roatan, including some infamous pirates such as Blackbeard, Van Horn, and Henry Morgan.
Taxi! - Even though the island of Roatan is small, you won't have a problem hailing a cab – incredibly, despite its diminutive size, it is home to more than 400 registered taxis!
Photographs by Michele Westmorland