Over three years ago, Portland Port and Derek Luckhurst first met to discuss an Underwater Curiosity Park, with the idea of creating a novel dive site in Portland Harbour that is resilient to poor weather conditions and, therefore, ideal for beginners and a haven for the more-experienced divers in inclement weather. Finally, the plan has come to fruition with the placing of several curiosities on the seabed, including two six-ton Admiralty anchors, four statues (including a diver, a shark and two Greek statues) and several lengths of large concrete pipe to swim through.
There are now four large yellow dive site buoys in Balaclava Bay on the edge of Portland Harbour denoting the location of the Underwater Curiosity Park, which covers an area 70 metres by 30 metres. To help further, a rope connecting the curiosities now enables divers to find their way in even the most low-visibility conditions.
Spider crabs and other sea creatures have started to find homes in and around the curiosities. A particular favourite location is the armpit of the deep-sea diver statue. Only 50 metres away from the Underwater Curiosity Park is the Dredger wreck, which is also a magnet for marine life.
Derek Luckhurst said: "I anticipate this unique site, which is 10m-14m deep, will prove to be a national and, perhaps, even an international attraction to the scuba-diving community. Balaclava Bay is a perfect location where tides and currents are minor and, due to the proximity of Portland, which acts as a wind break, the Park can be dived most of the time during the season. I propose to site a total of 25 artefacts in the Park, so I have just completed the first phase. There are a number of new artefacts in concept or in manufacture that will be an exciting addition and are likely to go down in September this year."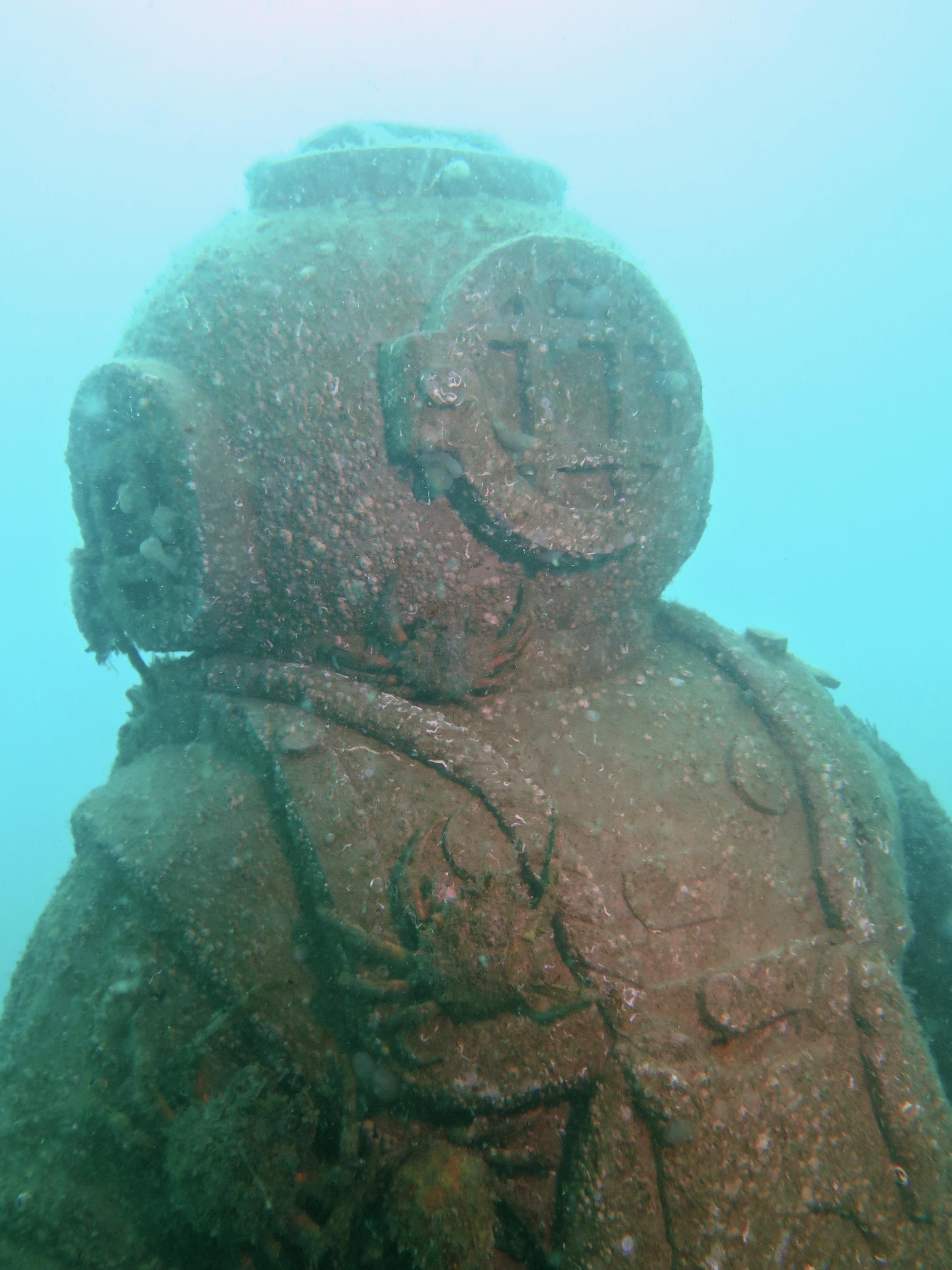 Divemaster Jack Darley of the Old Harbour Dive Centre said: "Balaclava Bay will now become a 'must tick off the list' dive for divers and will also become a new haven for marine wildlife to grow. After only a few weeks of the statues being in place, I have already noticed a massive increase in the amount of juvenile fish species taking shelter among the cylindrical swim-throughs and a large amount of spider crabs making the shark's mouth and diver's helmet their place of residence".
Also read Castletown on Portland Bill
With a host of other curiosities being put in place in due course, it is hoped that the Curiosity Park is an attraction for scuba divers to come and safely dive, whatever the weather conditions. The all-round facilities and underwater attractions now make Castletown a first-class diving venue.
The Castletown Regeneration Project
Stuart Philpott dived the Underwater Curiosity Park in early September – check out his full Above 18m feature in the November issue of Scuba Diver!