Around five years ago, I made a solo dive trip to the Indonesian island of Bali, staying in Tulamben. I thought it was great and knew my wife Amanda would love the place too, so we vowed to make a family dive trip happen there at some point in the future. We just had to do it…
Winding the clock forward to early 2017, the idea of a visit came into sharper focus and seemed a much-more-realistic proposition for us. In the time that had passed, our son Zac had become both a teenager and a PADI Junior Advanced Diver with around 100 dives under his belt, which meant he could participate in most of the dives offered. We all fancied the idea of it, so we made a plan, settling on a two-centre dive trip staying firstly in Tulamben followed by a crack at seeing the mola mola at the more-challenging dive sites of Nusa Penida.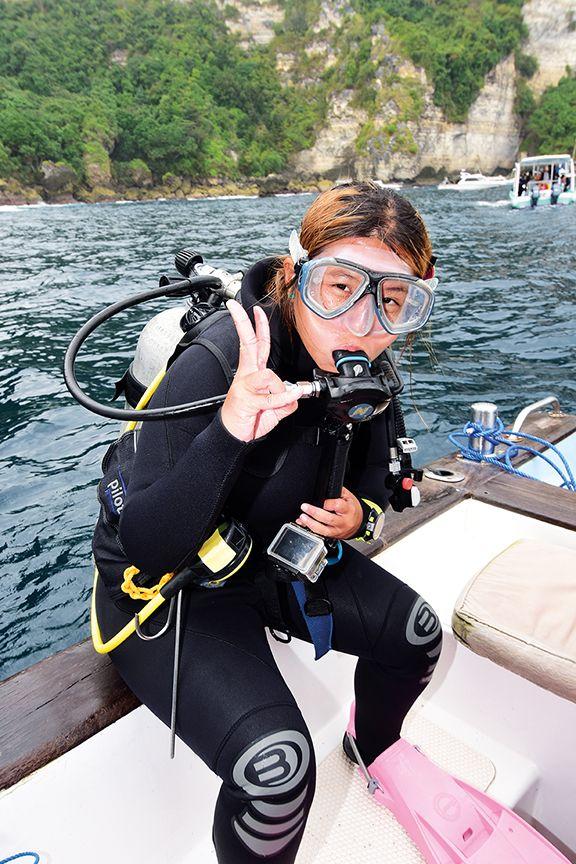 Though it may seem like a travel writer's cliché, Bali is often described as a haven of peacefulness and tranquility; the kind of place where you can cast aside the stresses of modern life, get off the treadmill and recharge your batteries. It certainly has that aspect, but there are several other facets too, depending on what you're looking for.
You can go for the partying, commercialism and surfing hotspots of the south coast centred around Kuta and Seminyak, or you can immerse yourself in the spiritual and artistic worlds in areas such as the cultural hub of Ubud, and among the numerous temples. Outdoor fanatics can revel in the excellent trekking possibilities, such as Mt Agung (more of which later), and other areas such as Mt Batur and the West Bali National Park. Others will gravitate towards secluded spas and hideaways, and of course, scuba diving. Our particular angle was a combination of scuba diving and hideaways, with a short, sharp shock of the bustling commercial hub of Kuta for a single night at the end before heading home.
Tulamben
The village of Tulamben is a renowned area for diving on the northeast of the island. Thanks to the busy roads, it can take up to three hours to reach from the airport in the transfer minibus, but it's very much worth it when you get there.
As a backdrop to the area, there's the brooding volcanic menace of Mt Agung, which dominates this part of Bali. It was possible to trek Mt Agung until recently, as shortly after our visit in August, it decided to 'wake up' again. During the time of writing this feature in November, quite a lot changed; the activity levels of Agung appeared to be reducing, but on the weekend of 25/26 November, the volcano begun what many feared would be a major eruption. Areas considered to be in the greatest danger were evacuated, including Tulamben, but all is getting back to normal.
The area around Tulamben is especially renowned for its fascinating 'muck diving' and the Liberty wreck. The term 'muck diving' could be considered somewhat of a misnomer, as it's really sand diving, and in this case 'black sand diving'. To me, black sand creates a different timbre to the water, making it seem more mysterious than the white sand variety; a darkness with secrets to unlock.
As well as shore diving – most resorts have a 'house reef' – most dive sites are no more than ten minutes away by boat. The dive guides know the local sites like the back of their hands, and without their help most visitors would find but a fraction of the stuff. One of the great things about diving these black sand slopes is that small and non-descript-looking bommies on closer inspection turn out to be hives of activity that are so good you could spend whole dives there, with a myriad of creatures cleaning and being cleaned, hunting and being hunted, eating and being eaten. Things to look out for include various shrimp, ornate ghost pipefish, moray eels and ribbon eels.
It's also worth spending time out on the black sand itself, where you can discover all sorts of critters, such as half-buried scorpionfish and snake eels waiting for something edible to swim within striking range, plus hermit crabs, decorator crabs, flounder, cuttlefish, octopus and roaming groups of the bizarre shrimpfish (razorfish). Of the bigger things, skittish stingrays (a kind of the blue-spotted variety) can commonly be seen gliding across these expanses.
Around Tulamben, the local dive operations have placed artificial reefs and wrecks at some sites, with a view to attracting additional life for the benefit of both divers and the environment. These are always worth spending time around, where predators such as eels, scorpionfish, lionfish and frogfish can often be found feasting on the more-concentrated amounts of prey. At Tulamben itself there's an underwater sculpture garden featuring various statues (such as Hindu gods) and an aeroplane wreck for added interest and novelty, though the actual structure had deteriorated since my visit five years ago.
One wreck that most certainly isn't artificial (and one of the best known in the whole of the Far East) is the Liberty wreck. This huge wreck is often the reason why divers visit the area and it's not difficult to see why. It's also unusual in that it can be done as a shore dive, though many resorts do it from a boat, which is easier.
Close by is a cluster of dive centres and lodges ensuring that the wreck is often extremely busy with divers, which can be frustrating if you're a photographer shooting wide angle. Trying to find an area or vista that you want to photograph without bubbles, arms, legs and fins everywhere can become a yearning on this wreck, but it is possible if you're patient.
As the wreck is around 120 metres in length, ideally several dives are the optimum here in order to fully explore it. We managed three dives on the wreck, at different times of day including an early morning dip to see the resident bumphead parrotfish that bunch together at first light before scattering off for the day. We also encountered several turtles, and were told that schools of barracuda can sometimes be seen. Deep dives of around 35m are also possible if that's your interest, but depth isn't essential here.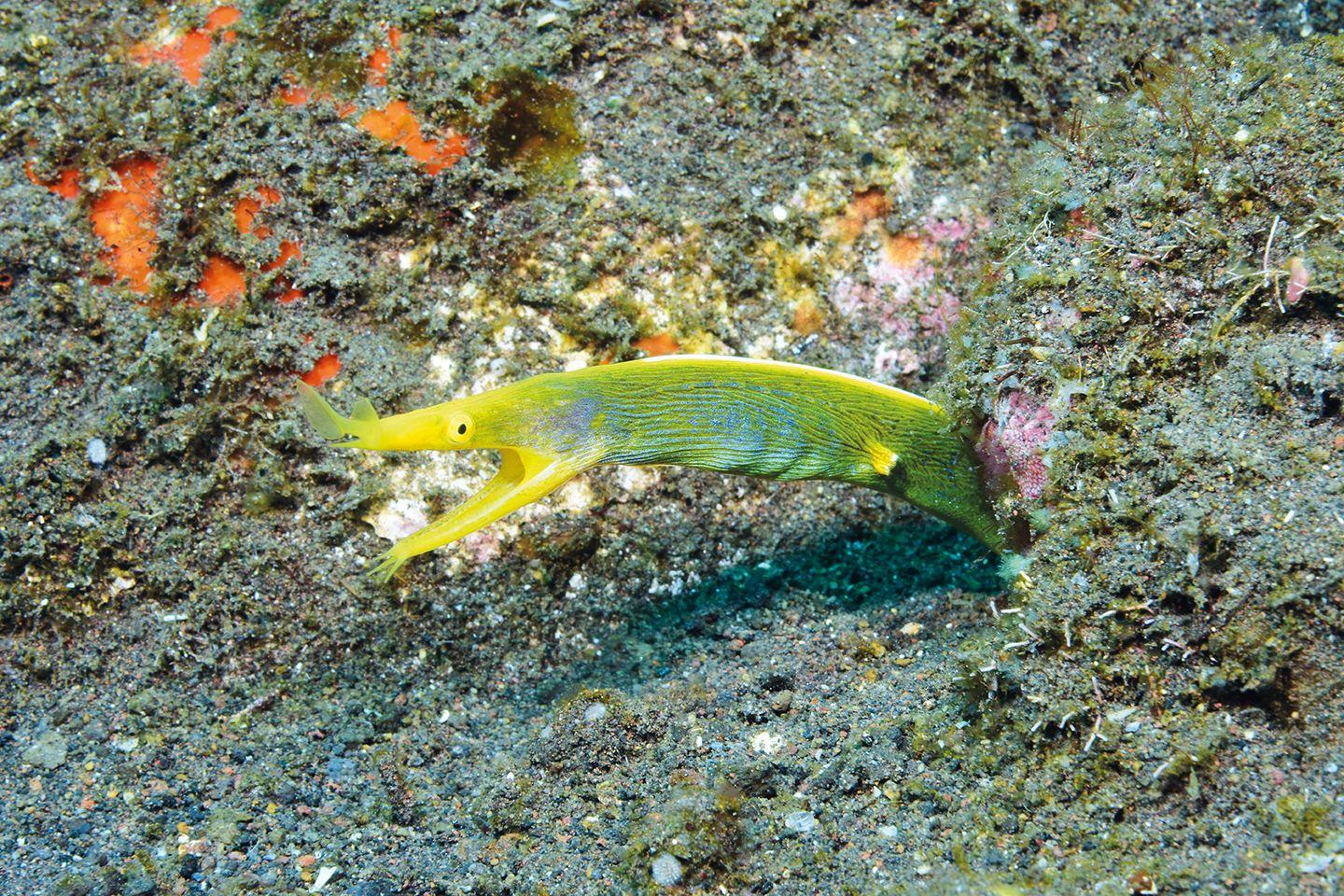 Nusa Penida
Nusa Penida itself is an island located off the east of Bali, in the channel between Bali and Lombok. It's best known for the phenomenally powerful movements of water between the islands and the seasonal gatherings of the weird and wonderful mola mola.
To dive there, we based ourselves in the bustling 'dive friendly' town of Padangbai. Our primary reason for visiting was to get the chance of encountering the aforementioned mola mola, which Amanda really wanted to see. We gave ourselves three dives a day over three days in which to make the dream come true.
Mola mola (or sunfish), of which there are more than one species, are known from most of the world's seas, though they are rarely seen on dives. This area of Bali, however, is a hotspot for them and quite a diving industry has grown up around the sightings. Bali's molas are a seasonal gathering, with the optimum time being July to October. Our visit coincided with this time window, but in the earlier part of the season.
We visited Crystal Bay four times over the three diving days, which might be better described as Crazy Bay. It can be 'crazy' for two reasons; one is the potential strength of the currents out in the channel between Nusa Penida and its small neighbours Nusa Lembongan and Nusa Ceningan, and two, the phenomenal amount of dive boats and divers in the water.
Amanda hated the first dive there (and I doubt that anyone actually enjoyed it) as the current was fierce, making it unpleasant and air consuming as we attempted to hold ourselves in position and hang on while trying to scan the blue water for mola mola. Some divers wouldn't do the later dive there that day after the exertions of the first dive, though that was a mistake, as the current was much more manageable then.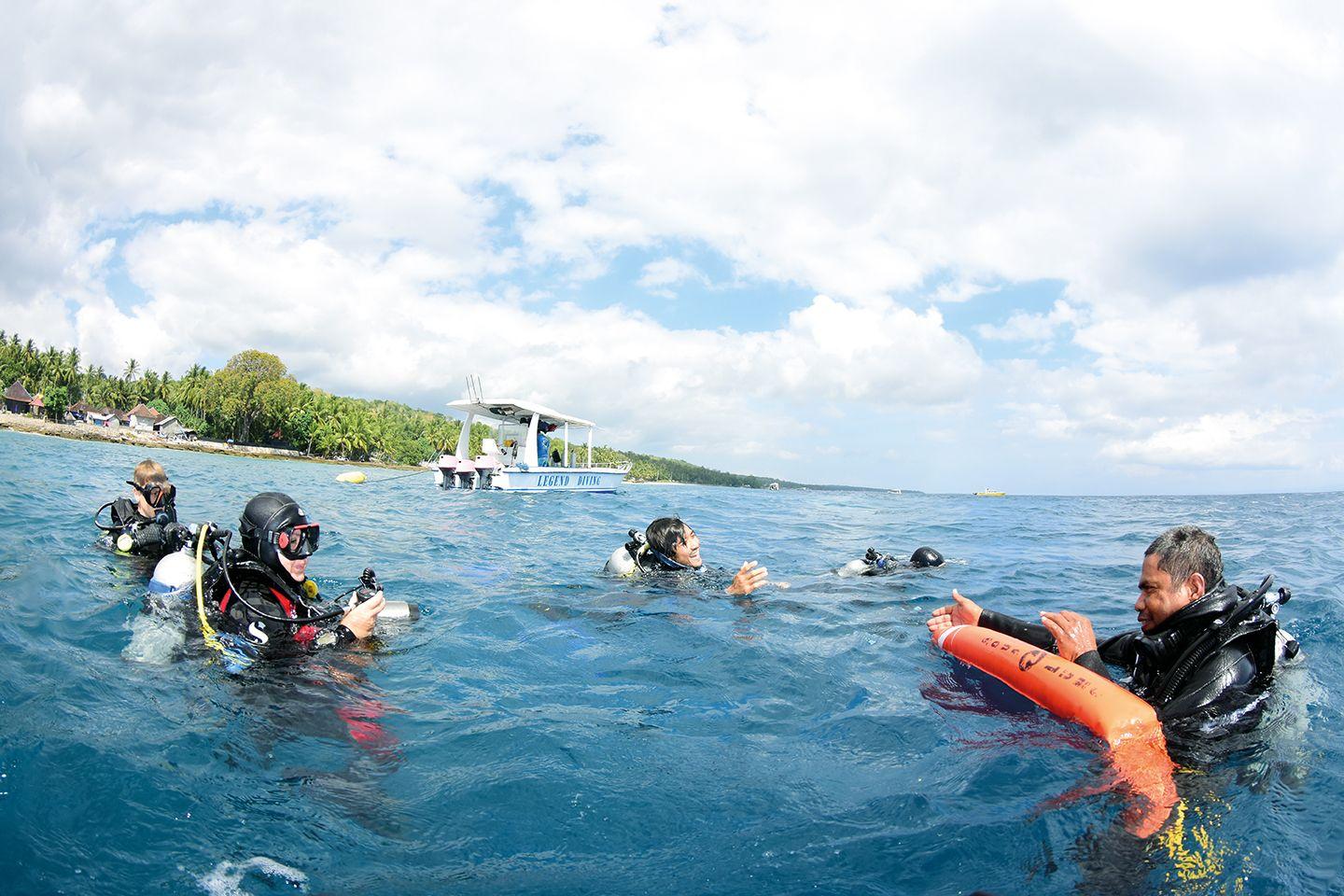 On our second dive day, we visited another location off Nusa Penida called Toyapakeh. It was a pleasant enough site with a sloping reef, and at the time of our dive, a mild-ish current. We cruised the reef while looking out into the blue, but nothing much was happening. As we got into the second half of the dive I was beginning to think that our luck was out. Then, somewhere below us on the slope, there was a strange shape that jarred. It took a few moments to mentally process it, but when the penny dropped, I knew what it was. It was a mola mola, a big one. I signalled to Amanda and Zac, to make sure they'd seen it and then dropped down towards it, to around the 35m mark.
This strange and improbable fish was being cleaned by a few bannerfish, which is usually the reason they visit the reefs and walls. I approached slowly and carefully, but knew that it wouldn't stick around for long, so there wouldn't be many chances to capture images. The encounter was fairly brief but brilliant, as it circled us before heading back into the blue. After the dive everyone was buzzing; a heady mix of relief, euphoria, smiles, punching the air and whoops, and all the divers saw it. From what we heard, we had the only mola mola sighting that day, and possibly over the three days in which we dived the area. We felt happy and fortunate.
As I've dedicated most of this section of the feature to our successful mola mola quest, I musn't forget to squeeze in some other important mentions, such as the presence of manta rays. On each diving day, we travelled along the wild southern coastline of Nusa Penida to a site called Manta Point. Like Crystal Bay, it's usually very busy with dive boats, but the mantas are virtually guaranteed. In fact, you might even see the two species of manta, the reef manta and the giant manta; we were fortunate and saw both. Other impressive lifeforms from the Nusa Penida sites we visited include turtles and some alarmingly large sea snakes.
A few words must also be said about currents. As touched on earlier, the general area of the Lombok Channel (including Nusa Penida, Nusa Lembongan and Nusa Ceningan) are affected by incredibly powerful movements of water, and on the dives themselves, especially at Crystal Bay, it's vital to 'read' the current and ensure that you don't get into a situation from which you can't get back to sheltered water, and be swept away into the channel.
Overall, we had a great time in Bali. We enjoyed the place, we enjoyed the people and we enjoyed the diving. And we'd given peacefulness and tranquility a chance. In fact, the wider world could learn a lot from Bali – highly recommended by us on many levels.
Looking for a great holiday to Indonesia, check out these amazing offers from Dive Adventures.