A US man has tragically drowned after proposing to his girlfriend at an underwater room in an exotic resort in Tanzania.
Steven Weber and Kenesha Antoine were on a 'bucket list' holiday to the luxury Manta Resort on Pemba Island, off the Tanzanian coastline, and had booked four nights at the resort's signature 'underwater room', which is anchored in 10m of water in a lagoon some 250 metres from the shore.
On Thursday 19 September, the third day of their stay, Mr Weber, from Baton Rouge, Louisiana, decided to pop the question to his girlfriend.
In a video Ms Antoine put up on Facebook, he can be seen swimming down to the viewing windows of the bedroom, wearing shorts, mask and a pair of fins. With his girlfriend watching from within the room, he pushed a plastic bag containing a note against the glass saying 'I can't hold my breath long enough to tell you everything I love about you. But everything I love about you I love more every day'.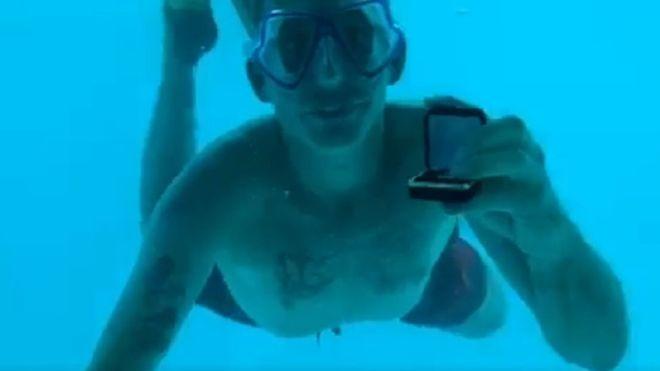 He then proceeded to flip the note around to show the other side, which read 'Will you marry me?', and then pulled an engagement ring box out of his pocket, opening it to show the ring inside before swimming up out of sight.
Sadly, that initial message proved all too prophetic – he never returned to the surface and tragically drowned.
Posting on her Facebook page, Ms Antoine said that Mr Weber 'never emerged from those depths' and then paid a heartfelt tribute to her dead boyfriend.
"You never got to hear my answer, 'Yes! Yes! A million times, yes'. We never got to embrace and celebrate the beginning of the rest of our lives together, as the best day of our lives turned into the worst, in the cruelest (sic) twist of fate imaginable.
"I will try to take solace in the fact that we enjoyed the most amazing bucket list experiences these past few days, and that we both were so happy and absolutely giddy with excitement in our final moments together."
In a statement, Matthew Saus, CEO of the Manta Resort, commented: "A male guest tragically drowned while freediving alone outside the underwater room. The accident is currently under investigation by the local Zanzibar police authority.
"Our sincerest condolences, thoughts and prayers are with his girlfriend, families and friends impacted by this tragic accident."
Photo credit: Facebook/Kenesha Antoine and The Manta Resort