The Three Lakes Challenge. The objective – to dive the three highest lakes in the UK in 24 hours – and Simon Reed was definitely up for the challenge.
After seeing a YouTube video of Andy Torbet and Monty Halls doing 'the Three Lakes' a few years ago, I'd always harboured a desire to crack the challenge myself. It was a tall order – dive the three highest lakes in the UK in 24 hours – Loch Coire, in the Cairngorms, Scotland; Red Tarn in the Lake District in England; and Ffynnon Lloer in Snowdonia, Wales.
With the COVID-19 lockdown and travel bans in place, I hadn't got my normal fix of doing any challenges or diving, so a UK dive – and a challenge thrown together – seemed to be a good plan.
To start with, I did a bit of testing with kit and weighting in Dartmoor rivers. I found that using just a stage cylinder and a crude bungee harness, I needed loads less weight. For weight, I got an old military webbing pouch and attached it to a normal weight belt, which I could then fill with rocks from the local area.
Our hardy bunch consisted of myself, my buddy Stu, and Rachel, our driver (and all-round 'good egg').
We had had the best spell of weather possible, right up until the weekend we went to do the challenge… Sod's law! However, because of busy diaries, we had to make the most of it!
This is the longest walk in by far, 11km each way. This is where you really realise that dive kit is not at all light… What a stunning walk in, there is a track running most of the way, and the views are sublime. 
The last 2km, however, are straight up with 500 metres of height gain. As we ascended the weather changed, as it often does in the Cairngorms. By the top it was windy and the temperature significantly colder. This was going to be a motivational test…
I don't mind admitting that when I put my hand in for a temperature check, I wondered if this was such a good idea!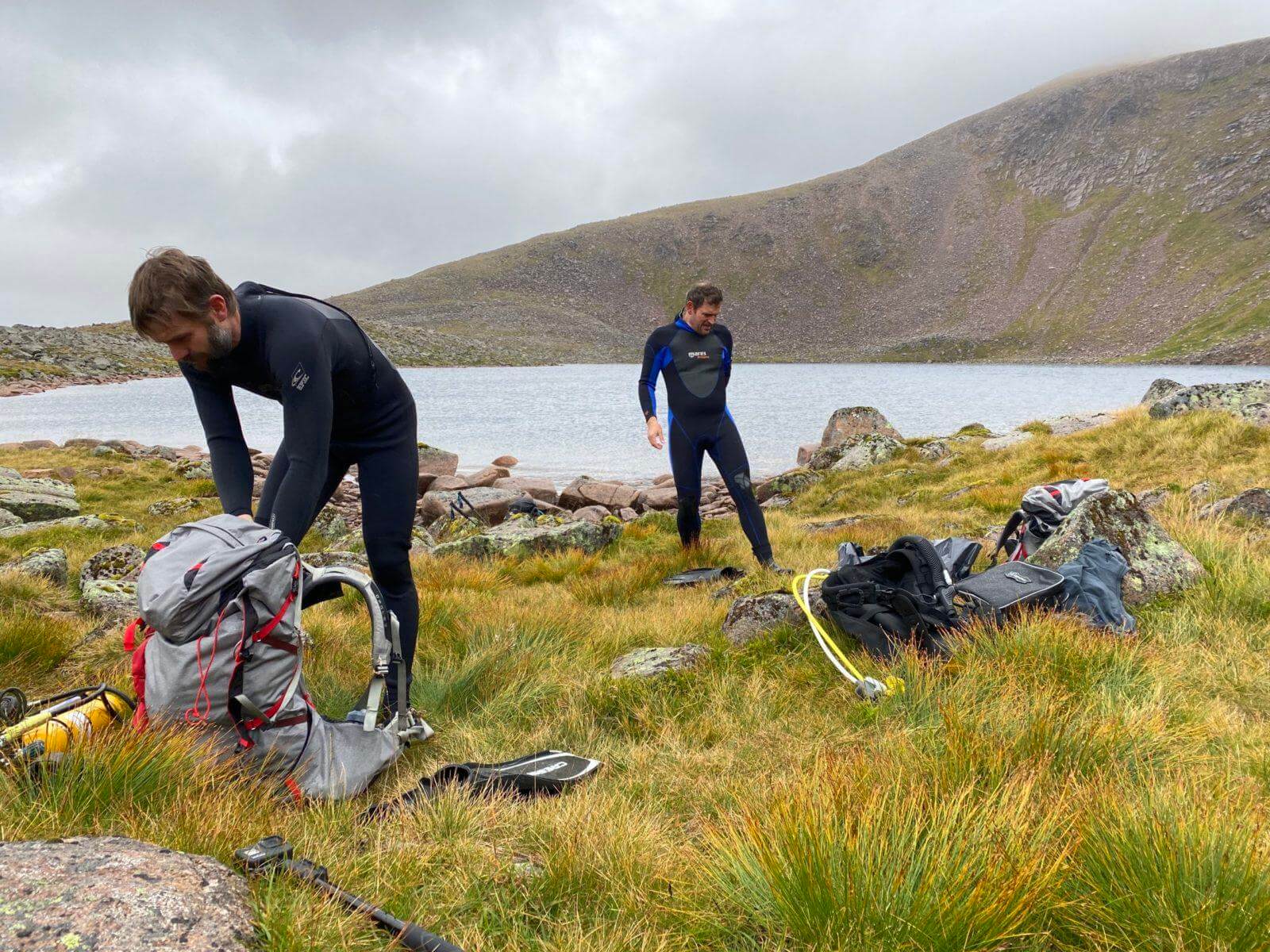 After a brave pill, we got suited up and gingerly got in… Holy s***, it was cold! Stating the obvious perhaps, but at 8 degrees C, it was a lot colder than the Dartmoor rivers I had been playing in.
In the loch itself, underwater visibility was superb, a beautiful blue with a pretty boulder garden bottom. Unfortunately, we had neither the time or the body heat to linger.
Post dive was possibly the quickest I have ever got changed (with some help from Rachel). It would have been inappropriate had I still had any genitalia to display…
The wind was now bitingly cold, if we didn't get a shift on and down out of the weather, there was a real danger of hypothermia.
Typically, as we descended the sun came out and we were in T-shirts 20 minutes later – it made the dive seem very surreal and like we had gone to Narnia for it.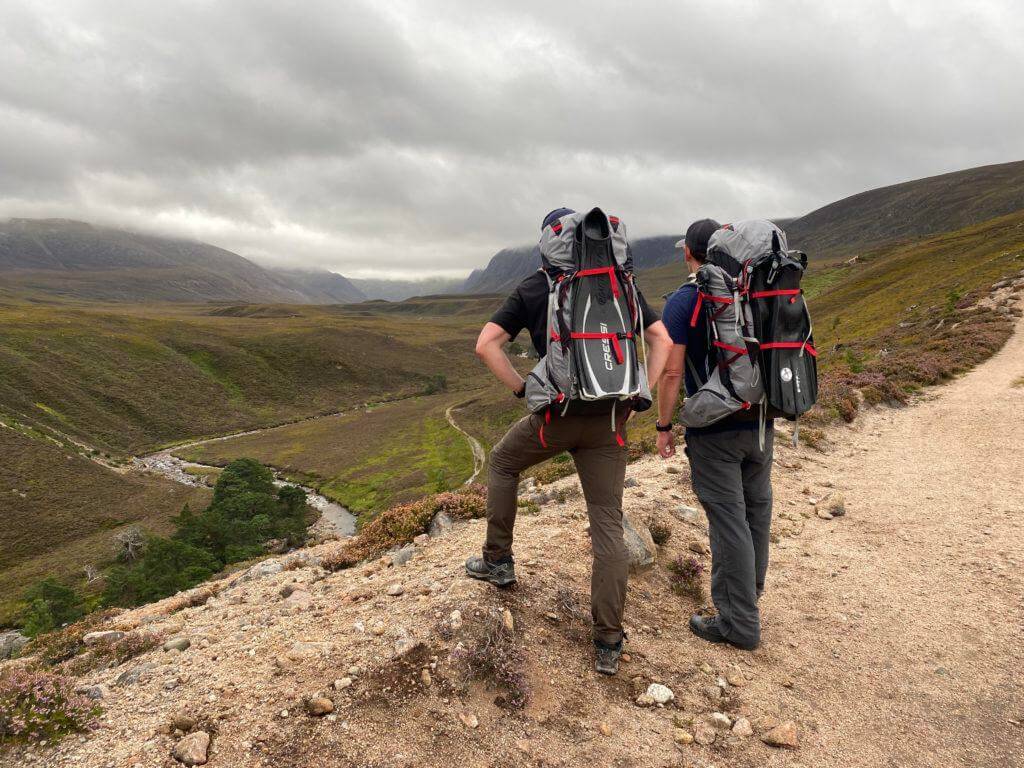 The walk out was just as beautiful, we were accompanied by some locals who seemed to think we were barking mad for some reason!
Back at the truck we had a quick footwear change, grabbed some snacks and hit the road. We had hoped to get to the second dive in daylight, but time was now against us.
The drive down was pretty good, Stu managed a few zzzzz's, but I was kept awake with Rachel telling me how amazing the cruise control was on our rental van…
On arrival at the parking spot I was concerned to say the least. The weather was not pleasant at all – windy, raining and cold! According to the mountain forecast, it was not any better on the top.
The tarn sits just below Helvelyn, the second highest peak in the Lake District – the MET office said the temp at the top was 6 degrees C, with a windchill of 1 degrees C. We had a discussion as to whether we wait until first light to dive; the decision was made that we would hike up to the lake and review our options.
A relatively short sharp walk up, this time as we ascended the weather improved, the rain passing and the wind dropping. As it was dark, the scenery was limited but I feel that wasn't a bad thing as we couldn't see the top!
As we walked, I was constantly running through go/no go options – the last thing I wanted was to become a casualty on the mountain and need rescuing.
When we arrived at the lakes, we were surprised by the number of tents scattered around. We had planned to dive at the eastern end of the lake out of the wind. We snuck our way through the tented city hoping not to wake the campers and draw attention to our unusual antics.
The call was made to dive, the plan being to stay in the water the minimum time. This time I had opted for a thicker suit, unfortunately for Stu, he had to get the wet one back on. Grim… He had the last laugh, as I realised I had left my neoprene socks in the car.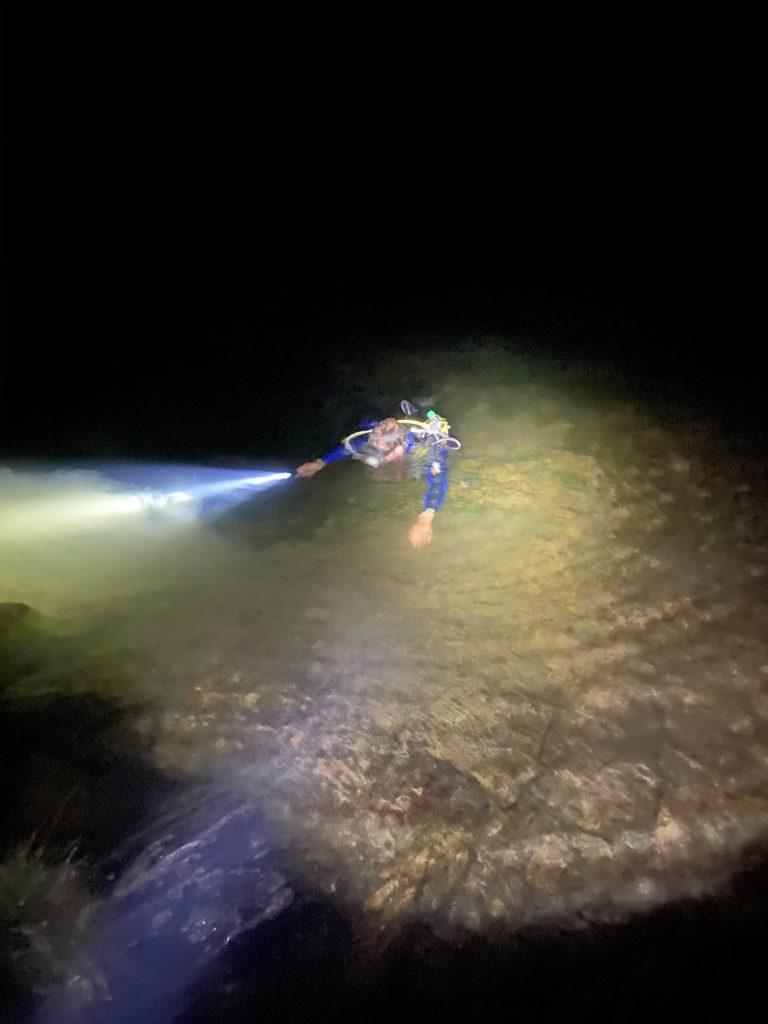 The dive was actually pretty enjoyable (apart from cold feet), definitely warmer than Scotland.  This time we had a dive buddy in the form of a brave trout, who was intrigued as to these two aliens with torches… We didn't venture too far, simply contouring the bank turning and coming back the same way. It was another pretty surreal dive, feeling a bit like we were in a sci-fi movie. With the torches on, it had a bizarre glow that changed between green, blue and brown as we travelled.
The dive was nearly uneventful until I took an elaborate tumble exit thanks to the bare feet! Stu did a good job of not overtly laughing at my dramatics.
I was incredibly relieved to have completed this dive, I had been apprehensive and was genuinely concerned we would have had to call it off on safety grounds. 
A far-less-emotional change followed and we slipped off of the mountain the same way, with the campers completely unaware of the two idiots going for an 11pm swim.
After a small kit explosion and repack, we were on the road, plenty of road works and what seemed like every fuel station in the north being shut caused us to lose 45 minutes in the journey to Wales. Not feeling inspired by our current food, we opted to eat multiple services station sandwiches – random the things you crave when tired. Stu impressively snored nearly the whole way and declared he had not slept a wink – who knew you can snore while you're awake…
Arriving at the start in the dark, sleepy and a bit stiff, we kitted up with far less banter than previously, slightly preoccupied by the steep gloom in front of us.
Rachel was practically asleep before we set off, fully submerged in her sleeping bag asking us to close the door on the way out. Who knew ladies could snore so loud so quick?
With all our kit now wet and no fresh wetsuits to use, the rucksacks were now significantly heavier.
We set off at a decent pace. About halfway up, Stu questioned my enthusiastic pace. I explained  I was preoccupied with being inside the 24 hours. Stu kindly helped me with my maths and I realised we had an hour longer than I thought… oops… Stu was gracious in accepting my stupidity and thanked me for the extra workout.
As we reached the Lynn, we were greeted with another array of tents, so we continued further down the side to a nice sheltered cove. We had a few minutes to watch the sunrise pop in and out of the clouds, as moody and mysterious as it can be in the Welsh mountains. It was imposing and atmospheric in the huge natural amphitheatre.
We looked up in almost silence just taking in the surroundings, it felt almost mild compared to our previous two dives.
Slipping into the water and talking in whispers so as to not wake the campers, we descended to the dizzy depths of 2m.
On Monty and Andy's YouTube video, they said it was a shallow, yet strangely enjoyable dive. I would have to agree.
We surfaced in the middle of the lake to take in the views, it was a particularly enjoyable moment, floating in that stunning location at first light with the dramatic cloud and sun combination. We tried to take some photos, but none could do the scenery justice. I floated in silence for a few minutes just taking in the moment.
The cold overtook the beauty and it was time to get out. We enjoyed a coffee from the flask on the bank and celebrated the final dive with a squashed croissant.
Having spent an age taking in our surroundings, we now had to get a wriggle on if we were to get down in the allotted 24 hours. The path down in daylight was significantly easier, we whizzed down in no time at all, and arrived back at the vehicle with 20 minutes to spare.
Our celebrations were elaborate – a sturdy handshake and well done, followed by a massive fried breakfast in the Moel Siabod Cafe (Superb it was, too).
I must admit, I thought this challenge would be relatively easy, assuming Monty and Andy had added some TV theatre. This turns out not to be the case. It is a hard task, and throw in some poor weather, it does make it a real and difficult challenge. But one that is well worth it.
Stunning scenery, the dives were much better than I had anticipated, some great friends and an adventure ticked off the to-dive list. I would definitely like to do it again, but slower and in the height of summer.
Stu did this challenge as part of an epic task doing 50 missions before he is 50. He is raising money for the SBS association and the Royal Marines charity. Please do look him up on Instagram – @stealthyadventurer – follow his story and donate if you can.
Simon Reed
Is a former Royal Marines Commando, expedition leader, arctic specialist and adventurer. He is an accomplished ultra athlete, placing highly in some of the toughest and harshest events. He currently works in the expedition world and as a security specialist. (He is also terrible at maths and cannot be trusted with chocolate).
Only goes by the handle of the Stealthy Adventurer and lives only in the realm of Instagram. He does huge amounts for charity and is an all-round top banana. (Challenge winner of the Golden Pillow award) .
Is a coaching and leadership expert with a love of the outdoors and all things adventurous. Superb at holding the team together and getting people motivated. (Also a pretty bad-ass driver and snorer).