The wreck of the KM Kuraman is a purpose sunk boat in the Beautiful Tunku Abdul Rahman Park
There are not many places in the world that offer a bustling city full of modern facilities and then right on the doorstep, just ten minutes by speedboat from the central entertainment district, a stunning tropical marine paradise with 50 dive sites to choose from. Sabah's capital, Kota Kinabalu, is such a place and the Tunku Abdul Rahman Park, locally known as the TARP offers some excellent scuba diving year-round.
Named after Malaysia's first prime minister, covering an area of 50km², the Tunku Abdul Rahman Park was gazetted as a national park in 1974. Consequently the area's fauna, flora and marine eco-systems enjoy the protection of the government-appointed body, Sabah Parks.
Dive Sites in Tunku Abdul Rahman Park
Dive sites within the Tunku Abdul Rahman Park offer some great scuba diving for beginners and experienced divers alike with sloping coral reef from 2m to 25m depth. Lots of very healthy hard and soft coral. Schools of barracuda, snappers, fusiliers, cuttlefish, moray eels, lionfish and pufferfish.
Nudibranchs are common, so too are all 7 species of clownfish, all of which can be seen in just one dive. Many species of crustaceans, scorpionfish, pipefish, demon stingers and stonefish are also usual suspects. February to April is traditionally Whaleshark season, sightings are not guaranteed and quite rare but its fun to know we share their water and they can appear any time during the season.
As I write we have 49 dive sites to choose from but coming soon there will be one more making the total 50! The new kid on the block is KM Kumaman Wreck which is already home to a variety of critters and offers a great intro to wreck diving, especially for those completing a PADI Advanced Course & PADI Wreck Dive Speciality Course. We expect permits for visiting divers to be available in the third quarter of 2020.
Sinking KM Kuraman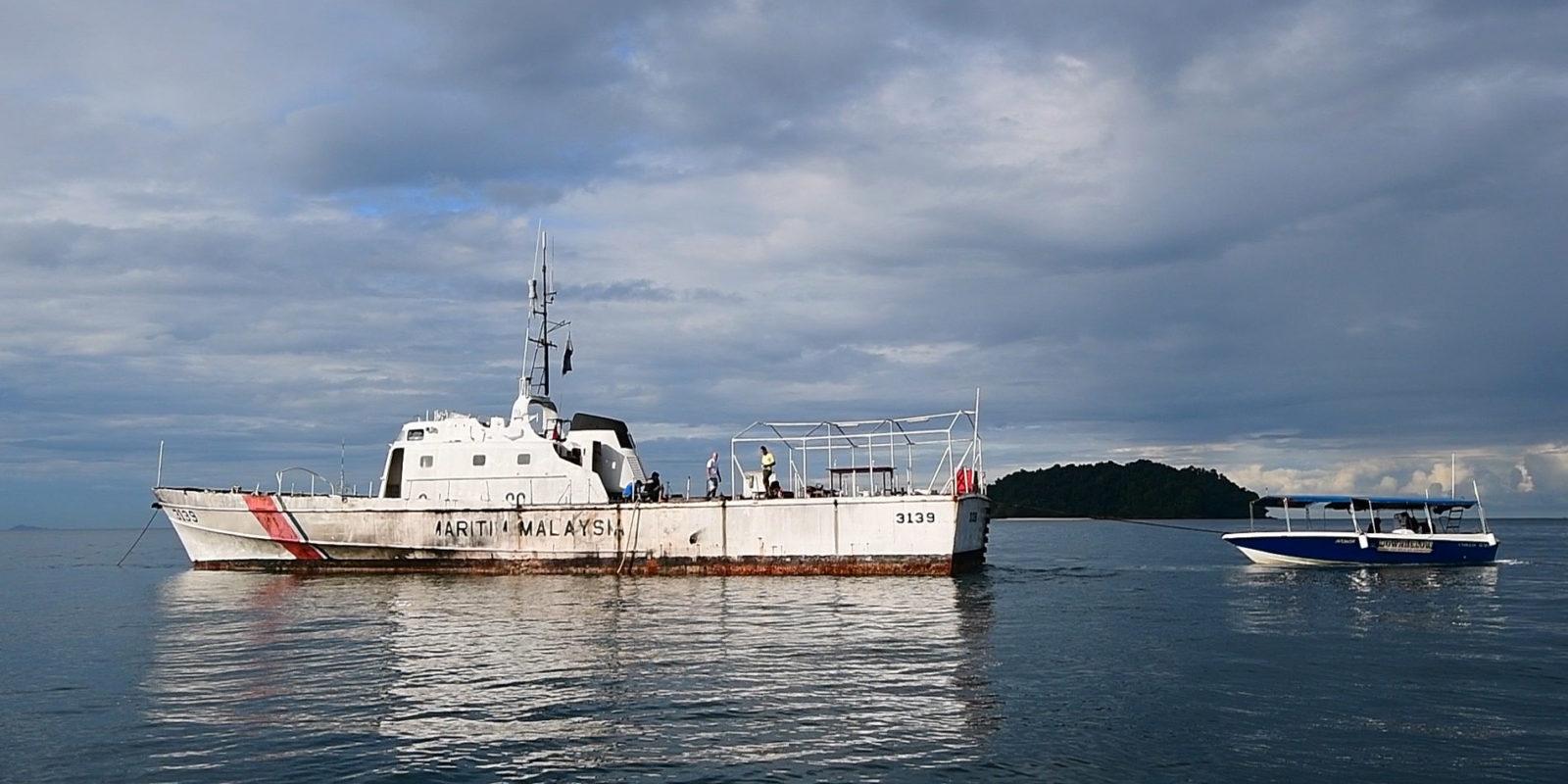 In October 2016, Richard Swann Managing Director and resident PADI Platinum Course Director of Downbelow Marine & Wildlife Adventures was commissioned by the local authorities, Sabah Parks to prepare and sink KM Kuraman in the Tunku Abdul Rahman Park for the purpose of it becoming a dive attraction and artificial reef.
The British built 103ft long patrol ship served for almost 50 years with the Malaysian Navy under the name of KD Renchong. She was then transferred to Maritim Malaysia where she was re-named KM Kuraman (after an island near Labuan) and continued to serve for another five years and eventually de-commissioned in 2015.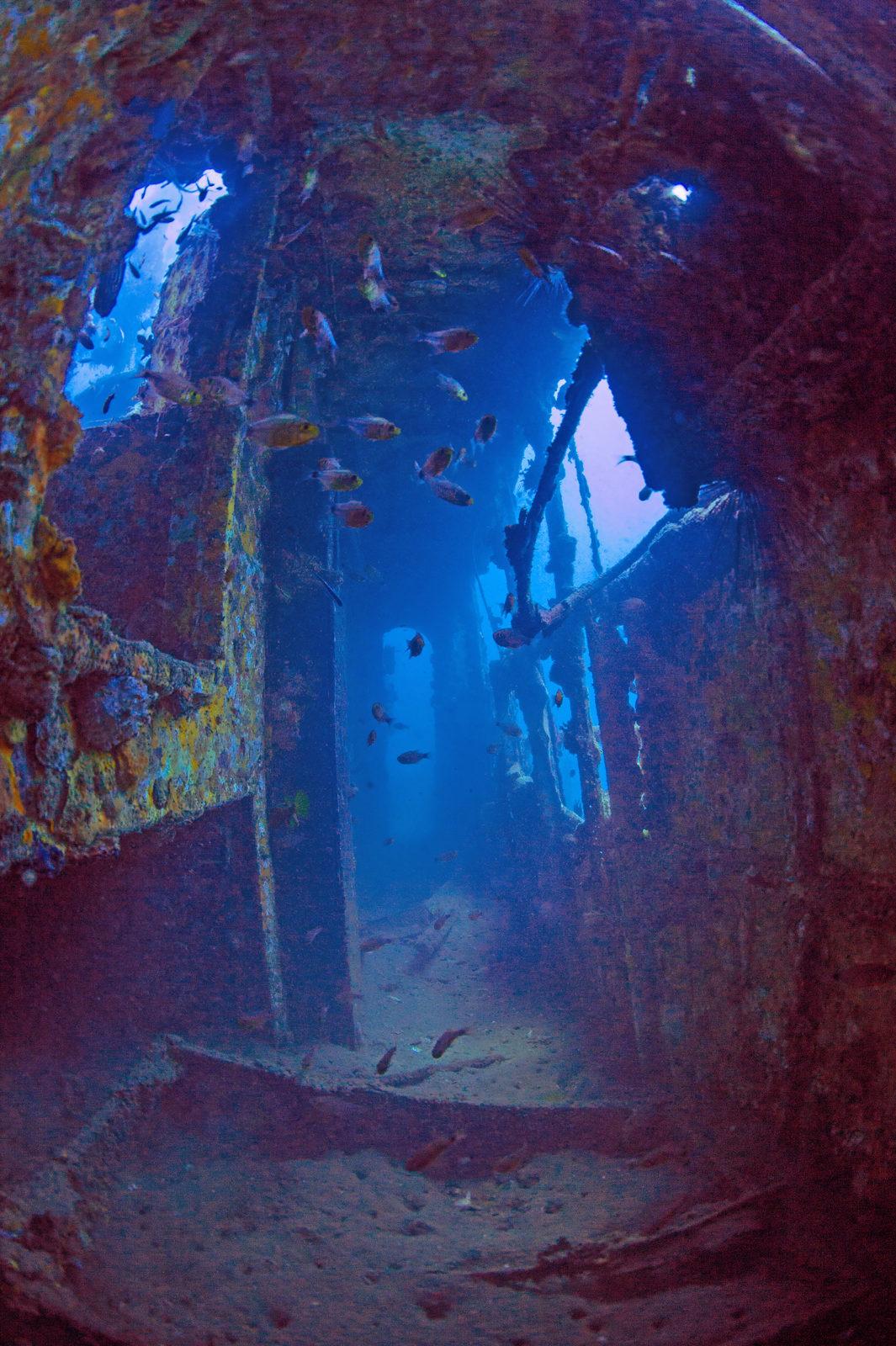 With divers in mind, Richard wanted to sink the ship in an upright position and clear her internally so she was suitable for the marine environment. He also wanted to open up compartments to create penetration dive opportunities for suitably qualified divers to enjoy.
Richard and his team were charged with sinking her on the 17th November 2017 between 11:00am to 11:15am so local ministers and government officials could conduct an organised ceremony to pay their respects to the long-serving ship. With this deadline to meet, the pressure was on for Richard and the Downbelow team to deliver and for anyone that knows, sinking a ship in the right position at a certain time is no easy task, especially when it's submerged naturally without explosives which was an important factor.
After a lot of hard work, the Downbelow team met the stipulated date and time. KM Kuraman was sunk as planned at 11:12am on the 17th November 2017 in an upright position in 23m of water between the islands of Manukan, Sulug & Mamutik in the Tunku Abdul Rahman Park as designated by the Sabah Parks Committee. She now lies peacefully and already hosts beautiful soft coral. Schools of barracuda, juvenile black tip reef sharks, ghostpipefish, frogfish and a variety of reef fish have become permanent and seasonal residents.
Intentionally sinking vessels to create artificial reefs has proved to be very successful. Considerations such as depth, currents, water temperature and bottom composition are important factors to consider. A number of resorts in Sabah have submerged de-commissioned boats to add variety to their dive sites. Lankayan Island on the east coast of Sabah sank a fish poaching boat 8 minutes from the island.
Groupers, yellow sea perch, stingrays and ghostpipefish are often seen around the wreck. Sipadan Kapalai Dive Resort on Sabah's south east coast has turned an otherwise quite baron sandy sea floor into an amazing house reef dive with a number of large retired fishing boats submerged. Now home to numerous schooling fish, frogfish and ghostpipefish several dives at this site is not enough to showcase all their treasures.
Contact PADI 5 Star IDC Career Development Downbelow Marine & Wildlife Adventures S/B (aka Adventures In Borneo) to plan your scuba diving & wildlife holiday and request a dive trip to see KM Kuraman and other wrecks around Sabah.
Written By Joanne Swann
PADI Master Instructor & Director of Downbelow Marine & Wildlife Adventures S/B
Photography By Richard Swann
Managing Director and resident PADI Platinum Course Director of Downbelow Marine & Wildlife Adventures S/B
Want to read about more great places to dive?
Top 10 Best Dive Sites in the World, Editor in Chiefs Pick
Top 10 Dive Sites in the World, Destinations Editors Pick