Lena Kavender and Byron Conroy venture to the paradise island of Bali and discover that his Indonesian getaway can satisfy the desires of virtually any diver, whatever their particular 'addiction'
Fancy big stuff like manta rays and mola mola? Or are you more into world-class critter spotting? Why not pristine coral reefs in a million colours within one of the planet´s best national marine parks? Oh, so you´re a shipwreck junkie?
It can be a challenge to decide where to go on your next dive holiday with all these wonderful options and varieties. Luckily, we´ve got great news for you – in Bali, you can get it all.
My dive buddy Byron and I were at Lotus Bungalows in Candidasa. The village is located on the east coast of the island, halfway between Sanur in the south and Tulamben in the north – truly an ideal location for exploring and experiencing the very best of Bali´s underwater landscape and creatures.
Indonesia – With a Touch of Europe
Upon arrival we were greeted by management couple Jan and Henriette, originally from Denmark, but 'Indonesians' for 15 years. While listening to an induction of the resort and the routines, we were seated next to the stunning infinity swimming pool facing the ocean.
To the left and right of the pool were spacious bungalows, all with their own terrace facing either the ocean or the lush garden. Beautiful Balinese-style outdoor bathrooms for each bungalow were a really nice feature. Having a hot shower while listening to the waves from the ocean was the ultimate relaxation after a day´s diving. The rooms include unlimited hot and cold drinking water, coffee/tea and there is also a minibar available with soft drinks and the local Indonesian Bintang beer.
Directly behind the pool is Lotus´ popular Italian restaurant, making some of the best pizza and pasta I´ve ever tasted, along with Balinese and Indonesian classics such as mie or nasi goreng, freshly caught local fish or Balinese chicken. At Lotus, you enjoy your meals with pool and ocean views from every table in the restaurant.
Fun Diving, Training and CCR
Thanks to the location, Lotus Bungalows and its dive centre, Gangga Divers, are able to take you to the very best of Bali´s dive sites, from Nusa Penida in the south to Tulamben in the north, and everywhere in between. This gives you the unique opportunity to experience a mix of big animals, tiny critters, healthy reefs and world-famous shipwrecks such as the USAT Liberty and the Bogas wreck.
Gangga Divers is a PADI five-star dive centre and offers recreational PADI courses from Discover Scuba Diving to Divemaster. It is also the first Poseidon rebreather centre in Bali with their own in-house rebreather instructor Jan. Jan and Gangga Divers offer pool-based Discover Rebreather test dive sessions, Poseidon MKVI/SE7EN recreational rebreather courses as well as Poseidon MKVI/SE7EN technical rebreather courses (40m, 48m and 60m). The centre also offers dedicated rebreather diving for already certified CCR divers, and provides different size cylinders, sofnolime and trimix fills.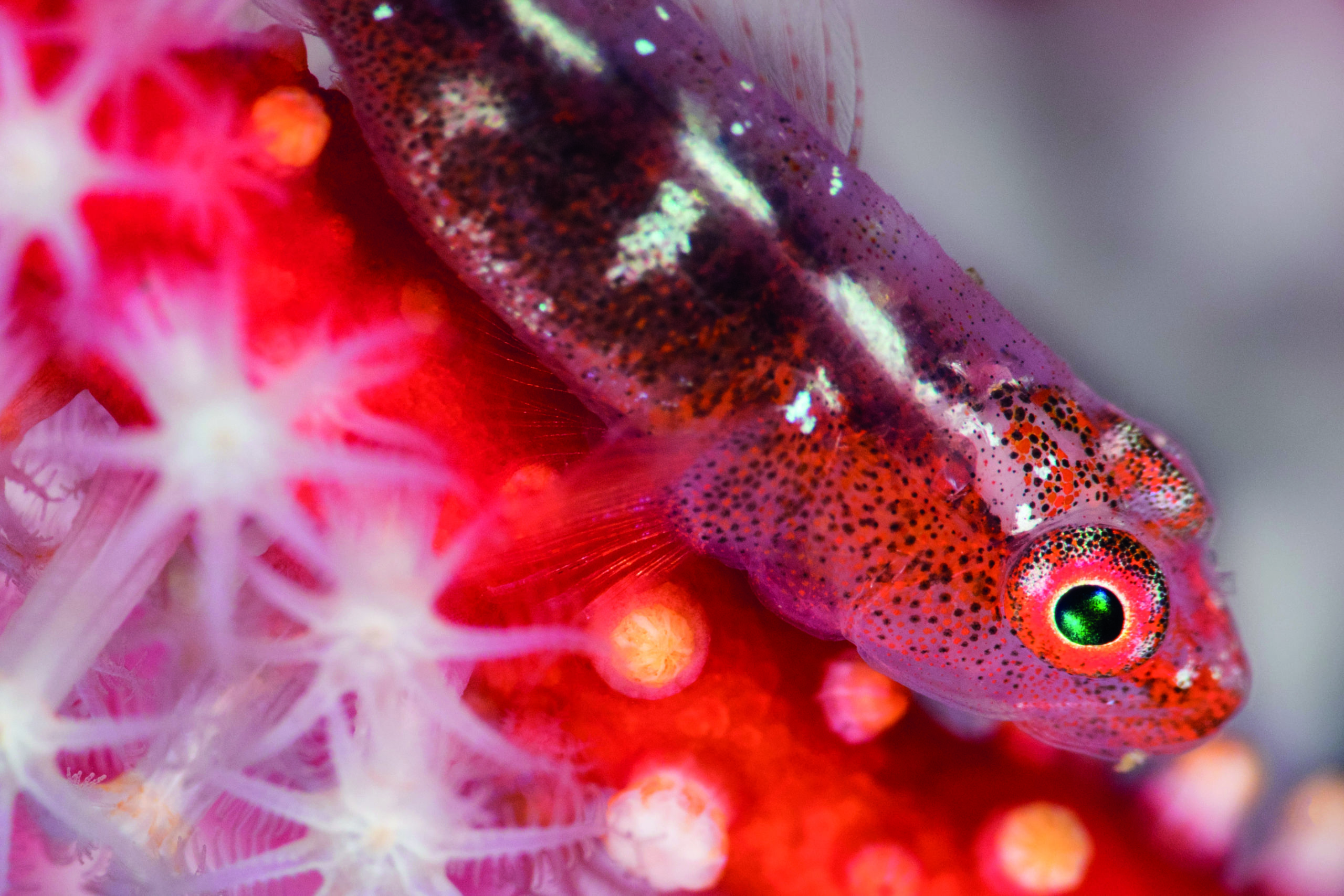 Byron and I spent the first day of diving in the local area, Padang Bai, a short car ride from the resort and Candidasa. We boarded Natalie, one of Gangga Diver´s two comfortable Balinese-style dive boats. Natalie and sister vessel Maya both have separate wet and dry areas, flushing marine toilets, towels and hot and cold water stations. Snacks and drinks are provided by the dive crew before, between and after dives.
On this first day, we chose to do three dives with surface interval and lunch on the boat in between dives. It was macro day and we were excited to see what critters were to be spotted in these Balinese waters. We started off by diving the Blue Lagoon, followed by the Drop-off, and it is safe to say that none of the sites left us disappointed. The sites were beautifully located next to a white sandy beach framed by coconut palm trees. We managed to spot several orange and black cockatoo waspfish, leafy scorpionfish, banded pipefish, short-tailed giant pipefish, orangutan crabs, ribbon eels and tons of nudis, to name but a few of our findings.
The third dive of the day was the Jetty. The Jetty was constructed five years ago as a dock for larger ferries and cruise ships. However, as the project was completed and the first ship was to arrive, it became clear that the jetty was not solid enough to cope with vessels of this size and the jetty was simply abandoned. It now makes for a perfect dive site with an abundance of fish and critters surrounding the pillars of the jetty. It is also a popular fishing spot, and we got instructions from our guide Wayan to stay directly under the jetty throughout the dive to avoid hooks and reels. An exciting and good fun experience, as well as an excellent macro dive.
The Big Stuff
If you have not already visited Nusa Pendida´s Manta Point and Crystal Bay, these sites should definitely be added to your diving bucket list. The former is a manta ray cleaning station and you have a very good chance at spotting these amazing animals during your dive. The mantas here are not afraid of divers, instead they actually seem to enjoy flying above the divers in order to get their bellies massaged by the bubbles. At Crystal Bay, the ocean sunfish, or mola mola, can be spotted seasonally from August to November, peaking in September and October. The molas are the heaviest bony fish in the world.
The Small Stuff
For fantastic critter spotting (and let´s not forget a world-famous wreck dive), Tulamben is the place. Gangga Divers take you there by an hour car drive north. Once in Tulamben all diving is done directly from the beach. We spent one day diving the famous macro site Seraya Secrets. Our guide asked us what we wanted to see – 'pygmy seahorses, ghost ornate pipefish, harlequin shrimps, painted frogfish?' An hour later we had seen all the above mentioned critters, along with more nudibranchs than I have ever encountered before, over 100 for sure.
The Wreck Stuff
While in the area, one must not miss out on the opportunity to dive the USAT Liberty shipwreck. A United States Army cargo ship torpedoed by a Japanese submarine in 1942, the wreck now acts as an artificial reef and is covered in colourful marine life. Early morning dives on the wreck are often rewarded by large schools of bumphead parrotfish cruising by. On the sandy bottom, many free-swimming peacock mantis shrimps, along with big groups of garden eels, can be spotted.
Conclusion
With our stay at Lotus Bungalows coming to an end, we had managed to experience a variety of diving from the largest to the smallest of marine life, as well as wrecks and reefs. Not bad for one week´s diving out of a single 'home base'!
It now makes for a perfect dive site with an abundance of fish and critters surrounding the pillars of the jetty
The mantas here are not afraid of divers, instead they actually seem to enjoy flying above the divers in order to get their bellies massaged by the bubbles
Photographs by Byron Conroy