'Wally' the walrus, as he has been nicknamed, was first spotted yesterday afternoon by Lewis Hooper, a volunteer at North Ronaldsay bird observatory, who was walking his dog when he saw a hump come out of the water. He assumed it was a small whale, but after getting closer to the coast to get a closer look, he saw the walrus relaxing on the beach. He commented: "I'm no mammal expert, but it was pretty obvious what it was. It was clearly, clearly a walrus."
Wally then turned up on the beach between Sandquoy and Tafts on Sanday this afternoon, and was photographed by Russell Neave, who posted on Facebook that the animal was 'lapping up the attention and creating much excitement on Sanday'.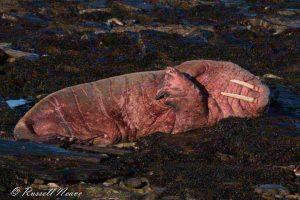 Emma Neave-Webb, of Sandy Development Trust, said: "This has certainly been the wildlife highlight of my time on Sanday so far – so exciting to see such a magnificent animal so close."
Who knows how long he will stick around the area, but already keen wildlife enthusiasts are making tracks to the Orkneys to try and catch a glimpse of this massive mammal.