The Dive Line Podcast has conducted a massive river clean-up after a dive to look for historical artefacts couldn't happen due to the sheer amount of manmade debris. It seems to be the season for clean-ups – Divewise recently completed their clean-up operation in Malta.
Norfolk-based Jim Marshall and Craig Morris, who set up the scuba-diving podcast a few months back and have already gained a strong following, had planned a dive under a medieval bridge in Cringleford. Their aim was to see what historical artefacts they could uncover from under the bridge, which dates back to 1520.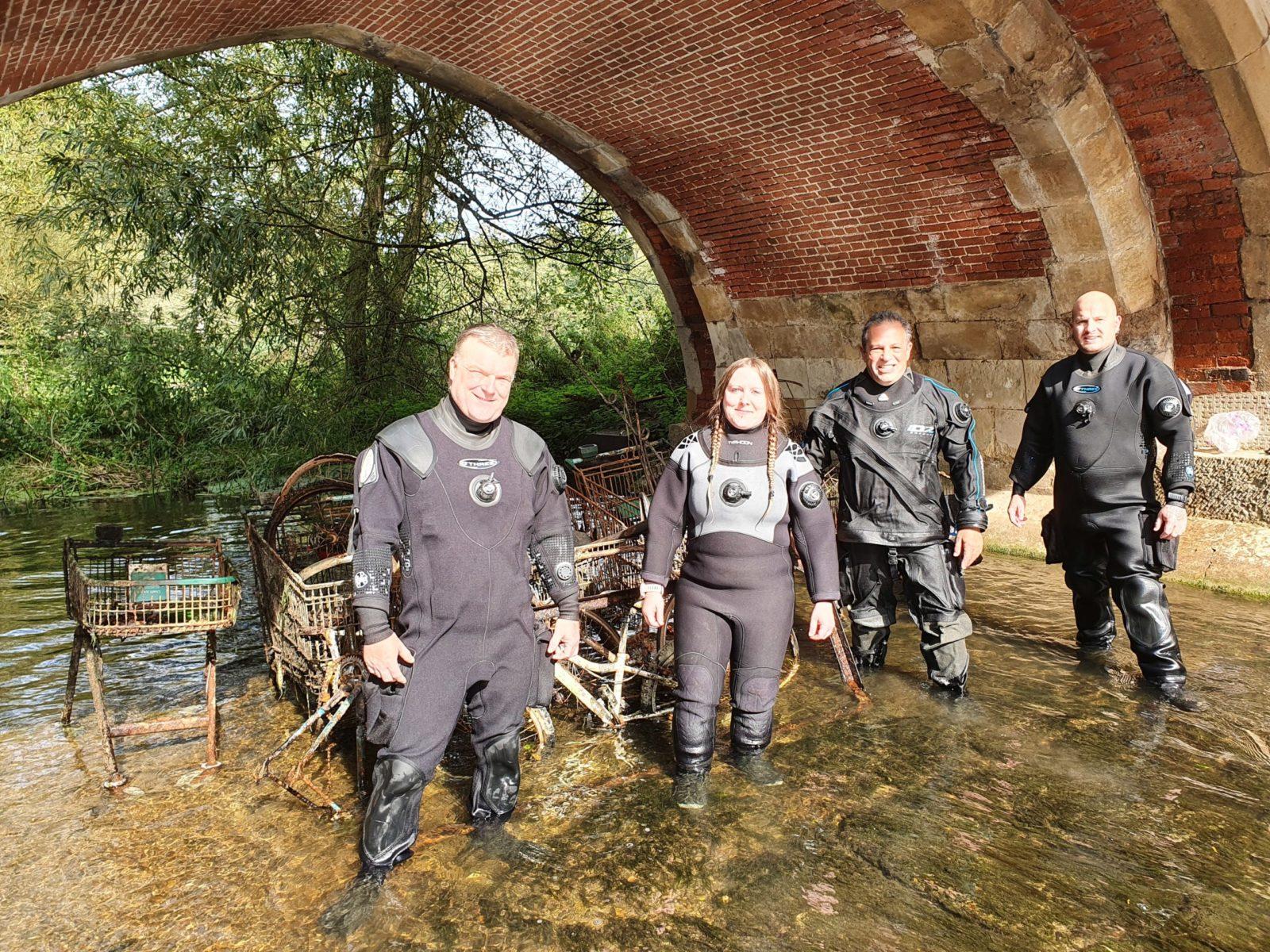 However, they ended up shelving that plan after being appalled at the amount of debris that had accumulated under the bridge. Even worse, youngsters had been jumping off the bridge into the 2m-deep water, and one had got snagged, but luckily freed himself.
So, The Dive Line Podcast team decided to change tack, and set out on a clean-up dive instead (They had already done a few smaller-scale clean-ups in other Norfolk waterways – we have frequently reported on incidents of plastic causing problems for marine life in the area, such as the Grey seal found with plastic ring round its neck in Norfolk). For this one, they drafted in the assistance of fellow divers Emma Sturman and Matt Ireland.
The initial clean-up, which attracted the attention of the local press, recovered eight shopping trolleys, three bicycles, a metal bedframe, numerous poles and other potentially lethal objects. They reckon they only retrieved a third of what is there, so return clean-up operations are planned.
In a great team effort, Waitrose collected their errant trolleys, and Norwich City Council removed the remainder of the debris.
A few days later, the Dive Line duo got a call off the back of the article in the local paper from someone who had lost their iPhone 10 and £600 prescription sunglasses in the water. Three days later, they recovered the missing phone – which amazingly was still working – and the sunglasses.
Jim said: "The phone was upside down in a black case, so wasn't sure if it was actually a phone or not in the limited vis until I turned it over and there was a text message from 'Julie the cleaner'! I bobbed to the surface and asked him if he knew Julie the cleaner and that we'd found his phone and sunglasses!"
He added: "He was so grateful to get £1,600 worth of property back that he donated £90 to the marine life charity BDMLR."
The Dive Line Podcast have conducted interviews with various diving celebrities, and recently talked to Scuba Diver and GO Diving Show regular Miranda Krestovnikoff, who even said that The One Show might be interested in their Norfolk river exploits.
They have certainly provided inspiration for many others, with another diving podcast following in their footsteps with a river clean-up of their own, which is all fantastic for the environment.
Catch up with all The Dive Line Podcast interviews and road trips via their YouTube Channel.