This month, Sairee Cottage Diving resident Platinum Course Director Marcel van den Berg hands over his column inches to the centre's photo pro…
Paddy Peach Steele, UW photography guru at Sairee Cottage Diving in Koh Tao, Thailand, offers some top hints and advice concerning marine life behaviour and how to get better underwater photos
Understanding marine life behaviour is the key to taking the best underwater photographs. These days, anyone can get into underwater photography. More and more affordable cameras are bursting on to the market and everyone is wondering how to take the best underwater photos. With the amount of online tutorials, there is a wealth of knowledge freely available. Given enough practice, anyone can achieve underwater photos that they are proud to show off to the world.
Knowing your marine life
The one thing that I find almost all new underwater photographers are sadly missing is an understanding of marine life behaviour to take the best underwater photographs. The more time you spend in the water shooting the same species over and over again, the more you notice how they live their lives and how they do things differently to other similar species. You also pick up the body language and signs that they are about to do something that would make a great photo.
With any type of wildlife photography, you will greatly improve your chances of getting that amazing shot you're after by knowing when something impressive is about to happen, like hunting or parent behaviour. This is even more important for us as underwater photographers because we have a limited time to shoot due to our air supply and NDLs.
Understanding fish relationship behaviour
Lots of fish time their breeding with the lunar cycle. If eggs hatch around the full moon, when there are the strongest currents, the young will be taken far away from where they were laid. This means that they are not fighting for space in the same area and they can spread the gene pool further. An added benefit of the same species of fish coinciding their breeding is that potential predators are overwhelmed by all the eggs hatching at the same time and so plenty are going to survive.
This is easily noticed around Koh Tao, Thailand, with the pink anemonefish. Knowing when the eggs hatch lets us have an idea of when parents will be tending to the eggs. Consequently, instead of just a photo of a fish in the anemone, we can now get a shot of a tender moment as the father cares for its young. This would be a much better underwater photo.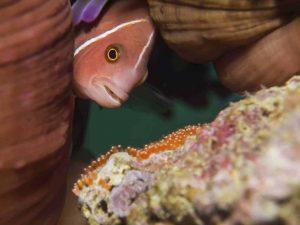 Partner gobies have even more common habits that can make a good photo great. Most new photographers would be happy with a photo showing the symbiotic relationship between the goby and the shrimp, but it is possible to see gobies doing so much more. Sitting at the end of their burrows, they get bored after time and start to stretch out their fins, displaying stunning colours and patterns.
This is also noticeable when they fight with each other as they try to show off who is the biggest and most beautiful by flaring out every fin. When they get hungry they can be seen hovering a short distance above their home. They are facing into the current waiting for particles of food to fly at them and as they open their big mouths, we get a more-interesting shot of a fish that you may have seen a million times.
Whale Sharks can be predictable
On a bigger scale, whalesharks can be pretty predictable. Around Koh Tao, they tend to hang around the deeper pinnacles and swim in a figure of eight over the top. It's the same every time I'm lucky enough to dive with one, most people are so amazed to be in the water with one and don't want it to end, so follow the big fish as it swims effortlessly. Divers have no chance of keeping up with a whaleshark even at a slow pace, but it's easy to know when they are going to change direction.
They have distinct lines that run the length of their body and if you're behind the whaleshark, when the lines start arching either left or right, they are turning. When they do just swim at a 90 degree angle the way it's turning and you can easily get into a better position for a photo as it will turn into you.
While these examples may come from the marine life of Koh Tao, they still illustrate how even a little bit of prior knowledge of marine life's habits can make a big difference in the quality of your underwater images and how to take the best underwater photos. My underwater photography Instagram page and Facebook Page shows many examples.
At Sairee Cottage Diving on Koh Tao in Thailand we teach advanced underwater photography courses focusing on marine life behaviour to take the best underwater photos and enjoying marine life on a whole new level. These underwater photography courses are for anyone with a passion for marine life and underwater photography, but can also improve your marine life knowledge as a Divemaster or Diving Instructor. You can contact me here to learn more how to get better at underwater photography.