Why Gili Trawangan is the Best Gili Island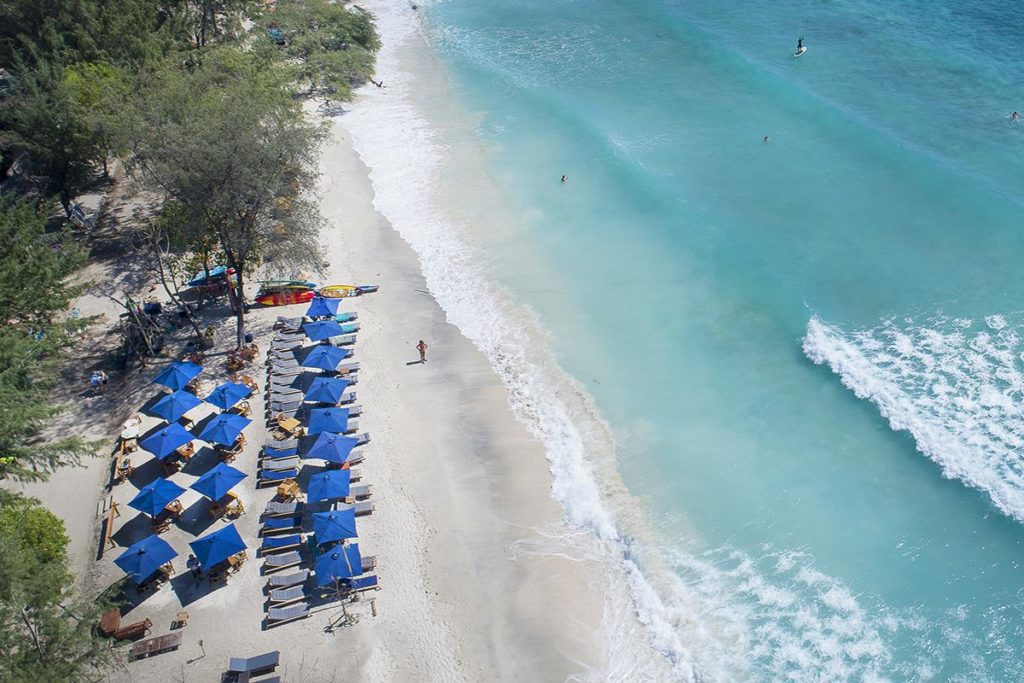 Off the northwest coast of Lombok three idyllic tropical islands nestle in the crystal clear waters of the Lombok Strait, these picture-perfect gems are known as the Gili islands and there is much debate about which is the best. Fortunately, the good people at Villa Almarik have the answer.
There are many other Gilis but Gili Meno, Gili Air and Gili Trawangan are the most developed and accessible from mainland Lombok and Bali. You may have a preference for one of the Gilis but we're here to tell you why Gili Trawangan is the best Gili!
Loads of Things to Do
If you like a mix of relaxation and exploring, Gili Trawangan is the perfect holiday spot. You can get up in the morning for a hearty breakfast then grab a bicycle and tour the island before returning to Villa Almarik for some snorkelling. This is the best spot on the island for swimming with sea turtles.
The evenings on Gili Trawangan revolve around sunset time. The views over to Bali from the west side of the island are gorgeous and you can even climb up Gili Trawangan Hill for panoramas to take your breath away. Neither Gili Air nor Gili Meno has the height for these spectacular views. For something really special, how about horseback riding along the beach or a sunset cruise?
By night Gili T really comes to life. Live music, beachfront bars, and dance parties start up at dark and some don't finish until sunrise. If you're not into wild nights out there is a calmer scene as well. You can also choose to stay around Villa Almarik for a great wood fired pizza and then to bed. You'll be far enough from the main Gili T strip that you can sleep peacefully with no noise from the bars.
The Spectacular Diving
Gili Trawangan is the ideal base for scuba diving. The island is surrounded by 7 great dive sites and 3 more are just a few minutes further out towards Gili Meno. How many dive destinations have 10 dives within 15 minutes of your accommodation?
It's also brilliant for the range of diving. Whether you are a complete newbie or you have hundreds of dives under your belt, you can enjoy most of the dives around Gili T. In fact, Gili Trawangan is the perfect place to learn how to dive. Gangga Divers offers PADI Discover Scuba Diving and PADI Scuba Diver courses for beginners.
While you're out diving around Gili Trawangan you can expect to see a huge variety of reef fish and healthy coral. There are also plenty of reef sharks, sea turtles, and other passing pelagics to see.
Ease of Services
If you're getting to the Gilis by fastboat, Gili Trawangan is usually the first stop. You don't have to wait to stop and drop off passengers on the other islands, you can just hop off in front of the main Gili T strip.
You'll also find there are more shops, ATMs, medical clinics, and other services on Gili Trawangan than Gili Meno or Gili Air. From Villa Almarik you can walk or ride to everything you might need in a matter of minutes. This convenience is definitely a plus for most visitors.
Gili Trawangan is such an ideal holiday destination it's hard to extol all its many virtues. Have you been to the Gili Islands? Was Gili Trawangan your favourite?
Photo Credit: Villa Almarik
Want to read about more great places to dive?
Top 10 Best Dive Sites in the World, Editor in Chiefs Pick
Top 10 Dive Sites in the World, Destinations Editors Pick