Mark Evans: There has often been talk about fighter-pilot-style head's-up displays for divers, but for a long time, it was just that – talk.
Then Oceanic launched the Datamask, which was marketed as a HUD mask, but was more an 'eyes-down-to-the-right' mask. It had a small screen mounted into the bottom right-hand side of the mask, so you needed to angle your eyes down to the right to look at it.
It made the mask bulky, you lost a lot of peripheral vision to your right-hand side because of the battery compartment and innards of the computer itself, and to be honest, it wasn't that advanced a computer in the first place, so it seemed a lot of effort for little gain. There was no real benefit over glancing at your wrist and a normal dive computer.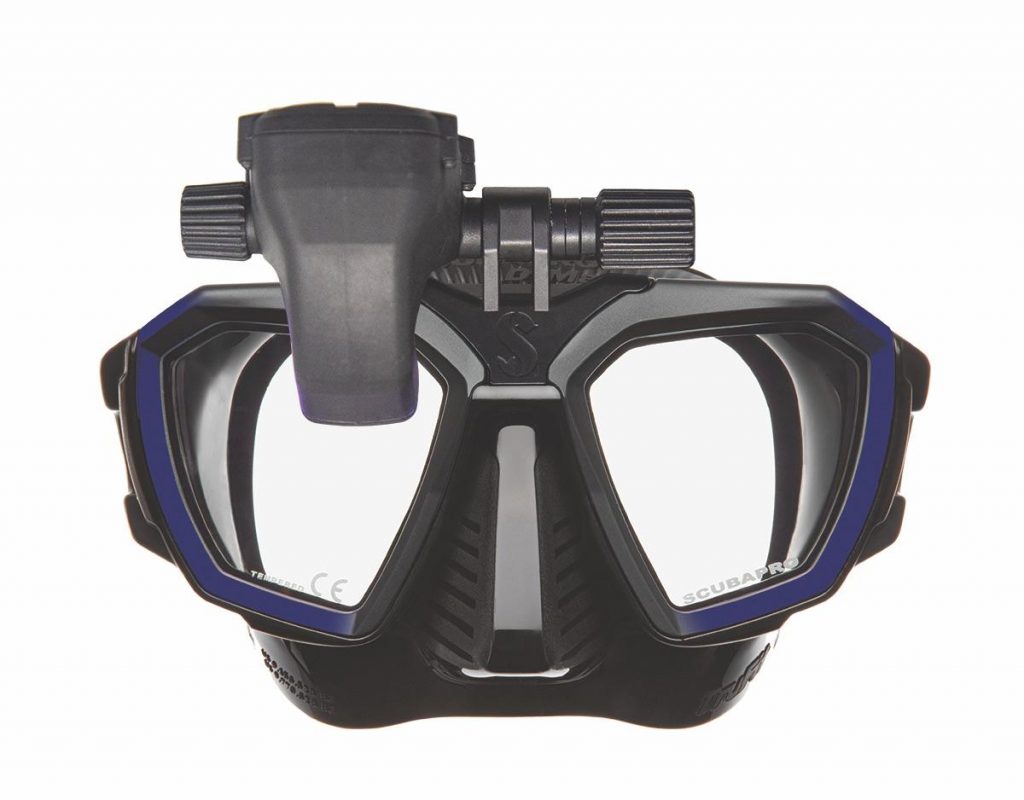 Things went quiet in the world of HUD, until the launch of the innovative NERD by Shearwater Research. Originally designed for use with CCRs, a second-gen model was released that could be mounted on a second stage regulator.
This ground-breaking piece of kit was more what people envisaged when they said 'head's up display'. Thanks to clever technology and design, a small screen that was located in front of the right lens of the mask appeared as a much-larger display a couple of feet away when you focused on it, but when you looked 'past it', as it were, it all but disappeared.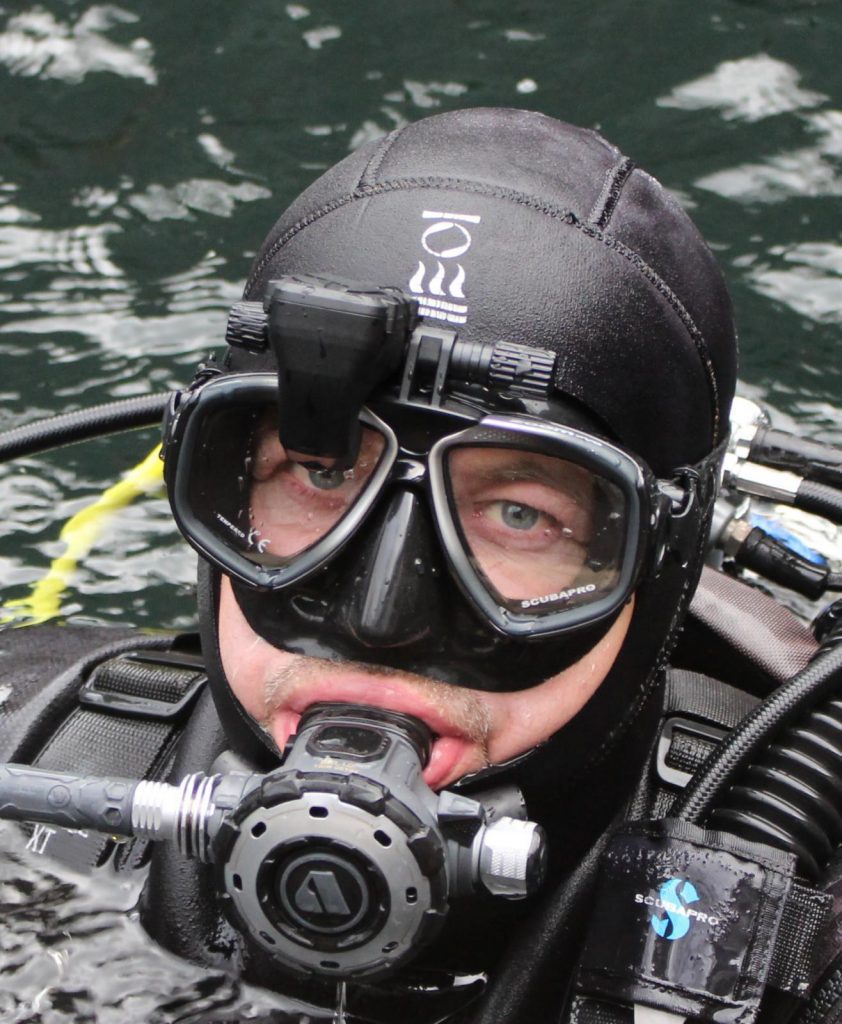 The NERD II was essentially the company's tried-and-tested Perdix AI in a smaller form, so it was a well-specced computer in its own right, but with the advantage of being a genuine head's up display computer.
The only downside was the computer being mounted on the regulator – fine when you are shore-diving or off a hardboat, but if you are in a RIB and need to de-kit for reboarding, you didn't really want to see your precious and expensive computer disappearing beneath a pile of BCDs and cylinders, not to mention feet as other divers got back on board.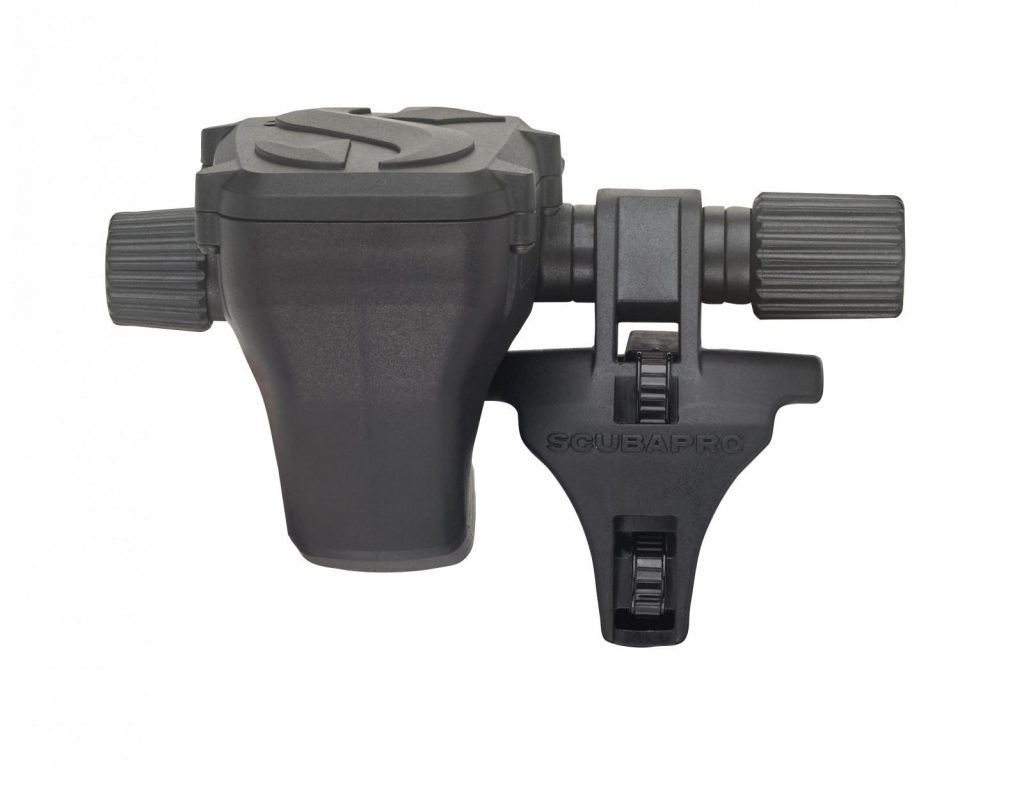 Now premium manufacturer Scubapro has got in on the act, with the Scubapro Galileo HUD dive computer. The Galileo series of computers was well received when they first came on the scene, and later generations – such as the G2 – were equally welcomed with open arms by the diving fraternity. So the functionality was there, Scubapro just decided to engineer that into a head's-up display product.
Like the Shearwater Research NERD, the Scubapro Galileo HUD features a small OLED screen suspended in front of your right eye, which when you focus on it, essentially becomes a larger screen in front of you because of the precision near-eye optics. When you look 'past it', it all but disappears from your line of sight.
However, the big different here is that the Scubapro Galileo HUD mounts directly on to the mask itself, not the regulator. Because of the way it attachs to the central section of the mask, it can literally be swung up and completely out of sight, if so desired. A series of spacers lets you align it from side to side in front of your eye quickly and easily.
The Galileo series were among the most-simple computers to navigate around the menus, thanks to the screen displaying what the buttons did at any given time. Now the HUD can't quite manage that given its size and design, but an innovative push-wheel knob makes it almost as easy as, say, the G2.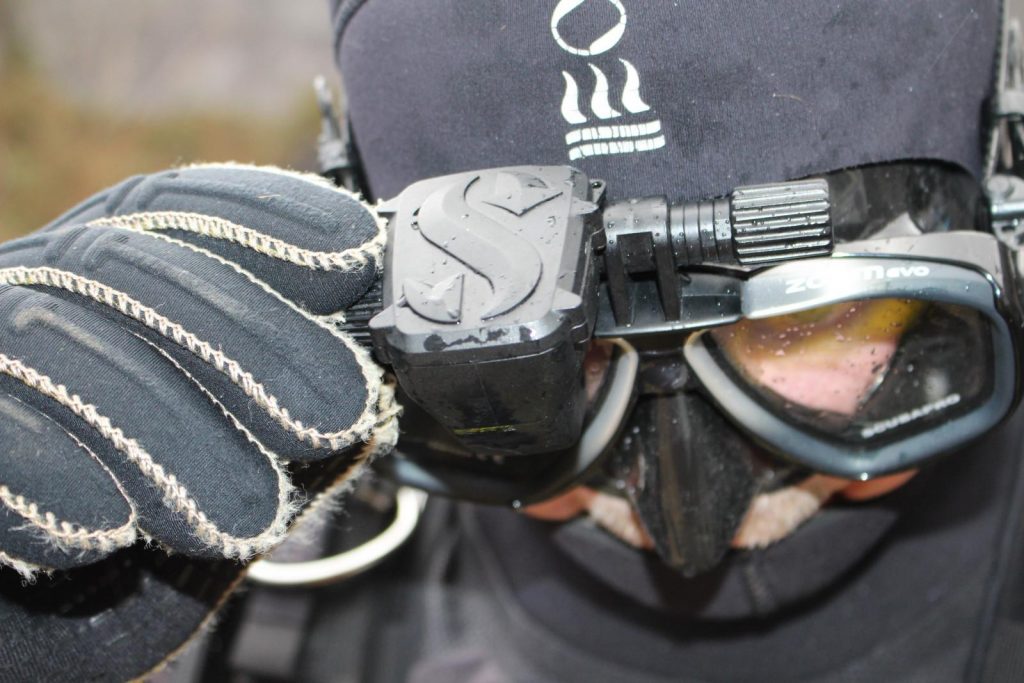 A short push takes you to the next stage in the menu while a long push takes you back a step (and it tells you this at the bottom of the display), and by dialling the knob you can scroll up and down the menu. It doesn't take long to get the hang of it and, because of a neat design, it is easy to operate even wearing thick neoprene gloves or drygloves.
It is not only easy to use, it is also very well-specced. It has four modes – scuba, gauge (for tech diving – it is depth-rated to 120m), apnea and CCR – and it has two algorithms to select from. You can go for the Predictive Multi-Gas Buhlmann ZH-L16 ADT MB PMG, or the ZH-L16 GF. The predictive algorithm programmes up to eight selectable gases, including nitrox and trimix, in scuba mode, plus two set points for CCR diving.
To further personalise its functionality, you can incorporate microbubble levels and Profile Dependent Intermediate Stops (PDIS) into the algorithm. Via hoseless air integration with a transmitter, the HUD can monitor your tank pressure, and also show your true remaining bottom time (RBT).
The Scubapro Galileo HUD also features a 3D full-tilt digital compass, which allows you to store three pre-programmed headings, and the 2GB memory means it can store 10,000 hours of dive profiles, so you'll never have to worry about running out of space!
When you do want to download your logbook, you can do this either using a USB cable or wirelessly via Bluetooth. And it is compatible with Apple and Android using LogTRAK.
You never have to worry about running out of battery, either, as the HUD has a rechargeable battery, and fully charged, this will give you some 20 hours of dive time.
A compatible mask mount is included in the box, and several existing Scubapro masks can be retro-fitted to hold the Scubapro Galileo HUD, such as the Zoom Evo that came for the test. The brand-new D Mask has been designed from the outset to work with the HUD. However, the HUD will also work on many other brands of mask, so you might not have to dump your 'old-faithful' to be able to wear the computer.
So what is it like in use? Well, first off, it is very lightweight, and while visually it might look quite large sat on top of the mask, in reality you hardly notice it is there, especially once you are in the water. There is no real drag or heavy feeling.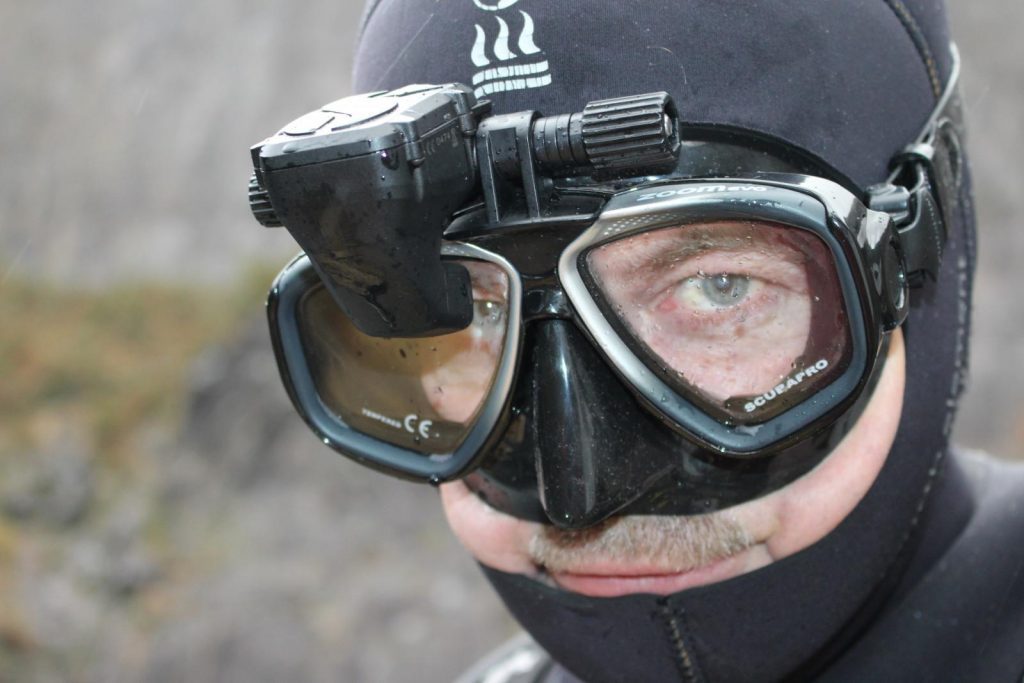 It was quite handy being able to swing the HUD completely up and out of the way. When it is in place, it isn't too noticeable, until you want to read your computer, but when I was taking photographs, I sometimes found it was easier to do this with the HUD flipped up out of the way rather than in the 'down position'.
I had no trouble using the control knob to dial through the menu. It is a decent size, and I had zero issues finding and using it wearing 3mm gloves, 5mm gloves and even drygloves with a thick under-glove.
As stated before, it is relatively simple to get to grips with the HUD, as with the G2 and previous Galileos, and the screen display is very clear – all I had to do was raise my view point slightly and then the computer screen came into sight. This was literally a slight tilt of my eyes upwards, not a very exaggerated down-to-the-right as with the old Datamask.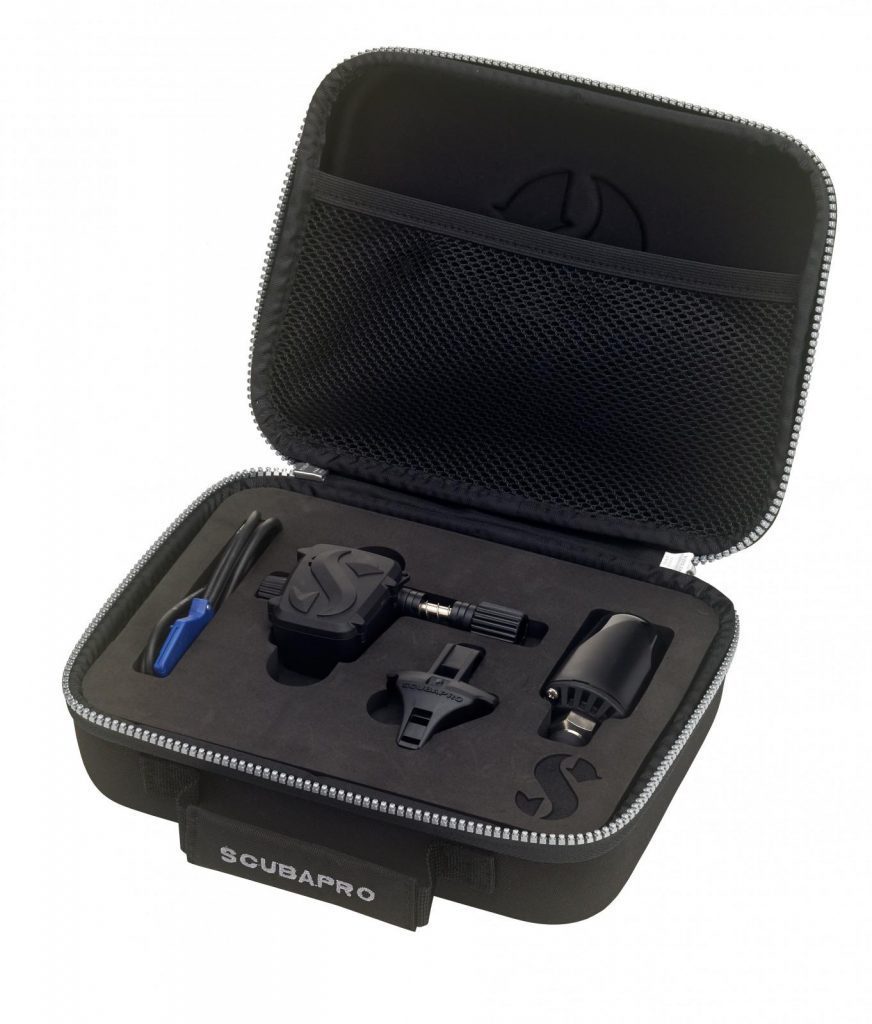 All of the prominent information is well displayed in the default setting. You can tweak the layout but I actually found the default setting was perfect for me.
The green digits appeared nice and bright underwater and on the surface, and I liked how warnings came in orange and red – for instance, as you ascend, a green line extends up the side, but if you go too quickly, it goes orange, and if you continue to accelerate towards the surface, it goes red. No way you will miss that!
I think that the NERD II had the edge in terms of sharpness of screen display, but the Scubapro Galileo HUD is still very easy to see, and easy to control/use, and I like how it is actually mounted on your mask rather than on your regulator. You can detach it quickly and easily from the mask, and it comes in a neat case along with the charging cable, transmitter (if you opt for the full set) and mask mount.
Our gear content is sponsored by Mike's Dive Store, the UK's premier dive retailer. For all your diving needs visit them in-store or online for your diving, freediving, snorkelling and servicing.