Jason Brown reports on the launch of a brand-new computer from Finnish masters Suunto – the EON Core (SRP: £599)
What do you do when you've got one of the most popular – and feature-packed – dive computers on the market? You take all the best bits and stuff them into a new model available for a lot less money – or at least, that seems to be the thinking behind Suunto's latest dive computer, the Suunto EON Core. Based on the same technology pioneered in the EON Steel model, but at a price point that makes it a far-more-attractive proposition for recreational divers, the new Suunto EON Core costs just £599.
Despite the £200 saving on its big brother, the new EON Core packs in many of the same features. What has changed, though, is the size and weight of the unit. By using a reinforced plastic rather than stainless steel body, this new model is notably smaller and over 50 percent lighter without sacrificing the size and quality of the gorgeous full-colour EON screen. The unit's attractive on-screen controls are operated via three chunky chrome buttons that run down one side of the unit's plastic casing. For the style-conscious, it's also available in three different colours. Take your pick from black, white or lime green.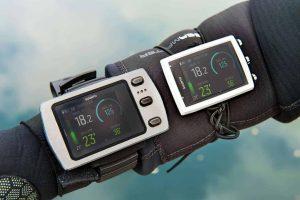 Naturally, something had to give to achieve such impress savings in size, weight and cost – the depth rating is down from 150m to a still 'way beyond most of us' depth limit of 80m and the unit's rechargeable battery is 50 percent smaller too, delivering on average between ten to 20 hours of use. While the EON Core uses the same wide, clear always-on LED backlit screen as the Steel, a mineral-glass front is employed in preference to the Steel's more-robust Sapphire glass. A handy stick-on scratch guard is provided in the box.
What hasn't changed is the great feature set. Like its more-expensive sibling, the EON Core packs an impressive spec list which includes bluetooth connectivity to the Suunto Movescount mobile App, wireless tank pressure monitoring with support for up to ten Suunto tank pods, updateable software, a built-in tilt-compensated digital compass and support for 17 different languages. For divers with less than 20:20 vision, the EON Core also sees the introduction of a new 'Prominent' dive mode, which displays key dive information using large, easy-to-read numbers. With air, nitrox and gauge mode available out of the box, the unit can be upgraded to support trimix and fixed-point CCR at no extra cost via the Suunto Dive Manager application.
From what we've seen so far, the EON Core is an attractive proposition that offers a good balance of price v performance. Like its big brother, what really sells the Suunto EON Core is that big, beautiful screen and the very attractive dive screens which put the design and functionality of many of its rivals in the shade. The lighter and more-compact body will certainly appeal to many while the added bonus of trimix and CCR compatibility may even tempt budding techies to take a look. We think Suunto may be onto another winner.
Our gear content is sponsored by Mike's Dive Store, the UK's premier dive retailer. For all your diving needs visit them in-store or online for your diving, freediving, snorkelling and servicing.