Marine biologists from international conservation charity ZSL (Zoological Society of London) working on the River Thames are excited to report more evidence of two species of seahorse living in London's iconic waterway.
The sighting of a sixth individual seahorse in the past two months alone, compared with previous averages of just one or two annual sightings, underlines the importance of the Thames and its estuary as a haven for wildlife.
The most-recent sighting of a short-snouted seahorse (Hippocampus hippocampus) was recorded by an ecological survey team working at Greenwich on behalf of Tideway. It is not yet known what might have caused this recent surge in sightings.
Commenting on the team's latest discovery, Anna Cucknell – Estuaries and Wetlands Conservation Manager for ZSL – said: "We're really excited to be finding more and more evidence suggesting seahorses are resident in the Thames. The limited research work to date suggests that two species in particular now call London's estuary home: the short-snouted seahorse and the spiny seahorse (Hippocampus guttulatus).
"Both tend to prefer shallow coastal waters and estuaries, so we shouldn't be too shocked to find them here. But the fact both species typically have small home ranges and don't tend to travel far gives reason to believe that the seahorses we've found recently are permanent residents rather than occasional visitors.
"Beyond that, there's currently a real lack of scientific data on the wider status and populations of these two seahorse species in the Thames and throughout their range, so we're hopeful these recent finds will attract the attention of funders to help us understand more about these amazing animals."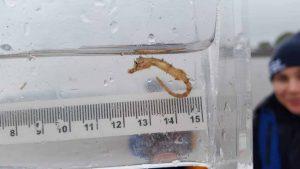 These seahorse sightings are just the latest indicator of how biodiverse and important the Thames is for a number of species, from tiny invertebrates like shrimp and insect larvae to over 125 species of fish, including the critically endangered European eel (Anguilla anguilla) and apex predators like the harbour seal (Phoca vitulina), grey seal (Halichoerus grypus), tope (Galeorhinus galeus) and smooth-hound (Mustelus mustelus). It highlights how little we know about many of the species inhabiting the estuary running through the nation's capital.
The first of ZSL's recent seahorse finds came via the Estuary Edges project, a collaboration led by the Thames Estuary Partnership, the Environment Agency and SC2. Members of the public can support research efforts by reporting their own sightings via iSeahorse.org and The Seahorse Trust's National Seahorse Database, as well as signing-up to volunteer as citizen scientists with ZSL's Thames conservation team.
Visitors to ZSL London Zoo's historic aquarium can see seahorses and learn more about ZSL's work to conserve these amazing creatures worldwide since 1996, through its Project Seahorse collaboration with the University of British Columbia. ZSL is also a leading partner in the collaborative #OneLess campaign, designed to reduce the amount of wasteful and polluting single-use plastic water bottles entering the ocean from the Thames, ultimately benefitting all of the river's wildlife, including seahorses.
Commenting on the recent spate of sightings, Project Seahorse co-founder and ZSL Head of Marine and Freshwater Conservation Programmes, Dr Heather Koldewey, commented: "Our involvement as co-founder of Project Seahorse makes ZSL a global hub of expertise on these charismatic species, so it's really exciting to see them increasingly being found right on our doorstep in London!"
Photographs by Anna Cucknell / ZSL (Zoological Society of London)