Langkawi and the Pulau Payar Marine Park is every diver's dream.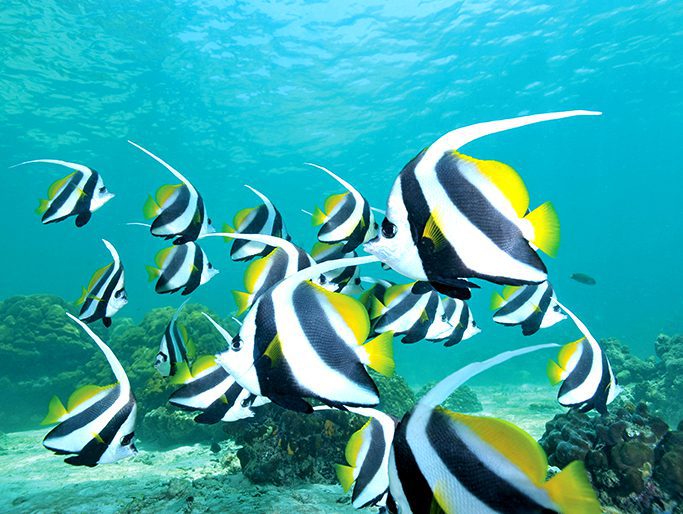 While the Langkawi UNESCO Global Geopark is a geological marvel above the sea on the opposite spectrum you have its underwater counterpart with close to 300 species of marine life, the small islands around Langkawi as well as Pulau Payar Marine Park, makes for an unforgettable diving escape.
Located 35km south of Langkawi, Pulau Payar Marine Park is roughly a 1 hour speedboat ride from Kuah Jetty and hosts a collection of four islands, Payar, Kaca, Lembu and Segantang, situated fairly close to one another with underwater temperatures between 20°C to 30°C with an average dive site depth between 15 to 18 metres. While most Malaysian divers have heard of Pulau Payar Marinepark in Langkawi, it is not as widely known that there are other places to dive in
this archipelago. The 99, jungle covered, uninhabited islands of Langkawi offer
several divespots. These divesites can be reached byspeedboat within 10min from Cenang beach
Open for diving all year-round, Langkawi is a great diving experiences for novice and seasoned divers alike. That being said, its best to dive from October to May so as to avoid the big waves of the west-monsoon season.
June to September can be tricky as the west winds and rain can cause poor visibility during rough weather. If you're visiting the island, contact any one of the diving agencies around, you never know you just might get lucky.
The unique undersea topography are also home to crabs, lobsters, shrimp, seahorses and even nudibranch, beautiful sea slugs that come in a variety of bright colours ranging from fluorescent pink to deep purple, green, blue, red and many more.
Large groupers can also be sighted daily along with a variety of sharks. Resident aquatic favourites include, a large but shy grouper called Toby and a large barracuda called Mustafa who enjoys feasting on sea perch.
A good tip to remember is to dive in small groups. Most diving centres have a limit of five to six divers per diving instructor. The smaller the group the more focused the diving experience.
You'll definitely get a chance to spot exotic marine life, as well as micro marine life with the right guide. Smaller groups also ensure safety and confidence amongst novice divers.
Diving trips are usually scheduled day trips and there are no accommodations available on Pulau Payar Marine Park itself, so do get a place to stay on Langkawi Island during your visit with an assortment of budget to luxury hotels.
Langkawi offers the best scuba diving experience along the Malaysian west coast, making it a must-visit for divers looking for some colourful corals and beautiful marine life.
Click here for more about diving in Malaysia