There are a handful of places in the world where you can go on a dive and search for fossilised megalodon teeth, particularly off the coast of the Carolinas, but a South Carolina couple stumbled across a huge one while out for a relaxing walk.
Jessica Rose-Standafer Owens and Simon Chandley Owens were strolling along the bed of the Stono River, just outside of Charleston, when they spotted a grey mass poking up out of the muddy riverbed. They thought it 'looked just like a shark tooth'- and that is what it was.
It is estimated that the gigantic tooth is between three and five million years old.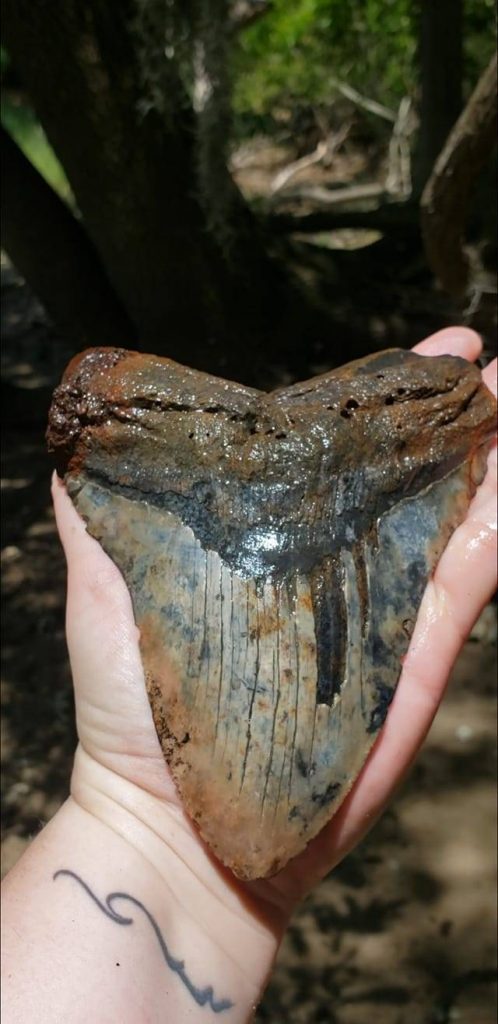 Incredibly, after seeing the video of their discovery on social media, a spokesperson from the Mace Brown Museum of Natural History at the College of Charleston said: "That's a great meg find – finds like that are why Charleston is known as 'the megalodon capital of the world'.
Also read – Boy finds megalodon tooth in Suffolk
While areas of the coast off South and North Carolina are known to turn up these fossilised teeth, who would have thought that Charleston itself was a hotspot for these mega-sharks?
Photo credit: Facebook/Jessica Rose-Standafer Owens