Sophie O'Dea – a bit of a regular in Scuba Diver over the years – has added another accolade under her weightbelt, the title of world's youngest female Junior Master Diver.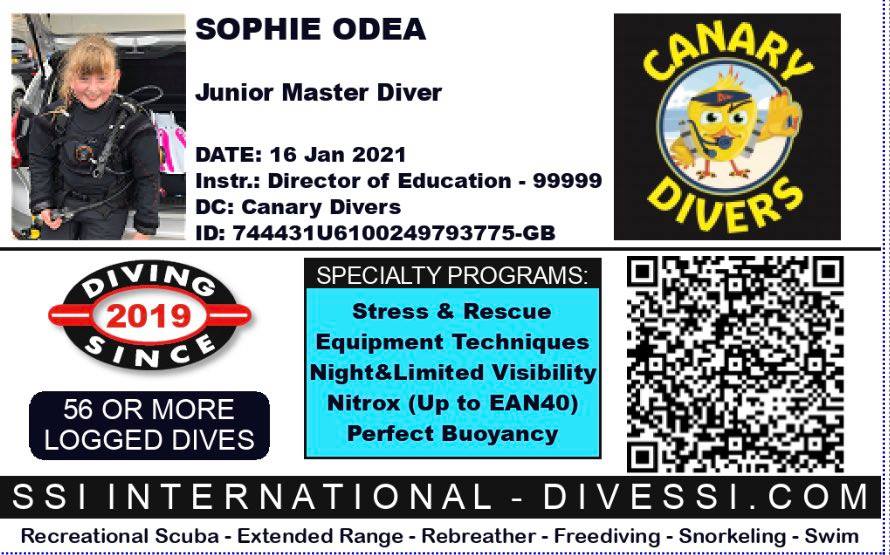 She achieved the rank at the ripe old age of 12 years and one day! Sophie, who is a Youth Ambassador for SSI, YDN and Canary Divers, falls under the 'elite athlete' category of the government's DCMS guidelines, which meant that instructor Kris Fearnley from Canary Divers was able to continue her training throughout the lockdown.
As Sophie rounded out her training with an arduous Stress and Rescue course, Kris said: "It was an intense couple of days, with possibly the most-challenging conditions for a rescue course (snow, very cold water, thick gloves and hood, layers of thermal protection, etc). Sophie was a trooper and ploughed through every scenario we gave her, but she found out just how hard it can be – look at the shot of her straight after carrying her step-dad out of the water and carrying out CPR on the re-sus doll!"
Sophie has achieved many things since she started diving, most recently raising funds for the NHS by building a Lego airplane underwater. Lego has been in contact with Sophie and her family and is using her underwater-building exploits in a production they are currently filming.
She also took part in a live dive career talk with 20 schools across the UK alongside Kris, which was viewed by over 1,000 students live, and another 15,000 plus on catch-up.